You may have been wondering why I've taken the name of a Beatles EP for the title of this blog, considering it's about Blackpool. The reason is, that there was a trip arranged to Liverpool, or how I like to pronounce it, LiverPEWL.
The day started off early. I awoke at about 6AM, bursting for a piss. Unfortunately, thanks to the sound the toilet makes, this wasn't something that could be done quietly, so Chris was also awake by this point. Attempts to get back to sleep were rudely interrupted by the sound of the old guy in the next room being sick. We weren't sure if it was the food that caused it, or an excessive amount of alcohol, but my word, he could have chonked for England. It must have lasted around half an hour and by then we were fully awake. Brekkers wasn't being served until about 7:30, so after getting ready, we spent a good hour or so wandering around the hotel. We could have went outside, but the good old english weather had taken hold by this point.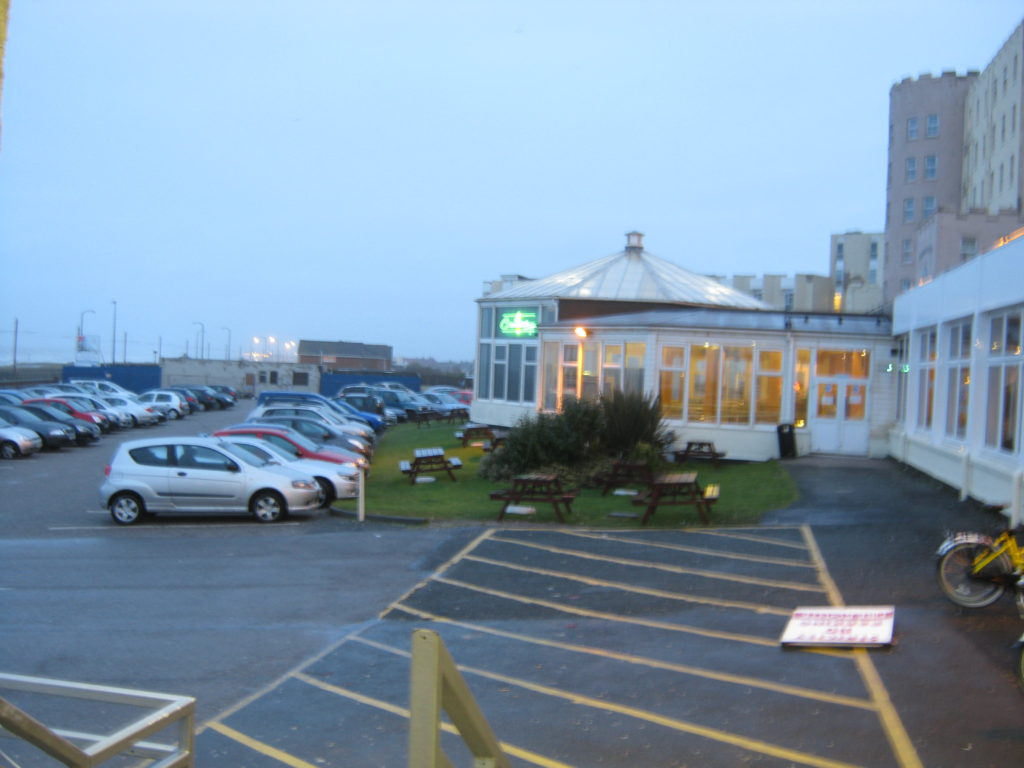 Some time later, off we jolly well popped to the breakfast room. This was also the same room where the entertainment was, and we had nothing to worry about when it came to getting a seat. It was absolutely massive. It was more like a warehouse. In fact, it was even lit by mercury vapour lights. I wasn't that hungry anyway, so I grabbed a few pieces of toast and about 8 glasses of orange juice.
The coach to Liverpool wasn't until 9:30, so after having breakfast, we headed back to the room. there wasn't much to do in the room. I certainly didn't want to touch the bible…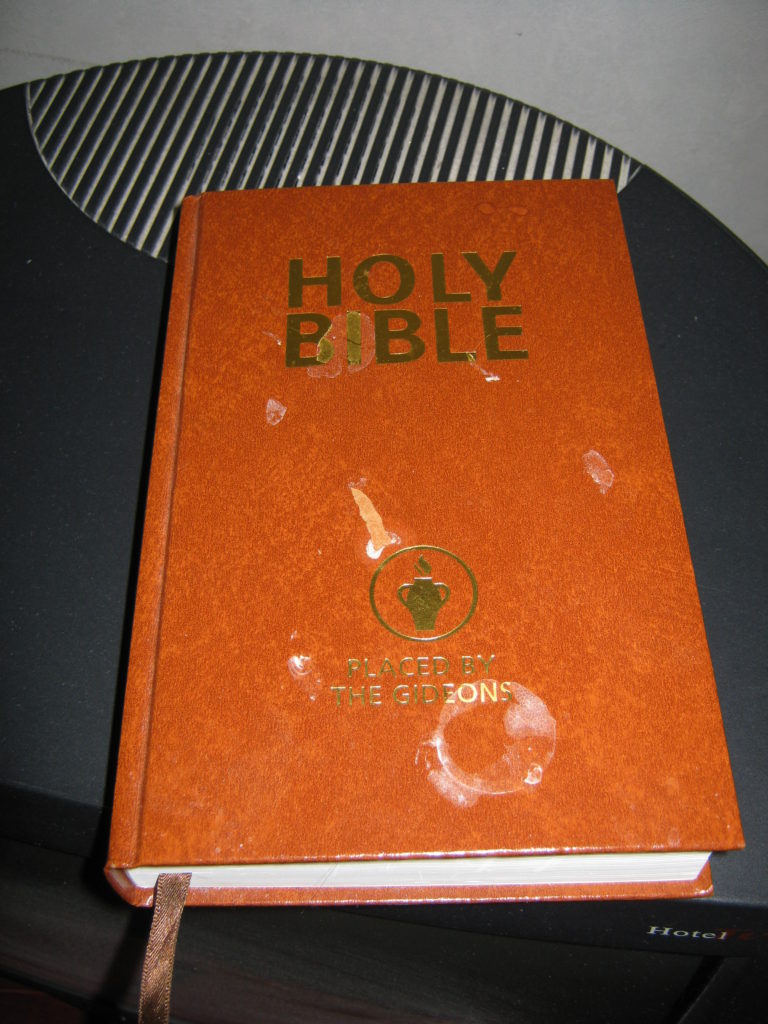 I made a short video showing some of the room's "features", which I'll probably need to edit down. Unfortunately, the "Windows Movie Maker" facility in Windows 7 is complete garbage, so I'll have to wait until I get on the laptop to edit it properley. As a bit of an experiment, I've created a video of the epic hairdryer…
(I really, really hate the new Windows Movie Maker. If anyone has any free alternatives, let me know.)
Anyway, we boarded the coach for Liverpool, and that's where the fun and games started. Apparently, there was one coach that had the city tour, for £6. The other two coaches would just drop you in the Albert Dock (not literally, of course), so you could go and walk around at your own leisure. By a twist of fate, we'd got on the correct one, as someone on the other non-tour coach had a suspected heart attack. Delays were also caused by some of the people actually wanting to go on the city tour, but now couldn't.
One whinging old scrote even had the cheek to say "Eeee, well that'll be another complaint letter going in". I'm sorry, what? You're going to complain because you're getting a free trip to Liverpool, which you didn't even know about 24 hours before? No, you silly cow, you put a letter of complaint in when they leave you there, and you have to walk back.
The journey was uneventful. I had my headphones in for most of the journey. Nowt like being a bit anti-social once in a while. I attempted to get some sleep, something I rarely do on a coach. I managed about a half-hour of dozing, before waking up as we crossed the River Ribble. Rain followed us the whole way down until we actually got to Liverpool, where it just seemed to mysteriously stop. The coach dropped us at the Albert Dock. You may remember this as being the location of the old "This Morning" studio. Now, maybe I'm just used to seeing it on telly, in the sunshine, but one thing that struck me, is how small it actually was. Normally, you see sights on telly, and they turn out to be bigger in real life, but the Albert Dock really didn't seem that big at all..
A lot of it was dedicated to the Beatles museum. I'm possibly the only person to have ever visited Liverpool, and rated the thought of going around a Beatles museum as a "meh". I could only see it being overpriced. I'm not a great fan of their work. Like all bands, there's some good stuff and a lot of mediocre stuff. I only like 'Hey Jude' because of the clearly audible "Fucking Hell" at 2:58. Listen to it with headphones, you'll hear what I mean. Actually, that's not quite true, I think it's a brilliant song, but it's not worth walking around a museum for!
I'll tell you something though, I'm actually *glad* I went to Liverpool. About 3 weeks ago, I woke up with a small piece of music in my head, from the middle of a song. I obviously can't explain in txt what it went like, but it was from the version of the "Liver Birds" theme music I'd ripped from LP at the back end of last year. Unfortunately, this revelation had me unintentionally whistling the afore-mentioned theme music whilst pointing my camera in the general direction of the Liver Buildings…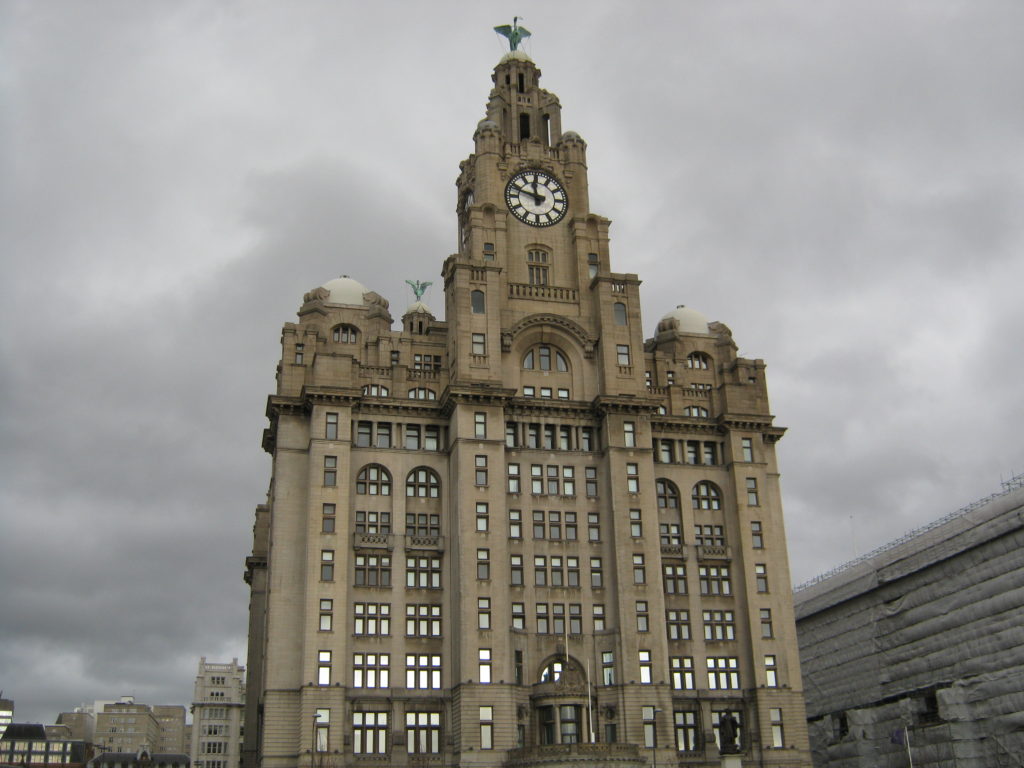 After wandering without aim, we headed towards Liverpool One. Apparently, it's a shopping centre, or something. Going shopping with me is incredibly boring. Unless I am actually going specifically to purchase something, I'll visit two shops. HMV and Greggs. This, however, was a bit of a special occasion, as I went into another shop, in order to stock up on cheap t-shirts, and replacement socks (something which I'd also forgotten to pack). Chris spent £2.99 on an umbrella. Remember that for later.
HMV, despite being huge, didn't have any spectacular offers, and Greggs appear to have ditched their corned beef pasties for "Potato and Meat".
We walked around the streets for about half an hour, before we witnessed this sad sight…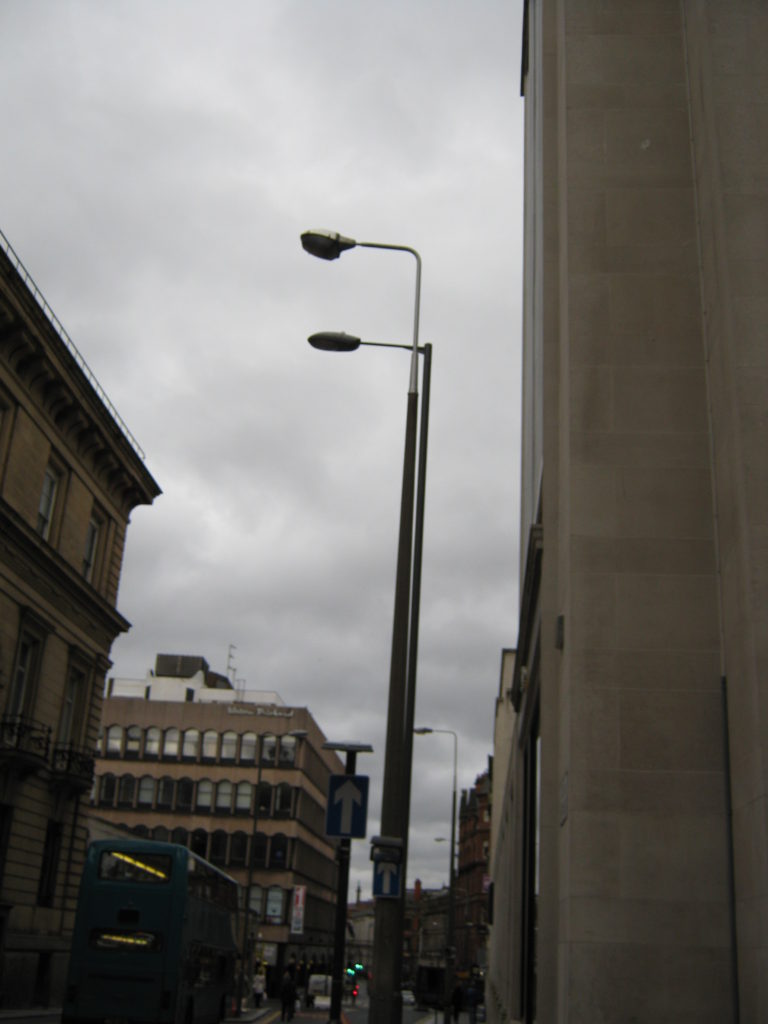 Yep, there's another classic Thorn Alpha 3, about to be taken down and scrapped. In fact, there were a few in that road about to suffer the same fate. Shame.
After I mopped up the tears, we realised we'd walked round in a big circle, and walked down Water Street, back to the Liver Buildings. By this point, my feet were killing me. I'm not getting old, I blame the uneven beach I was walking on the day before. We walked back to the Albert Dock, and got some refreshments in the "Costa" that just happened to be in the entranceway.
The penultimate stop on our journey just had to be the wheel. You may remember my trip to York with Coatesy, where they had the large ferris wheel outside of the railway museum. Well, the wheel had repositioned itself to outside of the large arena on the docklands. I love these things, and even at the £7.50-each price tag, it was worth a go.
I took a few photos, but not that many, as most of the time I was recording video. While I enjoyed every second of the ride, Chris didn't exactly enjoy it. He really doesn't like heights! This had the undesired effect of getting some quality footage of him absolutely bricking it. OK, I didn't help, with phrases such as "It's draughty up here, isn't it?" and "It's got a bit of a wobble when the winds hit it"… I'm quite sure if the wheel had went round one more time, he'd have had a panic attack.
It would be wrong of me to post a video. Expect one coming soon when I get the lappy sorted out. In the meatime…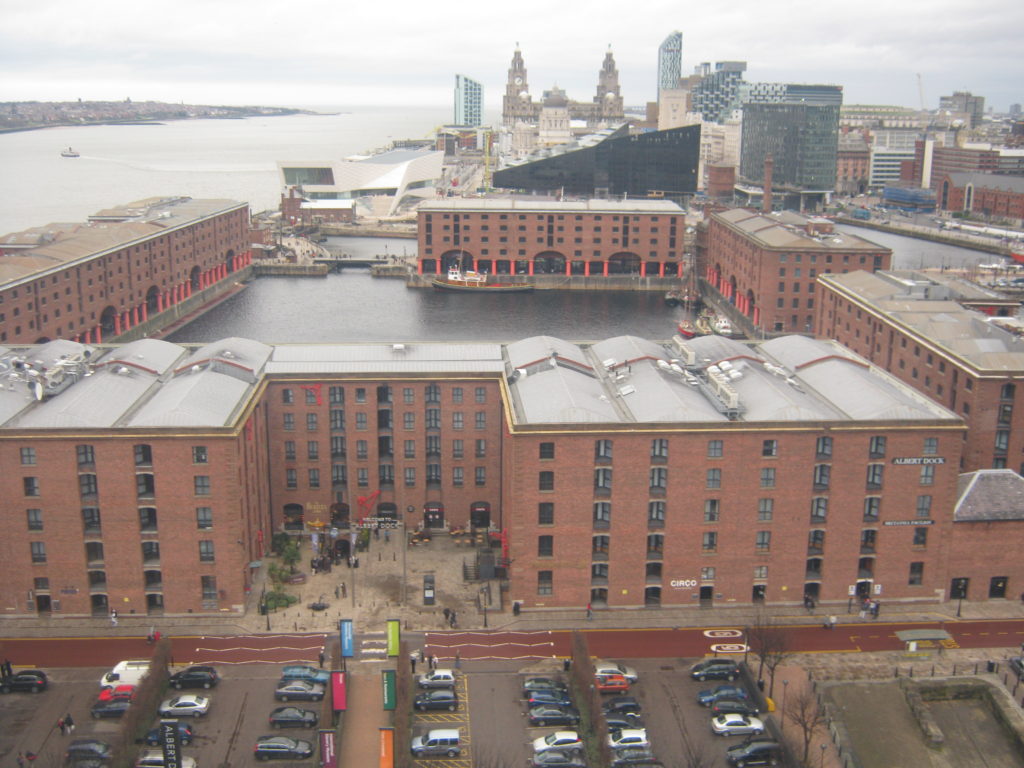 We had a walk around the dock one more time, and raided a sweet shop as our final location. I bought several packets of large Parma Violets. I absolutely love these. Oh, and some cola Wham bars. I must admit, it was an awesome shop. It smelt just like Bretts in the town centre, but without their epic toffee apples.
So, that was the day. It was 3PM, and as Kauto Star failed to make it a fifth King George VI Chase victory, we boarded the coach, and headed back to Blackpool. Again, the headphones were in, and I dozed for most of the journey using my coat as a pillow. I awoke just as we were to cross the Wiver Wibble. I'd have thought it was pretty coincidental, but I think the reason I woke up was because I'd drooled all over the coat, and it was now stuck to the side of my face. Pleasant.
We arrived back to the hotel, and began to pack. It seems strange how light and easy to pack the bag was before I left, but how heavy and full it was…
We set off at about 6PM, for our second and final journey to the indian mentioned on Part 1. Unfortunately, the weather wasn't as kind to us, with light rain falling, and a bit of a breeze. Chris took his newly purchased umbrella out with us. He stood in the entrance to the hotel for about a minute, trying to get the umbrella to stay up. Literally three steps away from the hotel building, the entire thing blew inside out, and was completely ruined. I was absolutely no sympathy, as I howled with laughter in the car park, barely able to walk in a straght line for about 10 minutes. It was, quite literally, the funniest moment of 2011 so far, and it'd take a hell of a lot to top it. Irony ensued, as the rain started to die off, and we arrived at the indian totally bone dry.
I was tempted to get the vindaloo, but instead, I just settled for the madras again. After all, I had the bus home to contend with the next day. If anything, the meal was better than it was the previous day. Curry excellent, rice perfect, naan bread was indescribably brilliant. It seems odd that the least complicated part of the meal would be the one that I remember. But, it was.
We walked back to the hotel, and I just had enough time for a shower before hitting a change of clothes, and of course, the free bar. I'd have been bang on time if I actually knew how to work the bloody shower. I am, and always will be a bath person, but when you don't have enough time for one, a shower will have to do. I think I scalded my back and the top of my head about three times.
I arrived at the free bar at about 20:03, feeling gutted at myself that I've wasted 3 minutes of precious drinking time. Chris was already with Colin and Lynne. We made our way to the "Performance Area", and sat through countless musical acts of very little value. I didn't care. I had my armband. Someone else noticed I had the armband on, two Lancashire equivalents of "chavs". It was really quite amusing. Now, as I've mentioned, I had the "white armband", which granted me unlimited drinks, two at a time. These chavs wanted me to get two pints, one for them and one for me. That's what I assume anyway, as I didn't understand a word they said. Needless to say, I ignored their request, but found it amusing nonetheless.
According to the videos I'd taken, the night finished with a roaring rendition of "Hey Jude". By this point, I was goosed, and as soon as the free bar ended, I called it a night, and headed back to the fourth floor, and my comfy, comfy bed…
I won't bother writing a "journey home" entry. It was uneventful. More sleep, heavy rain, and a lorry in a ditch. I'm also happy to report that after a night in hospital, the lady who took ill on the other coach was released from hospital, and was able to travel back home with the rest of her party.