Ahhh, it seems like an absolute age since I've done this, but in approxiamtely 20 minutes time, the Eurovision Song Contest 2021 will be kicking off. It seems loike an age since the last one, and it is, because the "panny d" put paid to last years' show.
This year, I've not watched any of the buildup, or the "qualifying rounds", because really, if your song is bad enough to be knocked out of the qualifyers of Eurovision, your song must have a turd in a blender as your lead vocalist.
Anyhoooo, watch this space, as it's the only "realtime" post I do of the year…. For the record, and because I believe this is the order they'all appear, here's all the songs, and I'll fill in my comments for each of them as I hear them!
Apparently, there's a walk-on now (because everything has to have a walk on now), and they're playing a remix of "Venus". Ugh.
Elena Tsagrinou – El Diablo (Cyprus)
Huh. Well, this reminds me of something Lady Ga Ga would throw out. I have a feeling it's not going to be the worst one I hear tonight. I actually quite like this one. I haven't even had a drink yet.
Anxhela Peristeri Karma (Albania)
Onto song 2, and the first one in a language I don't understand. Looks a little bit like Carol Vorderman (amusing! Graham Norton just mentioned that), but apparently has a decent set of pipes. the song isn't really my cup of tea. Won't be hunting this one down.
Eden Alene – Set Me Free (Israel)
Apparently she's going to attempt the highest note ever performed at Eurovision. This should be fun.
Meh. Wasn't that good.
Hooverphonic – The Wrong Place (Belgium)
I llke the band name, douze points. And the song isn't bad either. I really like this one. Something about a Johnny Cash T-shirt. It did slip down the list as the night went on as the better songs came through.
Manizha – Russian Woman (Russia, unsurprisingly)
We're about 30 seconds into this one, and I really, really dislike it. I'd definitely be skipping this if it came on Spotify. "BE THE CHANGE YOU WANT TO BE"…. what, a quid for the parking meter?
Destiny – Je Me Casse (Malta)
Means "I'm Outta here", apparently. this one's pretty catchy, with those sax samples. It'll probably do well.
The Black Mamba – Love Is On My Side (Portugal)
With a band name such as that, I expected a much more energetic peformance. This one's just the usual forgettable rubbish. We have a winner.
Hurricane – Loco Loco (Serbia)
Another one that's not in English, but… it's got a decent tune, and dare I say it's probably been my favourite so far? Been quite a lousy batch so far if I'm honest. Considering they've had two years to prepare, I expected more, even if they're a new batch of songs entirely.
James Newman – Embers (United Kingdom)
Song nine. Song NEIN more like. Not a fan of this at all. Can't see us getting much for this to be honest. Seems like it's been going on for about 5 minutes. Pretty much just the same thing over and over again.
Stefania – Last Dance (Greece)
I'm looking at the list of how many acts there is to go… and then I realise I'm going to be missing BigCliveLive for this. Suddenly, this one picks up and it's actually quite good. Interesting use of green screen effects. Think we have a new leader for my favourite.
Gjon's Tears – Tout l'Univers (Switzerland)
It's a no from me. Sounds a bit like Jimmy Somerville. Too slow. Tries the whole bombastic thing at the end for about 30 seconds, but it's too late for all that now.
Daði og Gagnamagnið – 10 Years (Iceland)
I can imagine that the singer is going to break my encoding, and that name will proibably end up about 48 random characters. I haver no idea what those keyboard / guitar combos are, but I want one. Nice use of rhythm guitar. Another one I really like. Ohhh, those three keyboards join up and they forma circle. that was great.
Blas Cantó – Voy A Quedarme (Spain)
I'm all for gimmicks, and apparently, this is the biggest prop ever used in Eurovision. a 6 metre long moon. Song's crap. Wanted him to stand under the moon, for it to snap, and a comedy "splat" sound. Didn't happen.
Natalia Gordienko – SUGAR (Moldova)
NOPE. Not a fan of this one. Sounds like something that should have been left in the early 2000s.
Jendrik – I Don't Feel Hate (Germany)
LOL. "This is marmite, if everyone hated mermite." Surprisingly, I don't hate this. I don't have a clue what he's blabbing on about, but to give it its due, it's catchy.
Blind Channel – Dark Side (Finland)
I said to t'other Jamie over Facebook that he'd like this one…. "this is fantastc" was his reply, and I have to agree. It's nice to have something different to what's been so far. After a slow start, the songs are starting to pick up, and I haven't even opened a beer yet.
VICTORIA – Growing Up Is Getting Old (Bulgaria)
Well, this is the most depressing song so far. Just a reminder that old age comes to us all, and one day we'll get sick and die. Thanks for that.
The Roop – Discoteque (Lithuania)
Entirely forgettable. Yellow suits. No tune. Bloke looks a lit like him out of Human League. I could probably hear this 50 times in a row and not remember any of it. I'm not going to though. Hopefully, that'll be the last time I hear that.
Go_A – Shum (Ukraine)
Folk tunes mixed with dance, apparently…. and unsurprisingly, I really like it. Can't see it getting anywhere, but it's right up my strasse.
Barbara Pravi – Voilà (France)
Apparently one of the favourites. Can't see why. Possibly the most forgettable song of the lot so far. She's probably a decent singer, but seeing as it's in French, the should be singing about her bloody shopping list for all I know. Naaaaaaaaah.
Efendi – Mata Hari (Azerbaijan)
Nope, don't think much of this one either.
TIX – Fallen Angel (Norway)
that one's really good too. I got a bit distraced because I went o put the light on, but I'd probably say it's on my top 3 so far? Think the staging could have been better though.
Jeangu Macrooy – Birth Of A New Age (The Netherlands)
Definitely not a fan of this one.
Måneskin – Zitti E Buoni (Italy)
ROTFL… "Maybe it's grow on me, like mould on a bathroom ceiling". Graham Norton's comments crack me up. It's supposed to be heavy metal. The only thing heavy is my head, as I try to think something decent about this. It's certainly not "heavy metal". I was looking forward to this one, and now I'm just disappointed.
Tusse – Voices (Sweden)
I usually like Sweden's songs, they always come out with some classics. This one's…. not really one of them. Pretty forgettable. Not the worst I've heard tonight. Ah, key change. Now THAT'S Eurovision.
Senhit – Adrenalina (San Marino)
And so, this is the final one. Not a bad batch of entries if I'm honest. Flow-Rider doesn't improve this one in the least.
And that's your lot. Wasn't that fun? Now it's the tedium of an hour-long half-time show while the votes are counted. Not calling, and I'm not installing an app to vote. so I guess I'll just have to put up with it. Think I'll open those beers now. I've also fixed the "bold" HTML tag.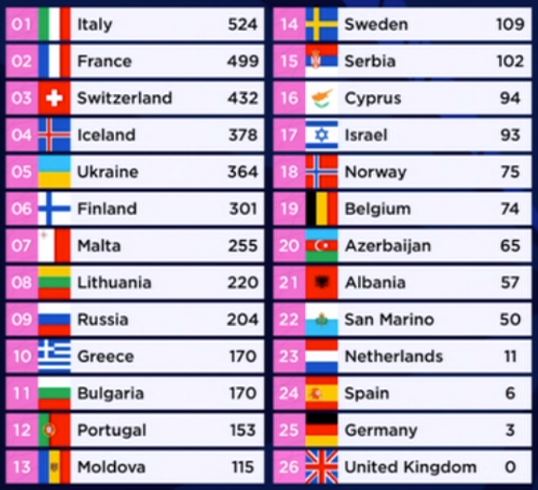 Well, wasn't that fun? Glad to see we did well as usual. And that concludes your Eurovision coverage for another year.