It seems an extremely long time since I've updated this with any Amiga stuff, so I thought I'd do a quick update.
It's a disgustingly wet August Saturday, and I've recently been accumulating more Amiga disks off ebay, and imaging them with the good old Greaseweazle, which is still going strong.
As part of the process of imaging them, I'm also grabbing the file listings off the disk, and putting them into a database. This is, so far, a long laborious procedure, and at the moment, I don't know what purpose it's going to serve, but doing this at least gives me a chance to test that the disks have ripped successfully, at least to a point.
Anyway, as the afore-mentioned weather is cack, I thought I'd spend an hour or two goiung through some of my recent images and getting rhe file listings. Anyway, after about 4 disks, I got the dreaded "read error" message one one of the disks I'd imaged.
Not fun. I loaded up hxc to check the disk image in a more thorough way, and sure enough, there were two bad sections of the disk, one on each side.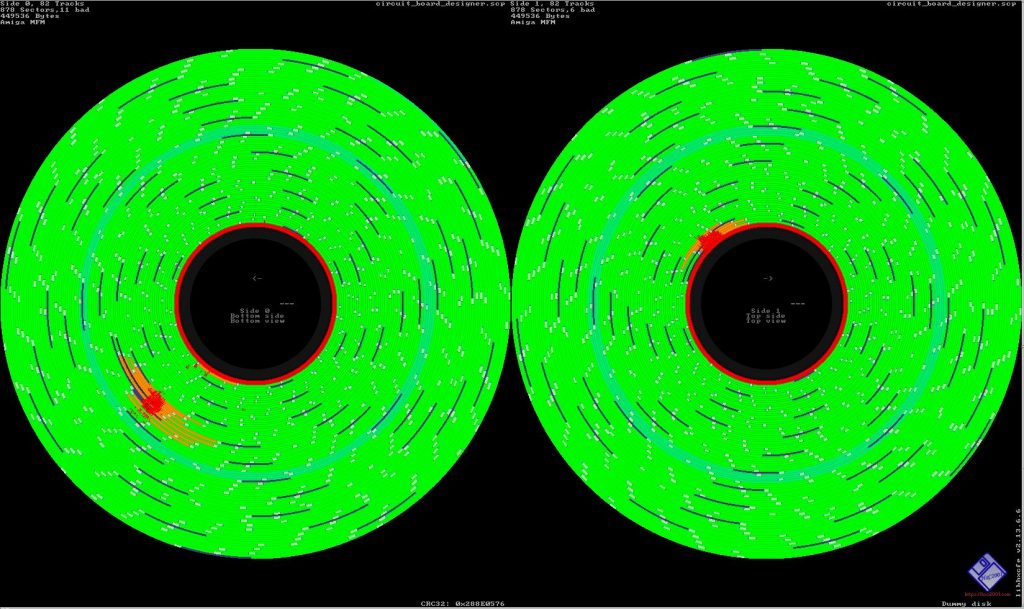 I went through and checked the disk, and there they were… mould spots.
Ugh. The bain of any old media collector. It's just something that happens. These disks must be… oooh, dunno. 30 years old now, so any slightest but of organic material that's crept on the disk in that time has obviously been taken over.
I'm surprised I didn't pick up on this when the disk was getting images. A mould spot this severe would have definitely created a tell-tale noise when the disk was being imaged – a definitive click-click-click as the mould spot makes contact with the head, about once every 1/20 of a second.
Anyway, I had hopes of resurrecting this one. I took a tiny bit of IPA on the end of a cotton bud, and very lightly rubbed the surface. You don't want to put any pressure on at all. The surface of the disk needs to be perfectly flat, and any slight ripple in the surface will render the disk useless and the data gone.
I didn't get any pictures of this, so I don't think you need much of an imagination to picture what I did.
Thankfully, the mould was no match for the IPA, and within seconds, it was lifted. I used the dry side of the cotton bud to remove any possible residue, and left it to dry for a couple of minutes. Obviously, IPA dries on its own really quickly, but the last time I tried this, I must have put far too much on and ruined the disk, and possibly didn't help the drive much either.
Of course, the proof of the pudding is worth two in a bush, so did the disk actually work after I'd tried all this?
Oh, I'd say that was a success.
As a side note, I know I was holding the disk myself. I'm aware that you can buy little disk cleaning cradles that will hold the shutter open for you while you do this. I actually have one, but didn't have it to hand when I did this.