That, so far, has been the only reaction I've received to my Pokemon Go post. Well, in order to disappoint you even more, I thought I'd go through and clear off some old blog drafts I have saved. You know the drill. I start typing about stuff, and then it ends up I type too much, I get bored, and the blog sits harked as a draft until I eventually go through and delete it.
Firstly, a tittle short untitled one from 26th June.
Not that anyone of you will actually realise or care, but I'm typing this blog while sat on a train about to depart from Carlisle station. It was the third meetup of #speccy peeps.
Now, I know some of you don't know who they are, so it's an IRC Chatroom that's been going since the year 2000, celebrating the existence of the humble ZX Spectrum. Of course, it never gets mentioned, we just tend to talk about crisps.
I decided it was far too uncomfortable to read the screen and type at the same time, so the blog post got abandoned. Instead, I decided to expand on the Carlisle trip, and include a rather graphic description of a foot infection, which I've still got. I really, really must go back to the doctors. Anway, I bring you a blog entitled "My left loot. Not a remake of the book/film."
Hmmm. Ok, that's not an imaginitive title, but then it doesn't need to be, because I'm sure you've all been wondering about my feet. Well, that is, if you've read anything from me on Facebook over the last couple of weeks. Let's just say, it's not been pleasant. And, if you don't like feet, then the next post is not going to be up your street. It gets foul.
Several weeks ago now, I went for a walk with Flav, over to Kielder. A couple of posts ago, I mentioned "I'm still recovering from this". And, by that, I meant I was struggling with my feet. Quite a lot.
It all started the evening after the walk. I took my shoes and socks off, and noticed I had a rather large blister on my foot. I did take a photo of it, and post it on facey, but I didn't keep it, so you'll just have to imagine what arather large, bulbous blister looks like. Anyway, whilst sitting down, I totally forgot about this blister, until I popped it on the side of my chair. Ouch.
A couple of days later, I noticed my leg felt really tight. Mind you, I'd just completed a 13 mile walk, so that was probably to be expected. It was by far (well, a couple of miles), the farthest distance I'd walked, so I didn't think too much of it.
Days went by, my foot would feel weird. And this is where things start getting a bit disgusting. It's also where I'll insert a random photo from the collection. Why? Because further down, there will be links, and descriptions that probably aren't worth reading. Social media pick up on the images, and use them as the thumbnail. So, here's a photo of an ice cream van.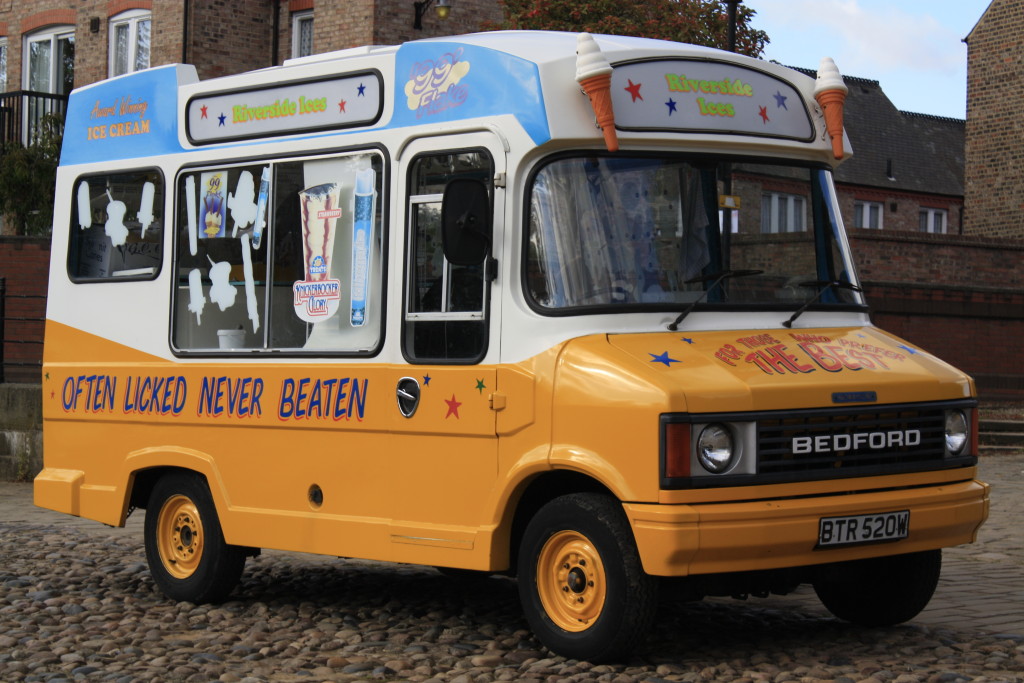 Righty doke. So, I've set the scene. Bad foot. It seemed to be healing to an extent. I would get twinges of pain, then it'd go, and my foot would feel normal. One night I noticed I'd tore the skin where this blister was. What a bugger. I'm a keen walker, so foot blisters that go into the deep skin are nothing new. You just peel the skin away and let them be.
Usually.
I'd peeled the skin back, but where I'd done it never seemed to stop weeping. My socks were perpectually soaking. Well, at least one of them was. Of course, these warning signs should have had me running… well, hobbling to the doctors. But no, I braved it. It was going to heal. It always does.
I t must have been a week or two before I noticed something odd. The foot was giving off a bit of a smell. Not a nice smell. In fact, it reminded me of a dog food tin being left in the sun. Slightly mouldy, slightly fishy. But only slightly. Might have been the socks. Or my shoes. This was the Thursday. I was due to travel to Carlisle on the Saturday.
Friday came, and now, I was seriously not happy about my foot. The nose test gave it away. But as I said, maybe it was just something that had crept in the sole of my shoe. It had a hole in, and Thursday was damp. So, that'll have been the source of my odour.
Friday came, and with all of this in the back of my mind, I spent the entire day in my shoes, complete with a mile-walk home from Chris's. at 1AM in the morning. This was great, because I found a new mode on my phone's camera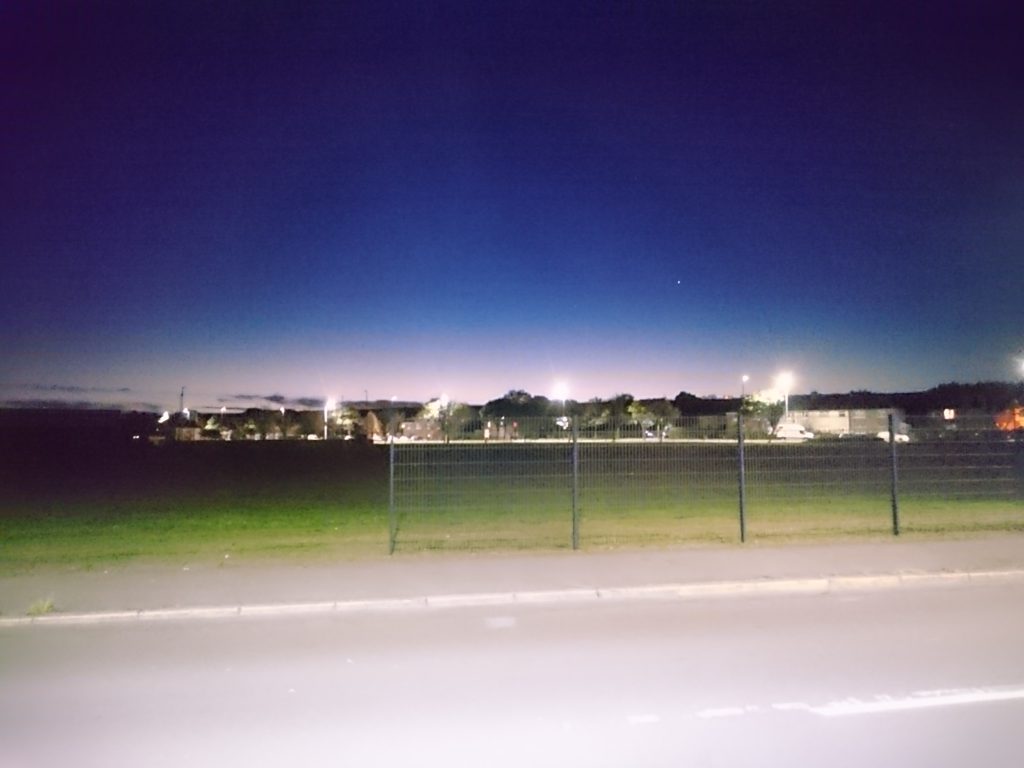 A night mode! OK, not great shots, but this was nearly 1AM.
Anyway, a slight detour there, because I got home, took my shoe off, and…. oh my god. I've smelt some awful stuff in my time, but knowing this was coming from a body part made me feel physically sick. It really was sobering. Sock in the sink, foot under the tap. Something was a bit wrong. I had to be up for the Carlisle train in a few hours. Oh dear. Most of the night was laid awake wondering if I should call the whole thing off. Technically, it wouldn't have cost me anything as I had a cancellation plan on the hotel, but could I really miss out on not meeting some of the people I've talked to in #speccy for 16 years?
I slept on it. Well, I didn't sleep on my foot, that was hanging out of the side of the mattress, having being severely washed.
I woke up the next morning. At this point, I was determined to go to Carlisle, manky foot or not. I'd just pack extra socks, and give my foot a good wash when I got to the hotel. Sound plan.
I arrived at Carlisle early. 11AM to be precise. I'd planned everything. I'll do a bit of charity shop diving, hoping my foot holds up., and then make my way over to the hotel. A Premier Inn to be precise. I'd booked the hotel, so I knew exactly where I was going. My route, with the help of Google Maps was planned meticulously. The PI website said it was 0.9 miles from the city centre. I received a facebook message that most of the crew were already there. Awesome. I started the walk up to the Premier Inn. This felt much longer than 0.9 miles. The road seemed to go on for ever. Certainly not the 0.9 miles on the website, but then, they make them seem closer to the city centre, so you book them. Right?
A familiar purple sign glowed in the distance. I was finally there. My foot, hanging on my a strand of sock, would shortly get the relief it so desperately needed.
I plonk my backpack full of CDs and jeans onto the floor, and proudly announce my name. Papers went everywhere, the lady behind the counter flicking through them at a rate of knots, which would make a Brexit vote counter blush. "No, I'm sorry, there's no Mr. Vapour booked here". My heart sank. I'd known all along that Carlisle had two (technically three) Premier Inns. I can't have possibly went to the wrong one. I'm not that stupid.
A quote of my reference number confirmed as I was that stupid, and I'd walked several miles to the wrong bloody hotel. I could have cried. A phone call to Marko confirmed I was in the wrong one. I'm sure the words "facking preck" were uttered during the conversation.
The lady behind the counter booked me a taxi, and while I was waiting outsie, the heavens opened, which was quite ironic following what Carlisle went through earlier in the year with Storm Desmond. The taxi driver picked me up, and gave me the details of Storm Desmond, an the fact that the hotel I was actually meant to be staying in, was afrected by the floods, and all of the houses around that way were pretty much empty
And that was that. In both posts, I never actually got to talk about the Carlisle meet, which was a bit of a shame, but a good time was had by all. I met up with Dunny and Daren, two people I've known through the internet for years, but never actually met, so that was good.
I'll leave it at that. There are others, but they're not worth trawling through. I'm off to decide the future again. I'm sure the commentor didn't mean it with any malice, but it's got me thinking… is there any point to all of this?