I'm typing this several days late, as unfortunately, three days of work interrupted the normally smooth progress of my normal blog entries. I don't apologise for making this post excessively long.
Anyway, Tuesday saw a hastily arranged trip to York, with Chris. York's a good place to go as the people are friendly, no chavs, and there's always the opportulity for a photograph or seven.
We'd arranged a couple of days before to go to York on Monday, but thanks to certain aspects (mainly me finishing at 6AM on Sunday morning, and not waking up at any time sensible, this was put back until Tuesday. Chris had came over on Monday night, and a good sup was had. Chris bought over this… stuff. I can't remember its name, but apparently it must have been in Netto on special offer. He said it reminded him of liquorice.
We discussed a few places, and after pissing ourselves laughing at some of the train prices on certain websites for places such as London, we decided that York was cheapest. And easiest. Something which he said was very, very, very, very, very important was that we first went to the "Headland Gate" (formerly the Il Ponte / Bridge Hotel) to get some photos before another pub is wiped off the Hartlepudlian landscape.
Chris poured himself home, and I went to bed, knowing that Tuesday would have to start as early as possible. After the afore-mentioned sup, I awoke at 7:30, though I knew that Chris wouldn't be alive again until at least 9.
At 9:30, I rang him to make sure it was still going ahead. It was. Hurrah, etc.
I arrived at his house at approximately 10:42, and we took the short walk over to the Headland Gate…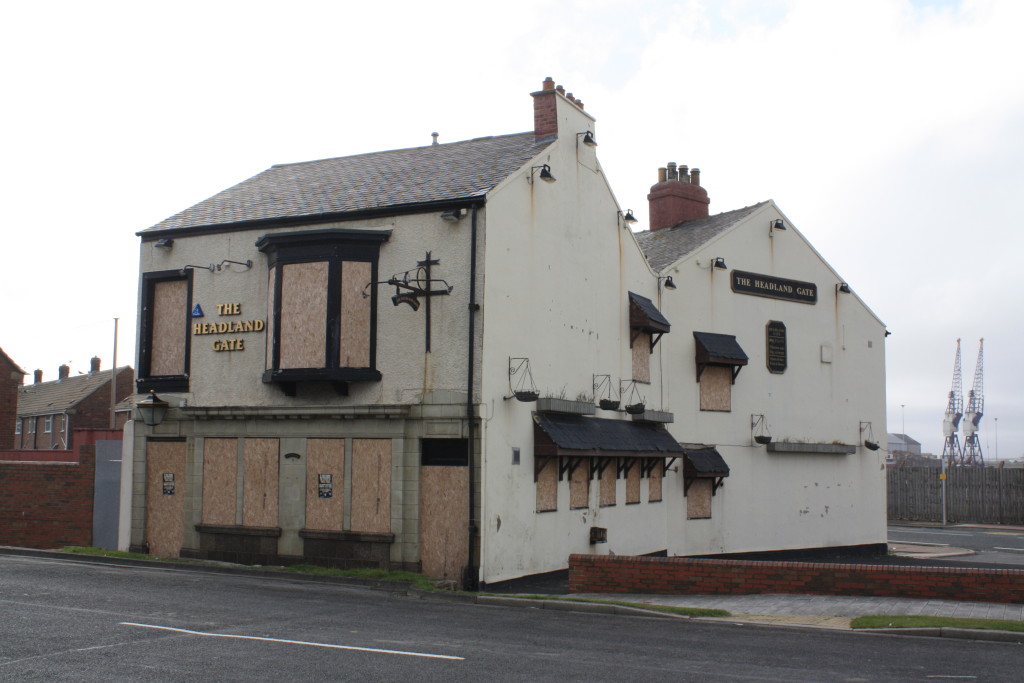 We took the walk to the Co-Op, a short distance down the road. This was for two benefits, firstly to get money, and to stock up on refreshments. Thirdly, the Co-op is over the road from the bus stop. Fourthly, it meant that Chris could avoid someone who he didn't like.
We got on the bus. Turns out the number 7 no longer stops off at Christchurch, instead it stops off at Wilkinsons. Remember that, paupers.
So off we walked to the train station. It's not much of an extra distance, probably 100 yards or so. Turns out the bus driver ripped us off to. Arsehole.
We got to the train station, and Chris examined the timetables . Turns out the direct train (the Grand Central) wouldn't get us into York until approximately 2PM, and by this point, it was about 11:30. It was decided that we'd take the same journey that me and Coatesy took almost a year ago here. Hartlepool, Thornaby, then York.
Turns out that Coatesy mas made a reappearance on flickr, after posting a photo of himself with that bloke off the post office ads with the northern accent before Wendy Richards pegged it. I'm sure he's done other stuff, but I'm too lazy to google it.
Back to the subject in hand, we had to wait in a queue whilst some woman discussed the finer details of some voucher she was given. I gave Chris the responsibility of purchasing the tickets, as he knows about them more than me. Turns out the price was £11.00 each instead of the £9.50 I'd paid only 12 months earlier. Sigh.
This revised schedule still left us with about 45 minutes of wait time. Hartlepool Station is the most depressing place in the world. They've done the front portion of it up, so the ticket office no longer looks like something from '28 Days Later'. Unfortunately, you enter the platform, and find it's a state, with rusting metalwork and more pigeon shit than you can possibly imagine.
EVENTUALLY, the train appeared, and we embarked on another shit journey to Thornaby. You get to view the delights such as the Seaton Carew landfill, and the various abandoned factories along the way. It wasn't long until the carriage began to stink of fish for the rest of the journey to Thornaby. You couldn't inhale without feeling the hairs at the back of your nose curl up.
Halfway through this journey, I felt the flies on my jeans come down. OK, that occasionally happens if the locking mechanism of the zip doesn't fall into place correctly. Imagine my horror when I felt that the zip had totally broken. Yes, my jeans were fucked. Grrr. I spent the rest of the journey trying to pull my jumper over the broken fly, and watching Chris piss himself laughing each time I moved the jumper.
We left the train behind, hoping that my sense of smell wouldn't be permanently damaged. Thankfully, it wasn't as the smell of Thornaby station became instantly recognisable.
Six minutes we waited there. It felt like a lifetime. Eventually, the train to York turned up. I liked this part of the journey. Modern train, no noticeable odour. Flip-dot display and LED combo giving the train's final destination. Nothing unpredictable happened, except I kept noticing that the clock on the train had an extra LED lit up whenever it showed the number 2. I thought it was faulty.
York approached, and we left the train. The first thing that became apparent is that we were both starving, and that a Greggs simply wouldn't cut it. It was either an Indian, Chinese, or a pub meal somewhere.
After a short walk, Chris triggered his homing-pigeon instincts to the "Tourist information office", and while he received a map with some places circled, I stood outside, trying to stop my stomach rumbling enough to rupture a tectonic place deep under the ground I was standing on.
We ran like chindren in a playground to the first location, only to be presented with a shitty looking doorway above some shops, complete with scary 1980s vinyl lettering, and an appearance that the place hadn't been cleaned since that lettering was installed. We gave it a miss, and headed off to another one of the circled locations, though expecting they'd all be of the same type of establishment.
After a short walk in the direction of the next location, I peered down a side street, spying a pub that served meals. They served "Curry of the day". I was sorted. Chris was happy to choose whatever he wanted from the menu, and I was happy I'd be having a curry at some point.
I went for the chicken vindaloo, Chris went for the Tikka Masala. I spent the time waiting for the meal, watching one of the games machines crash, with the "DISK BOOT FAILURE, INSERT SYSTEM DISK AND PRESS ENTER" message. The owners powered it off and on again, which fixed it for about 10 minutes before it crashed, then rebooted with the same message. Oh dear. I must be the only person in the world that takes notice of stuff like that, and I was tempted to pull out my phone and take a photo. I thought better of it, despite my love of public computer failures.
Shortly after this computer failure, the meals arrived. My curry was indeed very nice, though I thought the portions were a bit small for the price paid. Still, the food was eaten and enjoyed.
We left the pub, and headed off back into the streets of York. This was not before I left my own little calling card with the few grains of rice that had spilled from our plates…
Chris told me he had another pub to show me. I hadn't originally planned for the trip to be a tour of pubs, but hell, why not! This particular establishment is noted with one of those blue plaques as the birthplace of Guy Fawkes, visible here. It was an odd place. Expensive beer, gas lights, odd people who don't carry cash – everyone who came in paid by card, even some woman who bought a glass of tonic water that she didn't want, just so she could pay by card. I listened into the whole conversation, as I'd fallen in love with her accent. I should have asked her to buy me a pint. I didn't.
Some guy walked in with what could only be disguised as a wolf, on a lead, asking is someone had arrived to stay the night, as the place also had hotel facilities.
It suddently got quiet, so I recall me and Chris discussing random stuff. Our conversation was rudely interrupted (literally) by some guy butting in, saying he was giving a talk about Guy Fawkes in the back room in approximately 6 minutes. We nodded politely, drank up and left.
I got the camera out, and took some photos of York Minster. I already had loads of these, so I took a couple at a jaunty angle, this being one of the best…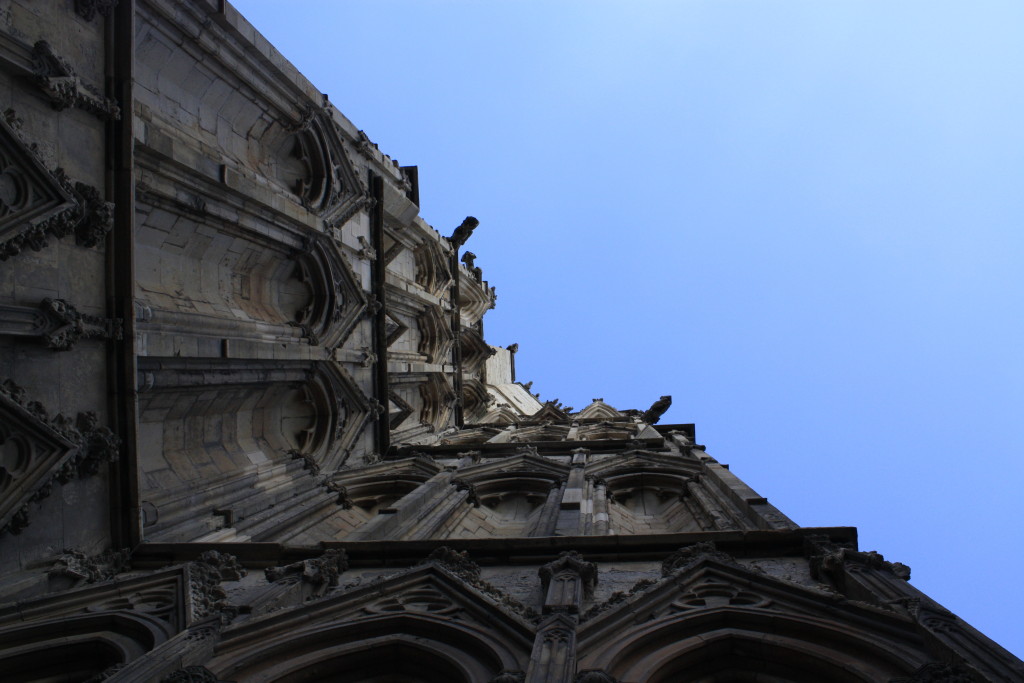 Okay, it sucked. I wasn't really interested in photographing something of which I already had good images.
We walked along the river. Not literally, but the footpatch beside it. This turned out to be the most photographically acceptable part of the whole journey…
Firstly, there was the bridge over the river…
You know, I really should consult something such as Wikipedia and give these structures their proper name. Either way, it reminded me somewhat of the bridge near the hotel in Berlin. Again, I'll have to look up the proper name of that…
We walked along the river, to the next bridge, which happened to be closed for repairs…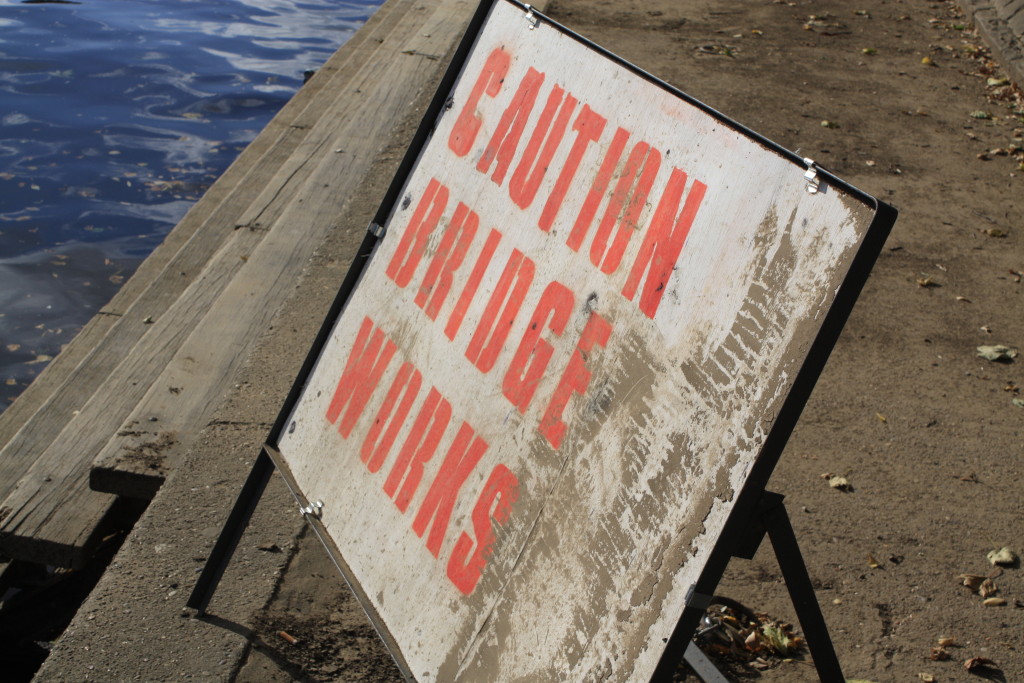 Wait, hang on, if they say that the bridge works, how can it be closed? I'd be happy to see a sign that says that the bridge works! That way I knew I wouldn't fall into the river half way through crossing it.
I suggest that this sign is altered to say "CAUTION: BRIDGE IS FUCKED". Everyone would understand it then.
We went up to the fucked-up bridge and back, but not before I took more shit images, including this…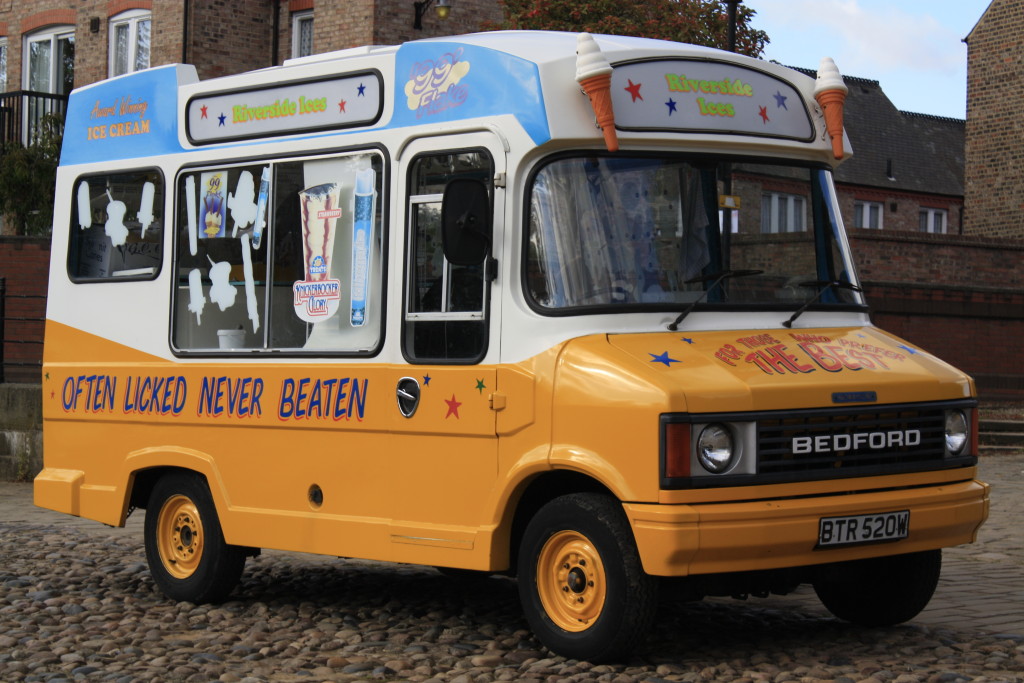 You know you're an adult when you can see "Often Licked Never Beaten", and can't think anything but dirty thoughts. I turned my attention from the ice cream van, and to the ducks. It seems that every time I go somewhere that has a waterside location, I take more photos of the ducks than I do of anything else.
I like this particular photo, even though it appears that the duck is either blinking, or it actually has no eyes…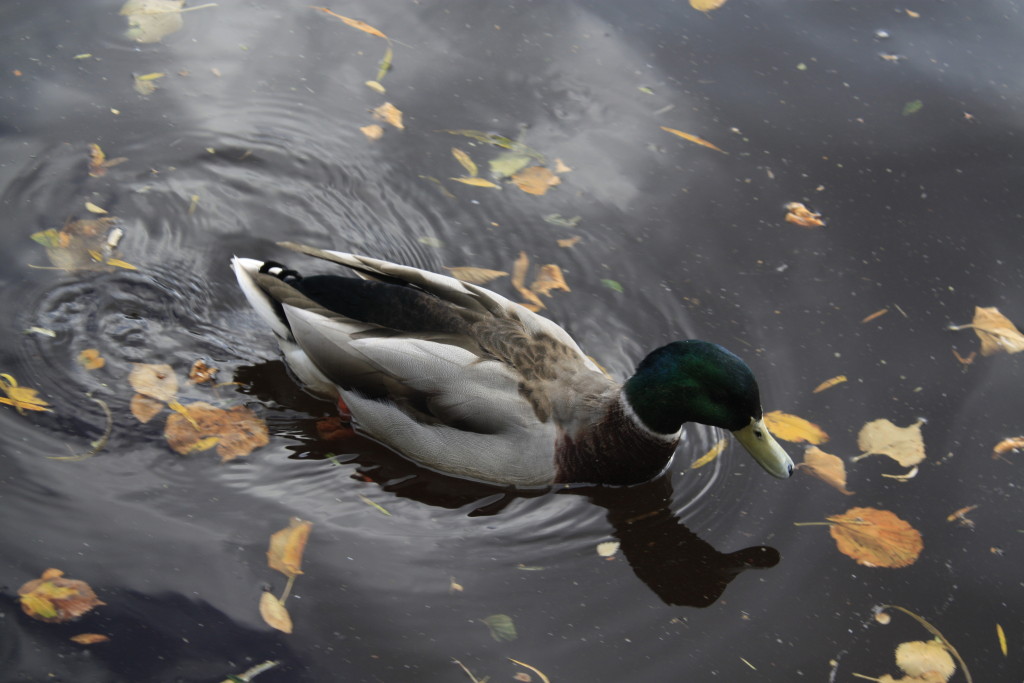 We headed off back to the station at this point, only to find there was about an hour to wait before our train to Thornaby. Some guy missed his train by seconds, and I had to laugh at myself as he karate-kicked it as it left the station. I decided that there was no way I was going to sit at York station for almost an hour, so I announced my plan to either walk about, or find a pub to settle into for the remaining time. Chris followed, and we headed… er… east, I think.
The first pub we entered was literally deserted. Not even any bar staff, so we made a sharp exit, even though I forgot where the door was, much to the bemusement of Chris.
We walked across the road to a pub which, if I remember correctly, was called "The Punch Bowl". Unfortunately, the effects of the vindaloo were kicking in at this point, so while Chris necked a whisky, I retired to the toilets. It was one of those "I wish I was dead" moments. The toilets stunk, and as I closed the door to the toilet, it turned out I was sharing my experience with a pair of shit-stained underpants on the floor, which must have been there for some time.
I almost took a picture, as I had my phone in my pocket, but I think the important part was simply getting out there as quickly as possible.
We drank up and left, and walked back to the station. Thankfully, there was no waiting time, as the train pulled in as we got there. The journey back seemed to take longer than the journey there. The time was passed by someone leaving a paper behind. I plugged my phone's headset at this point, in order to allow my phone to scan for nearby radio stations. Turned out there were none. The only thing my phone managed to pick up was general interference given off by the train. Not good. Eventually, the phone picked up some stations, mainly just TFM, which happened to be playing Shakira. At this point, I disconnected the headset.
We arrived back at Thornaby station, hoping to get the connecting train back to Hartlepool. Unfortunately, despite what the message boards said, it had left just before we got there. Fucksticks. That meant that there was yet another 45 minute delay before we headed back to Hartlepool. The sun had gone down at that point, and there was no way we were sitting there for 45 minutes. Off we went to, yes you guessed it, another pub. This particular one happened to be in the shadows of TFM Radio.
I'd have hoped this pub would be good. It wasn't.
We made our drinks last as long as possible, then headed off back to the station. Thankfully, the train was due, we boarded and they all lived happily ever after.
Yes, even I reach a point where I dn't be dicked typing anymore!