Well, seeing as I've received very little / no feedback on Day 1, I can see that you're all really enjoying reading these. Never mind, I intend to keep going, with the help of more photographs and Google Maps.
Anyway, I awoke on the 2nd day. This was to be the main day we were there, and the only full day. We had intended to visit Brick Lane market at one point during the trip. Unfortunately, due to it only being open at the weekend, it was closed, so that was off the radar. There was, however, Borough Market just a short tube ride away, somewhere near London Bridge. We got there, and it was rather "foody".
I don't think I've ever been to a market that's got a dedicated "Turnips" section. Admittedly, I did spend rather a long time debating whether I should buy a small tub of Scorpion Chilli powder, but seeing as there was no prices on anything, I decided against it. I'm one of those people who'll take something to a counter, ask how much it is, and then begrudgingly buy it even if it's more than what I expected to pay.
It's probably still there on the shelf now. On the plus side, I didn't have to carry it around all day.
Accomplice bought a "weird" bacon sandwich, and while I was tempted to buy a sausage sandwich, I didn't…. my word, the excitement I get up to, eh? No wonder nobody is reading this bloody thing.
We walked around the nearby area, and happened to stumble upon one of the replicas of "The Golden Hinde".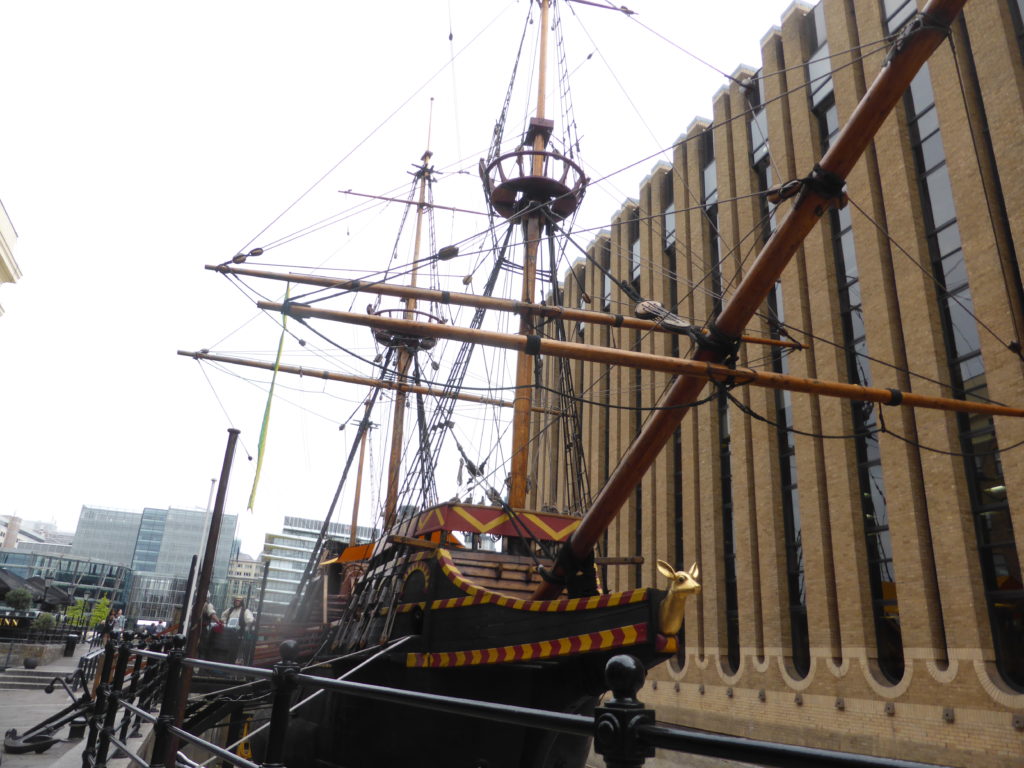 It was a short walk to London Bridge tube station, so we headed off in its general direction. As you pass under London Bridge, there's a tannoy that plays a creepy music-box rendition of "London Bridge Is Falling Down". That's rather worrisome, especially as you're going under it as the time. No matter though, as I'm sure it's built with far more sturdy materials than when that particular tune was written. It's an old folk tune anyway, so it was probably written about polio anyway.
One of the sights I wanted to see while I was in London was the Olympic Park, in Stratford. It sort-of fitted with the other things we were going to see that day anyway (or so we thought), so we headed off in that general direction.
It seemed we were going out of the more popular area of London, as the tube carriage emptied further and further we went along the line. This had me feeling already that there wasn't going to be too much there.
Well. After getting out of the tube station, you're greeted with a shopping centre. Nothing much wrong with that, but it just feels a bit like "You've come all this way to see something. Great! Now spend some money!" And, spend I did! I bought myself a sausage roll from Greggs (yes, they have them down there too) and a bottle of wahter. And the sausage roll was *terrible*.
It was a short walk to the Olympic park from the shopping centre. Well, it would have been had we gone the right way, but instead we ended up walking around the not-very-decorative loading bays for the shopping centre. Oops.
Onto the stadium itself. The words "underwhelming" spring to mind. Maybe it was because they changed the shape of it since it was used for the Olympic Games, but I was expecting something much grander.
The athletics championships had just finished a couple of days prior to us going, and there were still traces of the signage left standing. Unfortunately, as the stadium had begun the transformation from an athletics track into a football stadium (which has to be done manually, and takes 15 days), nost of it was fenced off. There were still signs up for the athletics though, including a sighting of my new second-favourite fictional hedgehog, "Hero"…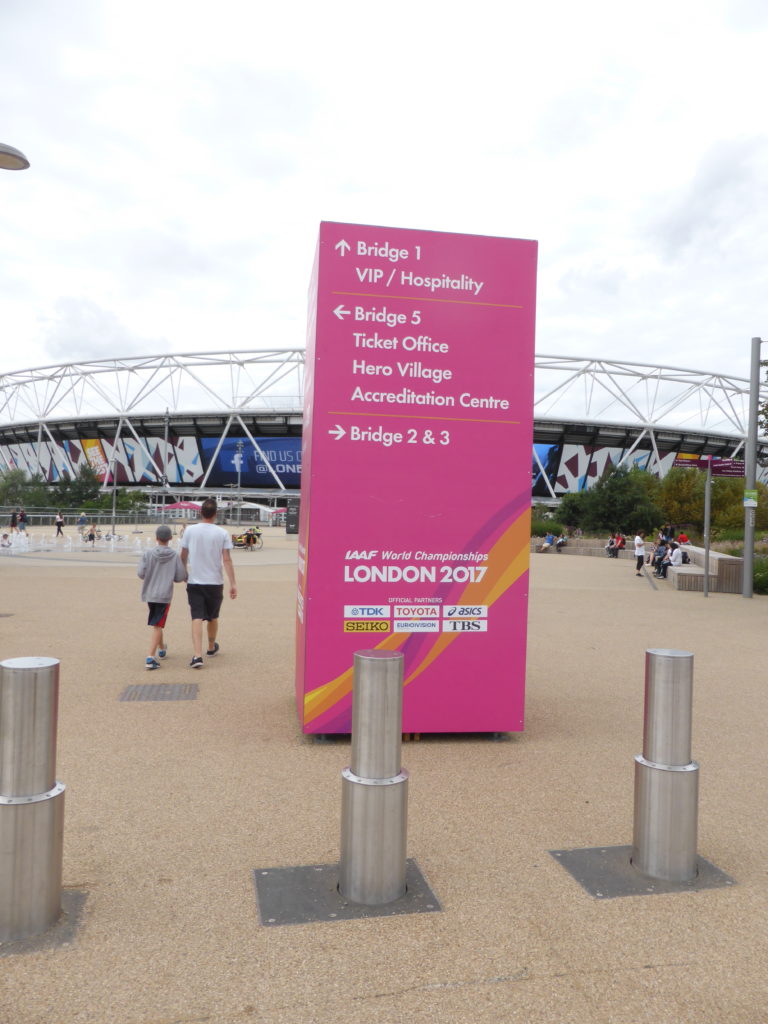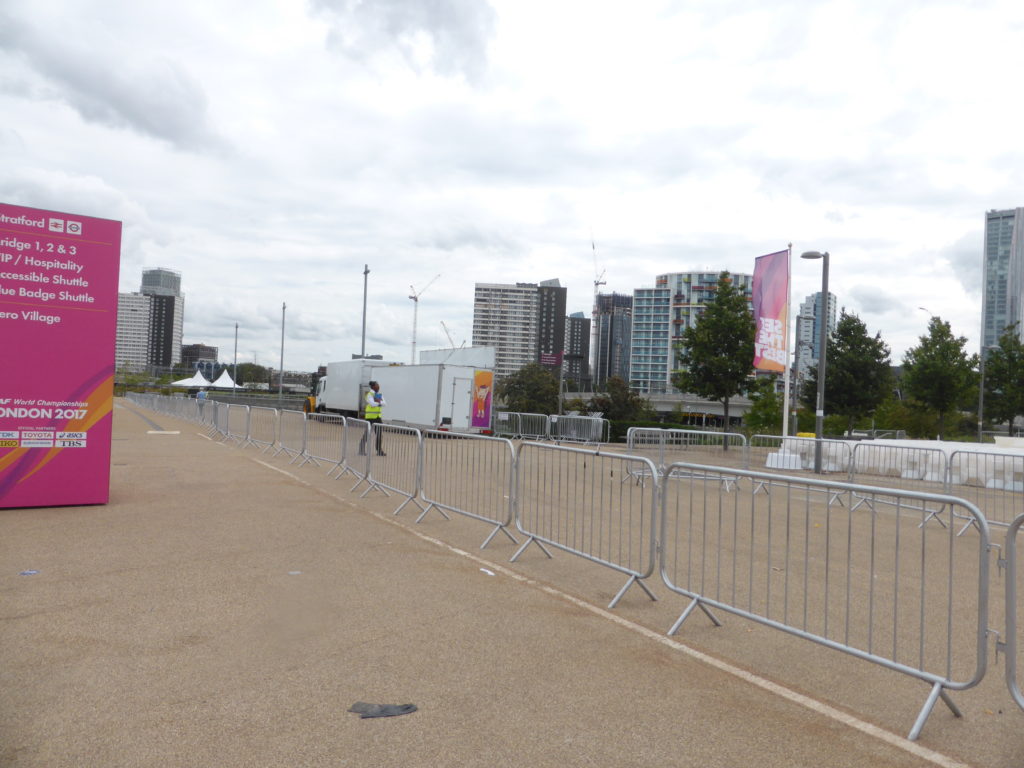 After that, we were "Gone, Gone, Gone!" Next stop would be Abbey Road. It was a mere couple of stops on the DLR…. or WAS it?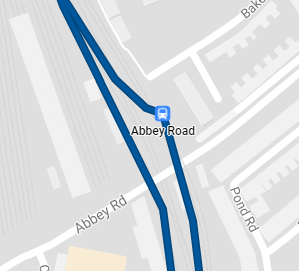 Judging by the presence of that sentence, you'd be right in thinking it isn't. At least, not the famous one, anyway.
We got off at the appropriate DLR station named "Abbey Road", and made our way to the bridge that leads out on the road, only to be presented with a sign filled with really crap Beatles puns, something along the lines of "Are you looking for the Beatles' Abbey Road and are in need of a little Help!? Well, you'll need to get a Ticket To Ride to "another station".
Accomplice had pretty much given up on the idea of seeing it. I clearly hadn't. Therefore, we travelled the 34 minutes on the tube, followed by about another 10 minute walk, just to see a zebra crossing. And it's not even the original zebra crossing, which was a little further up the road. But nothing stands in the way of a good photo opportunity.
OK, it's entirely the wrong angle, but I wasn't going to get Accomplice to stand in the middle of road and hold up traffic. I'd have known what the response would have been.
So, the whole premise of going here and seeing the non-touristy sights were going really well. There was one place I wanted to go that even the hardened tourist wouldn't have thought of.
Part of my job involves entering data about London streets from emails into a database. It's all very old fashioned, and something that could be automated very easily, but because of this, I became aware of a street called Chandos Place, upon which stands a Nandos. Therefore, we headed there andhad Nandos in Chandos. I wonder how many other people have done the following just for that very reason. Yeah, probably nobody.
As we were still in an "upmarket" part of London (Covent Garden, to be exact), it seemed only right to go and do something even more upmarket. It was time to take my very first trip to Harrods. After all, I'm sure I'd fit in, with my purple Slazenger polo shirt and Sports Direct walking boots. I'm sure it was the type of clientele the shop regularly does business with. Mind you, nobody in their right frame of mind actually buys anything from there. I mean, £1.80 for a bottle of coke? Come on, I'm sure there was a Tesco Express around the corner.
I bet you didn't know that the carrier bags for Harrods used to be made in Hartlepool? I don't know if they're still are, but I always remember going to infants school with my PE kit in a Harrods carrier bag. My nanna worked for the company that made them. Obviously, I didn't get the significance at the time, but I'm sure it'd raise a few smiles these days, wandering around this lovely little fishing village with a Harrods bag.
I was considering buying a music system, but even if I put together all of the money I have ever earned from all of my jobs, and not spent anything else ever, I'd probably still not come close on buying this…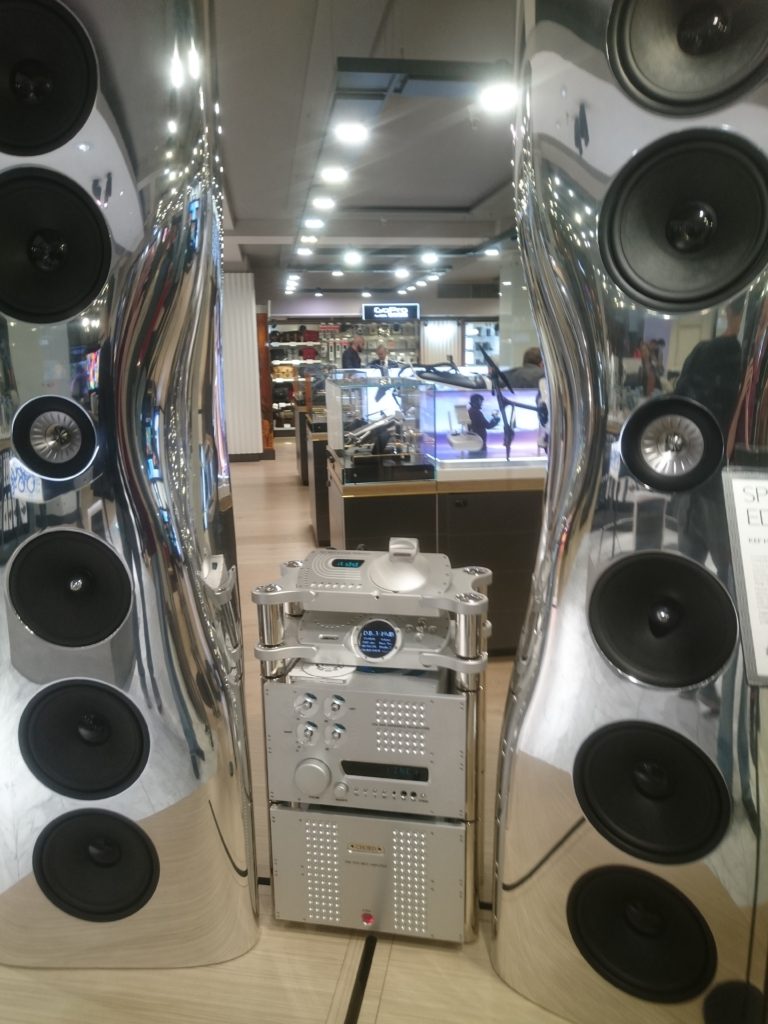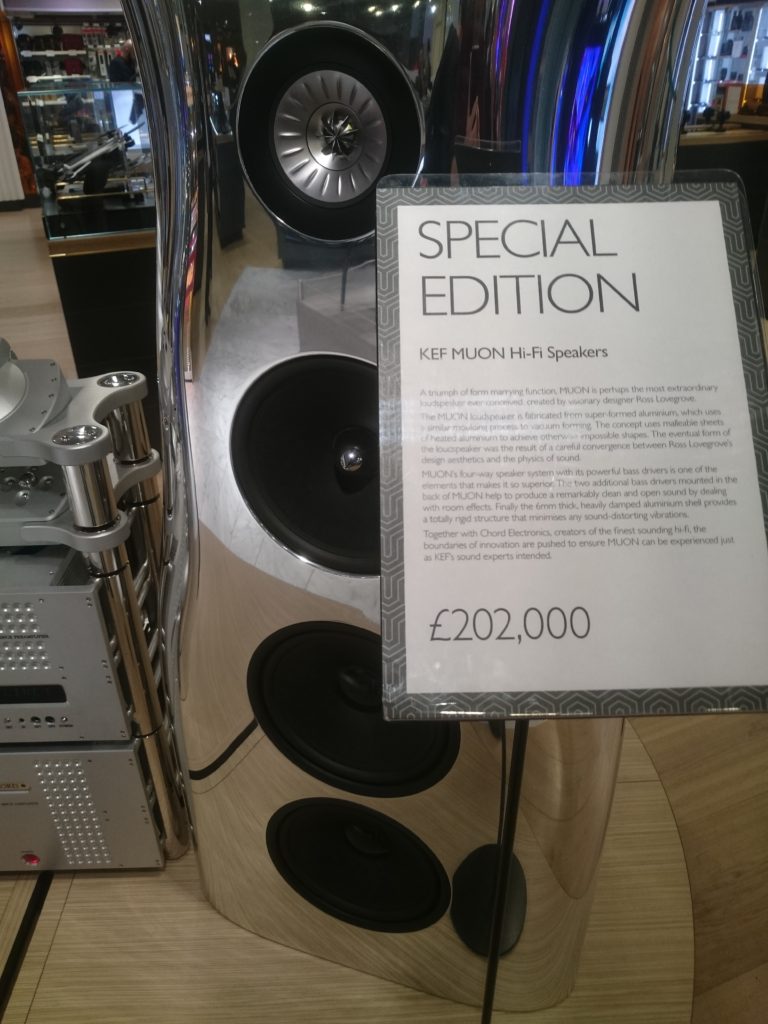 It was at this point my Nandos started moving, and I thought it'd be a nice little thing to say I've had a cack in Harrods. If you're a bloke, don't bother. There's bogs on every floor for women, and one bog in the entire place for blokes, and there was a queue a mile long. There's one thing I absolutely detest in life, and that's following someone into a cubicle It's happened too often where I've dropped an absolute panblocker, and someone's went in straight after me. One day, I know the tables are gonna turn, but not this time. I kept hold of it until we found somewhere else.
And that somewhere else was apparently "the only pub on Sloane Street", known as The Gloucester. Finding the bogs was like playing something in The Crystal Maze (which has returned to our TV screens! Hurrah!) – go up some stairs, through the doors, disable the laser, though some other doors, etc. While we were in there, I also had a pint of "Camden Pale Ale", which was a nice smooth pint. I have blocked the price of this from my mind. Accomplice would watch out of the window as the shiny and expensive cars would go by, and comment on each of them. I would simply nod politely and pretend I knew what was being said. I didn't have a clue. When it comes to cars, you might as well speak Swahili to me.
We downed the pints and emerged once more into the setting sun. Apparently, we walked up Knightsbridge, Kensington Road, then onto Exhibition Road. Lots of large colleges around there. Walking around there made me feel like I was back in Berlin or Vienna. It certainly didn't feel like London.
Another quick ride on the tube took us to Victoria. A station I believe I last frequented in 2003. We walked down Victoria Street. Another street lined with modern buildings and shops, and of course, some not-so-new buildings. It was, at this point, it became clear that all of my hopes of doing the non-touristy stuff came to an abrupt halt, as unbeknownst to me, the road led to the Houses of Parliament, and of course, Elizabeth Tower, a.k.a. Big Ben.
It was a mere five days before the big bell would stop sounding for four years, so I suppose it was nice to be one of the last to hear it in action one last time.
We made our way across Westminster Bridge, and headed down the river towards London Bridge, taking in the sights, stopping off for the odd sit-down along the way…
I'd avoided any type of curry, so I don't know how that possibly could have happened.
As we were walking, something became apparent. My feet weren't holding up as well as I thought they were going to. I'd pretty much avoided the problems with my left foot (more on that later, probably in the next part), but instead I was having problems with my right foot…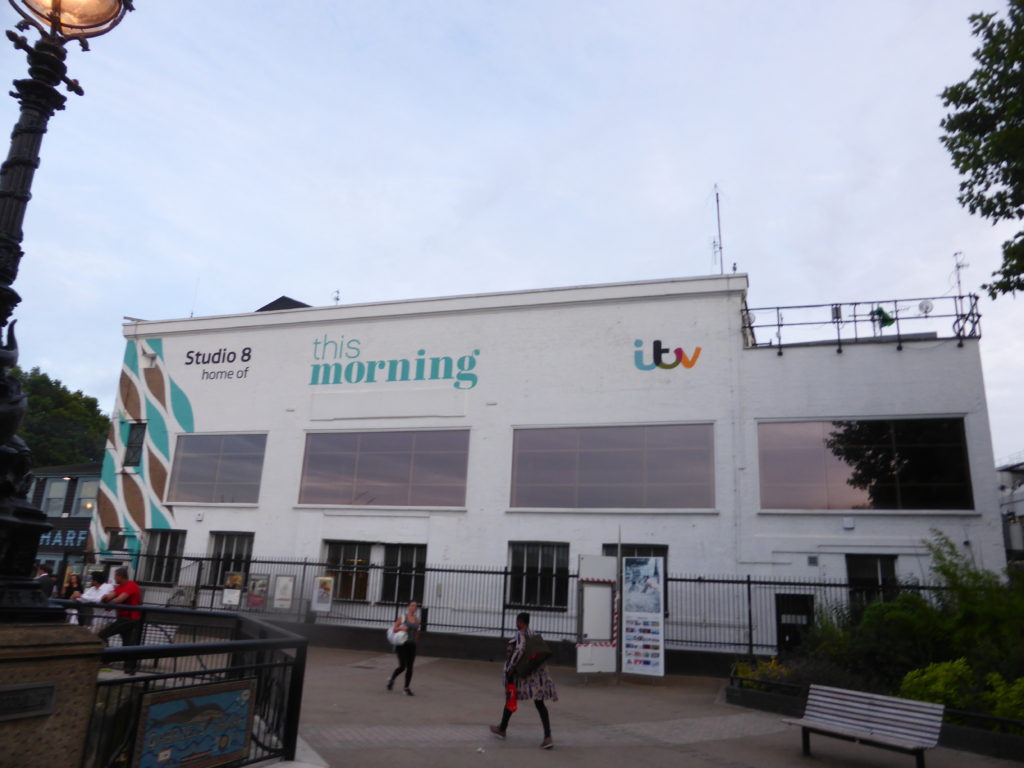 And, right on cue, just as we'd passed the ITV studios (home to none other than ITV's "This Morning", as you can clearly see), I felt a massive blister go. Oh, this didn't feel like it was going to be good.
I struggled on, desperate for a sit down somewhere, but we kept on, and eventually made it back to London Bridge. It was about 9PM at the point, but that music-box thing I mentioned earlier was STILL playing. Creepy.
It was still relatively early, and we'd made plans to go somewhere and catch something to eat, but my feet decided not to play ball, so we headed back, calling in at McDonalds on the way, as it was just a short journey from the hotel. My word, if you know Hartlepool, you'll know you always get your flurry of harmless chavs hanging around. It's warm, it's dry and it has free Wi-Fi. What's not for chavs to love? Well, in London, it's like that, but the chavs seem a little more… sinister, like if you look at them the wrong way, they'd stab you. I felt like the guy sat next to me was going to jump me, or something. Then a guy sat next to me, carrying a Primark bag, having a full-on conversation to himself.
"Right, that's it, we're going"…
We arrived back at the hotel at approximately 9:30. I nipped downstairs to the hotel bar to see what it was like. Not very good to be fair. One lager of dubious origin on draught, and a price tag around the £4.50 mark. I managed to have one before they ran out. I then had a 330ml bottle of Stella and paid about the same. If I'd have thought, I could have nipped to the pub across the road. Though if I thought @the Maccy D's was rough, I dread to think how rough that pub might have been, especially on my own and with a Northern accent. Yeah, best to stay in the safety of the hotel I reckon.
As I was unwilling to mortage Mercury Towers for another small beverage, I headed back to the room in preparation for the 3rd and final day in the Capital…