(I'm republishing an old article from 2008, as the "funky theme music" is now MIA.
Tomorrow, I return to Employment Place, after three days on the sick, as last week I came down with some dreadful flu thing. Once again. Unfortunately, this time, instead of it just affecting my nose and throat, this time it decided to take my left ear and chest with it. I'm still not right. My ear still feels like there's a bowling ball stuck in it, and my throat is once again making it difficult to swallow.
Oh, the joys of being poorly.
The time off, however, has allowed me to get some of the things I meant to do ages ago out of the way. Firstly, I upgraded Beastbits, my main machine. You may remember on 31st March, I tried to install Windows XP onto a SATA drive, with absolutely no success at all.
Yesterday, I tried a different approach, which I didn't think would work. I backed up my installation of Windows XP onto 2 bootable DVDs with the help of Nero BackItUp (or whatever it's called). I then put in the new hard drive, and restored the image back to the hard drive.
It only bloody worked.
Not only did this bypass the rigmarole of having to restore everything, it means that I know this method actually works. Unfortunately, the whole process seemed to take forever. Sooo, now I have XP installed on a SATA drive. Wooty.
On the subject of upgrades, the amount of free space I have on mercuryvapour.co.uk has increased too! It WAS 800Mb, it's now 2Gb. Unfortunately, as of yet, there has not been any bandwidth increase, so basically they've gave me a larger bucket, but the same amount of water to keep in it…
Yeah, that analogy works.
So, onto the theme music bit. None of you will remember a show that aired on the Disney channel (and at come point Channel 5) named "Okavango". It was one of those awful Sunday afternoon things, about a family who moved from the city to… er, "Okavango" to look after all the wildlife. Or something. I didn't really watch it. It did have one good thing about it. The theme music. I loved it.
Eventually, the show fizzled off the airwaves, and was never seen again. No DVD release, no repeat, nothing.
A few years ago, I tried to locate the theme music, with absolutely no success. in fact, I was amazed by the amount of information I DIDN'T find.
Following on from a thread about "Theme music", on Glen's forum, I suddenly had a recollection of Okavango, and how much I liked the theme tune.
I tried to find the video on Youtube, with no luck. I had to resort to a google search which turned up a low quality video.
I didn't expect anyone to have heard of the show, and indeed, they didn't. Glen said…
"Never heard of it, but I recognised the bird off of Alien Nation. Do I win a prize?"
To, which, I replied, jokingly…
"Only if you can find a better copy of that theme music."
At this point, if I had a sound effect for a jaw dropping, I'd be playing it right now. I do have this picture, however.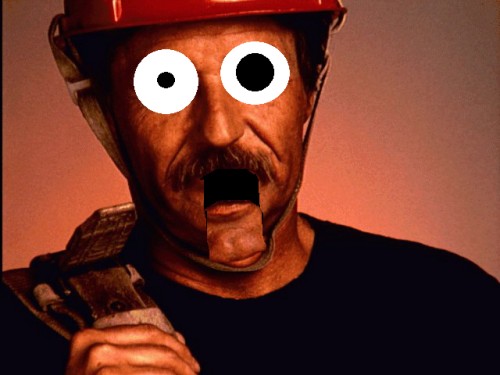 Within two hours, Glen had tracked down a 2-minute long MP3 of it. Oh my! But, it was just a preview, thetrefore low quality and no ID3 information at all. Unbelieveable.
He titled the email "I rock", and he certainly does rock. Not stopping there, however, I badger him for some further information, and his response….
"It's Invent Yourself by Julian Laxton"
In the posting was the link where he got the preview from, and also a link to where it can be purchased. Turns out the full track is just under 6 minutes long. Awesome!
So, I purchased it. The site was located in South Africa, which means the cost of getting the track was 8.74 Rand. And that works out at roughly 60p. Bonus!
I shall be back at work in 7 hours time. Apparently there's a new phone system. This WILL be fun.
EDIT:2021. I've republished this one, as I'm a bit gutted… "Invent yourself" by Julian Laxton has apparently vanished off the internet. This was the first MP3 I ever bought so I'm glad I still have a copy of it, but it's disappeared off Spotify. I can't stress this enough. Get a physical, or even a file copy of the music you love, otherwise it could be gone forever and you can't do a thing about it.