So, I awoke on the 2nd day at about 8AM, after a perfectly acceptable nights' sleep. This was surprising, as I'm not a fan of hotel beds. I seen to recall my sleep was disturbed by a passing police car. Despite being on the 7th floor, and quite a distance from the road, the building next to ours reflected the sound into the room, and by the time the car had headed along Maid Marian Way (no, seriously, that's that the road was called), I was awake, bright as buttons. Gah.
Chris slept through it, so I amused myself by abusing my phone and uploading all sorts of garbage to Facebook. I gave it until 9PM before I decided to surface and risk waking Chris up. 19 minutes later, while in the middle of a shave, my phone started going nuts, it was Chris's dad. Amusingly, Chris slept through approximately 20 seconds of my annoying shopping centre yet there were two charity shops in there, a particularly bad YMCA shop that had literally 10 CDs in there, and a much better shop, where I spent under £7 on CDs. I could have spent more, but I didn't realise the singles were "Buy one Get one Free"…
By this time, Chris's boredom threshold was being tested to its limits, so we went in search of the now removed railway, and found it entirely by chance…
The closed tunnel entrance in the centre of the picture, the unmistakable blue brick to the right forming the entrance to what was once a railway tunnel, now a car park.
By this point, the effects of the Greggs Pasty were wearing off. I was hungry, and so was Chris. I had a bag of CDs to drop off at the hotel. It suddenly dawned on us. Where the fuck was the hotel? I knew one thing, we were near this building…
In hindsight, this building was visible from the hotel window, but we were lost enough for me to break out "the technology" – bring up Google Maps on my phone and make sure we were heading in the right direction. We were! Eventually we returned at the hotel, I dropped my CDs off, and headed in the general direction for something to eat.
Three days consisting of nothing but curry would probably be a bit too much, so we gave the curry houses a miss and headed off back into the town, eventually resorting to going to the Wetherspoons we'd went to the previous night. I settled for the "simple" steak 'n' chips, while Chris had some type of Panini thing. I always thought they just made sticker annuals…
Food was consumed, and the day was still young. The only tourist attraction either of us could think of was the castle, as Nottingham, at one point, had a large fortification overlooking the city. It was £5.50 in. Unfortunately, there's very little remaining of the castle itself, except the walls. Inside, is a large museum and art gallery. There's also a fair amount of gardens to walk around and admire that thing where they make shapes out of plants… erm… can't remember its name…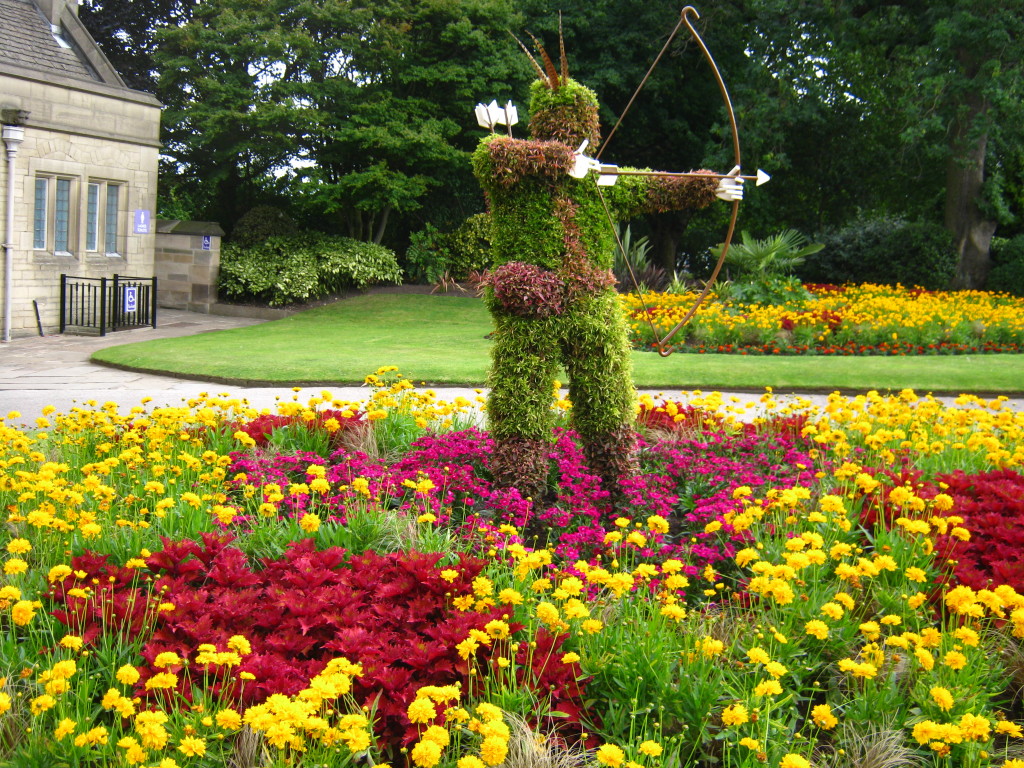 The highlight, for me was the fact that the museum actually contains the very football shirt Maradonna wore during his infamous "Hand Of God" incident. Now that's not something you see every day.
We left the grounds just as a horde of foreign students invaded the place. Perfect timing! They all seemed like proper twunts. We made or way to "Ye Olde Pube". I can't remember its proper name, but it's set inside the cliffs that Nottingham Castle stood on. While me and Chris were enjoying a quiet pint in the "beer garden", the hordes of students had apparently left the castle and headed to our quiet little inn. None of them were over the age to drink, so they just stood outside and took photos of the place. In pure "Jamie is a complete dick" style, I tried to photobomb as many as possible. There'll be some kid, thousands of miles away, wondering why there's a bearded guy with a pint glass on his head.
At this point, it started to get cold, and the time for food was fast approaching. We headed off back to the hotel. After remembering how bad the beer was in the free bar the previous night, we stopped off at the Tescos and picked up essential supplies…
Amusingly, there were signs on the hotel entrance that "No food or drink to be consumed in the room". I'm sure they'd try and stop me.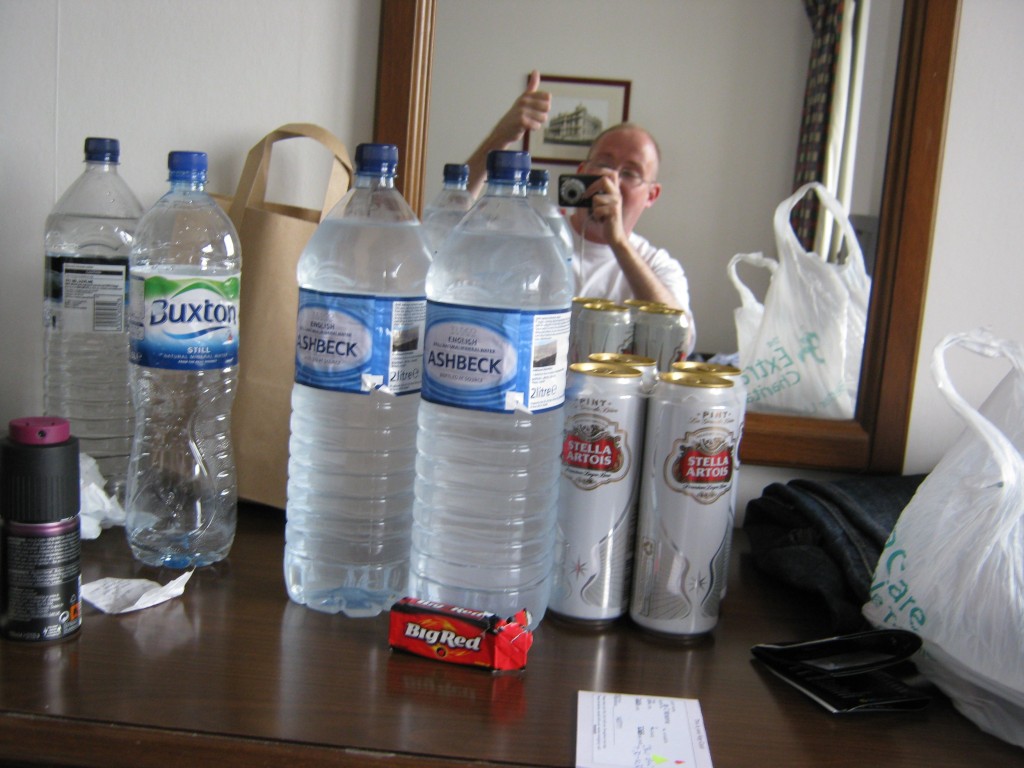 After a quick change, we headed out of the hotel and, after a quick walk round, decided that our next meal would once again be consumed at "Chutney". After all, their service and food was superb last time. It was even better. the staff were friendly, and even gave us another discount because we'd been there the day before. Ten, no, eleven points for service.
Once again, we headed back to the hotel and got ready for the night's festivities. I say festivities, I really mean drinking some of the world's most watered down lager known to man. It's not even worthy of the "Making Love in a Canoe" joke…
We returned to the room early, pouched the cans, and I attempted to take some long exposure shots out of the hotel window. I'd show you them, except it would appear that Flickr has eaten them. Grrrr.