I know some of you are itching to find out what happened on Day 2 of the Amsterdam trip. Yeah, well, that'll have to wait for a little bit, because I've just had a moment that is so heart-stoppingly brilliant that I'm still trying to come to terms with the fact that I now have every record I want, with the exception of songs that I don't know the name of, but then, they're going to be pretty hard to find if I don't know what they are!
Anyway, this is the vinyl varmint that has been on my wanted list since as long as I can remember…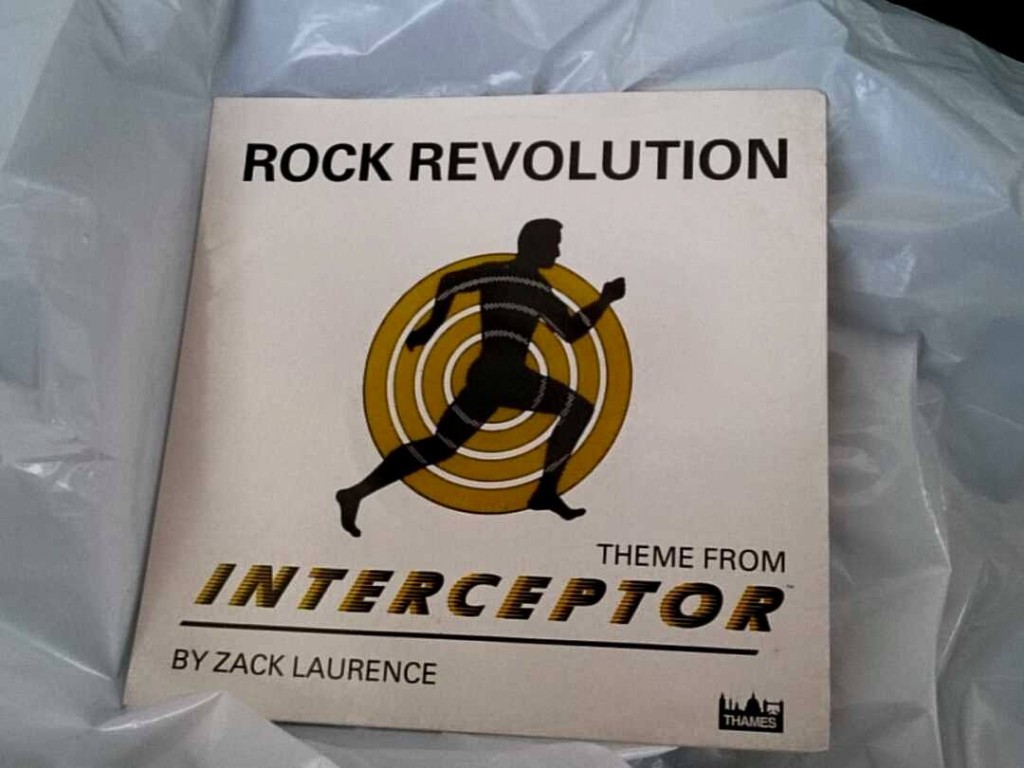 It's the theme to very short-lived gameshow Interceptor. Though you could possibly work that out by the look of the cover. And I now own a copy. Let me take you back, to the very beginning. 1989 to be precise.
Channel 4's long running gameshow "Treasure Hunt" has been axed, and Chatsworth Television had a similar, but more exciting gameshow. Technology had come a long way since the days of Treasure Hunt, where "Sky-runner" Anneka Rice would run around, solving clues, with the help of a helicopter, and two contestants in the studio, guiding her around a course, sometimes thousands of miles away. Obviously, the only communications they had was via radio, and Anneka's live scenes were recorded by two blokes, Graham and Frankie. One of them would carry a camera, and the other would carry a huge "portable" U-Matic tape machine on his chest.
Anneka Rice had gone off to pop a sprog, and was replaced by Annabel Croft for the final series.
Treasure Hunt was a fun program (which also had a theme composed by Zack Laurence. It's called "Peak Performance" if you really want to dig around for it. It's commercially available.
So, as I was saying. Treasure hunt had came to an end. The two helicopters used to film Treasure Hunt, were redeployed for Interceptor.
This show was a little more complicated than TH. Let's see if I can explain it without rushing off to Wiki.
Annabel Croft was re-used for this show. She was the presenter, and also the "middle-man". The show has two contestants. Each with a backpack. One has the prize money in it (£1,000), and the other is empty. The two players get dropped in a helicopter in random parts of the countryside. Once this is complete, a 40-minute timer starts. They have to explain to Annabel where they are. Once Annabel finds where they are on a map, a waypoint lights up. This is the location of the key to the other person's box. They have to find each other's key, then meet up and touch hands to stop the clock.
Oh, but there's a twist. "The Interceptor". And it was a brilliant twist. Hats off to the guy to thought of this one. One the back of each person's backpack is a series of infra-red receptors. The Interceptor has his own helicopter, and can fire an infra-red beam to the receptors, and this will lock the box permanently. Obviously, the Interceptor wasn't just confined to a helicopter, he had access to a car, motorbike, and even a horse. I can't remember if that was actually used, but it was in the opening credits.
The whole point was that the Interceptor, played by Sean O'Kane, was a villain. A bloody brilliant pantomime villain. There were some moments where he would see the contestants from the helicopter, and then sneak up on them. Unfortunately, it wasn't easy for the contestants to hide, as they'd have a bloke with a 1989-style TV camera following them.
It worked. It really worked. Everything worked, but just like everything good from the 1980s, it was shit-canned faster than you can say "IIIIIII LIKE IT!" . 8 episodes were produced.
So, enough of the warble that you could have easily looked up on Wikipedia, why this particular theme? Why did "I Like It"? (By the way, that's the Interceptor's catchphrase). Hard for me to say. I just do. Many, many years ago, I found that the theme had been released as a single. I'm thinking about 1998 here. Sime time later, I found an MP3 of it, both the A side and the B side. Unfortunately, it had been recorded in pretty low quality. It was still listenable, but hell, I'll get the 7″. And so the search began
It can't be that difficult. The bloke who ran "Interceptor's Lair" has a copy, because that's where I downloaded it from. Must be millions out there.
Well.
No, is the simple answer to that. People who know me know I love my records. People who know me actually despise the fact that I love my records, because if they're out anywhere with me, I drag them around every record shop, every market stall, every second hand shop I can find Every place that is likely to sell records, I'm in there.
Naturally, I've been looking for other things too, hence the fact my record collection's just got too big to manage. But deep down, in my gut, I knew that "rock Revolution wasn't part of the collection. I trawled eBay. Two copies turned up for ridiculous amounts of money. And I mean ridiculous. I think one of them was £22. I have a screenshot somewhere.
So, today, then, and the fateful moment that allowed me to complete the collection.
Jamie S had rang me yesterday. He'd been working away, and was back home this morning, and wanted to know if I fancied doing something. My reply of "Do members of the ursidae line of mammals defecate in large wooded areas?" confirmed that I was freer than the afore mentioned ursine after a dose of curried prunes.
He had an errand to run, in Sunderland. Now, this is where I think fate kicked in. Does fate exist? I don't know. Maybe this was just an extremely lucky course of events, but hey. There's got to be some order to all of this.
We arrived in Sunderland, and proceeded to walk down Charity Shop Alley. It's a row of shops with about eight charity shops in them. Jamie cracked a joke about something, and I said "For that, I'm going to have a look in this charity shop". We laughed, and he continued walking. He wanted to find the place where this errand must be carried out. About 10 minutes later, he rang me and we met back at the train station. The call ended with "I've found something you might like". Cor. My interest was piqued. He'd found a record shop that had just opened. It was a record / music / coffee shop type place.
I walked past, and looked through the window. There didn't seem to be much in there. A row of records, a drum kit, some chairs, nothing substantial. I said I'd have a look in, but I'd probably end up in "That's Entertainment". It's a chain of record shops that sell CDs, often hard to find ones, but for pennies. They often have 49p CDs, without cases, which are entirely random. I assume they're rejects from proper CDs that had damaged cases, etc. You know this anyway, if you follow my music collection.
We went to McDonalds first. There was still some time to kill. Food was devoured, and Jamie was going to head off to Errandsborough, and I was going to go to That's Entertainment. I was stopped in my tracks by the fact that "That's Entertainment" had now closed. Gah! I think I know why they keep disappearing and reappearing, but this would be wild speculation.
Oh well, I thought I'd give that new record shop a go anyway. The stock consisted of stuff that looked like it came from a charity shop. 30p stickers, overridden by a £1.00 sticker on the other side. Never mind. I'd have a dig through. There were a couple of 12″ singles that sparked by interest, but for £1 each, I'd leave them there for now. I looked around and found a few boxes of 7″ singles.
I had an odd feeling. There would be something in there. The records just seemed the right era. There was a hand-written poem by someone on one record, which they clearly liked… "If this record attempts to roam, smack its bum and send it home". I was tempted to buy it just because it made me smile, but it went back in the rack.
Jamie rang me shortly after, asking where I was. He didn't see me in that record shop, probably because I was kneeled down. I explained about this, and come and entered the shop. He can't have been in there more than 30 seconds when I pulled this out. This elusive, round, piece of black plastic that has chased me round the internet for nigh on two decades. My search was over.
I can't possibly convey in a way that is meaningful what happened next, and I don't expect anyone that doesn't collect stuff to even know what this feels like. It's like blood drained from my entire body for a split second, then rose back up. If Jamie had happened to have his phone recording, it'd went viral. It's like a quest had ended.
It was an odd feeling. After finding the "Fourscore" record a couple of weeks ago, this was by last holy grail. The last piece of plastic that was never released on CD, and never available other than the original release. Even Darryl Way's "Little Plum" proved much less elusive than this.
It was a feeling like "wow, I never have to go into a charity shop again. I never have to put my back out, trawling through dusty, mislabelled boxes, asking awkwardly how much the singles were.
I'll never be on the lookout for that black, white and yellow cover. I have it now. It's mine. I'm going to stick it in a safe deposit box in Hatton Gardens…. Maybe not.
I've naturally played it, and it's noisy. Especially the B side. But I don't care. It's the charm of collecting records. Someone has played it before me. Played it many times. Maybe left it out of the cover for a bit. It's had a home. Lost that home, and found a permanent one here. I've spent several hours typing this now, and I still glance to my left, there it is, "Rock Revolution". I can't believe it's actually here.
God, I need a shag.