So, apparently I took the whole of July off, but don't worry, I'm still perservering with this! Maybe I'll have the last two typed up by the time the lockdown officially ends… assuming this blog is still going in 2028.
Well, we're still in 1991, folks. After all, these are albums that shaped my music tastes, so I guess they have to be early on in the collection.
Let's fast-forward a few months to Xmas of that same year. This was the last truly great xmas, as it was the last one I had with my mam. Also, the pick of prezzies I got that year were pretty amazing. Santa's sack really must have been bulging that year.
Two main presents in this particular year… a Commodore 64 (yes, I'm aware I arrived very late to that particular party!) and finally, a hi-fi I could call my own! Something a lot more modern than the ancient thing I'd been using earlier on in the year. Thanks to the wonderment of the internet, I managed to find an image of that exact same hifi.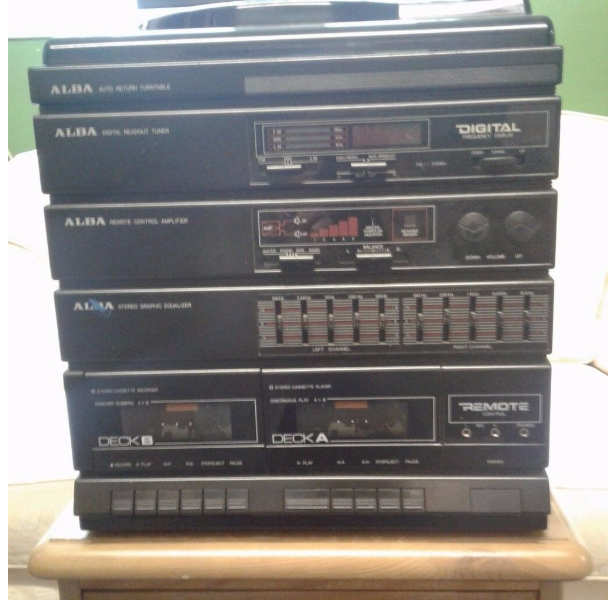 I had to lift the image off Gumtree, so apologies if the seller ever finds this site, but as you can see, it was an Alba jobby. It's meant to look like all the parts are separate, but they're not, they're all moulded into one front cover. The speakers (not pictured) were the same height as the unit, and connected at the back via 3.5mm jacks, and there were two phono jacks for an auxiliary input. These would become useful later on.
I absolutely adored this thing. It wasn't without its quirks, however. It had a very basic remote, which allowed volume up / down, and I genuinely think that was it. Everything else featured manual moving parts. At some point during this hi-fi's life, we switched over from incandescent light bulbs to the early compact fluorescents. The slight issue was that they gave off light at the same frequency as the volume up / down control, so you'd turn the light on, and the volume would go right down to none. Therefore, the remote sensor ended up with a sticker over it for most of its life.
Although the tuner says "digital" on it, it wasn't. It was still an analogue dial, with the readout given on an LED display. It didn't come with a CD player – that got added the following year. Maybe that's a story for parts 9 or 10… who knows?
This was a hi-fi built at a cost, and obviously 30 years later, it really does show, but being able to play records and takes, and listen to the radio, was all that mattered to me.
This was the first of the "Now!" albums to use the familiar style of logo. At the time of typing, we're into the Now 100's, and they're still using a version of this. The font changed when they broke the 100 barrier, but it's essentially the same.
I could sit and write the list out of what tracks are on there, but there's 40 of them. Instead, I'll just pick out the real gems… or at least the ones I like. Music is subjective, so you might agree, you might not.
Let's start off with Side 1, Track 1… "Dizzy" by Vic Reeves and the Wonderstuff. a perfect remake to me…. nothing like the original, and this was also one of my early 7″ singles, given to me by my aunty. I'm sure I mentioned in here before that Chad taped over the first 30 seconds of this with the "Grease" soundtrack. He doesn't remember, but I do! Actually, this has just triggered a really weird memory I can't have been in senior school long, and there was some type of assembly going on, probably doubling up as a talent show., with some of the older kids dancing around to this, complete with cardboard "washing machine" props. For some reason, I always remember these props hanging around in a store cupboard somewhere (probably where they kept the basketballs as the gym was right next door), long after they'd served their one and only purchase.
Er, onto "Pet Shop Boys – Where The Streets Have No Name (Can't Take My Eyes Off You)". At the time, I didn't even know this was a remake, never mind a parody of a U2 song. I thought this was great, and still do. I recently bought the extended version of "Behaviour" which has the extended version of this on. Still a cracking, if slightly obscure and forgotten track these days.
"Love To Hate You" and "Sailing On the Seven Seas are both cracking tracks too.
"Something Got Me Started" by Simply Red is a song that was a grower. I hated it when I first heard it. Now, I quite like it. I don't think it'd ever make my dream jukebox, but I wouldn't change the channel if it came on the radio. "Let's Talk About Sex", on the other hand, is to me, one of the worst songs ever recorded. I'd jump out of a two-storey window if that ever came on the radio in my presence. OK, slight exaggeration, but I really dislike this song.
To this day, I'm surprised of the inclusion of "Gett Off" by Prince. Considering these albums are ained towards the younger audience, some of those lyrics are a bit… "close", shall we say? I remember being fascinated by the fact they reversed the "big ass" portion of the lyric, so it just sounded weird.
"Get Ready For This" by 2 Unlimited was the standout track for me. this was the one I looked at on Christmas Morning, and went "YES!" Or so I presume. I guess this was the most played song on this side.
This side finished with Moby's "Go", and the amazing "It's Grim Up North" by the band usually known as KLF. This would have been a perfect tune to finish this side on, as it fades to therelaxing sound of birdsong, but no, they stuck "Set Adrift on Memory Bliss" on the end of it. Not a great song, but I knew of this before I knew of "True" by Spandau Ballet, so my mind was blown when I realised it heavily used a sample.
Turn the tape over, and you're onto song #6 before there's anything that's remotely worth typing about. "Too Many Walls" by Cathy Dennis. I liked this particular track, and it was my first experience of her music. She now writes songs for other people, having many more chart hits this way.
"This House" by Alison Moyet was a dreary, forgettable song, instantly followed by "Walking In Memphis" by Marc Cohn. Another song I'd never heard before playing it on here. Lovely, clear lyrics. Great piano playing. If you held a gun to my head, I'd blast this out on karaoke…… without hesitation. I did always wonder this, though… "The lyrics, "Walking with my feet ten feet off of Beale" refers to Beale Street, an actual street in Memphis. Riley B. King became known as the "Beale Street Blues Boy" shortly after he first arrived in Memphis. Later, the nickname was shortened to B.B., and the rest is history.". I'll Posted on Categories Christmas / New Year, Music, ReminiscingTags lockdown, music memories, now 201 Comment on Day 8 – Now That's What I Call Music! 20