So, this was it. My alarm woke me up dead-on-time. 6AM. I double-checked and triple-checked the list of items I was taking home. All of the packing was taken care of, and at precisely eight minutes past 6, I knocked on C+J's door to make sure they were awake.
They were indeed, and the last precautions were taken care of. At 6:47, I took one last image of my hotel room, and locked the door behind me for the final time.
The phoe rang, and the shuttle was ready to pick us up. We made our final descent in the lift, and was greeted with a battered old tranny van, already packed with American tourists, and complete with a cracked windscreen that looked as if it was about to give way any second. In fact, this shot sums up the state of the windscreen.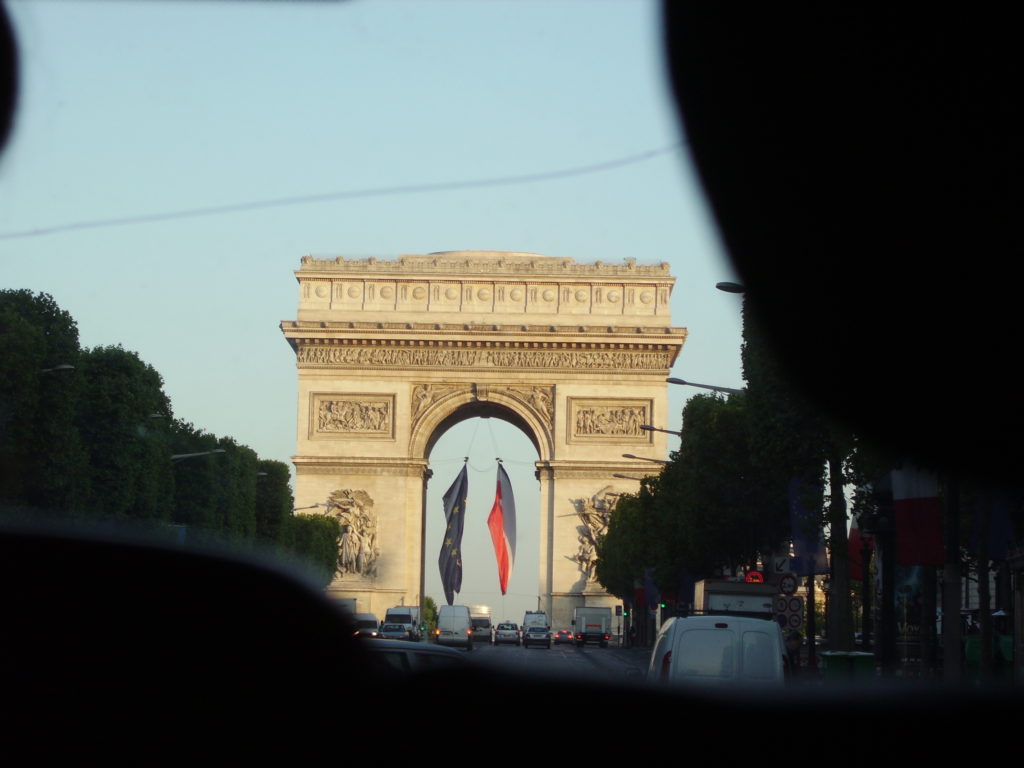 See that blurry line? That's the crack in the windscreen.
The driver, some random Japanese guy could only speak about three words of English, and considering he spoke these badly, this was going to be a fun journey. Firstly, he wanted to know what terminal we wanted… now this was easy. Terminal 2E, for the flight at 10:40 to Newcastle.
"Nono, look in the book", he said in an accent which resembled something ripped directly from an episode of the now defunct play-along game show "Banzai". He handed Jonathan a tatty timetable. the closest he could find was the flight at 10:20, from Terminal 2F.
Fair enough, clearly this driver knows what he was taking about. after all, judging by the state of the van, he must have been doing this for some time.
The seemingly disgruntled Americans departed at their appropriate terminals, while we strained our necks to make sure our bags were still on board. Now, imagine this. if your seat folds down to allow the passengers getting off to exit the vehicle, the normal thing to do would be to get out of the van, and allow the seat to be pushed forward?
Yes, that's exactly what I thought too. I attempted to get up, this crazy driver said "Nono, you stay there", and began to push the back of the chair forward so the Americans can get off, while I was still sat in it, now bent double. What the hell? Why couldn't I have just vacated my seat temporarily?
So, after ignoring the advice given on the OFFICIAL ITINERARY OF OUR BLOODY HOLIDAY, we arrived at Terminal 2F. Amusingly, the driver also demanded that we give him a tip. Before I could say "Yes, here's a tip, get your windscreen fixed", Jonathan handed him a €5 note, and he happily went on his way, whilst we were just left in shock and awe at the most catastrophic journey in the whole history of airport shuttles.
We arrived at the airport in very good time. In fact, a bit too good, as our flight wasn't even listed on the boards. We were left kicking our heels around Terminal 2F for a good half an hour, waiting for our flght to appear on the boards. With almost a sense of inevitibility, the flight appeared, and yes, we were indeed at the wrong terminal! Terminal 2E was our terminal, therefore we had to make our way over there. I had predicted this would happen, so I wasn't too phased. Jonathan, however, appeared to be spitting blood at this point.
We reached the approprate gate, and waited in a mile long queue. Joy. Someone came over and checked our passports, Apparently, the queue was for US passngers flying out of the EU, and we didn't really need to wait in the queue.
Therefore, we were shown out of the queue. "Go ahead, you can use the self check-in desk".
We approached the machines. No less than five seconds after leaving the queue, we got stopped by some jobsworth… "Excuse me, but you cannot use these…"
I butted in at this point, and in the most patronising voice possible, I expained.
"WE ARE GOING TO ENGLAND. THAT GENTLEMAN INSPECTING THE PASSPORTS HAS TOLD US THAT WE CAN USE THE SELF CHECK-IN".
Before that statement sank in to Jobsworth's feeble little mind, we were approached by a friendlier member of staff who inspected our itinerary, and agreed that we could self check-in.
Jesus Christ. More sodding automated computerisation.
She showed us how to use it. Thankfully, this one was a piece of piss, thanks to the fact that the machines we used actually worked, unlike the ones back in Newcastle. Within seconds, our seats were allocated, we had our boarding passes, and our hold luggage quickly disappeared once again into the unknown. Cool.
We went to the appropriate gate. Again, there was a queue about a mile long. and again, we were told to join a shorter queue. Of course, I didn't know this, and while Chris appeared to be wandering off, he was actually going in the right direction.
And once again, we were approached by *another* jobsworth who didn't quite know what he was doing. I don't even remembering acknowledging him, I just suddenly took notice of some argument going on, along with some French guy shouting "Merde" very loudly, and continued following Chris.
Once again, we were submitted to the humiliation of Customs. Well, I say humiliation, I passed through cleanly. So did Chris. Jonathan, however was not so lucky. He returned, shoes in hand, with a grimace that looked like he'd accidentally chewed on a tube of superglue. Let's hope he didn't get the "rubber glove" treatment.
Thankfully, that was going to be it for the searches. It was time to hit the duty free. I was impressed at the sight of a Virgin Megastore. Therefore, while C+J hit the booze shop, I went there.
And within 34 seconds, I was back outside of it. Megastore? Bollocks! It was absolutely tiny, and the choice of music on offer was laughable. Bugger. I caught up with C+J again, and continued to browse the duty free shops. There is an appalingly small selection at CDG airport. Annoyingly, there wasn't even any type of bar to while away the hours. Instead, we just walked around the poor selection of duty free shops. Naturally, I stocked up on cola bottles. They taste so much better than the ones in the UK.
So, after walking around a bit, we eventually found a cafe type place. I wasn't hungry, but instead settled for an Orangina, which cost me a cool €3.50. My word.
I amused myself by checking some of the error messages on the broken advertisement displays. Even these weren't remotely interesting. all they were was the time, an IP address, and some code number. The rest of the time, I was wondering whether the airport lounge was lit by Philips QL lamps. No seriously, this is how boring waiting for a plane can get.
Eventually, after what felt like an age, we made our way downstairs to the appropriate gate for our plane. Well, I say plane, I actually meant bus.
A bus would take us from the terminal building to the location of where our plane was taking off. Now, you remember the boarding pass we printed out only a few hours before? It was useless. Absolutely useless. It got scanned in, by the desk at the gate, and a NEW boarding pass flew out of the machine. Apparently, the plane that was going to take us back… er, wasn't. Therefore, all of the seat numbers had changed. I don't know, and obviously will not know the reason for the change in plane.
At this point, I didn't expect any delay, so I phoned Daddykins and let him know everything appeared to be in order.
We were then kept on the bus for what felt like a fortnight. Obviously, there was always going to be a bit of waiting to do, but personally, the less of it I did, the better. I'd been awake 5 hours by this point, and hadn't done a single thing. It felt like such a waste. Still, we'd be gaining an hour when we landed in Blighty, so it wasn't too bad.
The bus circled through the airport, slamming the brakes on for every single little thing that happened to cross its path, meaning that the unlucky ones who were standing up got thrown forward. Luckily, I got a seat, and wasn't going to give it up for anyone.
We left the bus, and climbed on the plane. Now, this plane was brand new. According to the brochure stuffed in the back of the seat, it was only a few months old, and it actually smelled like it. All of the seats were leather, there were entertainment units in the back of the seats (sadly not powered on for such a small journey) and the whole thing was immensely immaculate.
Unfortunately, we were kept waiting once again, and by this time were roughly 45 minutes late. I was sure Daddykins would have been waiting in Newcastle by this point.
Now, this is where Daddykins used a bit of ingenuity (probably spelled wrong) that I didn't expect from him. He had used the trip to Newcastle airport to kill two birds with one stone. He had an errand to run, and also had to pick me up. So, he went and did the errand, and after completing said errand, he sent me a text message.
At this point, it was likely I was still sat on the tarmac in France, with my phone switched off…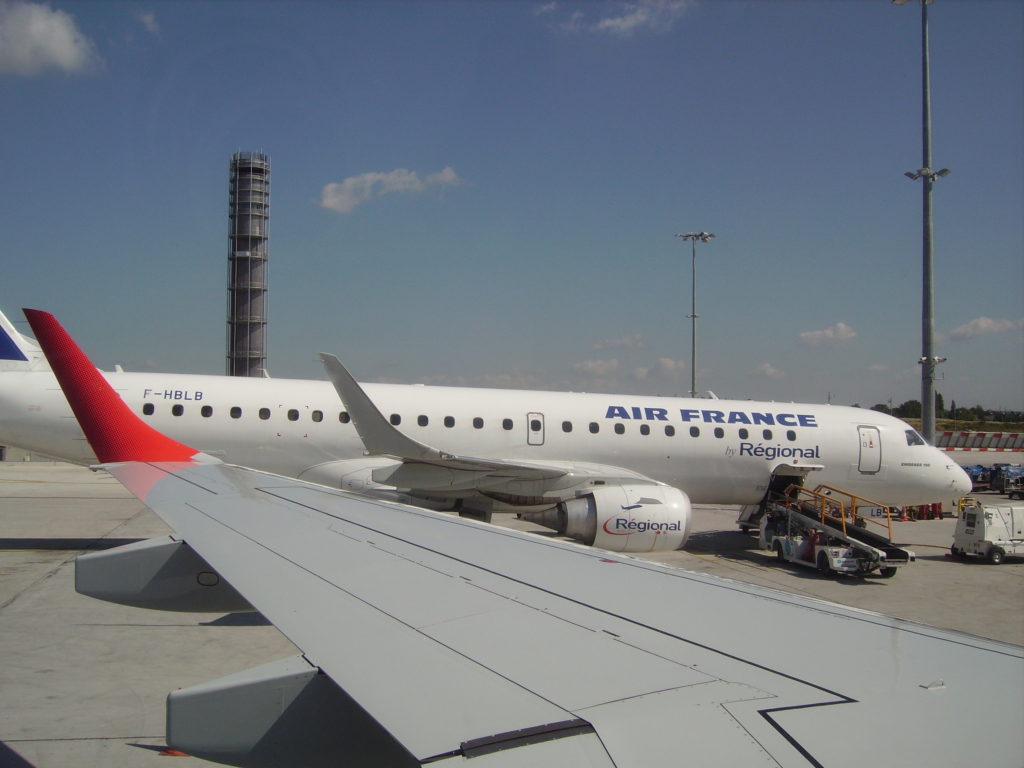 Daddykins knew that the first thing I'd do after we landed was switch my phone back on.
Anyway, after what felt like an absolute age, we were making our way around the airport whilst being sat in the plane. Eventually, we got told to prepare for take-off. And off we went. The plane left the tarmac, and I was prepared for the whole spectacle of flight.
It was the first time I'd flown on a relatively clear day, and I'd bargained with Jonathan and Chris to get the window seat. It was awesome. Words can't describe it.
Pictures, however, can. This was my 6th flight, and the first proper one where I'd actually managed to remember to take my camera out of my hand luggage before getting on the plane.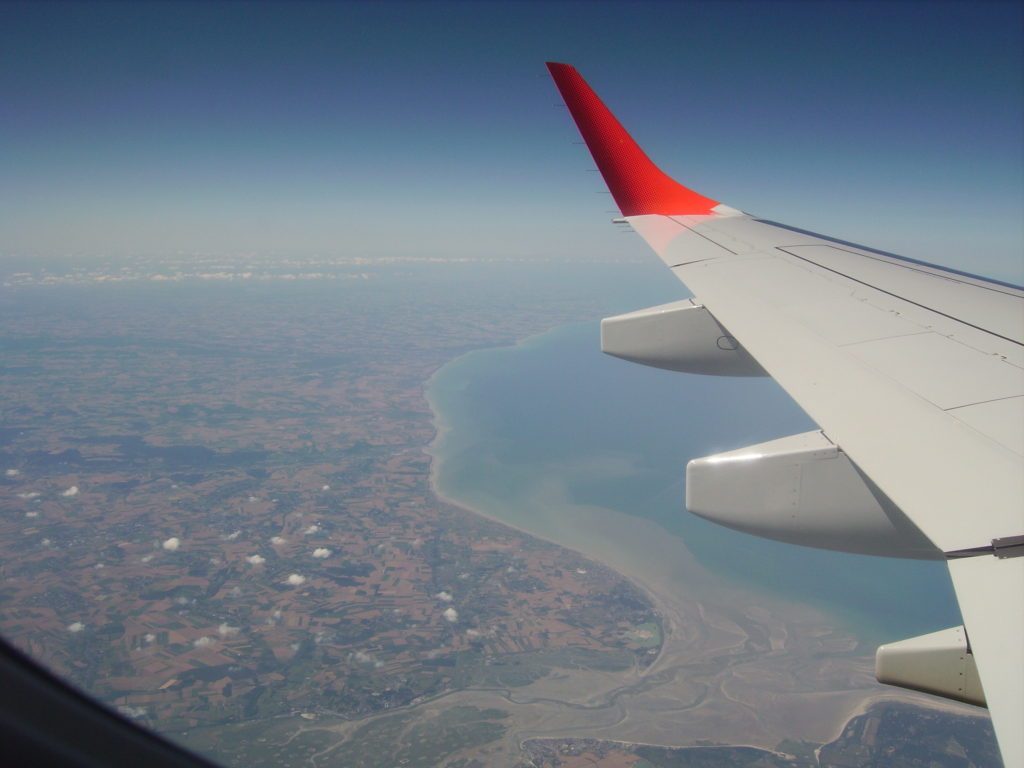 I think overall, I took 80 photos just out of the plane window. I'm overjoyed that I was able to document it.
Coming into land was my favourite part. We flew over Whitley Bay. I was able to point out to Chris.. "Look! That's what's left of the Spanish City!". Very little, by the way.
We kept getting lower and lower, until we eventually touched down at Newcastle airport. Obviously, as previously mentioned, I switched my phone on, and the text message Daddykins sent was delivered. This meant that he knew we were close. I rang him as well, just to inform him of the safe landing, and the fact we were about to collect our bags. We were to meet him on the outskirts of the airport, as he was NOT going to get stung for those extortionate charges like last year…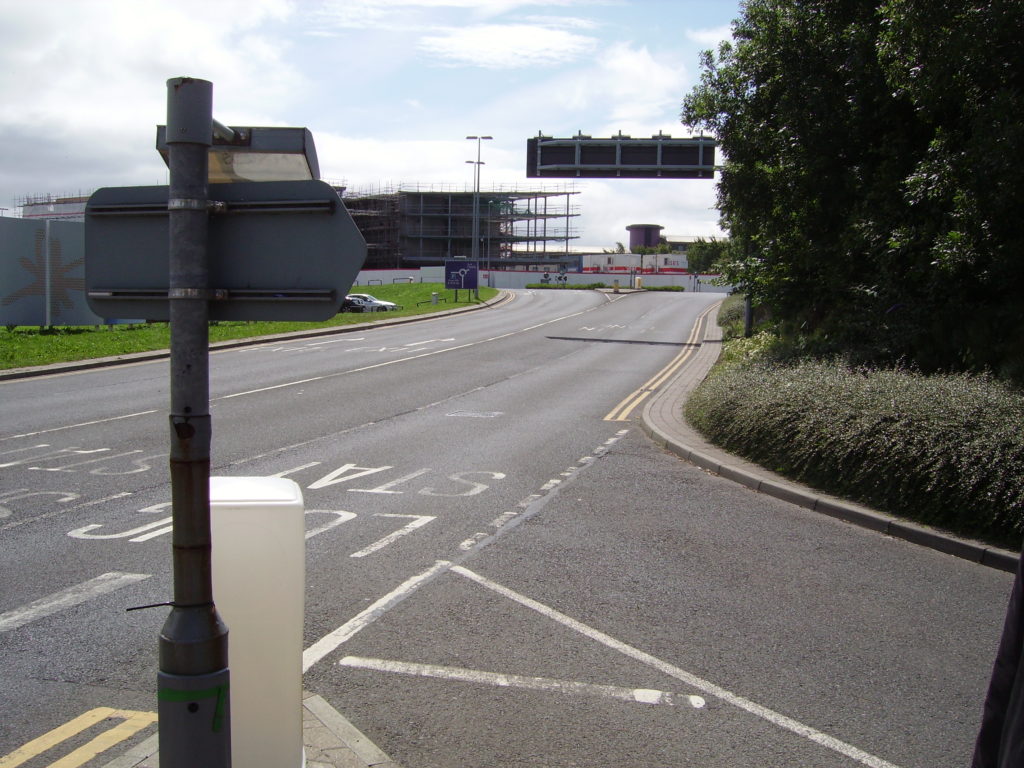 Within minutes, we were hurling down the A1, back towards Hartlepool. Our holiday was well and truly over, and unbelievably, there was no major disaster. All luggage was intact, and not stained.
C+J got dropped off at their abode, I returned back to Mercuryvapour towers, expecting to be slobbered to death by two dogs who hadn't seen me for a week. Instead no, they just slobbered over Daddykins, while gesturing that they wanted to go out. Bah.
So, all in all, Paris is a very nice place. Most side streets and the metro smell of piss, the beer is extorionate, the view from the top of the EIffel tower is amazing, the french can't drive for Toffee, the most popular car is the renault Twingo, the pigeons look even stupider, and I have been informed by Marko who occasionally leaves comments on this site that Lidl's do own-brand cherry Jaffa cakes…
This is now the end of the 15,352 word essay. If you want to find out more, you can check out all of the pictures I took here:-
Paris Day 1
Paris Day 2
Paris Day 3
Paris Day 4
Paris Day 5
Paris Day 6
Paris Day 7
Paris Day 8
I might stick sections of the video I took on Youtube in the coming days, but as far as the blogging and photos go, that's your lot! Normal service, about how much I hate work and dull crap like that will return shortly