Ahhh. Summer's here at last. Well, no it's not, because I saw a gritter on my way to work this morning, but the past weekend certainly felt like summer. A warm spell in an otherwise cold month.
But what was I doing in Manchester, I hear absolutely nobody ask? Well, I'm sure I've talked about the ol' #speccy meetups in here before, where once a year, a few of us from the afore-mentioned IRC channel and the World Of Spectrum forums meet up, and have a few pints and a bit of a chinwag. Well, this time, it was going to be in Manchester.
I'd prepared for this *well* in advance, and by that, I mean I somehow managed to book a train and a hotel without getting the whole thing completely mixed up, and ending up booking a room in Manchester, New Hampshire, and the train heading off into the middle of the sea. Or something. Still, a little of me had a feeling this trip was going to be doomed to failure.
Marko, the main organiser, who has commented a few times on here (probably about the meets, I can't remember), unfortunately pulled out and couldn't go, so I was left in a bit of a situation. I didn't have any contact details for anyone else going, other than Facebook. So, I pictured myself getting there, not actually knowing what anybody looks like, and spending the entire night on my own. Well, that is, if I was going to get there at all.
Wednesday came, I was in the snooker place, batting some balls about when I received a text…
"You aware of Northern rail strikes on Saturday? "
As the white ball shot off the table, it became clear I wasn't aware. This threw all sorts of spanners in the works. The Transpennine trains were running normally. Northern Rail trains weren't.
Saturday was also Grand National day, and although getting to Thornaby for 08:32 wasn't a problem (I bribed Daddykins into giving me a lift), there was no telling how packed the train was going to be. I was worrying the night before about finding my seat, and finding a random Boro chav sprawled out across it. that is, if I could even get on the train for the crowds.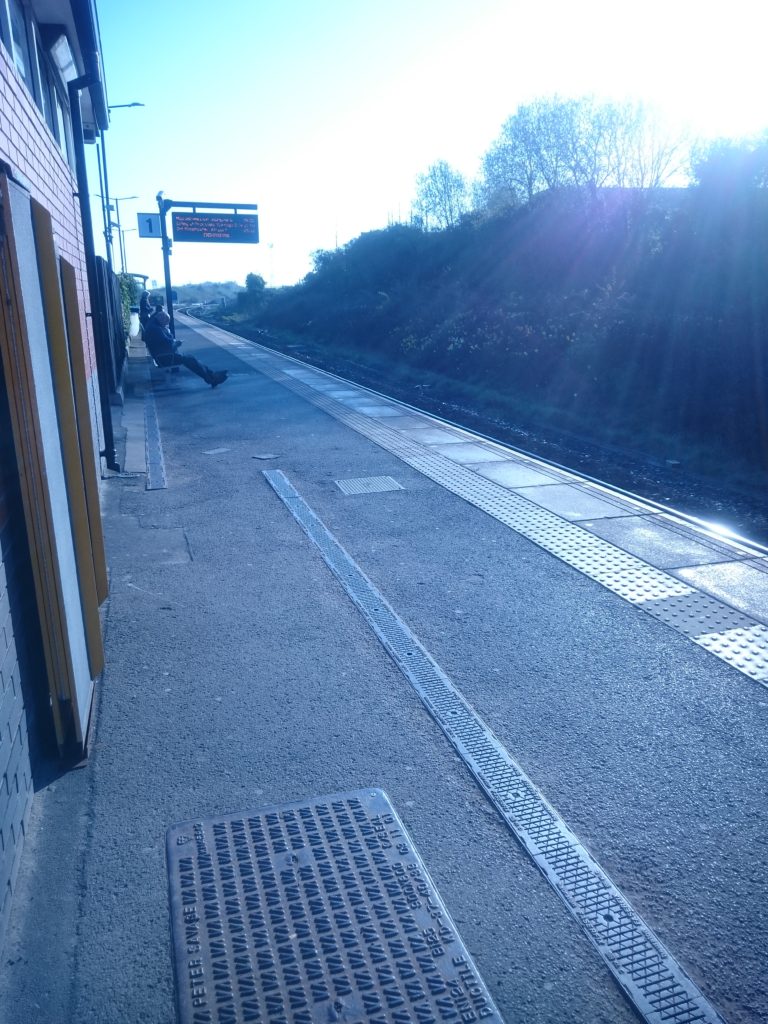 I needn't have worried. Maybe the news of the rail strike caused most people to stay in bed or make alternative arrangements. Maybe most people were just still hungover. Dunno. I just knew I had my seat, and the rest of the journey would be a breeze.
The guy say next to me got off at York, so I had a window seat for the rest of the journey, and the next two hours were spent watching England's green and pleasant land roll past.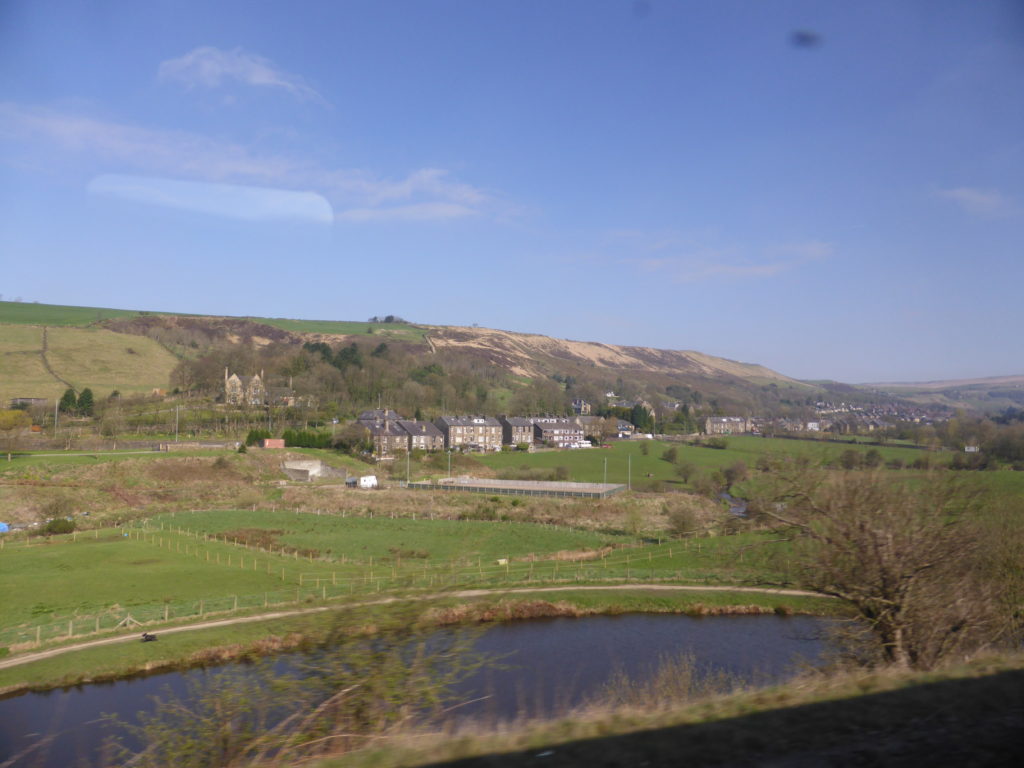 I arrive in Manchester, and there was two hours before I could check into the hotel. There was only one thing for it… LET'S GO BARGAIN HUNTING! RECORD SHOPPING!
As I mentioned before, I've been to Manchester a couple of times, and I know that Piccadilly is a good spot for vinyl. I knew of at least 3 shops…. the Vinyl Exchange, which is probably the biggest of the three. Piccadilly Records, which just sells new stuff, and it's really up my alley, plus another one, which I can't remember the name of.
Unfortunately, despite spending some time in all three, I came up empty. All seemed a bit expensive, and to be honest, considering how warm it was, I didn't really want to carry many heavy records with me anyway. Plus, I had put some time away on the Sunday, to go back and have a better look.
I checked the time, and it was time to check into the hotel. On my way down, a board caught my eye, advertising the "Vinyl Resting Place", in a rather "hipster" location known as Afflecks. It was on the top floor, and the more I went in to the place, the less I felt like I fitted in. It was one of those places you go to have a tattoo, buy black lipstick, or some type of… oh, I can't describe it. I just know that in this maze of little shops was a place selling vinyl.
Eventually, I found it., and started rummaging through the boxes. There was some stuff, that on another day, I might have purchased, but even at 3 for £1, I almost didn't get anything.
In the corner was a box of 12″ singles, and I managed to pick three out of there….
"Played A-Live" by Safri Duo, "Let there Be Light" – dance version by Mike Oldfield, and "Angel's Symphony" by RAF. The latter of the three I used to have as a CD single, but it went for an absolute fortune on ebay. I'm not going to sell this one though as it's a good little tune.
those, surprisingly were going to be my only 3 music purchases of the weekend. And, on that note, I checked into the hotel!
After a slight rest, and to allow my phone battery time to charge, I headed off to the meet. The stop for most of the night was "The Moon Under Water" on Deansgate, which from what I heard, claims to be the biggest pub in England. It used to be an old cinema, so yes, it was pretty big. I'm sure I've been in bigger though.
Of course, this was Grand National Saturday, and, as tradition would have it, I watched it in a pub, making this the 28th Grand national in a row that I've watched.
Beer flowed nicely, and after grub was consumed, we headed to another place. I couldn't remember the name of the place, but my handy "google Timeline" thing tells me it was "the Ape and Apple". I liked this place. Not crowded, and we could all talk. The night started winding down at about 11, as everyone was going home. I waddled back to the hotel, and that was me asleep until 9:30 the next morning.
Sunday was obviously the shortest day of the two, but I still found time to walk to the record shops for one last look… aaand, they were all closed. Bugger.
Since I was up this way, I thought I'd take in one last "tourist attraction", and it's where you've reading this from now.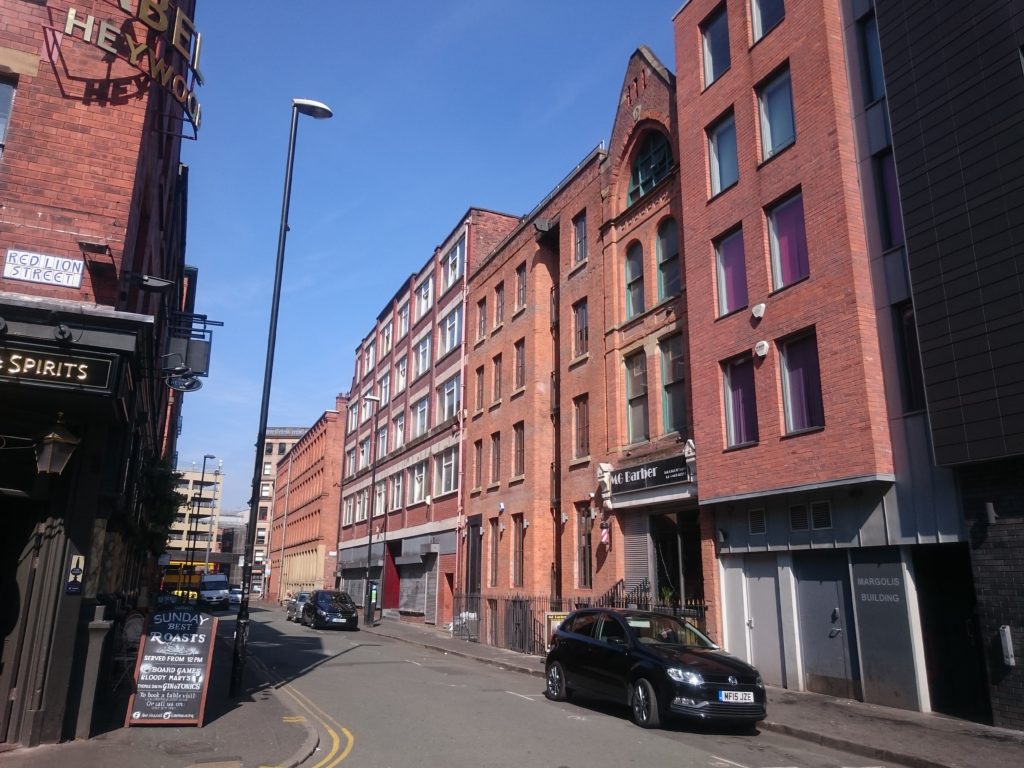 This is Turner St, Manchester. The home of 34SP, fine purveyors of website stuff, and my money flows down this road every month to keep mercuryvapour.co.uk afloat. Well, I actually doubt that the servers are hosted here, but it's where the staff are.
Unfortunately, I'd entirely misjudged where it was, and it turns out it's just to the right of this photo, out of shot. But look how close it is to that pub, though.
And, that was my lot. I'd studied the train timetable long and hard (oo-er), and thought I knew the train times. Well, this was incorrect. I'd reached the station and found that there was only a 20-minute wait until Thornaby.
"The person who cannot be named" had offered to pick me up from Thornaby station, which means I didn't have to travel back to Hartlepool. Overall, a good weekend. And I'll be back in Manchester in a weeks' time.