Saturdays. It's hard to say that you can genuinely enjoy just a seventh of your life, but yes, seeing as Saturdays only come round once a month, it's hard to put it any other way. Fridays still involve work, and Sundays are spent dreading work, so yeah. One day of enjoyment a week.
This particularly depressive attitude means that I have to make the most of my Saturdays. I went to bed particularly early the night before, as "Totally 70s" was off-ait this week. It's an online radio station that… Yep, you guessed it, plays 70s music, and has live videos, usually with a video stream. Unfortunately, the Friday night DJ couldn'tt make it, due to real-life commitments, so it was left to their automated system to dish out the tunes. And without the interactive element, it's just not the same, so I went to bed.
It did mean, however, that I could wake up early enough to actually do something with my one enjoyable day, so thought I'd jump on the bus and go to Stockton and then Middlesbrough. It's a good while since I'd done a full day of "charity Shop shit".
I disembarked at Stockton, and quite literally the greatest sight that could ever be projected into my shiny little eyeballs, the sight of a marquee, and those magical words…
It was like some type of beautiful waking dream. It was free too, which was just the icing on the cake.
One complaint I've had about recent record fairs is that there's been very few boxes to rummage through, namely random boxes of singles. This time, I was not disappointed. In fact the very first box I went through, I pulled out this….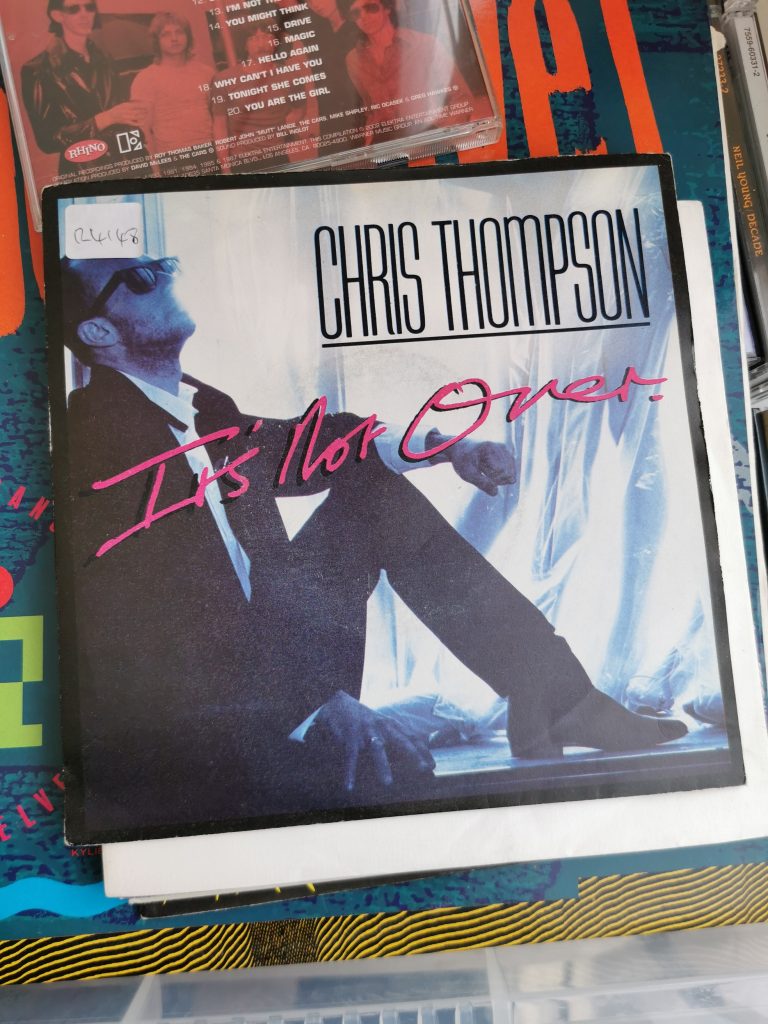 It's a song I don't expect anyone reading this to know (much like the entirety of my collection), but I first heard it probably back in 2014, from this particular episode of Ron Gerber's "Crap From The Past". It was also used in the film "Playing For Keeps", which I'm sure you'll be unsurprised to learn I haven't seen.
I picked up a few other bits from this particular stall, and ended up paying £8 overall. I think this marks a significant moment, as I'm sure it was the first time I'd paid for anything at a record fair using my card.
I went through a couple of other stalls and picked up a few bits and bobs, (including Now 1 on CD, the 2018 re-release though), and came out highly satisfied with my haul, considering I didn't even know it was going to be there.
Of course, this record fair ate into the time that would have otherwise been allocated to the charity shops. This wasn't much of an issue, as these days, the quality of the musical merchandise you can pick up from Stockton's shops has gone slowly downhill recently, so I didn't come out with that much.
Despite the fact that time was getting on, there was still enough time to grab the bus to Middlesbrough (there'd have been even more time if I hadn't have forgotten which pocket I'd put my bus ticket in, meaning I had to wait for the next one).
I think Middlesbrough has to be my favourite place for charity shops. They're plentiful, and a couple of them had even came back from the dead. The "Age UK" had reopened (despite it having a big "To Let" sign on the door, and also the "Cats' Protection" which had closed at some point before the lockdown, I believe. I didn't buy anything from either, but good to see they've been resurrected, at least for now.
There's also a new "Amazing Grace" shop, in the place of Scope/Sense (Can't remember which) in the shopping centre. Again, nothing of any interest.
YMCA always have some goodies on offer, and today was no exception, along with Farplace. They had some "100 Hits" boxsets, at a quid each, snapped up three of those. I probably already have, like 95% of the songs, but I've always found a couple of obscure gems on the other ones that I've not seen anywhere else.
That concluded my journey pretty much. The last stop was HMV. I considered getting a James Blunt "Greatest Hits" CD for his song "Bartender", which I like, but don't own, but it was too close to payday to consider paying £5.99 for such an item. Good lord, inagine going overdrawn because of James Blunt? It stayed on the shelf.
Last stop was the bakery near the bus station, where I picked up some lovely sausage rolls.
The bus ride was particularly uneventful, until the bus got to Asda, when a load of kids got on, who decided they want to make a nuisance of themselves, with water pistols and the like.
A teeny, tiny bit of water hit my hand, like maybe three drops.
"If you even think of aiming that at me again, I'll jump over there and shove that down your throat". Of course, I said that about 30 seconds before I got off, otherwise I'd have no doubt got completely soaked off them.
Just as I was getting off, the driver came out of his cab and bellowed at them to behave, or they were getting kicked off. I do wither what happened after that!
I then stocked up at lidl, and returned home, just in time to see the build-up of some insignificant football match, which The Liverpools lost, I believe.
It was an early night for me, as there was something exciting happening that following morning… A radio rally!