Well, there's three days off work, which have disappeared quicker than the analogy I originally thought of when I started typing this sentence. It's actually been a good few days off.
Firstly, it's not been wasted, which is a good thing. Unfortunately, the bad things include being incinerated to a crisp. You'd have thought that I'd have built up some immunity to the sun as a child, seeing as I was only ever allowed to "play out" until 6PM, before my mother appeared at the door, screaming my name at the top of her lungs, ordering me to come in. Hence Chad's recent comment-posing name of "6-O Clock Curfew".
Don't worry, it took me a while to work it out too!
Er, anyway. Back to what has been going on recently.
Monday, unfortunately was a day that can just be scrubbed off the calendar altogether. After finishing a nightshift, I decided to just stay in bed until about 8PM. I don't like doing that, but sometimes it's necessary to get a few good hours of sleep inside of me. Therefore, the day was entirely wasted. Unless you count sleep, in that case, it was pretty much perfect.
So, Tuesday was the day when I began to get things done. The weather was ideal. Daddykins left Mercuryvapour Towers at approximately 11, in order to get the car MOT'd. I was kicking things around the house, when I decided that the grass out of the front needs mowing. It had been a couple of weeks since I'd done it. In fact, I blogged about it in here, thanks to the fact the mower shedded two blades.
Surely, the same thing couldn't happen again.
After completing the majority of the garden, I ran over a piece of innocent looking grass…
BANG! BRAAAAAAAAA!
Sigh. Another blade gone. I can only apologise for this piece of deja-vu, but… I replaced the blade, and once again began to cut the grass.
BANG! BRAAAAAAAAA!
Christ almighty. Two blades, shattered in less than 15 seconds. Only this time, this came from a different piece of grass. Four blades in 2 mowings. I'm beginning to think our mower is fucked.
During my time shredding turf, I took a look at the front piece of the garden. There is a small portion at the top of the garden which normally "houses" daffodils in the spring, but the rest of the year, it's a weed trap. Now, I've been paying more attention to this bit of the garden than what I've let on, and had recently de-weeded it, meaning it actually looked just like a bare piece of land.
Daddykins was home by this point, and helped remove some freshly sprouted weeds. Mostly dandelions, thanks to the state it was in last year. At this point, I said something in jest, about going to Focus and getting some plants. I also wanted to get my hair cut. The two things weren't connected, but what was left of my hair, was a mess.
Daddykins drove me to the barbers. Turns out the temperature on the long gravel driveway of Mercuryvapour Towers was 29 degrees. It wasn't until I sat in the barbers chair that I realised just how much sun I'd caught. As the lovely lady combed my hair, it felt like 10,000 white-hot needles were beng scraped across my scalp. Oh yes, I was sunburned, and sunburned good. Bugger.
I left the barbers, devoid of hair, and returned back to the car.
"So, do you want to go to Focus, then?"
After realising that I'd known nothing about gardening, I suddenly wondered if this was a good idea after all. I decided against it, but seeing as Focus was on the way home anyway, we decided to call in. A lighter wallet, 6 fuschia plants and a marigold plant later, we returned home. Whilst Daddykins cooked some eggs for the "Twat Cup" taking place later that evening, I went out of the front, and planted the afore mentioned plants.
The Twat Cup itself, went off without much of an incident, except I was almost "accused" of cheating at dominoes, because I didn't let the other player pick first after it was my "shuffle". Tsk. I explained that it was the first time I'd literally versed anyone at dominoes that wasn't over the internet, and wasn't aware of the finer, physical rules of the game, but was totally aware now, should I ever verse another human being at the afore-mentioned bar game. It's unlikely, but it may happen. Remember, kids! After you shuffle, allow the other player to pick their dominoes first! Trust me, it'll save you earache in the future. Honestly.
Chris was missing for the Twat Cup, so when I returned home I texted him to see where he was. Unfortunately, I don't have my phone to hand, so can't tell you exactly how the conversation went, and thanks to winning £15 and having plenty of free whisky, I was slightly the worse for wear.
So, off went Tuesday, and onto Wednesday. I awoke, in a funny position on the sofa, early enough to consider a trip to the flea market. After it was apparent that the quality of the previous nights' ale had resorted my anus to the role of "shite fountain", I was hesitant. Considering the sun was, once again cracking the pavements, I deicded to head off in the general direction of the flea market. It was, unfortunately, pathetic.
Eric had replaced his 50p CDs with another load of cheap, shitty DVDs. I ended up spending one, whole British pound on a "Best of T'Pau" CD. This was a CD I'd owned back in the early 1990s, but got destroyed in what I would claim was the worst week of my life, back in summer 1995.
Either way, I have a copy of it again. And, you'll have to thank Chad once again for my T'pau interest. If he hadn't had sold me this cassette tape back in 1988/1989, I'd have less of a knowledge of Carol Decker and the rest of the band, and their overly distorted percussion.
So, I returned home from the flea market. I decided to go out the front and begin documenting the life of my plants, whic were only planted yesterday. This involved some pretty graphic closeups…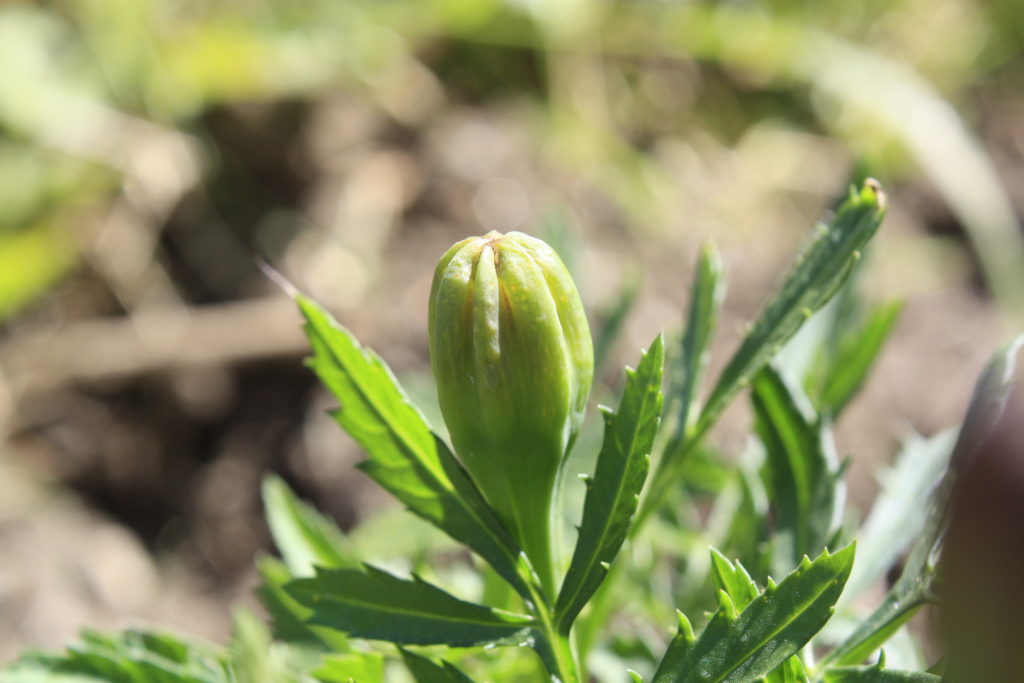 Whilst taking photos, I returned to the alley, to view my images. It was the only place dark enough to be able to see the camera screen. I happened to look down the gravel driveway. At the end of it was a figure, clad in a high-viz vest, bicycle and camera. It could only be one person. Yes, it was Andy The Iridium Fan. I wanved, making him aware of my presence, and he cycled up the gravel driveway, and explained his prescence. Apparently, there wasn't an actual reason, except for getting his picture taken on the "windowcam".
Considering both of us had the rest of the day free, there was a little discussion on where to go, or what to do. I think I mentioned Durham, before quickly putting that idea on the back burner, seeing as that the only things burning would be me, on the bus to Durham. After the trip with Chris, earlier on in the year, I decided that public transport wouldn't be the best idea, considering I'd be cooking all of the way there.
Andrew did mention the "Then and Now" exhibition on at the art gallery in Church Square, taken by Mail photographer Tom Collins. He had visited it at the weekend, and said it was great. And, considering I love stuff like that, I decided that this was the best idea ever. And for the paltry price of 50p, you could get to the top of Christchurch's tower too. Something that I'd seen hundreds of pictures of, but never had any to climb up and call my own…
It's around now that the photoblog starts, so for all of you who have scrolled this far, you'll get your first pictures.
After paying your 50p, you can escalate the stairs that takes you up to the clock tower. After many dodgy experiences with climbing monuments, such as the Arc D' Triomphe, the Scott Monument and more recently, York Minster, I was happy to find that the staircase was perfectly acceptable. You can even stop off on the way and take photos….
When you reach the top, it's entirely different to what I thought it would be like. After seeing the few hundred pictures on sites such as flickr taken from the top of it, actually going up there and taking your own personal view of the location adds a hell of a lot to it. Since I was a kid, the Transporter Bridge is one of those things I've always wondered if it was visible from Hartlepool. I have never received any photographic evidence to say whether this was the case, until today….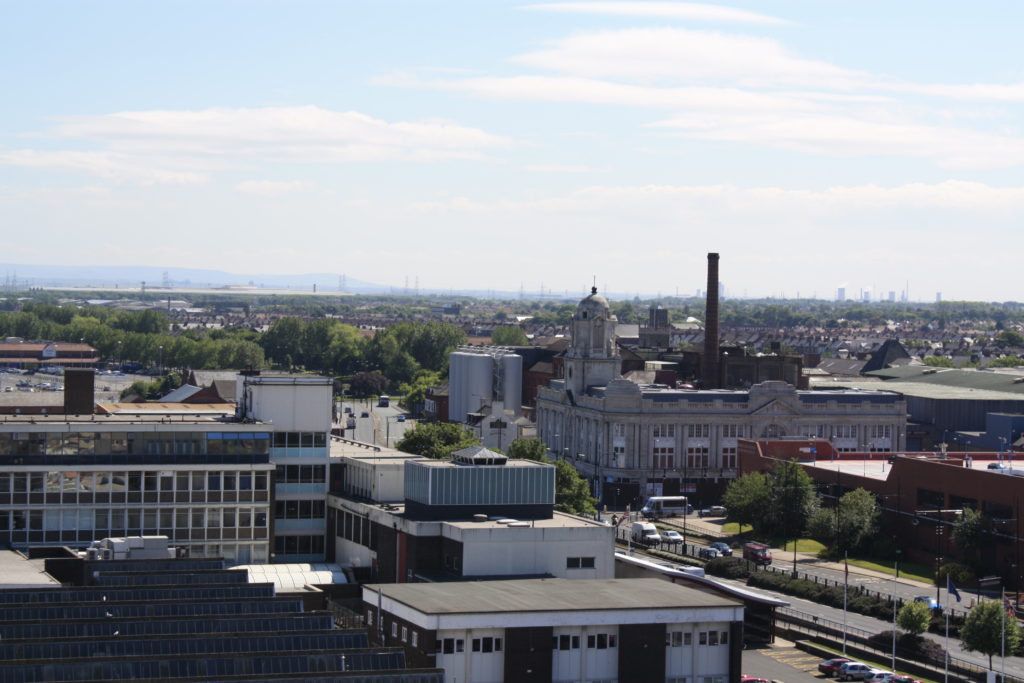 Click the image, as you might have to zoom in a little to view it