Sad news, for all of you who love their curry, and live in this fair town of Hartlepool… Cafe India, one of my regular haunts (or one that cropped up regularly on my rotation of Hartlepudlian curry houses anyway) has served up its last onion bhaji.
I noticed it earlier in the week. I work a mere stone's throw from its location, and I noticed that part of the window looked to be boarded up. The road it was on was not the most elegant road, so I had hoped it may have just been smashed. Imagine the heart-wrenching scene, when I approached closer, and yes, the entire place was boarded up. I have heard via Facebook that it closed due to lack of staff. Maybe this means there's a chance it'll reopen if they find someone? I notice their Just-eat page is still active (naturally, you can't order from it). Maybe it's just lulling me into a sense of security. Maybe it'll disappear just as suddenly.

Over the recemnt months, I've been less of a customer. Not for any fault of theirs, it's because, due to ol' crater-foot, I was barely out of the house for 4 months, and the once regular occurrence of a curry, pretty much disappeared into the ether. Ironically, the last time I was in here was immediately after Hartlepool got relegated to the Bananavanarama league, way back on 6th May…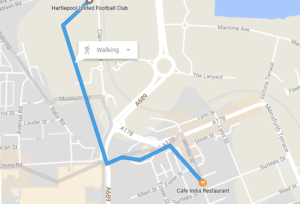 And, now we don't have Cafe India, we might not even end up with a Hartlepool United…
UPDATE: I had heard that the owner had moved into taxis, but had no confirmation of that, until now – the owner of the Cafe India page has changed it to "Taxi Shahan". I guess this means it won't be coming back.