Since I started attending flea markets and car boot sales back in about 1993, when my Aunt Rose took me down one Wednesday morning, I have been after owning one object. It has, as far as I know, never been there. Everything else has been sold, including broken smoke alarms, rubbers in potties, and more second-hand underwear than you could shake a nasty gonorrhea infection at.
This particular object is, thankfully, none of the above, it is in fact a 7″ copy of "The Way It Is" by Bruce Hornsby and The Range. Eagle-eyed flickr-ists will notice I already have one copy, but I got that from ebay. It's easy to get them ebay. There's no challenge, and no sense of achievement.
Yeterday, I awoke on the sofa at 8AM. It looked like a sunny day, so off I went.
Something which is very odd, is the fact that around near where I live, they're flattening the old hospital buildings which have been there for years. Lots of years. I've discussed on here that I'm glad to see the back of them, as they were very cold and sinister. Not nice places to be in at all, especially when you're a six year old getting your chest x-rayed in them… ooo, childhood flashback.
Anyway, yes. There buildings, I believe, date back to the days when treatment was more of a punishment. I have heard it used to be a mental asylum of some sort. The surrounding walls actually have broken glass bottles embedded in the concrete. I don't know whether that was to stop people getting in, or to stop them escaping. I guess I'll never know. Either way, these buildings have now be reduced to this.
Anyway, I put the camera away, and headed towards the flea market, a mere short bus ride away, which cost me £1.05. Jaysus.
I had no intention of staying a while, or anything over a few minutes, if I'm honest, but it was pretty busy, and there were a good few stalls there, for once.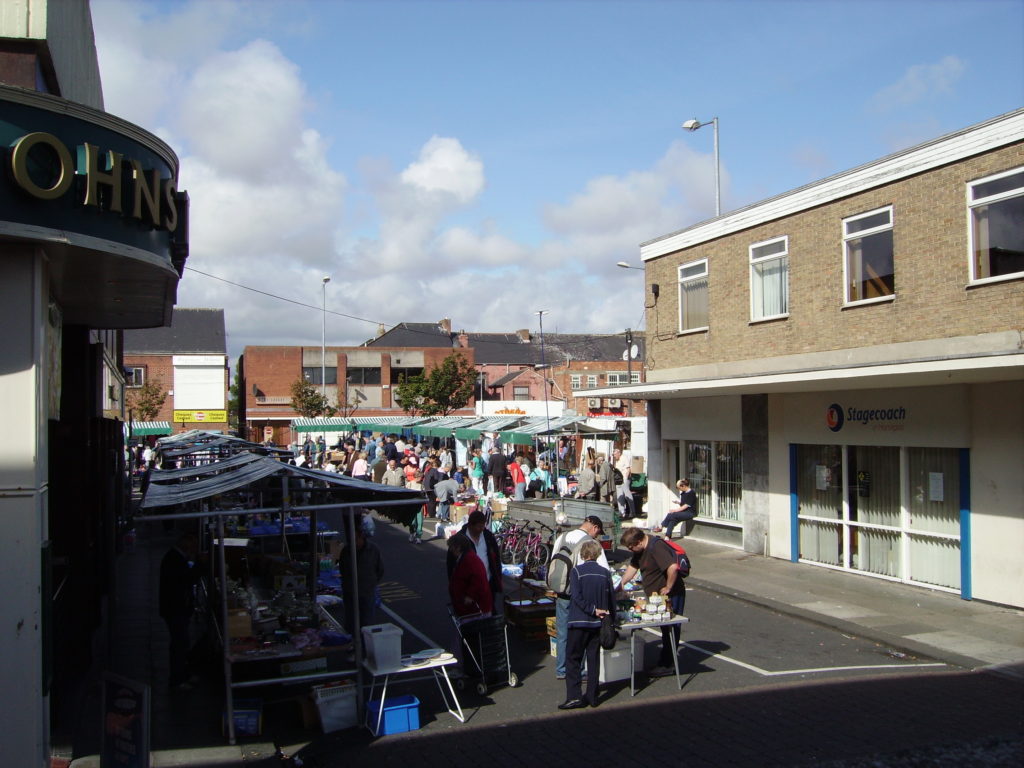 However, the ones that stood out, were the ones I didn't expect to be any good. There's always a few stalls which appear to be full of garbage and rusty metalwork or rusty tools, which nothing worth looking at. I walked past one of these stalls, and saw some random guy flipping through some records. I had been bitterly disappointed by the CD's on offer from one of the stalls which are normally quite good (£1 each, and I've bought some great ones from there in the past.), so I thought I'd take a look. That's when I found "it". Its yellow, creased cover, staring back at me. The title, arranged in a semi-circle, in the middle of the cover. It was all there. I was holding it in my hands. For ten whole seconds, I just laughed to myself, and thought "Heh, Cool" as I placed it back in the box along with the rest of the records I was holding.
Of course, I suddenly had a moment of clarity, and it suddenly struck me, that this was the moment I'd waited for since way back. Every single flea market, car boot sale, record fair I'd ever been to, had been all for this moment. I was about to buy "The Way It Is". I handed my shiny pennies over (well, OK, they were 50p each, and I bought about another 6), and I walked away with a sense of satisfaction, as if to say to myself "I've done it. It's all over. It's finished".
The day didn't just stop there, I continued my searching for other stuff. The next stall along had an Andrew W.K's "I Get Wet" buried amongst the likes of Engelbert Humperdinck and Pavarotti. Needless to say, I snapped that up. I've been after that CD for years too.
I walked around the stalls, to see that Eric has returned permanently. Eric owns one of the good stores, he used to be the one near the Corner House (or whatever it's called now), but in his own words, he gave up for a couple of years. I did miss his stall, as he always had a good (and varied) collection of CDs. He's back, but with a smaller CD collection. A few other things are missing too, but hopefully he's going to be there for a few more years to come. He had a sealed copy of Sandi Thom's CD (oh, I wish I was a punk rocker, etc) for £2, so I bought that. I've not listened to it yet, as I've got the Andrew W.K. CD on repeat. His album is only 35 minutes long, but every track is a winner. The longest track is 3:33 in length.
Overall, a fantastic day music-wise.