Yes, I'm aware that I came back from London over a week ago, yet I've only just got around to starting to type out it. "Why is that", I hear you ask. WIt's because I'm in the middle of recovering from it. I'm under doctors' orders to keep the weight off my right foot, because, possibly due to a case of worn / ill-fitting footwear, soft Hartlepudlian feet, and walking for approximately 30 miles in the course of three days, means that I managed to lose a large percentage of the skin on my foot.
I did have an accomplice with me for the trip, but this person doesn't want to be named in the blog. It's to be expected. I mean, who wants to openly admit sharing a hotel room with me? Therefore, this person will be named as "Accomplice".
Aaaanyway. Onto the trip. I arranged athe the abode of Accomplice just before 9AM. Thankfully transport for us to get to Darlington had been pre-arranged, as the train was at 10:28. We were both expecting the A19 to be heaving at this time, so we set off at about 9. Half an hour later, (including a stop off to pick up excessive amounts of Pom-Bears), we were there. Darlington Station isn't really a place you'd want to spend an hour at, but I guess it's better than missing the train.
The train journey was uneventful, expect for the occasional piercing scream from the child in the seat in front. Admittedly, I was slightly hungover, so this didn't really help matters. Headphones did, however.
So, we arrive in London with the sun shining. Hordes of fellow travellers depart the train, and off we go towards the hotel. It was about a 5 minute walk from King's Cross to the hotel, though the weight of my bag made it feel more like 50. Accomplice had been to the same hotel previously, so at least we knew the way.
We were early for the hotel by about two hours so couldn't check in, but were allowed to drop our bags. That was a weight off. I don't know if that's often a thing that hotels do. but it could have helped with the times I've been places and carried my bag around until check-in time. I'll have to remember that.
Seeing as we were now bagless, it was time to have a walk around. Up Euston Road, along Great Portland Street, and down Oxford Street because we both agreed it was time to grab the tube, seeing as we'd pretty much just done a "lap". I make no secret about hating the underground, but it's so convenient. Could have done without the £12.30 price tag for a day ticket though. Sure, an Oyster card might have worked out cheaper, but you know I hate shellfish. A-haha, etc.
There were a few places I wanted to go. Not exactly touristy things. Camden, and The World's End pub were two of these. I've never seen the film, but still always wanted to go there.
We had a brief walk around Camden. It was crowded, seeing as it was mid afternoon, in the height of summer.. Camden Market really is weird though. It's all of the stuff you've never realised you've never needed and actually didn't want, but with really nice food stalls. They also get arsey if you want to take a photo too.
We decided that we'd come back after things have died down a little. Our stomachs were rumbling, so it was time to find something to eat. A quick dash on the tube later, and we ended up in Leicester Square. Accomplice had informed me there was a nice Italian place "around here somewhere" that would satisfy our foodular needs. Turns out we couldn't find it, and instead went to "Steak & Co."
You genuinely can't go wrong with a good steak, and at this point I was starving, so it seemed a perfect choice. We were provided with a menu. A complete waste of time. I felt like saying to the woman at the door "Two slabs of beef, chips, bit of pepper sause… STAT! But, before I'd plucked up the courage to talk to a female, the waiter was on-hand with a notepad.
"Yeah, I'll have that. that, glass of coke, and can I have it medium rare please".
"Oh, it comes rare, YOU cook it how you want."
What kind of actual voodoo was this? I'm in a restaurant, and you want me to cook my steak? Oh, okay, my knowledge of steak barely expands above Frankie + Benny's, but… prepare my own steak? Eh?
It turns out, they bring out the steak on a massive, hot stone, and you cut it, fry it, and add the ingredients as you see fit. Admittedly, I expected to spend the next two days in the hotel bog, but nope, I managed to somehow prepare a steak on a hot stone and cook it all by myself, without food poisoning. It came to just under £25 for steak, chips and a glass of coke, but my word, we're still talking about that steak now.
So, happily fed, we headed back off to Camden.
Crap photo opportunities aside, we headed to The Worlds End.
Before I found out how much a pint of "Soft Southern Piss" would cost, a small voice beside me said "What do you want?" Holy cow. Accomplice had offered to buy a pint in what would surely be the most expensive establishment we'd ever been in. Pint of your finest lager please, Barkeep! Well, actually it was Brooklyn lager, but still at 5.60 a pint, I made it last about an hour.
Brewdog is a brand we both have a bit of an affection to. Accomplice likes trying the different ales they have on offer. I like it because there's less chance of it tasting like cat piss. On a night out, I buy the bottles of IPA. On a night out like this, I bought the draught lager. I thought that it may have been better value for money, seeing as it was my round. Nope. Pretty much the same price. Two pints in, and over 11 quid light.
Unfortunately, Accomplice had bought a "dark lager. Not up to their usual standards of taste, and if I hadn't have necked three quaretrs of it, it'd have ended up down the sink.
So, Camden was completed. The tube was still open, and there was time to do the touristy stuff. I'd never seen Tower Bridge lit up before, so seeing I had my camera, we headed down there. Of course, we did get slightly lost, but ended up walking past a bar called "Fuckoffee" I took photos, but they were shite. Maybe you'll be able to work out the name from this…
The walk continued, and it suddenly dawned upon us that Tower Bridge probably wasn't in the direction we were heading. The GPS that my phone recorded clearly proved this.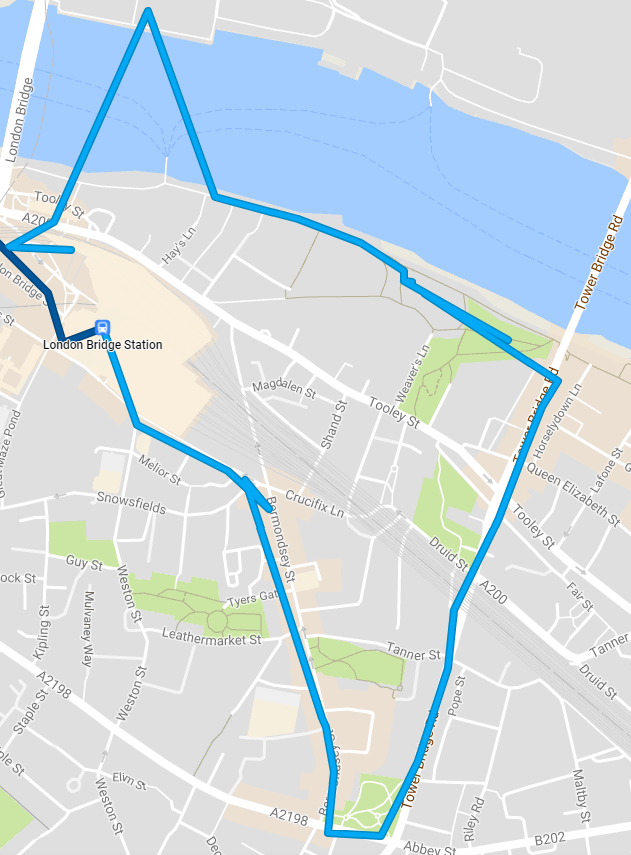 Note that we didn't suddenly swim over the other side of the river and back again. That's just Google's "Timeline" feature being slightly less creepy for a second.
Naturally, there were some night time river shots. One of which,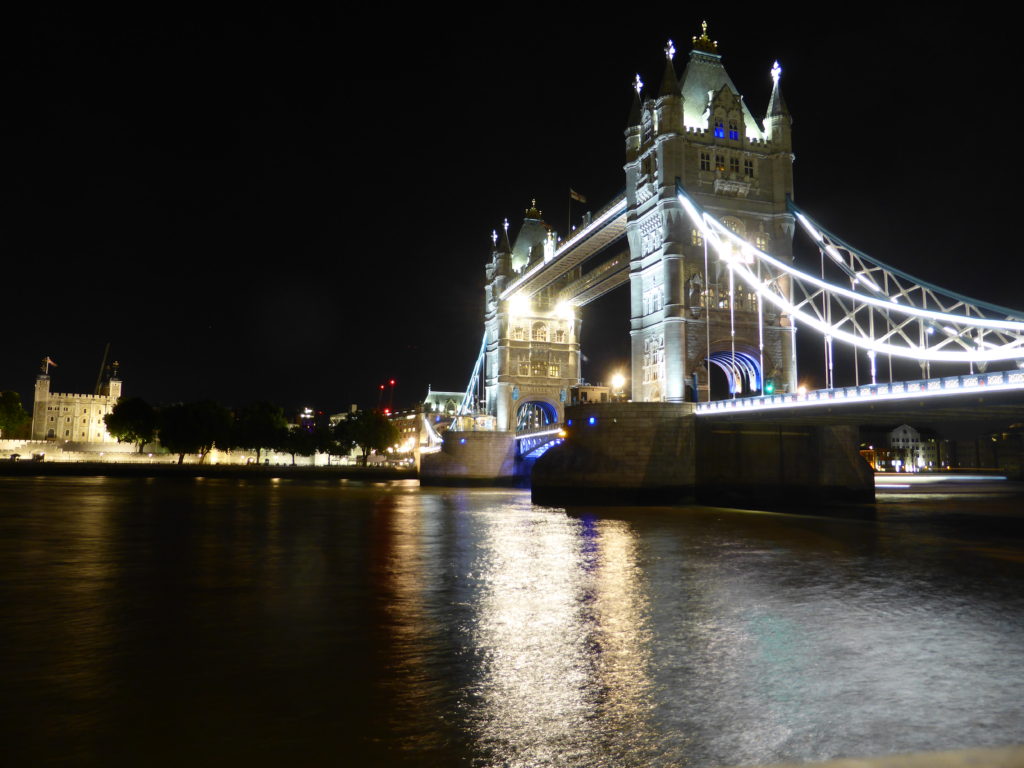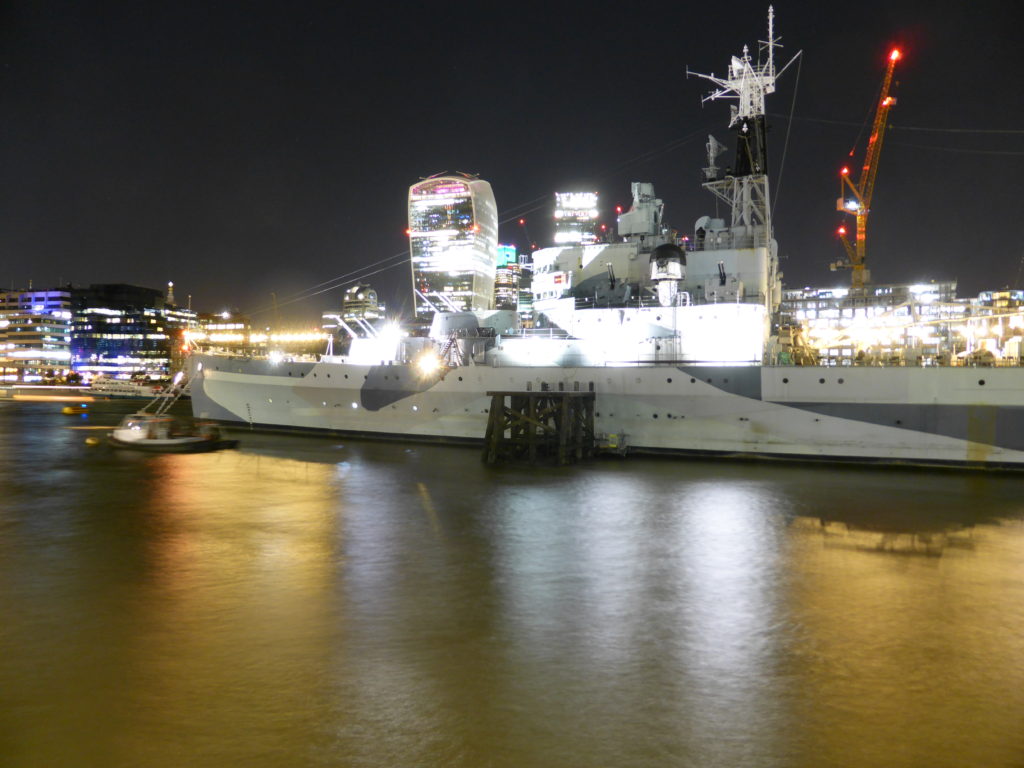 Yeah, not bad I suppose.
It was pushing 10pm by this point, so we walked the "short" distance between Tower Bridge and London Bridge, hopped on the tube and went back to the hotel.
Fasten your seatbelts, Day 2 is going to be a long one…