What's got 2 legs, drinks crap beer and spends far too much in charity shops?
Well, I doubt I even need to answer that question, for you know that idiot is me. When it comes to charity shop shopping, I have two rules, never buy anything over a fiver, and never buy anything electrical.
So, on Thursday, I bought a £6 tape recorder.
This isn't just any tape recorder, it's a 4-channel tape recorder. Something I've never seen before, but apparently, they were once a thing. And this one is in really good condition
For some time, I've been after something that can play tapes. I've been after one to hook up to my computer, as I still have a load of tapes from my childhood to go through, and convert. I'm sure I was an absolute scream when I was 9, but it's things like the old radio clips I want to convert. I do have a USB one, but the sound quality is dubious at best. I wanted something a but more… sturdy.
On Thursday, after knocking back a bag of chips for my dinner, I sauntered back to work. and decided to check out the Alice House charity shop. I was on the mooch for CDs, after only picking up a small amount on my travels. Before I even got to see the rotating plastic demons, something caught the very corner of my good eye. It looked like a tape recorder. And, clearly it was! I took it over to the little seating area they have, and by the time I'd sat down, a complete stranger said "You've got a bargain there!". Upon closer examination, the sticker shows that it had only been PAT tested the day before, so yeah, it looks like I was indeed the first one to pick up the bargain!
Now, despite the obvious difference of having more knobs than a Taiwanese brothel, I didn't quite know what I had hold of. Turns out it wasn't just any old tape recorder. This beauty has the rare ability to record an all four tracks of a cassette tape. For the uninitiated, cassettes tapes have four tracks on them, but you only ever hear two of them at a time, the left and right channel. You turn the tape over, and you hear the other two left and right channels. This particular recorder uses all 4 tracks on the tape at once. Back in the day, it was a simple and relatively easy way to get a multi-track setup for home recording.
Last night, I plugged it in to make sure it all worked. And it did! One slight problem was that it was playing all 4 tracks at once, meaning at Side A was being played forwards, and Side B was being played backwards. 4 channels, y'see… there must be a way to have it just play stereo, but time was getting on, and I demoted it to the cupboard. I had a feeling it might have stayed there for a while.
I was speaking to a lad at work who knows more about this type of stuff than I do, he said just change the pan and tilt controls, and set channels 1 and 2 to L/R. This was too obvious to work
My interest in the device was rekindled. I'd planned in my head how I was going to announce my new bargain to the world. I hadn't knocked up a Youtube video for a while. My camera battery was charged AND I knew where all the bits of my tripod were. This was all falling into a place.
I even got home and shot the beginning of the video. There was also a truly hilarious joke that I was going to include that saw me plug the power adaptor in, I'd then turn the light off, and then edit it so it looked like it tripped the lights, followed by a truncated "OHHH, FUUUU.", and then immediately cut to the close-up shot of the tape recorder all set up and working, followed with "Only joking!"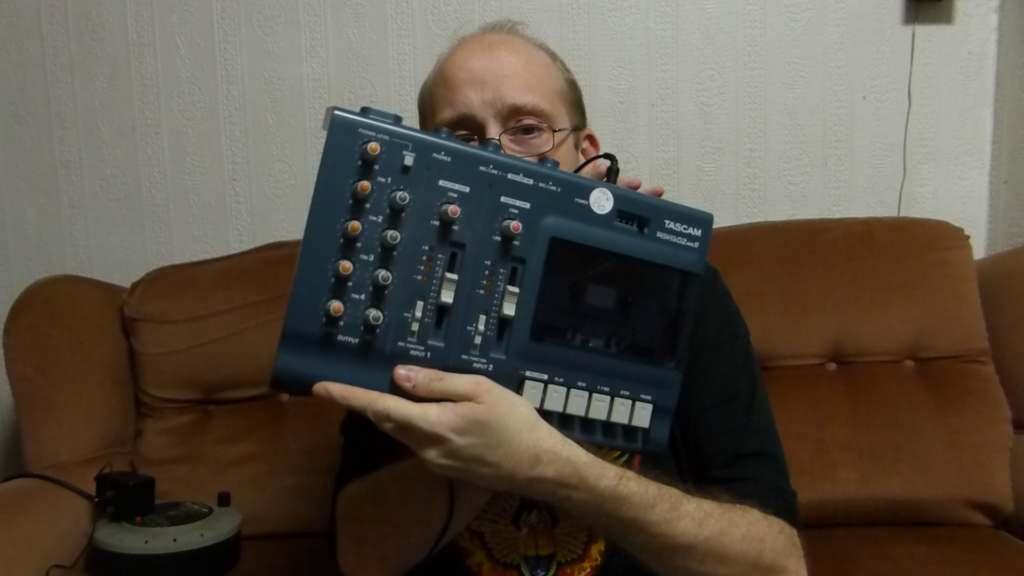 This is where karma kicked me right in the balls. I'd got it set up, camera positioned, aaaand, the power supply for it went south. The power light was flickering, and the output lights were jumping around. I was not amused. Turns out the bit of cable that goes into the power supply is intermittent. Looks like someone's picked up the (relatively heavy and brick-like – you can see it in the bottom left of that screenshot) power supply by the cable, and stretched it to near breaking point. Could this be the reason why it looked so good? Was the previous owners' attempt to use it thwarted by a small piece of cable? I will never know,
One thing I do know is that it's working again, after fashioning a makeshift splint from a bit of masking tape and some cable ties. I'll farthom out a more glamorous s
I've yet to hook it up properly to my computer to have a proper play around with it, but I'm eager to see if it sounds as good as it looks…