Right, now that I've finally got London written up and out of the way, I thought I'd give you an update on what's been happening in the 4-ish months since I left our glorious capital city behind, as I thought I'd better explain, once and for all what's happened, and been happening with my beloved left foot.
My left foot has been attached to my left leg for as long as I can remember. We've been through thick and thin socks for all of this time. From tiny little boottees, through slippers that were shaped like Homer Simpson, to my now trademark Karrimor walking boots, of which I've had about 6 pairs in the last 6 years.
By continuing to read past this point you agree that I'm a complete buffoon, for you see, I've had an ulcer on the sole of my foot since May last year. I am aware that I'm a complete idiot. It should have been taken care of sooner. You also agree not to chastise me on the subject. I've done enough of that to myself over the past 15 months or so, because that's when it started.
Let's go back to May 2016. It was a mice, warm Spring day. I'd arranged a walk with old friend Gary, to Keilder reservoir. I'll include a photo of some little quacky ducks here, which I took on that particular day, because I don't particularly want a photo of my foot being the thumbnail….
Right, on with our scheduled programming. After getting back from Keilder, I noticed my foot had a big old blister on it…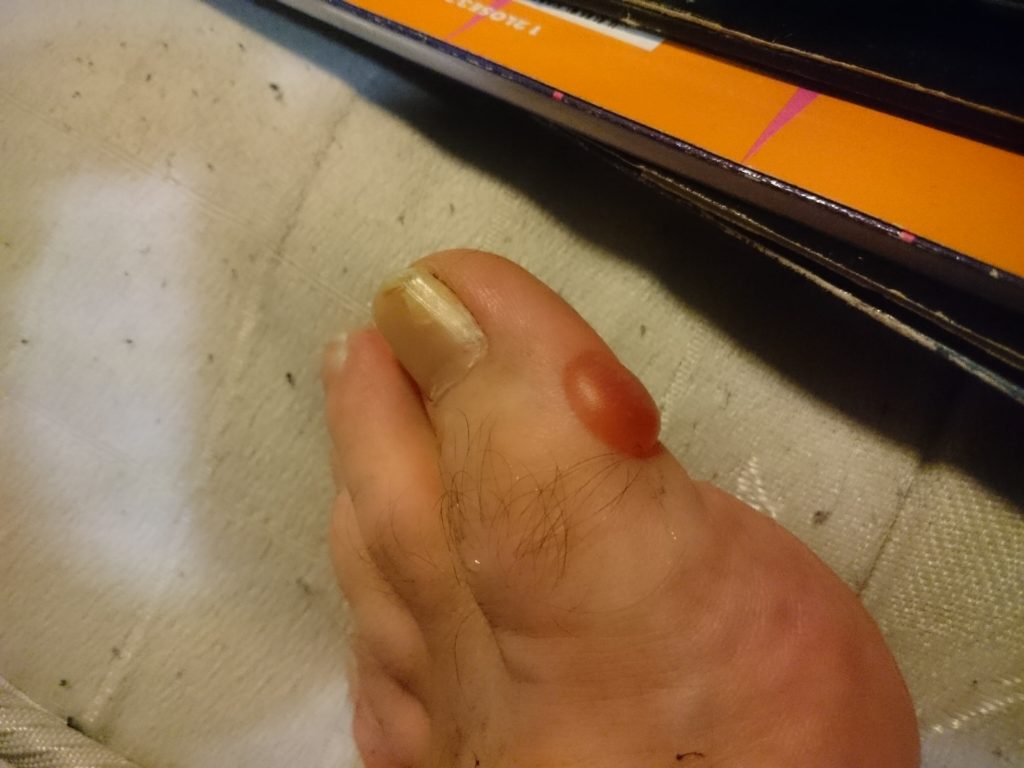 At some point that night, I stood wrongly on something and accidentally popped it. What an idiot. I'd accidentally popped blisters before, and they've just gone normally, so I never thought anything of it. the next day, something felt different. It was hurting more than before, and it seemed to be on the bottom of my foot. I conferred with Doctor Dad, who said "Oh, it's nothing", even though I jumped up in pain when he unexpectedly prodded it while looking at it.
A few weeks went by, and it still wasn't getting any better. The issue had moved to the bottom of my foot, near the big toe, and a hole was starting to form. Most people would have been running… well, hopping to the doctors at that point, and I did indeed go. They put me on something like "Flucoxicillin" – (spelt incorrectly), and I'd go back if it got worse.
On the day before I went to Carlisle last year, it appeared to be no better, and in fact, did get worse. I'll not go into the graphic details in this post, as I already talked about them here.
Regular followers know about my medical history, and things going wrong with the feet, especially, gaping, stinky, weeping holes, are something to take seriously. I began to think the worst. If I went to the doctors, they'd just get the saw out there and then, and get rid of it. I started thinking about what life would be like with no foot.
Admittedly, as much as I put up with it, it didn't *really* affect me. Yeah, some days I'd be in agony with it, and some days, I'd be walking just fine. The only inconvenience was the discharge coming out, and how to dispose of it. Each night came the ritual of washing my left sock, and finding an old t-shirt or newspaper to shove inside my shoe to dry it up.
This went on for over a year. I knew, at some point, my life would have to go on hold because of it, and I knew the London trip was coming up. I certainly didn't want to take any time off work sick, but I said to myself, after the London trip, I'd get it sorted.
Now, I'm sure you've all read the London trip posts now, andprobably thought I was just being a little whingy bitch about my foot. Far from it. I literally couldn't walk, but this time it was the RIGHT foot that I'd manage to damage… This was my right foot after London.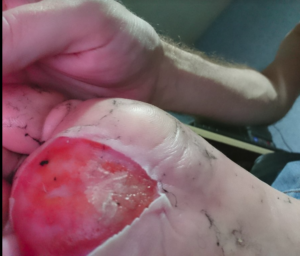 Oh yes. It was that bad. Raw as hell. Ignore the little black bits, these were new socks, and that was sticky. Some of you may think I'd have just ignored it like I did my other foot. Er, no. This time I went straight round to the emergency thing at the hospital. They dressed it for me, and an appointment was made with a nurse at my local practise to have the dressing changed a couple of days later.
I attended the doctors as advised, and while I was there, I somehow plucked up the courage to say "While you're there, could you take a look at this?" Bang. Two-week sicknote. Exactly what I didn't want, but hell, I'd plucked up the courage to show this to someone. A swab was taken, and an appointment with the podiatry was requested. A swab was taken of my left foot, and another course of the Flucoxicillin (or whatever it was called) was given. A week later, nothing back from the podiatry, but the swab results showed that those previous tablets (I'm not typing that again) were no good, and I was put on other antibiotics, with the longest name I've ever seen on anything ever. Even that welsh village.
I haven't actually posted any photos of the wound yet… and, as I know not everyone wants to see them, I'll link to them instead of putting them inline. This photo was taken back in September. I don't have any photos (which I know of) before the treatment started.
Eventually, five weeks passed, and finally, after constant badgering from the fantastic nurse at my local practice, I finally got round to seeing the podiatrist. A couple of weeks of patching it up and hoping it would shrink later, I was off to the "high risk" podiatry (well, that's what it says on the door anyway)
This is where things started to improve dramatically. I was sent straight away for an x-ray, blood test, another swab was taken of my foot, another course of Flucoxicillin was goiven, and I got presented with my now infamous "moon-boot". It's one of those surgical boot things where parts of the internal sole can be removed to ease pressure on certain parts of the foot.
It was ANOTHER five weeks until I got the results of the X-ray back, and thankfully, there was no infection. The only thing now is that the wound is "granulating", which is where the skin is trying to heal over, but it's not able to do so because of the size.
I took this photo while in the hospital a couple of weeks ago, and thankfully there's clear improvement. The road to recovery has been a long, boring one. I'm still under the care of the podiatry for now. I'm going twice a week, so they can change the dressing, and administer cream to it (I really should learn all of these medications, they'd make great passwords).
If there's one thing to take out of all of this, if I think anything's wrong in the future, I won't be leaving it for a year, and if one person reading this takes the same advice and gets something looked at before it gets more serious, than the past 18 months have been worth it.
But one more thing, more than anything, in the entirety of all of this, I just want to get this dressing off permanently so I can have a bloody bath again…