OK, now we're getting to the business end, and possibly a lot more photos to come.
I was awoken abruptly at 7AM by the building site across the road from the hotel drilling away. And, considering I was hungover, I decided the best thing to do was take a little walk. Chris and Jonathan were obviously still sleeping, and I couldn't understand the telly, so I thought I'd pop out and see some of the sights on my own.
Now, if you remember the picture I'd taken from the hotel window, there were some cafes and bars across the river. We hadn't been near these at all, so I thought I'd start my walk by checking these out. I noticed the menus were also printed in English, and the meals actually looked reasonably priced. Somewhere different to eat. This WAS a good sign.
I decided to follow the river for a bit to see where it goes. Despite the fact that we'd taken a bus trip less than a day before, I'd forgotten where any of the sights were. Imagine my surprise when I followed the river for no more than 10 minutes, and ended up standing in the grounds of the Reichstag, the German parliament building In fact, it was the big glass dome visible from the hotel window. And I didn't even realise! I broke out the camera.
Unfortunately, during my exploration of the grounds, I came across the most harrowing part of the entire trip. Around the edge of the grounds are large concrete blocks which double up as seating, and prevent cars from entering the pedestrianised bit. Next to one of these blocks was a large, fresh bloodstain on the ground, with a swastika scrawled in permanent marker next to it. I suddenly felt very uneasy, and strangely cold. It hit me for a few seconds, that I was in a strange country where I couldn't speak the language, and entirely on my own. It was intimidating to say the least. I even felt like I needed to look over my shoulder a couple of times.
I took my mind off it by taking yet more photos, all of which are on my flickr. On the subject of my flickr, I realise that several hundred photos are a lot to look through. Therefore, my Personal top 20 is available, including 21 of my favourite photos so far. I *still* haven't got through them all, so this may change as I upload more images.
Anyway, back to my walk. After taking shots of the Reichstag, I walked over to the train station, as to my surprise, it was simply a few hundred yards from where I was standing.
The trip on the previous day made it feel much further away. I had three reasons to visit the station. The first was to take photos of it, the second was to buy some bottled water (I noticed they had an offer on it while Chris was buying those big cans), and thirdly, to take better photos of the sandcastle sculpture things.
You could take closer looks at the sculptures if you really wanted to… for the "measly" sum of €6. But, considering you could take photos of it from a nearby road bridge, like I did, there wasn't much point.
I took some pictures of a nearby historic bridge, and began to head back to the hotel. Hopefully, Chris and Jonathan would be awake by this time.
No, they weren't.
I retreated to my hotel room fora while, and flicked through the German telly. I was amazed to see something I recognised, straight away.
Yes, it's CASH CAB! But entirely in German! As they don't call them cabs over there, it was known as "Quiz Taxi", but from what I can gather, the idea of the show was exactly the same. Shortly after, Jonathan knocked on my room door, and explained that they'd finally woken. I explained to him that I'd found some good eateries over the river, and pointed them out to him. Chris eventually surfaced too, so we headed over to them for some brekkers.
We sat outside, as it seemed to be the thing to do. Everyone else was. Me and Chris opted for a hot fresh pretzel with butter, Jonathan decided to go for the currywurst. We ordered our stuff by pointing at the menu, and stating that we would like TWO pretzels. TWO. Quite clearly. TWO.
After about 20 minutes, my pretzel arrived. Jonathan's Currywurst arrived. And Chris ended up with… something… wrapped in foil, covered in what looked like sick. Clearly, this wasn't a pretzel. As I demolished mine, Chris sat there, looking at his monstrousity, wondering how to say "I didn't order this" in German. Eventually, we called the waitress over, and told her that we simply didn't order this. In English. Grudgingly, the plate disappeared back into the building and a few minutes later, it was replaced with a pretzel. Hurrah! We eventually had our order, and we had a waitress who looked like she was about to commit suicide. Everyone's a winner!
After checking the receipt carefully to make sure we hadn't been charged for whatever that thing was, we paid and left. Despite the waitress's error, I still enjoyed the pretzel, and decided I would go again at some point.
At this point, we began to plan the day, and what we would do for the rest of it. Checkpoint Charlie was only up the road, so we deicded to visit that. On the way there, we spied something rather amazing.
Yes, this IS a Bugatti Veyron. I think it's the first time I've ever felt humbled in the presence of a car. It's like a work of art. Ever since I saw it on Top Gear, I always wondered if and when I would ever see one in the flesh.
The building it was in was actually like a shopping centre for new cars. Each manufacturer had their own shop, with their latest and most expensive models on display… most of them you could sit in, and play with.
We lost Chris for about 20 minutes at this point, as he went and sat in some of the cars and twiddled with the buttons of various expensive cars. eventually, he reappaeared, and we continued up Friedrichstrasse towards Checkpoint Charlie.
The subtle hints that we were approaching it came thick and fast. I couldn't help but laugh at a hotel sign which read "Check In, Charlie!".
Moving on swiftly, the site of Checkpoint Charlie is now surrounded by 10 foot high boards with detailed descriptions of the history of both Checkpoint Charlie and the Berlin Wall itself. Very informative, and very interesting. This was the point where I realised my bank card worked in bank machines here, which I was thankful about, because at that point, I probably had about €80 to last me the rest of the week.
I took more photos (as usual), and we started the long walk home, but not before Chris bought an old Military police cap, and a piece of the Berlin Wall embedded in a postcard as a souvenir.
We returned back to the hotel and got changed. Well, Chris and Jonathan got changed. It was hard for me to get changed, as I'd handed all of my ruined clothes into the reception to get cleaned. More about that later. I knew, however, that tomorrow evening I'd at least be able to get out of the manky t-shirt I was wearing, and get some decent clothes on. Still, I had to wear it for one more day.
Either way, back on to the evening. We went across the river again onto the cafes to get something to eat. We stopped at one place on the corner which was a bit expensive and didn't really have anything I fancied, so while Chris and Jonathan had a meal, I decided I would go back to the indian later, and pouch another curry. Which I did, and it was very nice. Chris and Jonathan both tagged along, and I must admit to feeling a little greedy having a curry on my own while they just had drinks. Either way, I paid for the drinks to make up for it. I really, really enjoyed the curry.
During the meal, however, I explained that I knew where the Reichstag was. As the evening was setting in and the sun was going down, we decided to take a walk over to it, following the path I'd taken earlier in the day.
I took another load of photos, including this particularly nice sunset.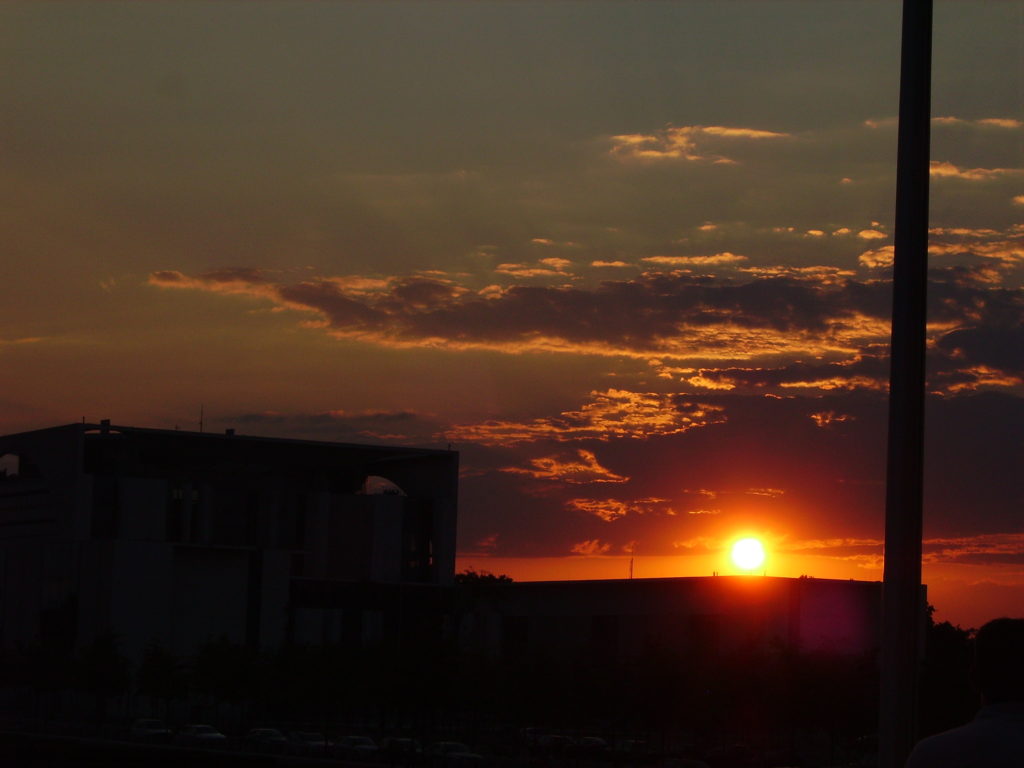 Weather-wise, this sums everything up, except for the last day.
After visiting the Reichstag, Chris told me that the Brandenburg gate was only a few hundred yards away. I was surpised, as even though we'd apparently passed it on the tour the previous day, I had no idea where it was.
We got there, and it appears one hell of a lot smaller and less significant than it does on telly.
You can tell how much of a tourist attraction the place is though. Some unknown guy pulled up in his Ford Mustang, and began to take pohots of his car (and his poodle in the back seat)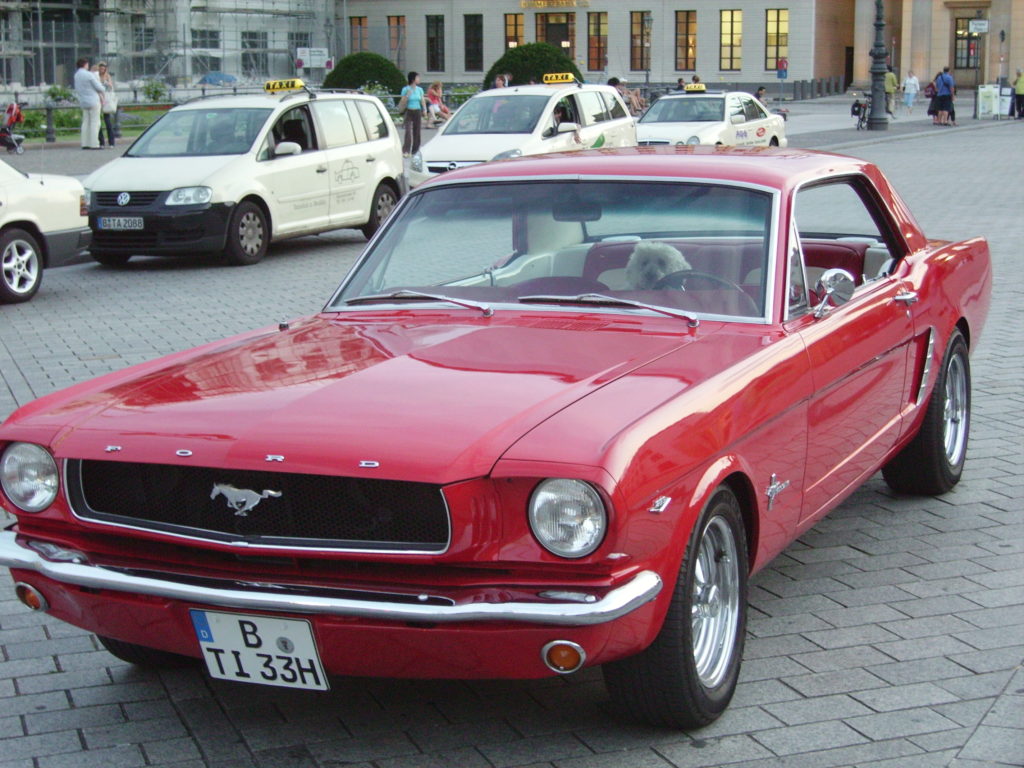 He seemed to be less than happy that everyone else in the surrounding area also seemed to be taking photos of his car too. Including me.
By the time we'd finished walking round and dropped some more freshly purchased souvenirs back at the hotel, it was about 10:30. We headed along the same bars and cafes for a couple more drinks. We ended up in some place called the Kartoffelkeller… the literal translaton of which, is "Potato Cellar". We'd already eaten, so we didn't order food, but we picked up a menu, and intended to visit later in the week. By this point, I was shattered more than the other two, so I was happy to call it an early night… at 1AM.