Wahey. Finally, something other to blog about other than streetlights and records. Both of my readers must be beside themselves with excitement, for you see, I've just came back from five days away in "sunny" Scotland. It was a trip that had been planned long in advance, but due to work commitments, I couldn't go, but when those work commitments got delayed by a week, the opportunity arose for me to leave the sleepy shores of Hartlepool, and spend many hours on a coach.
A little background on how the trip came about. I belong to an organisation who meet on a Monday night, and every year, around this time, arrange a trip away. Sadly, the five years we've been together, there's only been a handful of holidays I've been able to attend.
The majority of the organization were going, meaning there was a bus load of 22 from Hartlepool. I literally knew nothing about this trip. I knew we were going to Scotland, and that was it. I didn't know where we were staying. I could have easily found out, but I thought where was the fun in that? There have been other trips where I've spent hours scouring Google Maps, and pretty much spoiling the surprise for myself. This time, I purposely avoided all known information about it.
So, after an hour of frantic packing, I left Mercuryvapour Towers early on Thursday morning. Chris was also going, so we picked him up along the way.
We got picked up at Christchurch at about 8:45. Now, the odd thing is, that this wasn't going to be our coach for the full journey. We had to swap coaches at Otterburn, a village somewhere near the borders.Which is just as well, as we had a tour of the north east picking up other people. Sunderland, Whitley Bay and finally Newcastle. It had taken us about three hours to get out of the North-East. Not comfortable.
There was about an hours stay over in Otterburn, while the cases were swapped from one case to another. A few of the group I was with had made a similar trip, and knew that Otterburn had a nice little pub called, coincidentally enough, The Percy Arms. Sorted. Nowt like a pint, and maybe a bit of pub grub to make the rest of the journey go quicker. We arrived in Otterburn at 12PM. Four of us headed for the pub, only to find it was shut. Closed. Gone. "For Sale" signs as far as the eye could see. Bugger. There was only one other place. A posh, stately home hotel thing. This really didhave a gravel driveway. I was in my legendary "bus journey" trackies and Primani T-shirt. To say I felt underdressed was an understatement. We asked at reception, and thankfully, the bar was around the corner in what looked like a converted stable.
The only lager they had on was Stella 4%. Not my fovourite, but hell, it's the first one of the holiday. Why not? Well, I'll tell you why not, the bloody thing wasn't actually working. Joy. Instead, I paid £3 for a bottle of Corona. Jasys. If this was how the holiday was going, I'd be skint before the first night. To pass the time, the only entertainment consisted of a jukebox. The barman kindly provided a shiny £1 coin to have three plays of whatever we wanted. Or rather, whatever I wanted. It goes without saying that it included "the Way It Is" by Bruce Hornsby + the Range, as I've yet to find a jukebox with "Downtown" in it.
We drank up, headed back to the coach, but not before I'd pay £1 for a bag of crisps. Bloody hell, £4 down and I hadn't even left England.
The next stop was to pick up a couple of people at Edinburgh airport. Bit of a strange pickup point I think you'll agree, but I've never been so thankful for a stop in all of my life, as some way between the border and Edinburgh, the unload bay was full, if you know what I mean. By the time we'd reached Edinburgh, I was banging my head off the seat. The lady driver announced over the coach's PA system "Aye, ye's can all have a wee toilet break in the airport". Trust me, love. It wasn't a wee I needed. I broke land-speed records trying to get from the coach to the toilets, which seemed a mile through the arrivals lounge. Ironic, as I was about to make a jet-powered departure.
I must admit, I felt just that little twinge of guilt as I watched the coach driver load the parking meter full of pound coins as we'd gone over our five-minute allocated stop time, but then I realised she could probably claim that back off the tour company, so all was right with the world.
The next stop was Stirling services. This isn't an amazing place. It's a service station, but with even less charm than your average stopping point. I paid £2.49 for a "supersized" portion of chips from Burger King. Either I'm fat, or the portion really wouldn't have filled a hole in a badger's tooth. Not going well for money so far.
My impression on the service station wasn't helped by the fact it was pissing down. It was 4PM at this point, we'd been on the road for several hours, my arse was numb, and I really could have put up with the hotel being around the corner. But no. Apparently the place we were going to was right in the highlands. As mich as the view got more picturesque, it got more obscured by low clouds, and my attempts of passive the time by photographing the scenery were in vain. YES, almost 1,000 words in, and it's the first shit picture!
Yeah, so you'll see what the camera on my phone had to put up with. Somewhere in the journey, it was revealed to us just how strict the hotel was. Doors close at 11:45, and there's hand foam dispensers everywhere, and we're expected to use them. Oh, well, that was it. Every foam / hand cleaning pun came out. I'm not sure if they made the journey seem longer. They probably did.
We arrived at the hotel around 6PM. Entry was through some type of greenhouse. No, I'm not kidding. The owner is a large fan of plants, and you enter the hotel through this greenhouse, complete with high-powered sodium lights which are on 24-7. Well, at least I think they were. The gloom never lifted enough to see if they were photocell driven or not. NOT THAT YOU EVEN CARE. There were the now infamous foam dispensers on the wall, which you were instructed to use when entering and leaving the building.
Dinner was at 7:30. After a journey like that, there was only one question… where was the bar? Me and Chris were sharing a room, and I don't even think the castors on our suitcases had stopped spinning before I had a pint in my hand. And by this, I mean, by finding the bar I'd already found all of the facilities the hotel had to offer. As in, there weren't any. It was a big place,but if you were to stay there during the day, all there was, entertainment wise, was the bar. I know, I always say, that from a hotel, all I expect is a bed, bath and bog, but that pushed it to the extreme. The room had a TV so small you'd need binoculars to see if it was on or not. It didn't even have a bible. That, to me, is a sign of a good hotel. Well, except the one in Blackpool, where the bible was present, but included a rather alarming amount of pubic hair.
Anyway, before we knew it, it was dinnertime. the first thing that greeted you on your entrance to the dining room was a member of the staff, greeting you in an eastern European accent, whilst thrusting a large bottle of the afore-mentioned hand foam towards your grubby English mitts. And they wouldn't allow you past until they accepted. No, really.
So, we picked our table, and this was to be our table for the week. This is standard practice in these large coach tours, where they'll mass-feed 300 people at a time. I made the mistake of failing to do this on the afore-mentioned Blackpool trip, so I knew, that if I didn't force the first meal down my neck, I pretty much wouldn't have a place to sit for the rest of the week. Thankfully, the first meal was perfectly acceptable. I have never been a fan of set meals. I'm not the world's most fussiest eater, and have certainly broadened by palate over the last few years, but still. There's a few things I'll happily die without trying. None of these crept up on the first night's menu, and I enjoyed a rather lovely roast pork dinner. Choice of vegetables were potatoes, green beans and sweetcorn. I pouched rather a lot. Desert was eaten, and we made our way back to the bar for the night's entertainment.
Oddly, when they came "on stage", there was an announcement that we weren't allowed to film, and photography was only allowed "discreetly". Normally, I'd grab a few minutes of video to remind me who the acts were for when it comes to the blog, but I have nothing. Completely dry. Whis is a shame, as the two blokes were really, really good. I've never been a fan of hotel acts, but these were brilliant. One guy sang, while the other guy provided all of the entertainment through a synthesized accordion. They were genuinely a good turn, and I'm a bit saddened that I can't give them more of a plug. They even performed a cover of "Working Man", a song originally by Canadian artist Rita McNeil. That song alone was worthy of a blog entry, which I don't think I finished writing.
Anyway, much beer was drunk, and upon returning to the room, we found that one of the light bulbs had given up the ghost. Just *look* at that blackened electrode…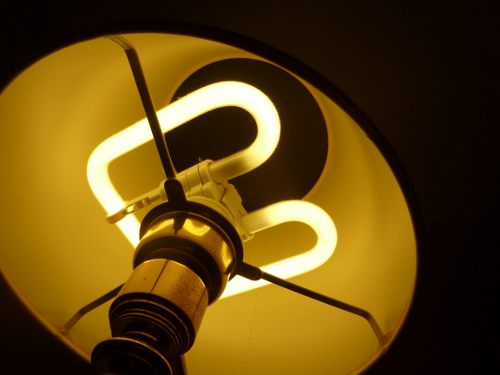 Do they replace the light bulb? Stay tuned for Day 2…