Ahhh, radio rallies. A subject I've touched on briefly, yet can't have touched on them enough, as everyone l mention them to, seems to look at me with some type of confusion etched on their faces. So, let's start from the beginning.
I've mentioned before, Daddykins is a radio ham. No, that's not some type of wireless pig, it's a name given to someone who has an interest in amateur radio. For as long as I can remember, he's been taking me to radio rallies, and I always enjoy them. There are basically huge places, filled with lots of stalls, selling radio, and sometimes computer goodies. I remember getting a load of ZX Spectrum tapes from one, when I was about 10, most of which got used as blank tapes to store other games on, as they weren't very good..
Fast forward through the years, and, until recently, visits to radio rallies were few and far between, yet I always looked forward to them, sometimes planning them months in advance.
A few years ago, Daddykins and myself began attending the yearly BARAC rally in Spennymoor, a small town a few miles west of the lovely fishing village of Hartlepool. This was an annual event, usually talking place in the first week of December. We both enjoyed it. Daddykins would look for the radio stuff, and I'd spend my time rummaging through boxes of loose cables and circuit boards for something that looked vaguely interesting. Usually, it'd be a drive of some variety, whether it be CD, flash, or even floppy.
Years went by, and we have began to attend these a lot more regularly, and further afield. There was Newark last year, this year so far, we've been to Ripon, and today, Blackpool. Now, this held a bit more of an interest for me, as it was going to take place in the "Norbreck Castle" hotel…
Well, OK, the " RBRECK C STLE HOTEL". You probably won't remember that I stayed here many years ago. I recall the out-of-date biscuits next to the kettle. You, however, may recall, however, that I did a video about a hairdryer, filmed in that very hotel many years ago…
Haaaa. fun times.
Anyway, back to the radio rally. Chris came along with us. He was also making the same return trip (he's the one holding the camera in the above video), and we were both interested to see just how much renovation had happened to the place since we'd both checked out. The answer: hardly any. It still looked almost exactly the same. It was like travelling back in time 7 years. Anyway, we were not here to ridicule the decor, we were here to have a look at what vintage tat I could walk away with.
It was being held in the big exhibition centre they have there. This was the place where they held the "entertainment" when we were there, and could quite comfortably hold a few thousand people…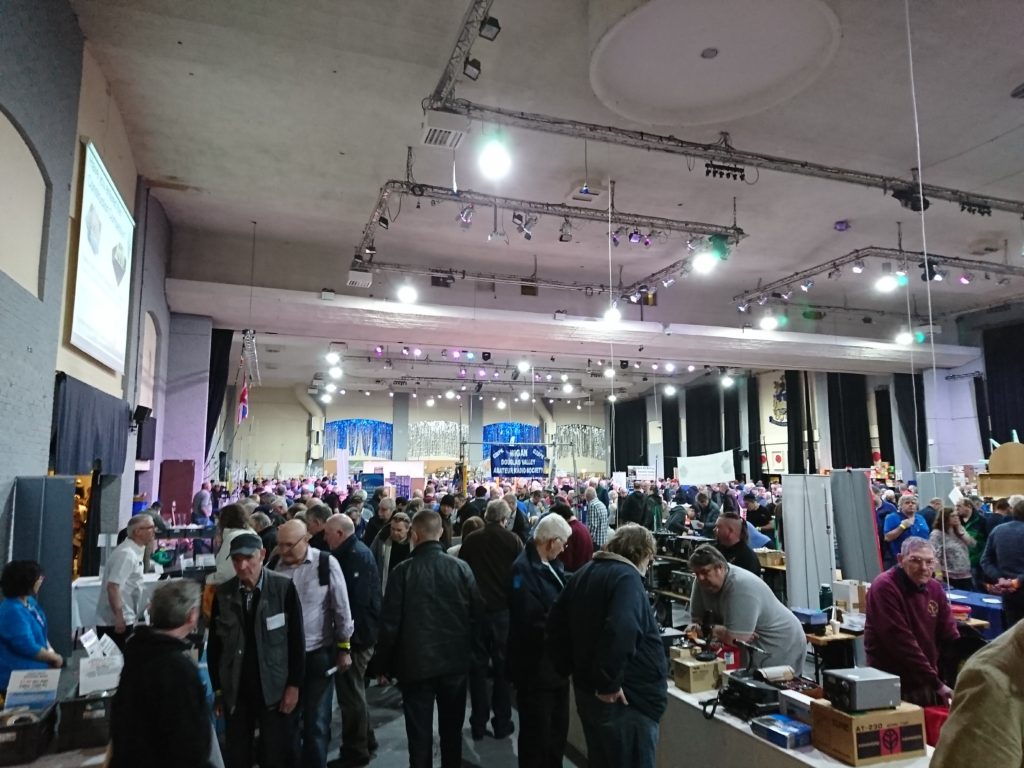 The ceiling lights had changed from mercury to LED over the years, however. Ahem.
It wasn't long until I started rummaging through boxes. The sight of "Everything £1" caught my eye, as you'd expect it would. I started rummaging, and pulled out a little, nondescript beige box, with what looked like either a taser, or a dictaphone / recording device thing. It was £1, so it was either going to be broken, or something missing from it, such as the battery, but for less than the price of a bottle of coke (damn you sugar tax!), I wasn't going to pass it up. I also pulled out an absolutely massive old external CD/DVD drive. This thing was such a beast that it took standard size DVD drives, and not the shitty little laptop drives. Also, at £1, I decided that the power supply alone would be worth that, even if the drive was completely shagged.
Chris almost had a coronary at the sight of these… and at 50p each, he picked both of them up…
It was around that time, that I nearly creamed by boxers at the sight of an old, yellowed Chicony keyboard, with some of the nicest switches I'd used for a long time. Unfortunately, it had the old style 5-pin AT connector, no windows keys, and the asking price was £40. Ever so clightly out of my price range, but seeing as I think this poor little keyboard is reaching the end of its life (or at least be relegated to the keyboard I use at work, or something), I'd have liked that to be my replacement. Never mind.
Just along from that, was something made me go weak at the knees, was the sight of a laserdisc player, in perfect nick, with some discs to go along with it. I didn't even query the price of it, as I simply didn't have the space for one, but it was the first time I saw one "in the wild", as it were.
A few other bits and bobs were acquired (20 slimline CD cases for £1 for example), and it was over all too soon. Daddykins had gone back to the car, and we'd completed enough laps of the place to make Mo Farah look dizzy (He only does road races now, you know – Ed). Shut up.
I had a peer into my little beige box, and upon further investigation, it was indeed a dictaphone type thing. It looked in absolutely perfect nick. It was 8Gb too, and to my amazement, it powered on and recorded!
Back in the box it went, for further examination when I got home. The way back was uneventful, except I managed to get a folder of a "Trainer tree"… around here they hang trainers from telephone wires. Up on t'moors, they grow them on trees…
Looks like it's blossoming for the spring!
So, anyway, back home, and I examined this little recorder a little more. Here's a photo of the device itself.
Everything appears to be in the box, except for the Micro USB cable, of which I have dozens, so absolutely no loss there. The headphones were still sealed, but they look cheap as hell.. I'd never heard of the make (Evistr?), and I'd expected it to be an Amazon / Won Hung Lo Special, and indeed it is, but it's on there for £33ish. Not bad.
So, curiosity got the better of me, and I had to see if it had been used in the past. there were no files on it, except for the one I'd recorded above, so I opened the device in a hex editor. All of the sectors appear to have been used, so that would suggest there was something on there. A quick run through an undelete utility, and voila!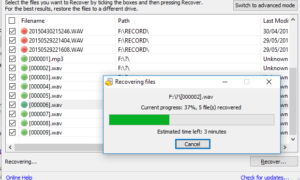 I've had a listen, and this definitely did belong to someone else in the past. It has someone singing for a couple of the files, and also two 3-hour long recordings of music, probably taken from a radio at the other side of the room, or something. All of these sound like they're possibly Chinese.
Just a look at the waveform shows this probably isn't a great device for making sonically accurate recordings…

I'm assuming these were taken with the built-in microphone. It has an external socket for a microphone too, so you never know, that might be better… judging by the quality of the headphones, I suspect not, but it's worth a look.
Overall, a successful day out