I thought I'd start off with a Lee and Herring quote, as I don't think there's enough of them in this blog. In fact I wouldn't be surprised if that one was my first one. Anyway, it does have some relevance, as I have spent the day in York. Needles toupé I took my camera.
Several days ago, Coatesy made a reappearance on the scene, it was a nice surprise to see him on Messenger. It was the first time I'd heard from him properly since February 12th, after a trip somewhere got abandoned at the last minute.
We got talking (unsurprisingly), and arranged a meet-up and a trip out, to York. This sounded cool. I'd never actually been to York since I was a kid. In fact, I remember getting some type of colouring in / crayon set from there the last time I was there. And Treasure Hunt was still on telly.
Er, anyway. The trip was arranged. I was to meet him at his flat on Saturday Morning at approximately 8:30AM. I awoke at 6AM. After spending the last two days awaiting a text saying that he wouldn't be able to make it, I was surprised to find my phone void of texts. Awesome!
Anyhoo. I set off, along the moderately short walk from Mercuyvapour Towers to Coatesy's abode. It was a lovely morning, if a little chilly. In fact, I turned back because I thought it'd be cold enough to require a jumper.
This apparel change, unfortunately made me three minutes late for the festivities, and I arrived on his doorstep at 8:33. He was ready to go, and after picking up a Wispa and a foreign bottle of Dr. Pepper (which smelled oddly of cheese) from the local shop, we headed off towards the train station.
I was surprised to see that the station at Hartlepol has been slightly revamped since my last trip on an English train six months ago. Yes, it's all been redesigned, and it really doesn't look right. The platform is still a pigeon and chav infested mess, however.
I am happy to report, however, is that one of the possible reasons that the station hasn't been done up yet, is because the fares are so damn cheap. £9.60 retun to York. Bimler.
We sat on the platform, awaiting the train which would take us the first part of our journey, from Hartlepool to Thornaby. It's a journey of approximately six metres. In fact, it hardly felt worth sitting down for it.
My memories of Thornaby station aren't good. I simply remember a vast expanse of urine soaked tarmac and bricked flower beds which uncomfortably acted as the only decent and non-vandalised piece of seating. I'm happy to report that this is no longer the case. There is a station building, ticket office, proper seating, and even destination boards saying when the next trains are due. These weren't there last time!
Coatesy informed me of some of the things he's been getting up to recently, including meeting Ricky Tomlinson, and getting his autograph. Unfrotunately, he didn't get the pleasure of meeting Duncan Norvelle who was also appearing with Ricky Tomlinson. According to Wikipedia, Duncan Norvelle now lives in Darfield, a place which I have visited, and had a very nice bag of chips at. You may also notice that I didn't complete that post about Barnsley. Oops.
Er, anyway. Back onto the present day, and back to the trip to York. After a few minutes loitering around the Thornaby platform, the second train showed up. A big, purple, comfortable looking train, manufactured by Siemens.
We picked two of the only seats available, sat facing some odd couple. It was not possible to look forward without staring them in the eye. I think I know every detail about the train carpet, walls, seat design, yet I wouldn't be able to pick the guy who was sat in front of me for the hour-long journey from a police lineup.
The journey passed pretty quickly, thanks to the playing of the golf game on my mobile with Coatesy, and also the reintroduction of posting stuff to my twitter account.
We arrived at the station, just before 11. The first thing I noticed was… OLD STREETLIGHTS. Oh, man. I was in my element. More on those later, as I'm sure you'll all be gripped in hearing about those.
It was at this point I whipped out of the camera, and began to take photos…
Yes, I was taking a photo of the streetlight. The Yorkshire wheel is just a bit of an added bonus. Speaking of which, we did go up onto the wheel. And it was great. Whilst up there, Chris rang me to see what I was up to.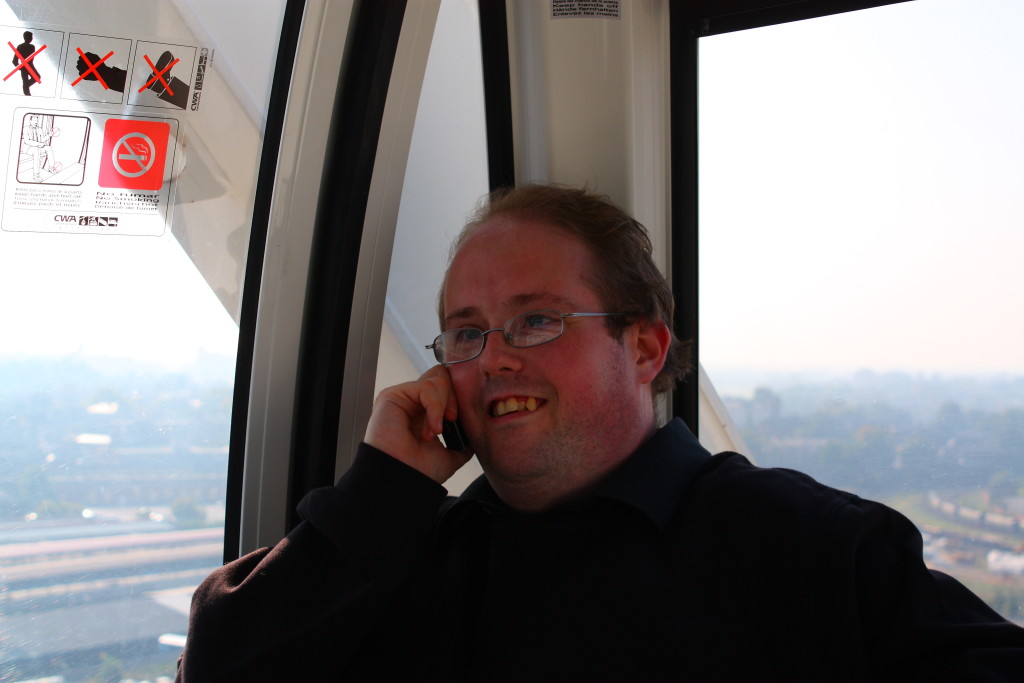 I informed him that the trip had gone ahread, and we were indeed in York.
The ride lasts only 13 minutes (according to their website), so at £6.50 it was a bit expensive, but the views, as you can imagine, are stunning. Should you ever go, we were in car number 22. Just so you know that I have breathed in that very same car… oh, and the air conditioning doesn't work in it. It's supposed to be lovely and cool. It was more like an oven. This is one of the reasons I look like a beetroot in the above picture. That, and the fact I may have had the saturation setting up too high on the camera….
So, it was time for a quick look at the railway museum. This place is vast, and I'm pretty sure we didn't get to see it all during our trip round there.
Now, for all of you going there to see the Flying Scotsman, well, you'll be a bit disappointed. It's in bits.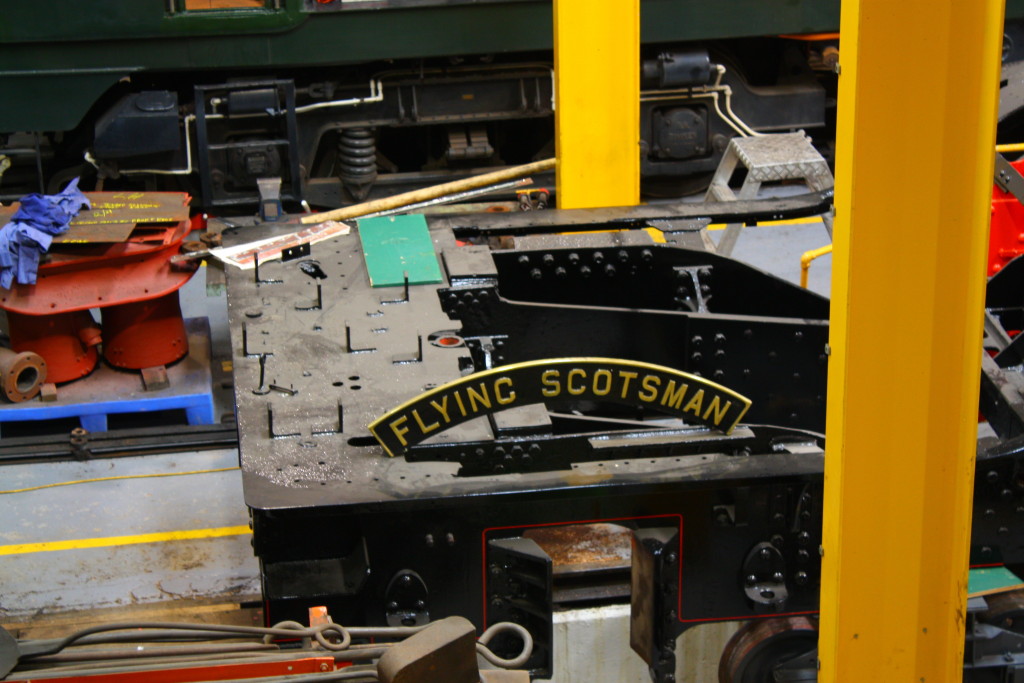 Of course, if you LIKE to see old steam engines in bits, then I'm sure you'll be happy with the sight.
So, after another quick look round, we headed out of the museum and down the road towards York Mister. It was one of the reasons I wanted to go to York. Last time I was there, I wasn't old enough to appreciate it, but I still remember shots of it burning down on the news.
Before we went there, we stopped off for some food. I opted for a pair of sausage rolls, whilst Mr. Coates disappeared up the road for a Subway. We walked along to a shady little square situated at the end of The Shambles to consume our food products.
Out of the corner of my eye, I spied a market. Now, these things normally mean one of two things… records and lots of cheap fruit. You'll have to work out for yourself which one of those I'm more interested in. I didn't really come to buy records, and even though I found a stall that sold records, I couldn't really buy any. It was still early in the day, and although I was sorely tempted to buy one, I held off the temptation. After all, lugging records around on a day out really isn't something worth doing.
Next stop was York Minster. This place is immense in every sense of the world. One thing I found really interesting was a "busker", for want of a better word, sat outside, playing something called an autoharp.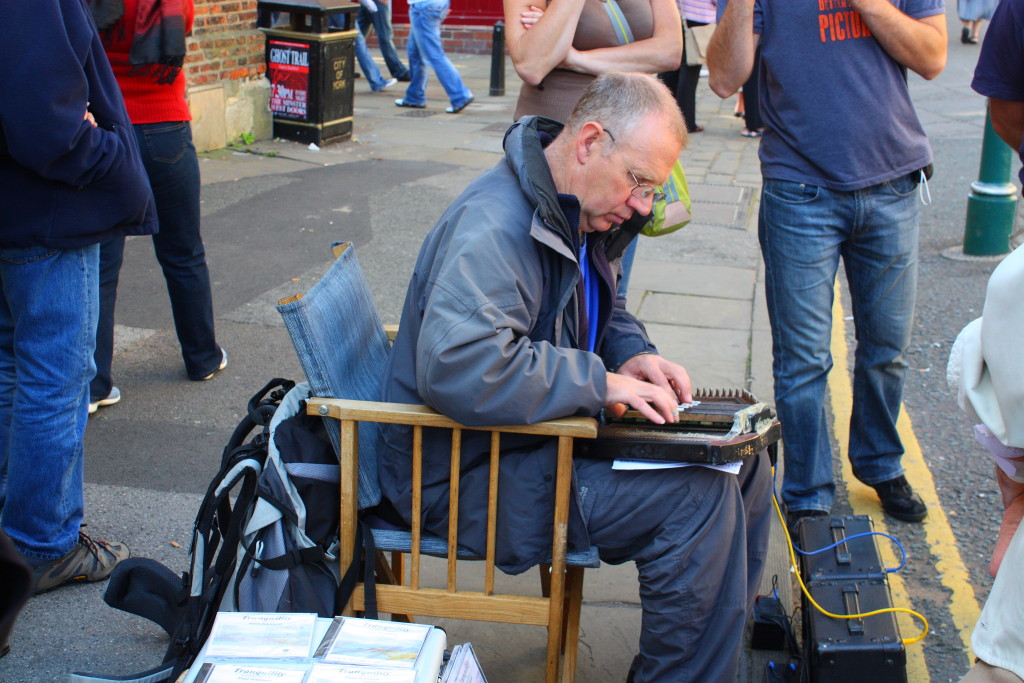 I see that the guy is called Paul Jennison (or at least that's the names on the CDs he is selling) but unfortunately, Mr. Jennison doesn't have much of a web prescense, unless I'm just searching for the wrong things.
Onto the Minster itself, then. As I said before, this is one of those places that is just immense.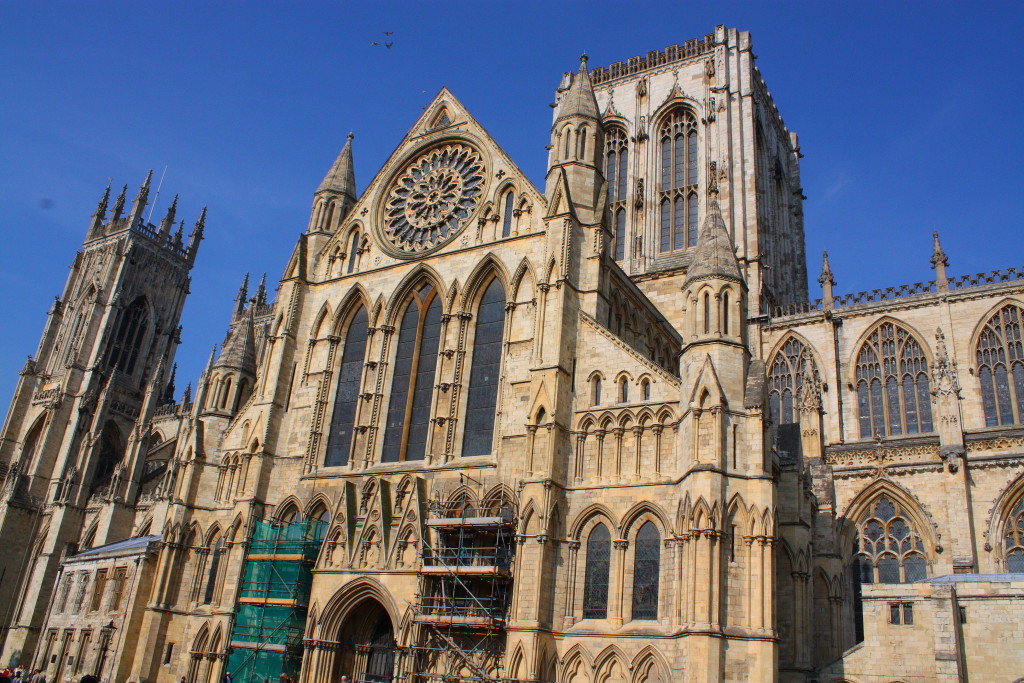 Remember my rant about Notre Dame being handed over to the gawking tourists, with camera flashes going off every six seconds? Well, I am happy to report that this place has got it right… You have to "buy" the ability to take photos. This means that your average Little Miss Snapalot will think twice about leaving her camera with full flash on, because you have to pay for the privelege! An awesome idea.
The full price for everything (that includes, photo rights, entrance to the tower, entrance to the lower levels) costs something like £9. Now, because there was a private wedding going on (seriously, a wedding in York Minster? How much money do these people have?), we got a discount, so the cost was £7.50. Unfortunately, we were unable to gatecrash the wedding, but I'm sure that Husband and Wife will have a happy three months together before it all ends up getting shat up the wall. Not that I'm cynical about marriage, or anything.
Our first stop was the tower. We thought it was probably best to get the excersise out of the way first of all. There's a narrow 275-step climb up to the top of the tower. It's the first time I've ever visited a church and had a health and safety warning, and been asked to declare that I didn't have a list of diseases longer than my arm…
This now ranks third in the "most steps I've climbed in one go". The top three looks as follows…
1. April 14th 2007 – Scott Monument, Edinburgh… 287 steps
2. July 17th 2008 – Arc De Triomphe, Paris… 284 steps
3. September 27th 2008 – York Minster… 275 steps
The walkway for the Minster is almost as thin as the Scott Monument, but not quite. You do also get the chance half way up for a nice view…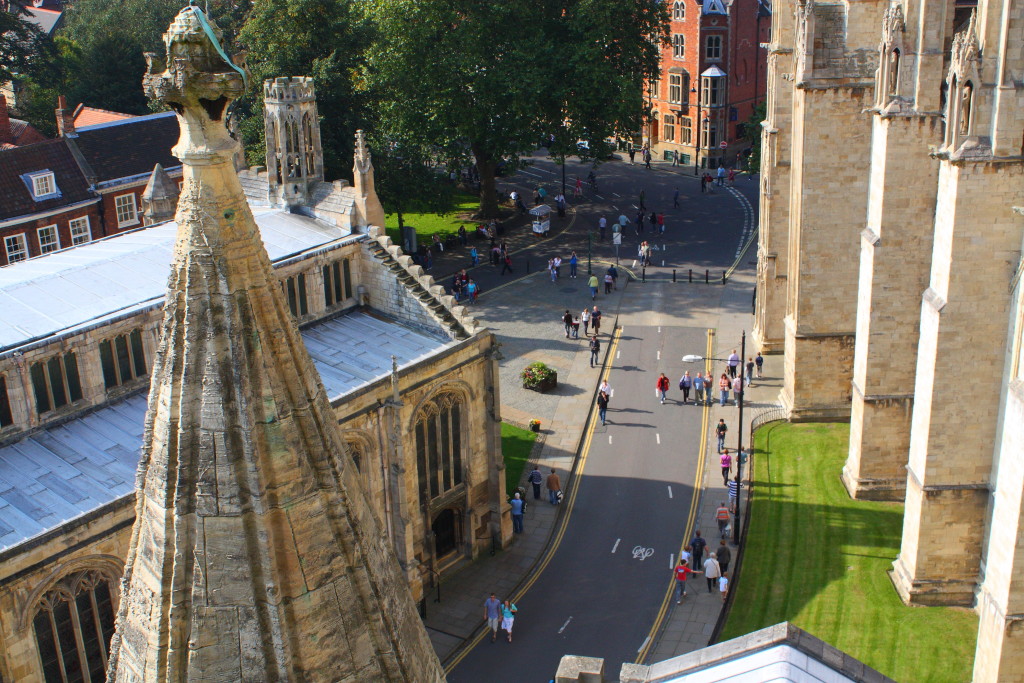 This was, however, only 108 steps into the journey. There was still a hundred and a bit to go. No mater how much I liked the view right there, it could only get better the more we got up. And if I'd have just stood there taking photos on a very narrow gangway, I'd have held everyone up.
Another very narrow corridor and set of stairs later, we arrived at the roof, and I'm sure you'll agree that the views were absolutely stunning…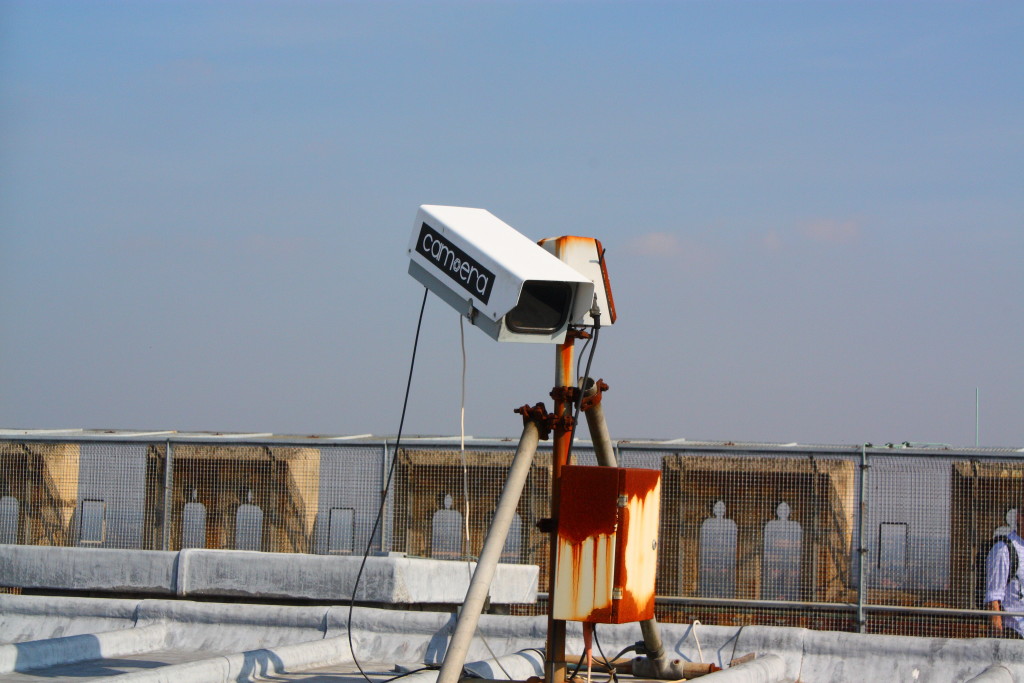 I mean, have YOU ever seen a CCTV camera that size before? I couldn't BELIEVE it.
After eight minutes on the roof, we were ushered back down by a woman who seemed eager to get everyone down as quickly as possible. It became quite clear why. By the time we'd got downstairs, the queue was pretty much round the block. Talk about good timing, we only had to wait a few minutes, whereas the people in the queue… well, they're probably stil there now…
We took a further look around the Minster, including taking in all of the sights of the underground section. This was a particularly interesting section, as you get to see all of the medieval / Roman stuff. It was amazing how it was preserved.
After that, we took one last walk around the minster itself before leaving it and heading towards the arrays if shops. At this point, I was gasping for a drink. The climb up and down those narrow stairs certainly took its toll on my body's fluid reserves, and before I knew it, I was in a little paper shop buying a nice bottle of Ribena. This is one particular drink I have started to like again, despite not drinking it for approximately 10 years.
At this point, we decided to have a look at the boat trips. There's a nice boat trip which takes you all they way up the river Ouse to the Tate + Lyle factory, and all the way back round again. When we got there, it was quite clear that the nice weather had influenced the entire population of Yorkshire to come out and have exactly the same idea as us – the queue was about half a mile long. It became apparent that we weren't going to get on the next boat trip, and we wouldn't have time to get on the one after that, so we just headed back to the station in order to get the next train. Unfortunately, Coatesy had to attend his place of Employment on the night.
Now would be a good time to mention that his old job involved the manufacture of many things including streetlights, and he could confirm that the Thorn Beta 79 ceased manufacture only a few months ago. Shame. It seemed odd that we were having a conversation about streetlights.
Oh, and I also think that now would be a good idea to copy and paste some links to the streetlight photos I mentioned umpteen paragraphs ago.
To start us off, here's an example of an extremely rare Thorn Beta 9, gear-in-head…

I think it's probably the only one I've seen in my entire life, so that was a nice surprise. I originally got the name of this lantern completey wrong. Bah!
Secondly, there's this one…
It's been identified as a "Thorn Grenville" floodlight. Oddly, if you google that, the only thing that comes up (apart from something about family names) is the reply to my request for identification in the StreetlightingUK group.
After heading back to the station, we nipped into WH Smiths. I was still dying of thirst, mainly because my clothing apparel consisted of black items, and considering this was one of the nicest days of the year, I was sweating buckets. I picked up a bottle of water, Coatesy picked up a paper.
We sat on the platform and watched a train undergo some emergency maintainence. Apparently, one of the doors had jammed, so I whiled away the few minutes watching them trying to fix the doors. I never found out of they managed it because our train arrived shortly after. Again, it was very similar to the one we'd got down there. Nice and comfortable.
After a short while, we were back in Thornaby. Now, it said that the 16:37 train to Carlisle (via Hartlepool) was cancelled, but the following screen said it was still running… how odd. Luckily, the ticket office was still open, so we thought it would be best to check. Coatesy volunteered to ask, and I wasn't going to argue with that
Now, the oddest thing happened in the queue in front of us. Apparently, some old woman had just got a free ride from Northallerton to Thornaby, as nobody had came around to sell her a ticket. Fair enough, you might think. She'd just walk away with a couple of extra quid in her pocket… no.
She was demanding that she should be charged for this journey. The guy behind the counter looked about as confused as I did. Huh? She's just got something for nothing because someone clearly wasn't doing their job correctly, and she feels like she should be the one to cough up?
Eventually, the guy printed her a ticket out, she paid for it…
Guy: "Shall I just bin this?"
Her: "Well, it's no use to me now, is it?"
Miserable old goat. I bet she's the type of person that leaves your average customer service rep with a nervous tick.
However, there was still the matter of the cancelled train. Was it cancelled or not? After Ms Moneybags fucked off, it was Coatesy's turn in the queue. The guy explained that they were testing out a new system, and the train WAS running. Hang on, surely if you're testing out a new system, the information you give out on it should be ACCURATE? Otherwise, what's the point of actually redoing the system?
At 16:37 and 2 seconds, the train pulled into the station, We boarded, and took the short journey from Thornaby to Hartlepool, taking in the wonderful sights such as the abandoned Cerebos factory and the various waste disposal sites. During this journey, I attempted to get Daddykins to pick me up from the station. He was cooking the tea, so he suggested I get a taxi and he'd pay for it. Awesome.
Coatesy and I went our separate ways, and I becan the mammoth task of uploading all of the photos, and eventually typing this blog.
All in all, an excellent day, and it has became apparent that if I am going to use this camera properly, I'll need more than just a 2Gb memory card… all of the photos here!