My word. Considering I was claiming it was going to be a shit day, it actually went really good.
No sooner had I pressed "Send" on my previous post, Daddykins awoke, and came downstairs. Before I even had a chance to plead with him to take me somewhere, his first words uttered to me were "Get your shoes on"…
"…why? Where are we going?" I replied. It seemed a bit of an odd statement considering he'd only been awake a few minutes.
"Don't know yet" was his reply.
I was shocked, and delighted. Me and Daddykins were going on a proper day out for the first time since at least 1997. Sure, we'd been places before, but not for a proper Father/son type thing. There had always been "complications". OK, I'm sure it wouldn't have happened if we hadn't got the new car, but I'll not use that as an excuse. I'm sure my dad took me out because he loved me… yes, that must be the reason.
Needless to say, I took my camera. My dad must have had some idea where we were going, as we headed in the direction of the North Yorkshire Moors. Well, when I general, I mean DIRECTLY, even taking the necessary shortcuts Daddykins had picked up during his many years working around that area.
This narrowed it down to a few places… three, in fact. Whitby, Grosmont, or Goathland, the real-life village which is the setting for Heartbeat's "Aidensfield". Whitby was quickly ruled out, which is just as well, as it's expensive, probably crowded, and there's nowhere to park easily. I remember this from when we used to go to days out to Whitby as a child. We (being me, my mother, nanna, and any other freinds/relatives who tagged along) would get dropped off, then my dad used to disappear somwehre with the car, sometimes taking half an hour to return, after parking it in some obscure back lane for free.
So, Grosmont, or Goathland. I was indeed correct. Daddykins took one look at the parking situation in Grosmont, and thought "sod that"… I didn't quite work out why, either the car park was full, or it was too expensive. Either way, we kept going, along the same road, through Grosmont, and onto Goathland. As we approached the centre of the village, our path was blocked by a policeman. Daddykins rolled the window down (or rather, pressed the button that brings the window down). and asked him what was going on…
"Oh, they're just shooting a scene", he replied. "Won't take long… they're averaging about 3 minutes per take". Woooo! They were filming, there and then. I could hardly believe my luck. Daddykins got chatting to the copper.
"So, where've you came from?" The copper asked, to start conversation.
"Hartlepool… West View", daddykins replied, quite correctly.
"Ohhh, West view Road?", the copper replied.
Turns out that the guy's grandparents lived on West View Road, near the Brus, and he used to eat in the (now demolished) Brus Cafe. What are the chances of that happening? It's not quite as amazing as the time I stayed in a hotel on the Isle of Wight, and the owner knowing Eric Wilkie who used to drink in the Queens, and a good friend of mine and especially my dad. Even Coatesy knew him. Eric, you may remember, is whose front room I spewed up in on the Millenium night.
Er, anyway, I've swayed way off topic there. Back to Goathland. The take eventually finished, and we were free to go on our way, to the car park. It cost £2 to park up for the full day, which I consider entirely reasonable, though in previous visits, we parked for free on the edges of the road, but these are all now yellow-lined. Bugger. Either way, we parked up, and headed for the site of the filming…
Here's one of the takes…
After I took this photo, I was told by some anonymous woman in a Hi-Vis jacket that I couldn't take photos while they were recording. That, to me, doesn't make much sense. 1) my camera is silent when taking photos, 2) I was in a public place.
I've always wondered how the law stands on such matters. I must admit, I was 100% compliant with her request – personally I just enjoyed watching the recording, and was happy in the knowledge that between takes, I could photograph what I wanted, most of it appearing very similar to what I could have shot during the takes – same people, same equipment, slightly different stance, maybe. It's all a bit academic anyway, as I only took 6 photos while watching the filming. Ah well.
That was an added bonus to the day I wasn't expecting in the first place.
We spent a big portion of the day at the train station, as they have steam trains there, and Daddykins loves them. As expected, the whole place is kept in a retro style, with old fashioned advertising placards dotted around.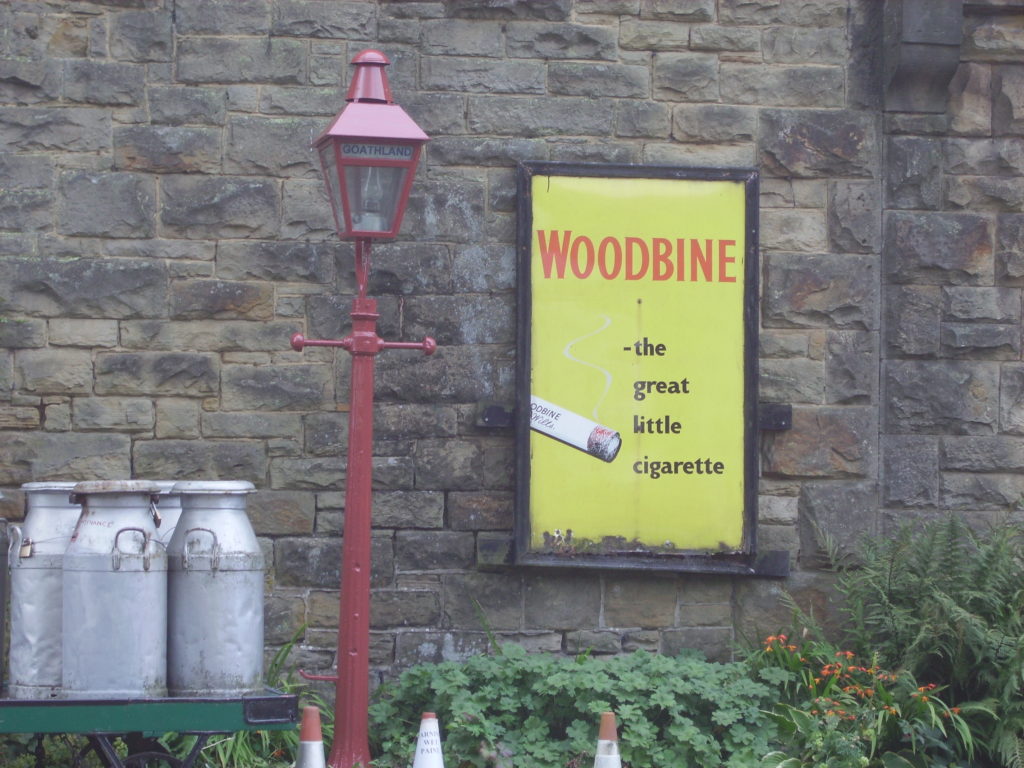 The first thing we did when we got there was get some refreshments. Daddykins can't function without his morning cup of coffee, and considering we'd went straight out, he never had chance to have it. I was surprised he'd went as long as he did without collapsing into a caffiene-deficiency related coma. Either way, we watched a total of 3 trains come in and out…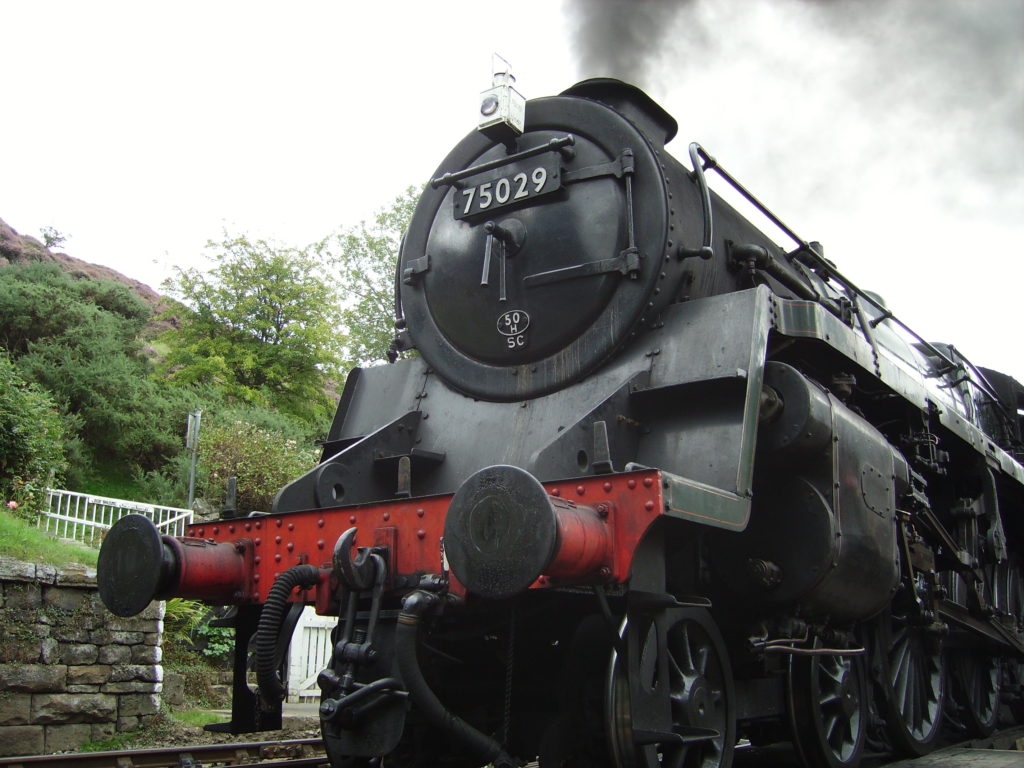 … each of them looking like that one. It's a shame there's only a few of these things running anymore, as they're certainly impressive. And huge. And noisy.
During the wait between the trans approaching, we went for a walk up the side of the hill, which formed the valley that the station was in. Before you leave the station, however, was this gate…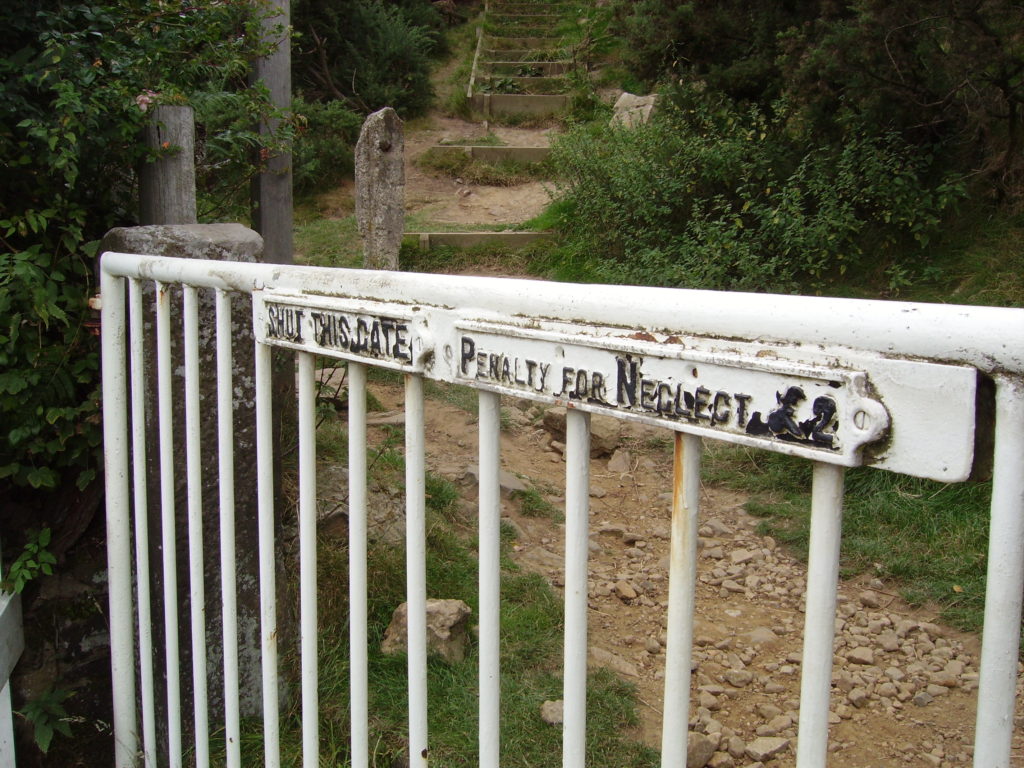 Penalty for leaving the gate open, £2. I'm sure that this sign was added when two pounds was actually a lot of money, and actually a bit of a deterrent. Never mind though, as everyone who went through it did indeed close the gate. It wasn't a hard walk, and the view for reaching the top was stunning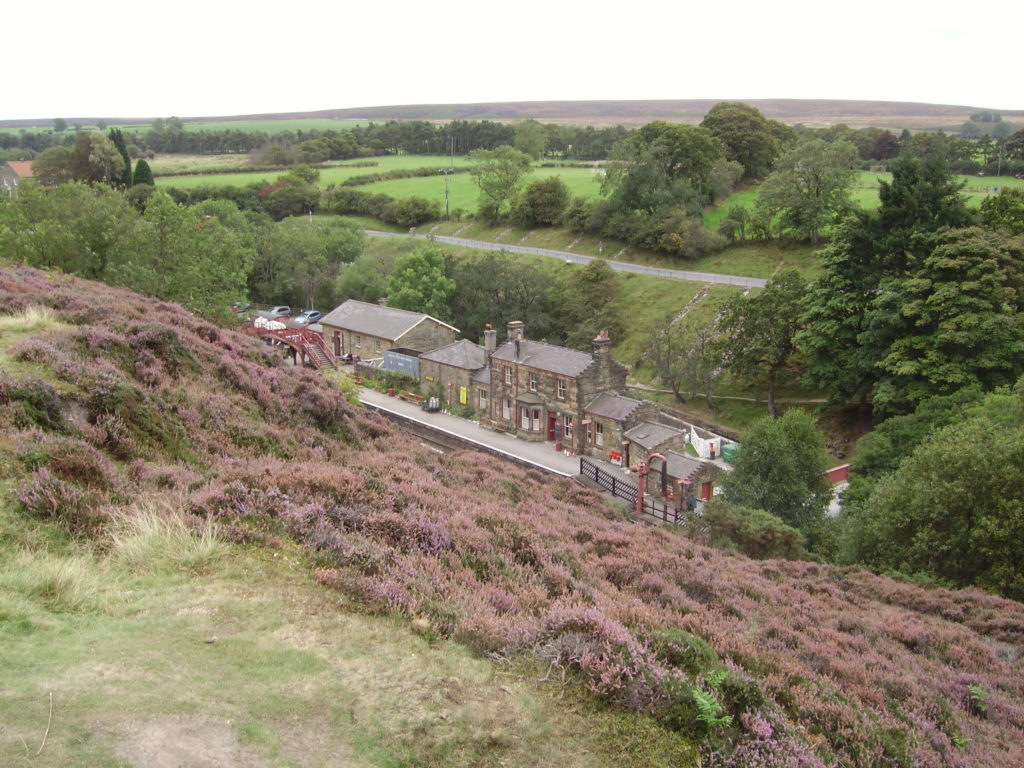 There was no mobile phone signal, however, even at the top of the big hill, which I was a little surprised about. I wasn't planning to call anyone, it was merely an observation.
After we watched the trains, it was time to take a last walk around the village, and take in the scenery.Something which is clear with this place is that they will never need anyone to mow the lawns, as there's sheep everywhere…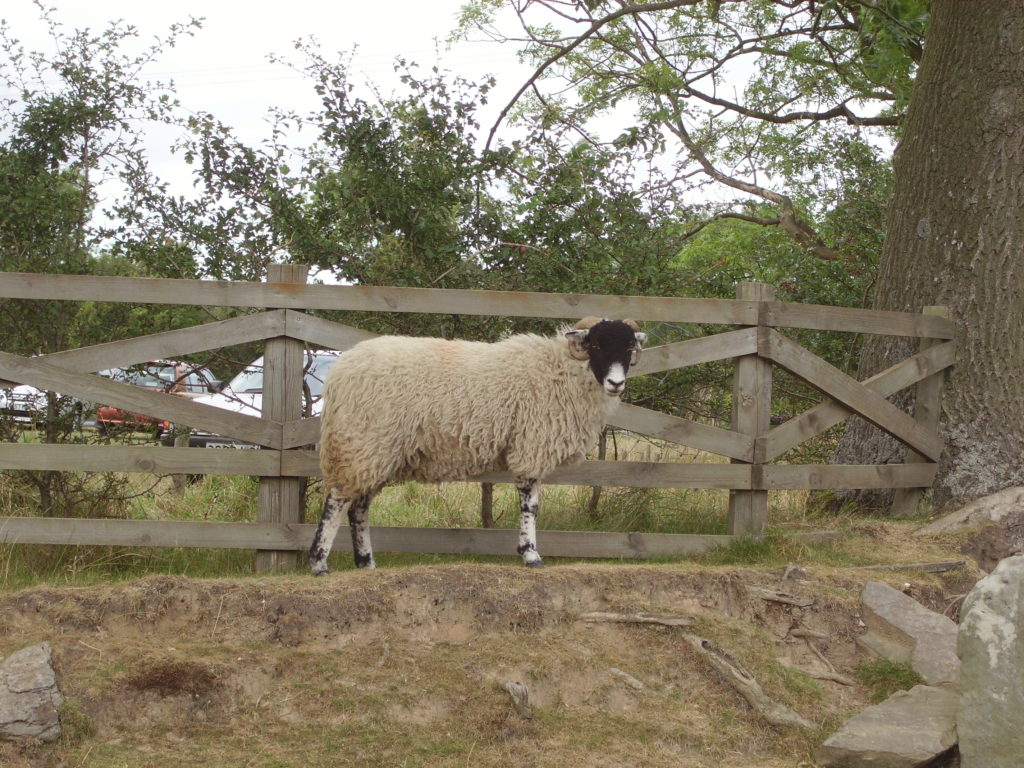 I thought it was great personally. Although this was a novelty for me, being an outsider, I could imagine that the residents would get really rather sick of their fluffy white prescense…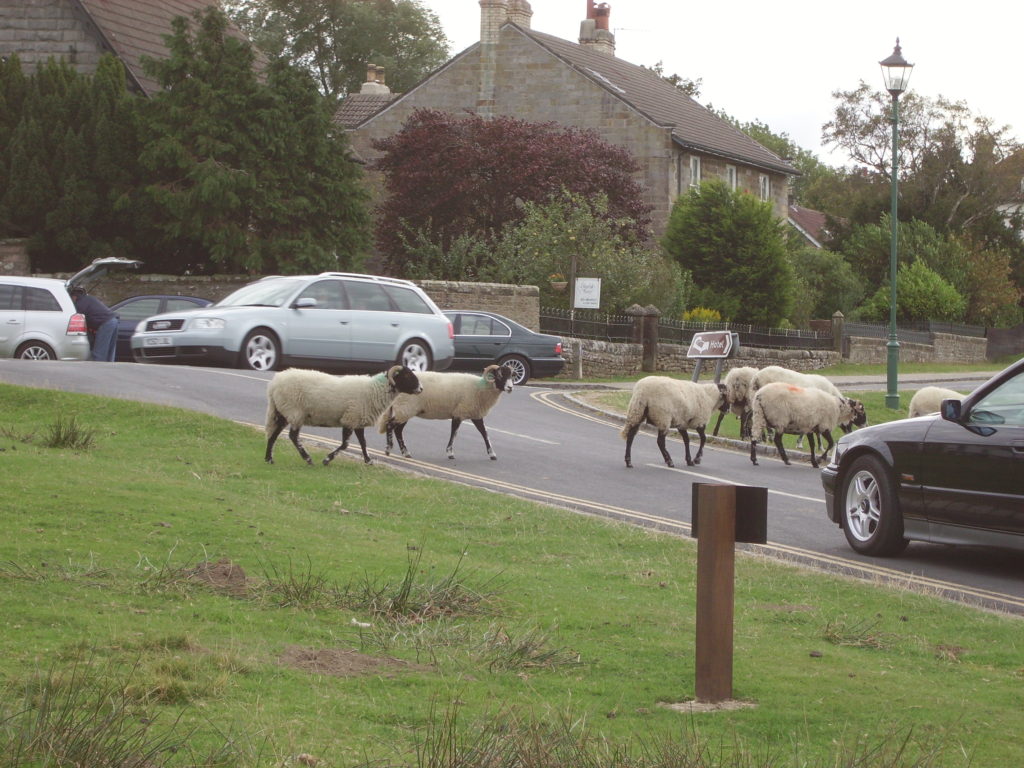 As this point, I went into Ye Olde Gift shoppe, and bought Daddykins a little momento of the day, as a thanks for the day out – another model car for his collection. 20 years ago, the roles would have been reversed – he'd have been the one buying ME the toy car, but he collects them. And he has a lot of them.
On the way back, I took more photos, and finally managed to get a decent shot of Roseberry Topping
And that was pretty much it. On the way home we went to the chippy, only to find that it was completely packed. Therefore, the day was completed with a trip to the Brus Chippy. The chips were very nice, if a little expensive, and a little unforgiving with the portions.
The full set of photos can be viewed here.