Oh yes. It's that time of year again. It's Eurovision 2023! Joimn me, as I go through the runners and riders, criticise their songs, and generally make fun of the entire thing. It's going to be great! Now, this is going to be in realtime, so please refresh this page (F5) to get the latest version.
Right, so it's started now. And it all starts off with a "special" version of last years' Ukraine entry. Some video inserts, and now they're 'performing' it live at the venue. I wonder how long it's going to go on for, because so far it's felt like 2 hours, and we've not even started yet. Oh, there's a flag parade. I think this might be the best time for me to go and get some beer.
Austria: Teya & Salena – Who The Hell Is Edgar?
Oh god, yeah, this one is going to do well. It was in the semi-finals and everyone loved it. Po po po po pooooo. I remember quite liking it. I think it'll do well because it's pretty damn catchy. Will it win? Never more. Not sure what that whole 0.003 bit was about.
Portugal: Mimicat – Ai Coração.
No song has won from position number two. this one starts off like "I Will Survive". I remember this one sort-of having a Tetris vibe to it. I didn't think it'd get through to the final, but it did, despite some of the much better numbers such as Ireland going home. That was a surprise. Below is the running order, which I'm gojng to fill in as it goes, naturally. It's just making things easier for me. Doing this now, because this song is entirely forgettable, and I don't think it's going to get anywhere….
Switzerland: Remo Forrer – Watergun
I really dislike this one. Something about not wanting to be a soldier, and instead, playing with water guns. Slooooooow. Not a fan. It's going to do well, because it's about war.
Poland: Blanka – Solo
Apparently, it's catchy. Let's hope so. It's like Ace of Base. In a way. It's OK. Infinitely better than the last trash. It's going to bug me though, because there's a bit that sounds like another song and I can't think what. It'll come to me at some point tonight. Yeah, that one's alright. It's grown on me since I heard it in the semi-final Hope it does well. My fave of the night so far.
Serbia: Luke Black – Samo Mi Se Spava
I didn't like this one, but the crowd seemed to love it. Not catchy at all. It's one of those songs that wants to be something that it isn't. Absolutely no memorable quality, except maybe that "Hello" but. and that's literally it.
France: La Zarra – Évidemment
Ahh, now, one of the first that I haven't heard before properly. Oh, god, can it get any slower? Ah, there we go. It's licked in quite a lot. That first 30 seonds was dire. It's not bad. No idea what she's singing about, because it's entirely in French. It's probably about double glazing or something. Yeah, there's definitely been worse. Not catchy, but the crowd are loving it.
Now there's a recap of some of the interval acts from the sem-finals. Most of which I fast forwareded at the time, so I have absolutely no idea. Thankfully, I haven't missed much. Apart from Dustin The turkey. Who remembers him?
Cyprus: Andrew Lambrou – Break A Broken Heart
Best intro so far. Downhill after three seconds though. Ohhh, it's one of those that's going to go either way. It's either going to be great and actually kick off, or it's just going to sit around and do nothing for three minutes. Yeah, this one's OK. Not going to queue and get the CD for it, but it's not going to make me run somewhere and kick the radio off the wall. Have a feeling it'll do well.
Spain: Blanca Paloma – Eaea
Another one of the "Big Five" that didn't have to go through the semi-final stage, so I have no idea what this one sounds like. I've heard rumours that it's supposed to be good, though.
Well, this one wasn't worth waiting for. Sounds like they're playing the backing track to the wrong songs. Sounds like she's in pain, poor lass. this isn't going to do amazing.
Sweden: Loreen – Tattoo
I remember her microphone sounded weird in the semi-finals. She was wearing one of those jaw mics, and it didn't sound good at all. Well, it still sounded the name, so maybe it's meant to be like that? The song itself isn't bad. Apparently, it's been streamed 55,000,000 times. It's written by one of the members of Amaranthe, so that might have had something to do with the reason why it's so popular. It's going to do well.
Albania: Albina & Familja Kelmendi – Duje
You're only allowed 6 memembers on stage, and they're all the same family. It's… Well, I'd nortmally say it's different, but there;'s no such thing as that in Eurovision. In fact, Spain also started with that screaming stuff. Dance moves with hankies. Yup. That's Eurovision for you. Forgettable. When the song finishes, it will never sweep through my brain again. Definitely a bottom halfer.
Italy: Marco Mengoni – Due Vite
He's a big star in Italy, apparently. Again, the first time I've heard this one, and, yeah. It's alright, if a little slow. It's in Italian, so I have no idea what he's on about. Prima la musica? I love music? Does that mean I can speak Italian now? Scorchio! It'll probably do well.
Estonia: Alika – Bridges
Oh yes. I think Tom showed me this one. It's a piano that played itself. I tried to look for the floppy drive on it, but couldn't see it. I remember seeing one of those automatic pianos with a floppy drive on it. No sign of it though. Where the maker's mark shiould be, it says "Estonia". Nice touch. I quite like this one, in a "It's better than the majority" vibe. Yes, I do actually like this one. Hope it does well.
Finland: Käärijä – Cha Cha Cha
Apparently, the dancers to a 'human caterpillar' dance move. Interesting I'm sure. Well, this is all about the stage performance. Oh, wait. Not quite the human caterpillar I thought he was referring to. The crowd absolutely love this one, and I have to admit, it's catchy. It's be very surprised if this wasn't top 3. it's 100% Eurovision
Czechia: Vesna – My Sister's Crown
'We're not Your Dolls', apparently. Oh, go away. I like the little flute sample in the background. I'm not sure what the song is about. Porbabbly something about GURL POWER. I think I'd like an instrumental version of this. Impressive ponytails though, if they're real. I like the music, not the song.
Australia: Voyager – Promise
Yeah, this one's actually quite good. Rocky, synthy vibe. this one's great. I think Jamie S would actually like this one. I'd probably say this one's my favourite of the nights. It's the one I've not had to think about liking. If you've ever heard 'Beast In Black', it reminds me of them in a way. Synthy rock. this is right up my flagpole. I'd love to see this do very well.
Belgium: Gustaph – Because Of You
Well, the crowd like it, and it's pretty upbeat. this is your typical Eurovision fodder. If you typed "Write me a Eurovision Entry" into ChatGPT, this is the type of stuff it'd come up with. I can't help but think it's completely, and utterly forgettable in every way, shape and form., but no, I do remember this one from the semi-finals, so that's got to mean something.
Armenia: Brunette – Future Lover
I didn't like this one at all in the semi-finals. It just seems tuneless, especially compared to the previous song. Admittedly, I like it a little more than I did in the semi-finals, but I doin't think it's going to do well. That'll probably mean it'll win, then.
Moldova: Pasha Parfeni – Soarele şi Luna
This is just weird. There's a dwarf, named Sergio, playing a Moldovan flute or something (a Caval, apparently). 15/10 for the stange perfornace…. 8 out of 10 for the song. I'd like this to do well because it's had the best staging of the night so far.
Ukraine: TVORCHI – Heart of Steel
Apparently, their name means "Creative" in Ukranian. Every day's a school day. again, another one I haven't heard. this year's slightly different, because I watched the semi-final for the first time. I've never done that before, so some of the songs I've heard, but there are six that I haven't. Well, I can quite honestly say, they're not winning any votes this year.
Norway: Alessandra – Queen of Kings
This was the first one I heard in the semi-finals and I really, really liked it. Really catchy tune, and again, another Eurovision staple. Reminds me very much of "Wolves of the Sea" from a few years ago. It sounds like a 'GURL POWERZ' type song, but it's catchy enough for me to still like it.
For the record… Wolves of the Sea was the Latvian entry at the Eurovision Song Contest 2008 in Belgrade performed by the group Pirates of the Sea. It qualified from the second semifinal in 6th place. In the final, it was performed 10th following Belarus and preceding Croatia. At the close of voting, it finished in 12th place with 83 points.
Germany: Lord of the Lost – Blood & Glitter
Ohhhh, this one's supposed to be the winner. I haven't heard it, but just by the looks of them, it looks like it should be right up my strasse. Hahaha. Yes, this is amazing. Over-the-top costumes, metal with a buried piano. It's like Lordi are back. There's a screamy bit too. If I needed a reason to run out and buy the soundstrack, it's this, Norway, and Australia. Graham Norton hated it. Brilliant!
Lithuania: Monika Linkytė – Stay
Oh yes. I'm sure Tom at work kicked off about this one because she appeared back in 2015 with essentially the same song. I just nodded and agreed. I was just excited that I had someone to talk about Eurovision with, even if it was for a brielf 10 minutes. Yes, I like this one, even if it does allegedly sound like a previous entry. Anthemic? Is that the right word? Don't know. It does start off a bit slow, but that chorus sticks with you.
Israel: Noa Kirel – Unicorn
I heard something about this one being popular. Apparently she's really big in Isreal. The song is not amazing. I think this one is all about the dancing Phew. Not sure that'd come across well on the CD though. Not quite sure what the power of a unicorn is… Fart rainbows? Admittedly, I don't think I blinked during the entire time of that dance.
Slovenia: Joker Out – Carpe Diem
very generic. the crowd were clapping away to it, which is usually a good sign that it'll do well. It's on the acceptable side of generic though. Yeah, go on then, I quite like it. there, I said it. The beer must be taking effect. Singer looks like him out of China Crisis.
Croatia: Let 3 – Mama ŠČ!
Oh, they're doing a video of Whitby in the build-up. Apparently, these are going to be Croatia's version of Monty Python. And if they win, they're going to perform their reprise completely naked. There's not going to be any chance of that happens. If they win, I'll run over to Liverpool in the break, get up and join them completely naked. This is dire. I can hear the word 'syncophant'. Or something like that, and that's all I can understand. the crowd loved it? No accountinfg for taste.
United Kingdom: Mae Muller – I Wrote A Song
the last song of the night. Another one I haven't heard. Well, not fully. As tradition, I try to avoid our songs until this very moment. Well, it's catchy, I'll give it that. Whether it's enough to save it from the middle / bottom half of the table, I don't think so. I wonder what they do with all of these custom LED panels when the show's finished. It's a shame that it's all over for another year. It's a shame that my original plans for the night fell through, but at least I've got to spend it with both of my readers. I'll be back on when the otes start. I'm not going anywhere.
After the jury votes, we're…. not doing well, but Germany are doing worse. I'm very surprised. I liked that song.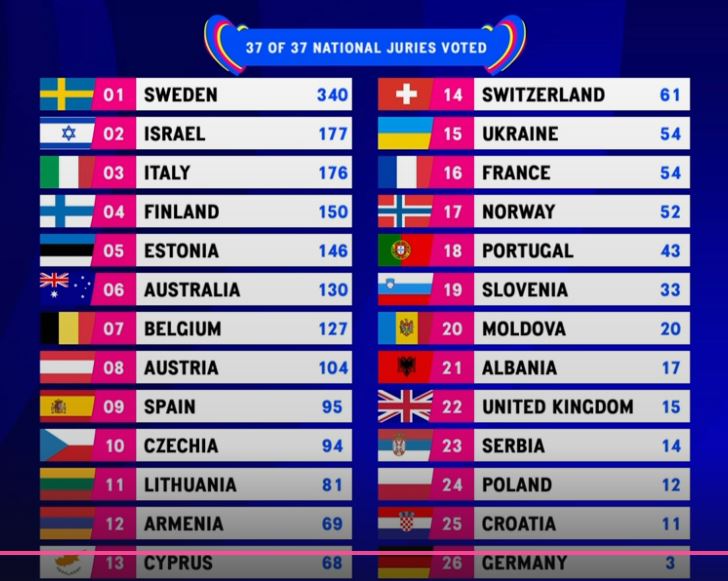 And the next update will be the final score…. apart from this one… It's cormed we've finished 2nd last underneath Germany. Oh well.
And here's your final score.
I enjoyed every second of that. Already looking forward to next year. And that concludes this blog post. Same time next year?