It seems that every week, something in our "wonderful little fishing village" spontaneously combusts, meaning that a plume of smoke can be seen for miles around, and we get a few minutes of notoriety on the local telly.
A few days ago, this indeed happened, but it was over the other side of the town, and I didn't find out about it until it was much too late. Thankfully, Andy the Iridium Fan caught what just happened to be my favourite image of everything ever…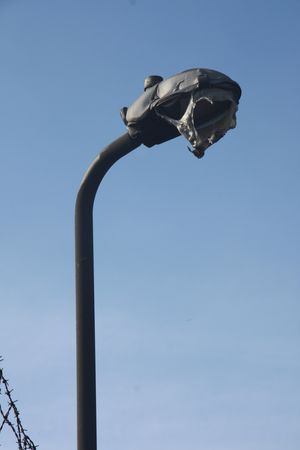 Yes, it's a ruined Philips Streetfighter! Well, I say ruined, would you believe, after all that, it still actually worked? Even the photocell functioned correctly! As much as I hate them, this has got to say something about their build quality. Oh, and you can click the image if you want to see the large version.
And, it would appear that my upload speed at home has been upgraded from 768k to 2Mb. Can someone hand me a tissue?