UPDATE: March 2017 – Jean's nephew David has posted a couple of comments, thanks to him for taking the time to comment and post her obituary, sadly she passed away in 2003. The mystery about the attire is also solved, thanks again for clearing that up!
I'm sure you're asking yourself, "Who She?" The answer is, I don't know. I just happened to be flicking through my records in order to catalogue them, and this one appeared…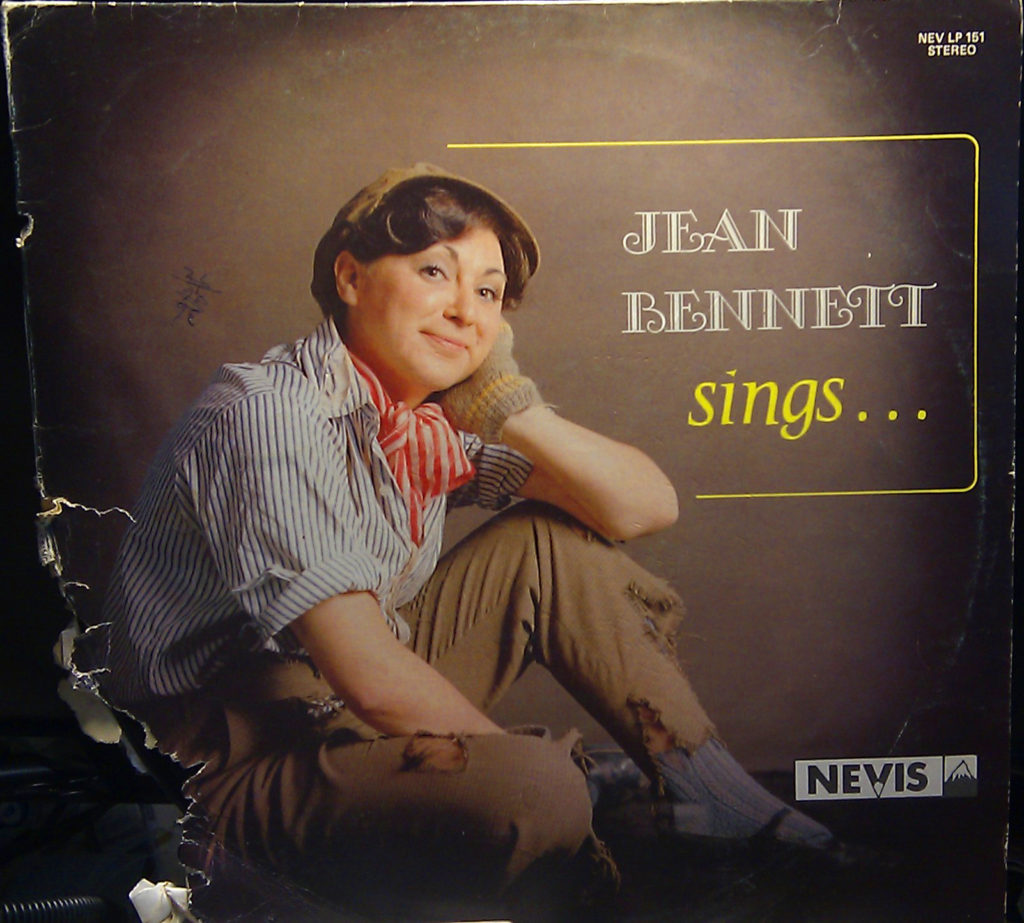 It was part of a bag of records given to me by a friend. As you can see, at some point during its life, it has been used as a chew toy by a mischeivous puppy, which means the vinyl really doesn't fare much better. Due to its condition, and the fact I've never heard of Mrs Bennett, it almost went into the big green charity shop in the sky (aka, the wheelie bin), but something's made me keep hold of it. There's a mystery surrounding it. I can't find anything about her. At all. A few places have this record for sale on the internets (no, I'm not on the lookout for a replacement copy), but there's no information on the lady, at all. the record doesn't have a date on either, so I'm not even sure how old she would be now. If she's still alive, that is, which I hope.
Somewhere in this terrace of unassuming, yet incredibly expensive houses, is number 76, the registered address of Nevis Records. Doesn't really look like the type of place to be churning out platinum discs by the skipload, but let me give you the spiel on the back of the record…
This album by Jean Bennett has been made in response to the many demands from her fans. It contains many of the songs for wich Jean is known so well.
Lancashire born and living in Blackpool, Jean's popularity is nation wide.
The expert opinion of Nevis Records producer Jim McLean and the musical direction by Nicky Welsh has combined to make this a Jean Bennett Classic.
Right you are, then. I'll take your "expert" word for it. Now, the stylus on my record deck is broken anyway, so I'm going to play myself a couple of tracks. I'm not too bothered if I hit a canine-induced crater. Track 1, "On Mother Kelly's Doorstep" is a no-go. the teeth marks are too deep to even attempt it, so let's start with Track 2, "Bless This House"…
One thing that strikes me straight away is that this record is badly manufactured. It's off-centre, which means everything's wobbling about, making it sound off-pitch.
I played that side to the end, and although not my cup of tea, it was acceptable. There are probably worse ones out there. Either way, I'd love to know what happened to old Jeano, and if there are any fans of hers still out there… and can anyone explain those clothes she's wearing?
Here's the track listing for this album…
A
1. ON MOTHER KELLY'S DOORSTEP
2. BLESS THIS HOUSE
3. MARTA
4. IF I WERE A RICH MAN
5. SUNSHINE OF YOUR SMILE
6. MATCHSTICK MEN
B
1. PEOPLE (WHO NEED PEOPLE)
2. WHAT I DID FOR LOVE
3. IT MUST BE HIM
4. LOVE IS ALL
5. SALLY
6. FOR ALL WE KNOW
UPDATE 4/2/2017 – 2016 imagery for the houses, couple of typos fixed