Hello, and welcome to Day 1 of my Paris holiday write-up. Let me tell you that this should be well documented, as I have taken over 1,000 photos. No, seriously.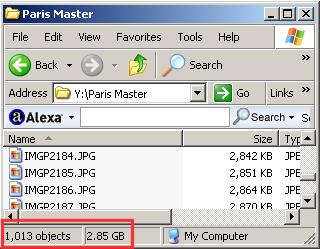 Right, where to start? Well, the beginning would be nice, I suppose. therefore, I shall whisk you back to approximately 7AM on Tuesday, 15th July 2008. I awoke from my steaming pit at that time, as we were going to pick up Jonathan and Chris at 7:30. Well, that's what I thought anyway.
I had a quick bath, only for Daddykins to inform me that he actually wanted to set off at 7:20 and get to Chris's by 7:30. Oh, the joy of it all. Therefore, the quick bath got even quicker. In fact, I barely had enough time to stick my balls under the tap.
I then jumped out the bath and began meticulously checking my hand written list of things I was taking, just to make sure everything I needed was there. It looked as if it was. Awesome!
We set off, and arrived at Chris and Jonathan's house by ooooh, 7:34. So, only 4 minutes late. Not too bad.
I knock on the door, only to find that Jonathan wasn't ready, due to the fact he'd been driving up here until 2AM in the morning, as he currently lives daaaahn saaaaf.
Off we jolly well popped, up the A19 to Newcastle Airport. It wasn't long until the camera was broken out, though for now, I'll not resort to showing you scary photos, or photos of streetlights, there's plenty of time for that in the next hundred or so updates I'll write about this trip.
After last years' fiasco over parking, where Daddykins got charged £6 for waiting about 15 minutes in Newcastle Airport, he dropped us off on the outskirts, near the roundabout, meaning that there was a slight walk to the entrance. Perfectly acceptable, I thought, especially as we'd be doing plenty of walking over the coming days.
So, we enter the complex and arrive at the check-in desk. The lovely young lady behind the counter instructs us to the use the self check-in machines. As much as I love computers, I absolutely hate anything that has the word "self" at the beginning. They just never work. This was no exception. After following the instructions on the screen, it prints out ONE boarding card. There are three of us. The bloody self-service machine brings up an error, and then instructs us to contact the lovely young lady sat behind the Air France desk, who then checks the other two of us in. Why couldn't she have done that in the sodding first place? Sigh.
As our bags disappeared along the conveyor belt into the unknown, I nipped off to buy a little travel guide – one of the Lonely Planet ones. £6 it cost, but did turn out to be very handy. I'd say that it was probably better than the one I bought for Berlin last year.
Chris got his money exchanged, and we headed to the departure lounge. Of course, this involves the added indignity of having to remove your belt, and in some cases, shoes too. It's something that is necessary, yet strangely humiliating (though not as humiliating as getting frisked like I had to be last year).
Thankfully, this year we didn't change planes, so didn't have to do this twice in each direction.
Once again, the passports were checked, and we headed off to find the bar we went to last year… Disaster! The departure lounge had completely changed, and the bar was boarded up and closed! The large seating areas were now taken up by another bar (it was actually the same bar I was referring to, but it had moved out of its old location, and into where the seating area was).
The large amounts of open space has also been "built on", and to access the gates, you had to go through a duty-free store. This annoyed me, slightly.
I went into WH Smiths, in order to buy something to read on the plane, Chris bought something to drink from the same shop, and Jonathan looked around somewhere else. As could be predicted, we got separated, and had to cross through this bloody duty free shop.
A heavily done up assistant approached me, looking like she'd just tripped up in the make-up aisle.
"Are you looking for anything in particular?", she asked, Geordily.
I looked at Chris and said "Yes, his brother…"
There was a few moments silence, and she walked off looking slightly bemused. Eventually, we met up with Jonathan (the shop assistant was no help at all on that one), and proceeded to another bar which had been constructed, coincidentally in a Parisienne style fashion. Now, considering this was a duty free area, the beer was 33% more expensive than it was last year, and it tasted 33% warmer too.
At some point during this whole waiting procedure, we looked out across the runway to see an awesome looking flighter jet getting some service done to it.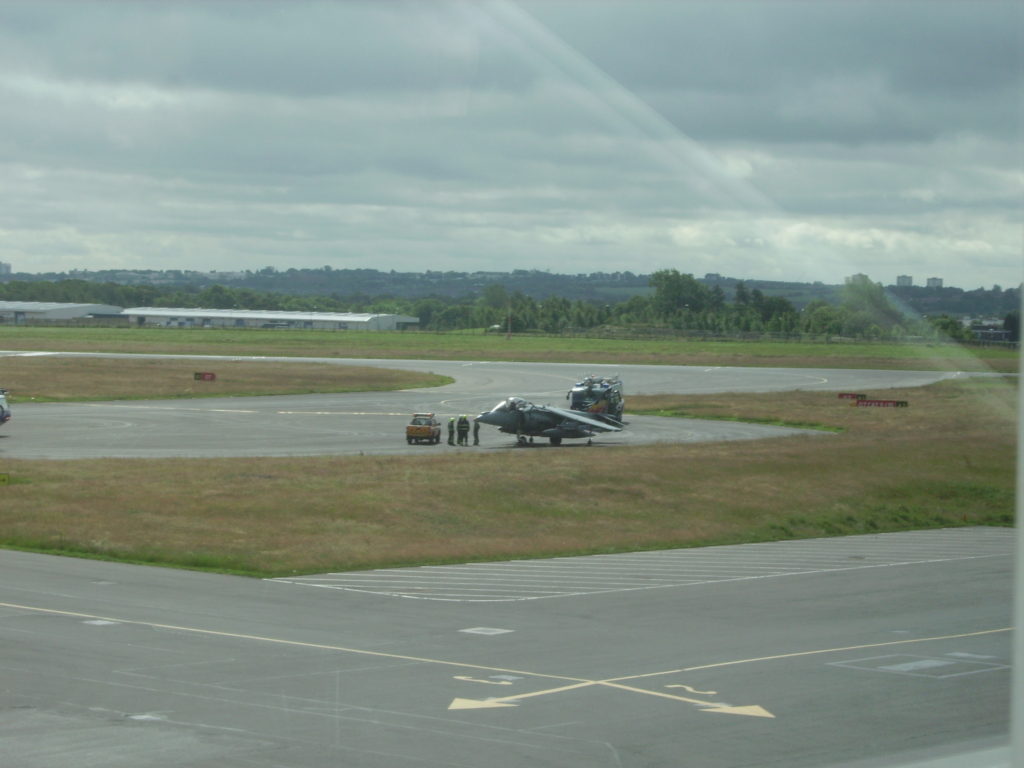 We then hovered about, watching the destination boards, waiting for our plane to come up and show a gate number. This seemed to take forever, but eventually, up it came, and we headed off in that general direction. I believe it was the same departure gate we were at for Berlin last year, but can't really remember. It seemed to look very familiar.
The plane was tiny. It looked even smaller than the little fokker I flew in last year. I didn't really mind, but I was a bit concerned that we'd have to land half way through so someone could get out and wind the elastic band back up.
We headed out onto the tarmac, but not before getting our passports checked AGAIN. The flight was perfectly fine. I got chatting to a nice young lady sat next to me who explained she was off to Disneyland with her neice who was in front.
We landed, and the weather was lovely. Let me just try to explain how big Charles De Gaulle airport is… HUGE. I'm surprised it doesn't have its own national anthem.
According to a quick play with Google Earth, Heathrow Airport is 3.3 miles from corner to corner, this is 5.5 miles.
This would explain the queue for the passport checks that we were in that must have been at least a quarter of a mile long. In fact by the time we'd reached halfway down the queue, I'd eaten an entire bag of Haribo chews. The person who I'd talked to on the plane got right to the front of the queue instanmtly because their family had a kid. By the looks of the line, it seemed quite possible that I could court, copulate and become a father by the time I got to passport control. In the sheer boredom, I began to wonder if there was anyone even slightly famous in the queue.
We collected our bags, and attempted to find some type of exit. Apparently the Royal Philharmonic Orchestra was in that queue somewhere, as someone was waiting to pick them up outside the airport, waving a big white card.
Now, finding our way to the centre of Paris was going to be fun. Something that we (or rather I, as I decided which hotel to book) didn't take into account is the distance of the airport from the hotel. A taxi may have been possible, but expensive. We decided to risk the train system. We must have spent about an hour trying to work out the tube map and roughly where we wanted to be. It would have been a good idea to actually plan that type of stuff before I'd left England, or at least consulted Google Earth for the nearest tube map. It would be something I'd kick myself later on in the day about.
We consulted the tiny (yet useful as the week went on) tube map, and got a train to one of the main stations in Paris – the name of which escapes me (Gare Du Nord, or Gare De Lyon, I think), and then get on to the metro to a station named Invalides. Unfortunately, this metro station was 0.6 miles away from the hotel, and Chris's homing-pigeon instincts let us down for the first time EVER, and we headed off in completely the wrong direction, meaning that the journey we'd taken walking with heavy bags actually went on for 1.2 miles. Luckily, on the way there was a shop that sold water at a reasonable price, otherwise I don't think I'd have made it. Although it was warm at the airport, the city heat just made it unbearable, especially when we didn't know where we were going, with no end in sight. Eventually, after what felt like a month, we just happened to stumble upon the hotel. We checked in, and after taking a moment to regain composure, and to soak up the sweat, we headed up to the rooms.
The first of (thankfully not many) embarrasing moments came when I collected my key and couldn't actually open the door – Jonathan showed me how to do it. Turns out the handle on the front of the door is just for show. you open the door by turning the key clockwise, and then pushing. Clever, but confusing when you're dehydrated, hungry and fed up of lugging a case and a bag around a capital city. Actually, it's not clever at all. I guess I just suck at opening other people's doors. Maybe I'm the ani-burglar, or something
Anyway, I went into my room, Chris and Jonathan (hereafter referred to as C+J as it's too hard to type otherwise) went in theirs. It was about 6PM at this point, and we arranged to meet an hour later to go out and see the Eiffel Tower, as it was less than a mile away from the hotel. I decided to have a proper bath seeing as my earlier one had been so rudely interrupted, and a lie down.
Two hours later I awoke. I went to C+J's room, and knocked on the door. No answer. Were they both dead? Had they gone and left me all on my own?
At great expense, I called Jonathan on his mobile. Chris answered. I asked where they were, and they replied they were already at the Eiffel Tower. He'd knocked on my door, and there was absolutely no answer. How odd.
Anyway, they made their way back along to meet me, and all three of us had a wander up to the Eiffel Tower.
This was 15th July, the day after the Bastille Day celebrations, which meant that there were still areas cordoned off. New trees which had been planted still had bits of hardboard around them, and metal barriers littered the avenue leading up to the tower. This arrangement, however, allowed some people to make use of the obscure arrangement and make a temporary football pitch in the sand.
It's only until you get underneath it that you notice all of the effort that had gone into creating it. it's really quite intimidating.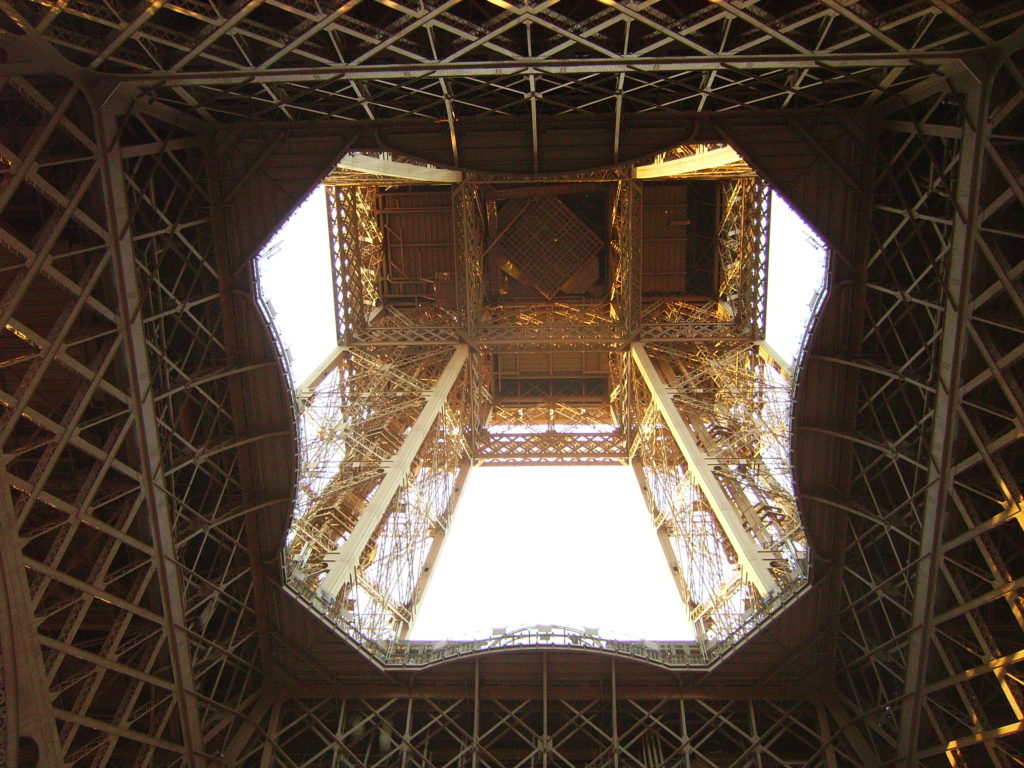 Something also intimidating is the sheer amount of foreigners selling stupid, badly made little miniature eiffel tower keyrings and shit like that. There are hundreds of them littered around the city, all selling exactly the same tat.
Something impressive was the size of the queues. to get up the tower. Absolutely enourmous. 45 minute waiting times at least. I could think of better things to do for our first night, so we gave it a miss. Instead, we crossed the River Seine for the first time, and began to take photos of the sun going down, with the Eiffel Tower mostly in the foreground.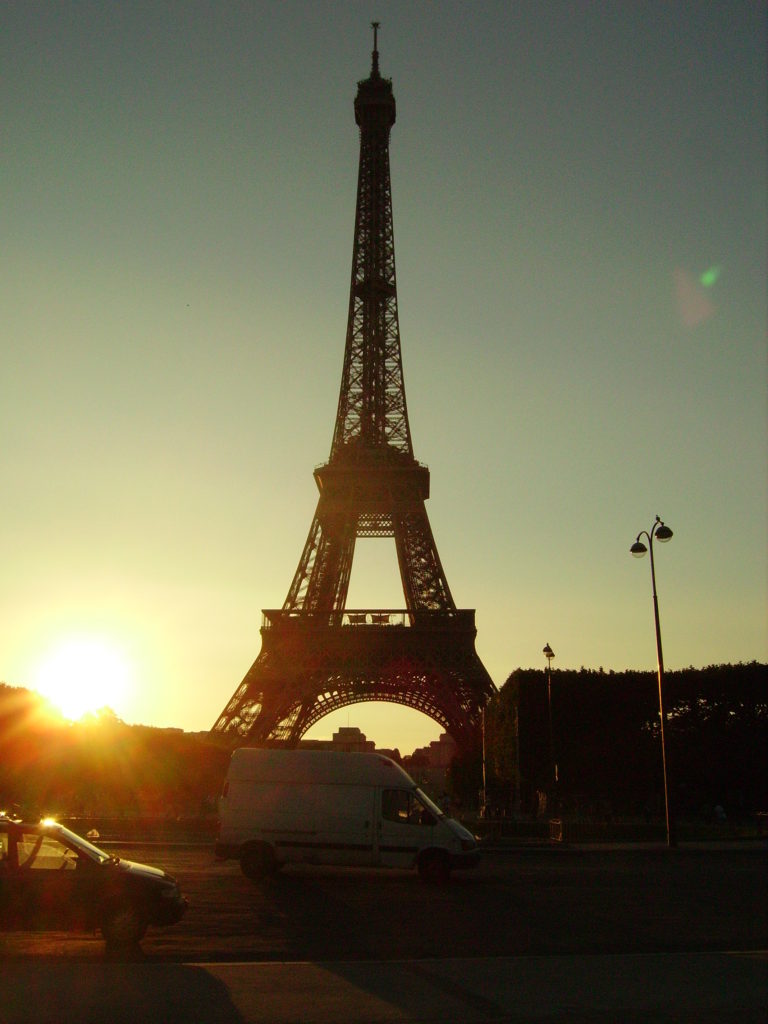 After the sun set, we headed off to the bars near the hotel, as there were quite a few. It was getting on, and we didn't fancy anything to eat, so we just got beers. Extortionate is the word that would fit in nicely here. Something like €5.50 for a 250ml glass. That's less than half a pint. Holy cow.
One small beer later, we returned to the hotel to sum up the day, but not before we nipped into a local shop to pick up some essentials, and those essentials would be… BACON FLAVOUR BUGLES! My word, I had no idea they still made Bugles! I know they don't over here. I think the last packet of those I had was back in March 2002 when I went down to London. I much prefer the BBQ flavour, but they don't seem to exist anymore, even in France. Ah well.
I went to put the stuff in my room, and as I exited, Chris was in the middle of saying something…
"And then after that, we can… wait, did you come out of room 302?"
I nodded affirmatively, and audibly confirmed this with an "Aaaaaye?"
"BOLLOCKS. I thought you were in room 301. I was knocking on the wrong door earlier…"
I ate my Bugles, and went to bed. It was far too warm to sleep with the window closed, and far too noisy to sleep with the window open. Turns out that the hotel is situated alongside a military school, with nice solid walls so any traffic noise, or in fact the noise of people breathing echoes upwards. What doesn't help either is the fact that the end of the road was actually on cobbles.
What made things even worse is that the room door was thin, and let any type of noise in. I swear, someone farted 4 doors away and I could smell it.
Eventually, I fell asleep on top of the covers, and prepared for Day 2…