For those of you who see me as a bit of a miser, someone who would drop a penny and have it hit me on the back of the head, you'd be surprised to learn that I've spent a "considerable" amount of money over the last couple of days. Plans were made a couple of weeks ago, by Dick Brown, to go out on the lash on Thursday, 3rd March. This involved also getting me some new clobber. I'm not the most fashionable of people. If it's not folded up on a shelf in Matalan / Primark, I just don't bother with it. I'm too old to be "trendy". Mr. Brown offered to meet me the day before, and offer me his infinite wisdom when it comes to all things fashion…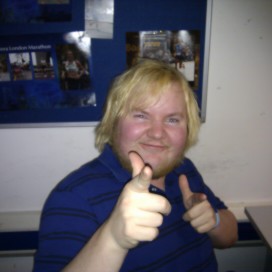 I could hardly wait. Jamie S came to the rescue, and announced that he was going to the Metro Centre with another one of my "work colleagues", Davvi, and that we were more than happy to tag along. I think my exact words were "Woohoo!"
Everything was arranged, including the times to get picked up, even down to the budget I was willing to spend. I had a sneaking suspicion that Mr. Brown was going to drop out, so I dropped some bait on Twitter after I'd gotten in from work…
Waiting for @thedickbrown a.k.a. Gok Brown to work his designer magic. 6:29 AM Mar 2nd via web
Sure enough, when it came to getting picked up at approximately 1PM, I was broken the 'bad' news, that he had indeed dropped out….
On a scale of 1-10, @thedickbrown is a pussy.
I'd like to say I was surprised. I really wasn't. That means, there were three of us left. Me, Jamie S and Davvi. Therefore, we left Hartlepool, sans Barney-Rubble-With-A-Beard, and headed up the A19/A1 to the CENTRE OF METROS!

So, there we were. In the North East's largest shopping centre, ready to buy clothes for the night out of awseomeness arranged by Dick Brown. Where was our first stop? Yes, you're entirely correct – a record shop named "That's Entertainment". And I'll tell you something, it's absolutely superb. It's where all of the old CDs go to die. Nowhere else on this planet has a shelf full of "The Awards 1989". I'm quite sure it's the first time I've ever walked into a shop and almost lost the entire contents of a testicle. Needless to say I spent ~£25, and walked out with a bag of CDs that would weigh me down for the rest of the day. I didn't even touch the DVD section.
The time I spent in there was disputed. Jamie S claims I spent an hour in there. I reckon it was shorter, as I would have spent a hell of a lot more.
The clothes shopping began, and I entered shops I normally wouldn't dream of going into. The reason for this, was every pricetag appeared to be 10 times more than I was willing to pay. Take the jeans for example. Maybe I'm missing a trick, or just not getting the joke, but why buy "distressed" jeans? As in the ones purposely ripped / faded? The more I try to get my head around it, the more I think that they're so scruffy, I couldn't even wear them to work. Why would I want to spend £80 on them? I've got jeans that I wouldn't even leave out for the poly-bag
An amusing episode occured in Foot Locker. Jamie S saw some shoes. They weren't bad to be honest. Black and yellow "Penguin" things. He goes off to the counter… and after a hell of a lot of rummaging, it turned out they only had the left shoe in stock. Oh, my *sides*. I must admit, that's happened to me before in shoe shops, but it still remains a mystery how / why it can happen.
After many hours of shopping, all three of us were hungry and dehydrated. Unfortunately, my suggestion of heading to the indian restaurant (which I didn't know existed, until I smelt it, and instantly lost the contents of my other testicle) was rejected, meaning we had to go to a "normal" place. I'd heard good things about Frankie + Benny's, as in nice food. Unfortunately, nobody told me about the price.
The beer was £3.10 a glass. I'm not sure if this is a record for what I'd paid, but I wasn't too bothered. You're in the middle of a shopping centre. I just wanted my throat wetting. The cost of the starters / main course were reasonable, I suppose, but the mistake *I* made was when the waiter asked… "Would you like some onion rings?" The room fell silent. I'm sure there were people gesturing me to say 'no' on other tables, but I must have interpreted it as a bout of wind. Surely they were complimental. I can't think of anything cheaper to make. Yes, I ordered the onion rings. Some guy, three tables away just shook his head. The look of disappointment on the other two's faces made me think instantly that something had gone south.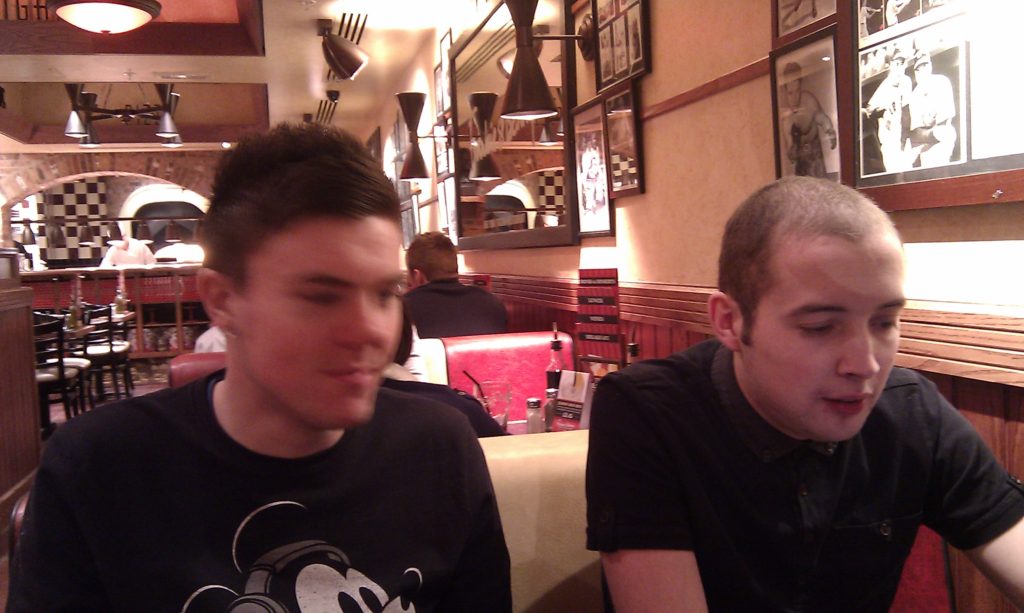 The meal came. I went for the steak, medium, well-done. It arrived, and it was delicious. The onion rings weren't far behind. there were literally 7 of them. Davvi had one, and found them too spicy. I must admit, after one bite, I thought I'd died and gone to heaven. Unfortunately, the bill was next, after we'd gorged ourselves.
I'm not too bothered about everything else, however, the onion rings were… £3.55. No, I'm not shitting you. Three pounds, fifty-five pence. For 7. OK, they were the best onion rings I'd ever had, but that's not the point. They must have saw me coming. (insert ejaculation joke here).
I didn't mention that I did actually find some decent clothes in this whole trip. I also found a new jacket, and £3 Primark plimmies to top off the look. It can't have all been expensive…