With only two full days to go, it was time to hammer the metro and get as much seen in the next 48 hours as humanely possible.
The day started with Breakfast once again. Now, let me just explain about the breakfast. You've seen me mention it many times, but I've yet to explain in great detail what it consists of. And, seeing as we're in our penultimate full day, I might as well tell you.
Just over the junction from the hotel was a lovely little eaterie called La Terrasse. You may have noticed I'd mentioned it a few days ago, when discussing Chicken Brochettes. Anyway, this was our chosen breakfast spot too. For €8.50, you get the Fench Breakfast, consisting of half a baguette, crossiant, (including jam / marmalade if required) orange juice and hot drink of your choice. It really is a perfect way to start the day, even if it is a little expensive. I'm considering taking it up as part of my daily ritual. It surpassed the breakfast we had in Berlin by some considerable margain.
Before I'd gone away, I'd been informed of a few must-see places. These mainly involved around dead people. The two places that immediately sprang to mind were Jim Morrison, and the Catacombs. But seeing as Bastille Day had been on 14th July, we thought that we might as well go and see Bastille to start the day off. After all it, was on the Metro Map, and considering we knew how to use the Metro now, there was no harm in giving it a quick try out on a lovely Sunday morning.
Tickets were purchased, thanks to the machine on the Ecole Militaire platform. Once again, we entered through the automatic gates, and awaited our train. There was rarely a wait longer than 5 minutes for every train we waited for. This was ideal.
So, after swapping trains, we reached Bastille, expecting something immense like what we'd seen the day before in Le Grande Arche. So, as we exited the Metro station, our collective thoughts were…. um, is this it?
Considering Bastille Day is so widely celebrated, we expected to find more than an admittedly large statue, and something that may, or may have not been some type of ticket office.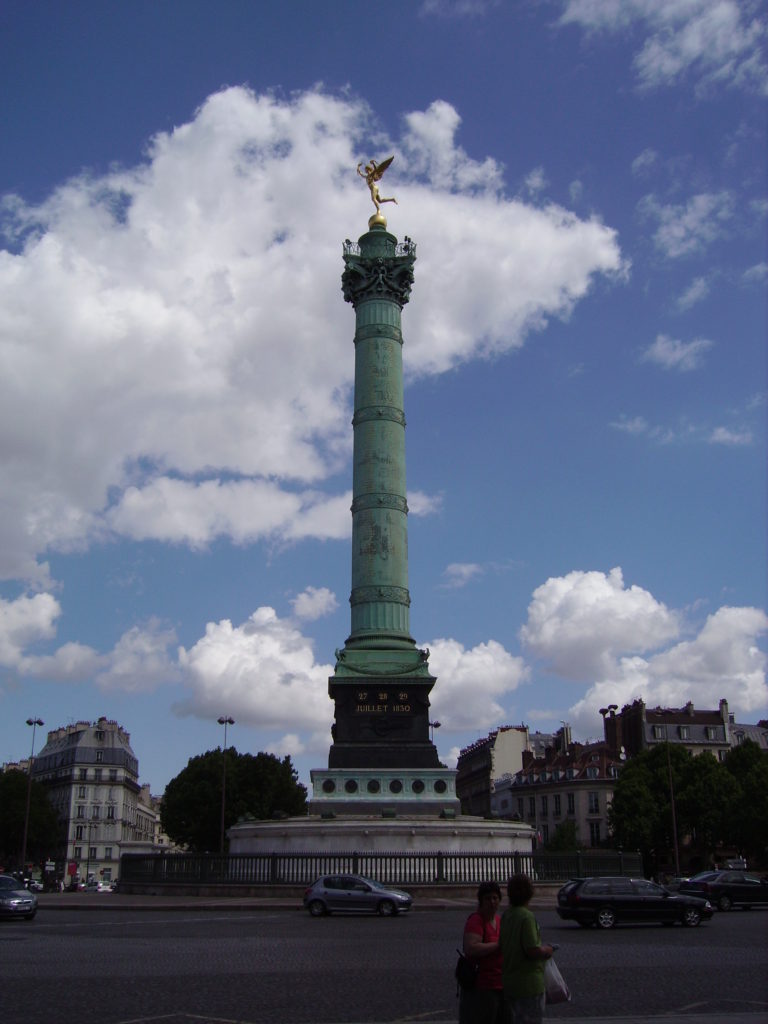 The ticket office isn't featured in that picture, before you question me! In fact, after a quick Wiki, I was right about the ticket office. It was indeed a ticket office, for the Opera Bastille, and that structure you see before you in that photo is known as the July Column.
We took a walk about, considering it was a stupidly hot day. We walked past Bastille itself. Or at least I think we did. All of the historical point of interest signs were in French, and Google Maps wasn't much help.
We ended up by the side of the river again, and I broke out the camcorder for the last time in this particualr holday, meaning that the tapes I'd bought from the Louvre were completely useless. They're still sat in my suitcase, wrapped in their cellophane. Ah well. They'll do for next year.
After deciding there was little to see or do here, we headed back to the hotel in order to pick up my Lonely Planet guide, and also so that I could use the "room facilities".
I began to read the section on graveyards in my little book, knowing that Jim Morrison's grave was somewhere in Paris, and thanks to the Metro map given in the afore mentioned guide, we pinpointed it to the exact location. Within minutes, we were back in the metro station, buying tickets to feed through the machine. I bought two, as I understood that we would need to return. C+J only bought one.
Once again, the metro trip was like one of those things where your brain switches off, waking up every few minutes to see which station you've stopped at. As expected, the correct station was located, and we exited the urine soaked rat-tunnels.
The Père Lachaise Cemetery was just over the road, so we negotaited the traffic, and entered through the most unstable steps I've ever seen.
Now, over here, graveyards are roughly the size of postage stamps. Tiny little things with 3-foot high headstones, where you can easily see from one side of the graveyard to another This wasn't the case here. This graveyard consists pretty much entirely of huge crypts where whole families are laid to rest. I guess "burial real estate" is at a premium in this particular capital city. According to my handy little guidebook, there are roughly 1,000,000 people buried here. There are maps on the entrances and exits, but the whole place is still confusing. Everything is split into divisions and roads, of which there are about 90.
After walking about for about half an hour, with not a clue where Jim Morrison's grave was, we consulted one of these maps. It wasn't much help. Another half an hour later, we eventually found it! And it's very, very small.
For someone with the status of Jim Morrison, I was expecting one of the large monuments to be his grave. Nope. In fact, this is it…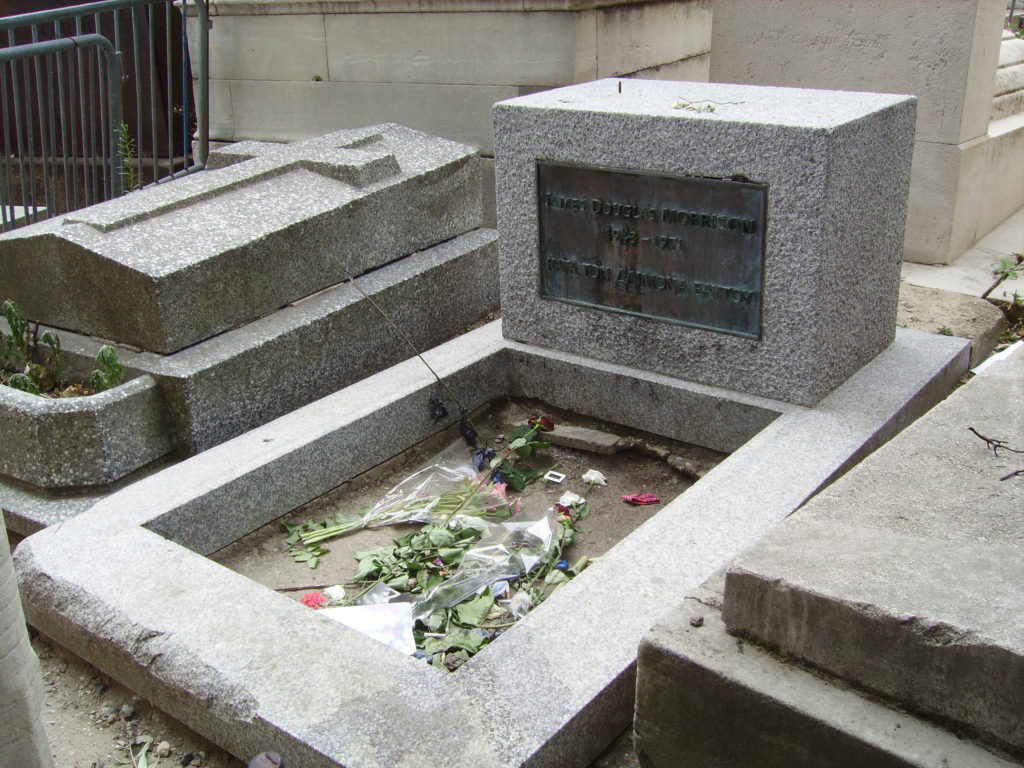 At this point, my phone rang for the first time on the entire holiday. It was Daddykins, wanting to know what time we were arriving back in Newcastle on Tuesday. It felt weird saying "Can't talk now Dad, I'm at Jim Morrison's grave"… In fact, walking around a graveyard with a camera felt really weird anyway.
Aother person buried in the same cemetary is Oscar Wilde. As you'd expect, however, his grave is a little more… erm… "impressive". Covered with lipstick, with little poems left on it.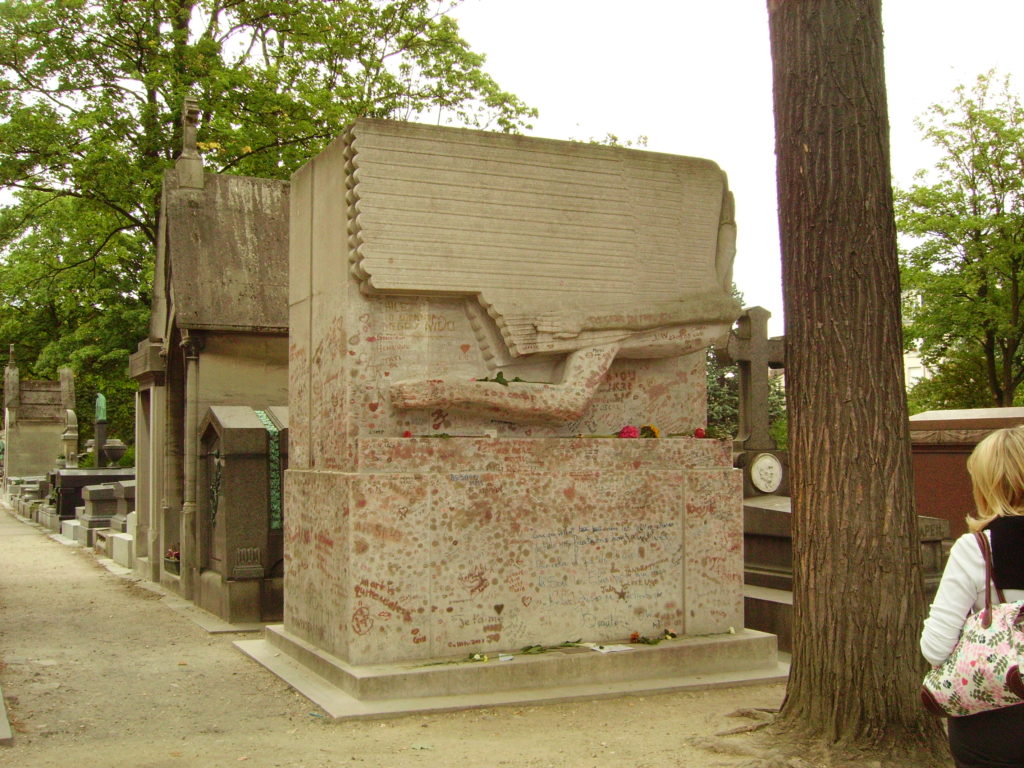 There's a story about this paricular gravestone. Now, the angle I was stood at when I took this photo makes it hard to tell, but the large angel on the gravestone was once complete with a full set of male genitals, which were lopped off at some point and used as a paperweight in the cemetary office.
It occured to me that both of these foreign trips we'd made have had unintentional links to Oscar Wilde… In Berlin, there was the Oscar Wilde Irish Bar, and here we were, standing outside his grave. Ironically, his grave was busier than what the bar in Berlin was.
Edith Piaf's grave was also there, again for someone so famous, hers was almost unnoticeable. in fact, I wouldn't have seen it if an american tourist hadn't said "Gee, look, Maw! It's Edith Pee-aff's grave!" (They didn't really say that, did they? – Ed)
Um, no.
There was one grave which wasn't mentioned on the map, but I would have liked to see… the grave of Gilbert Becaud. You may remember I mentioned him yesterday, and even purchased one of his CDs. I knew he had died, but it wasn't until I got home I found out that he was buried in that very cemetary. I might have even walked past it without knowing. Bah!
After walking around the cemetary for what must have been two hours, we began to head off for something to eat and drink, eventually settling for a little café a few hundred yards from the cemetary. Something I did notice about Paris, despite most of the shops being closed on Sundays, the butchers were still open. This is obviously the complete opposite of here.
Anyway, this particular café was the only one where we actually needed to speak French, as the owner didn't speak a word of english (alledgedly). For fear of ordering something completely different than what I wanted, I just stuck to a drink, while C+J went for a sandwich of some description. We ate and drank up, and now it was my time to shine. The only French I'd managed to learn in my entire time there was how to ask for the bill…
"Le addition, sil yous plait".
The whole bill came to €15, or something like that.
So, we headed back to the metro station, only to find that the stop we got off at was unmanned, and therefore, you needed a ticket to get back in. That was fine for me, obviously, as I'd bought two, but for C+J, who only bought one (and used it up), it was a bit of a problem. therefore, we had to get on via another nearby station. Thankfully, this didn't alter things too much, and we quickly found the way back to the hotel.
By this time, we'd left it a bit late to visit the catacombs, as by the time we'd have got there, it would probably have been closed. Instead, we decided to stay closer to home and take a quick look around Hotel Invalides. You may remember this as the impressive structure we walked past on the first day, and also took photos of on the 2nd day.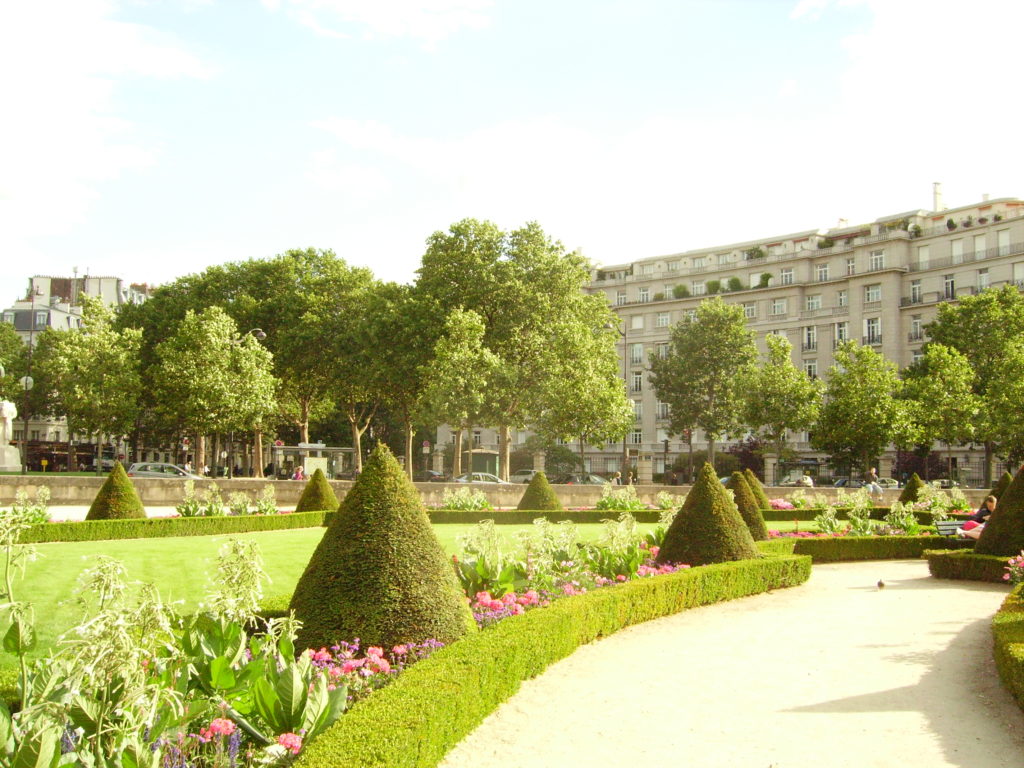 It looked even more stunning in the sunshine. We entered the main complex, and after only a few photos of cannons, we were informed by the security guard that they were closing tonight, and to make our way to the nearest "sortie". Fair enough, at least we knew where the place was.
It was 7PM at this point (it felt much earlier if I'm honest), so we continued to have a bit of a walk. We even retraced our steps of the first day, and our agonisingly long journey through the back streets in entirely the wrong direction. Obviously, this time it was a little more relaxed, as we weren't carrying half-ton bags with us.
There was a camera crew in the area outside the "national assembly". Don't know what they were about to record / broadcast, but I'd hazard a guess at a news report of some kind…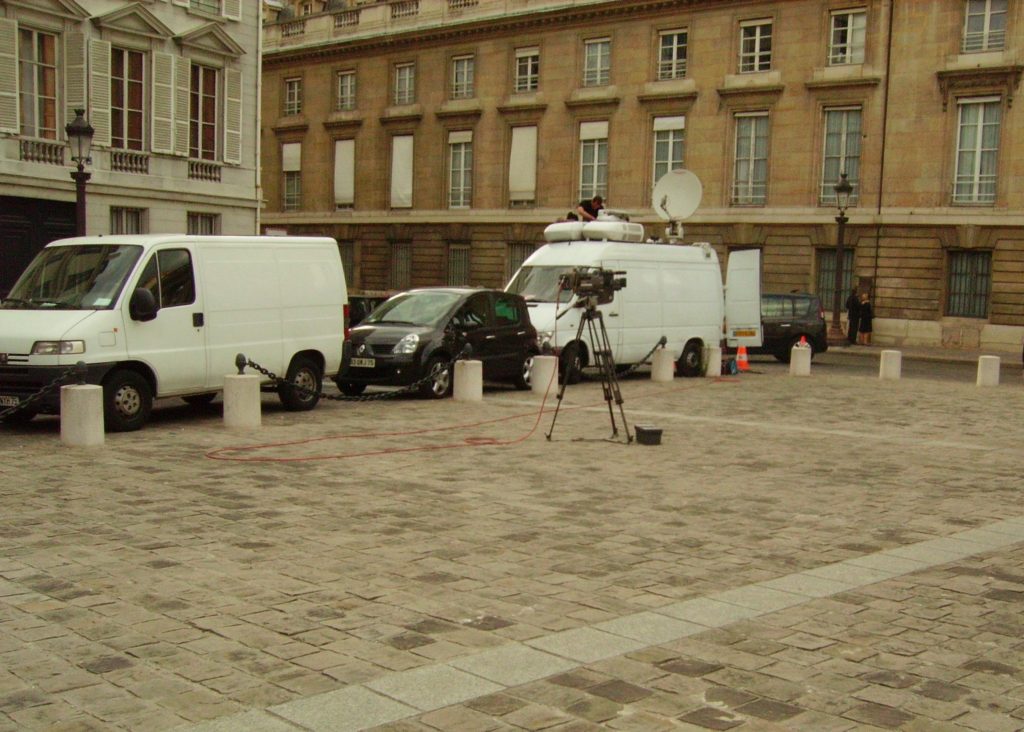 We walked towards the Invalides metro station, where we got off on the first day, just to have a bit of a look round, and see if we can pinpoint exactly where we went wrong on the first day, and where we should have gone. We also took a walk towards some buildings that looked interesting. At this point, I don't think the other two were that keen on going any further, but meh! I wanted photies, and photies I got.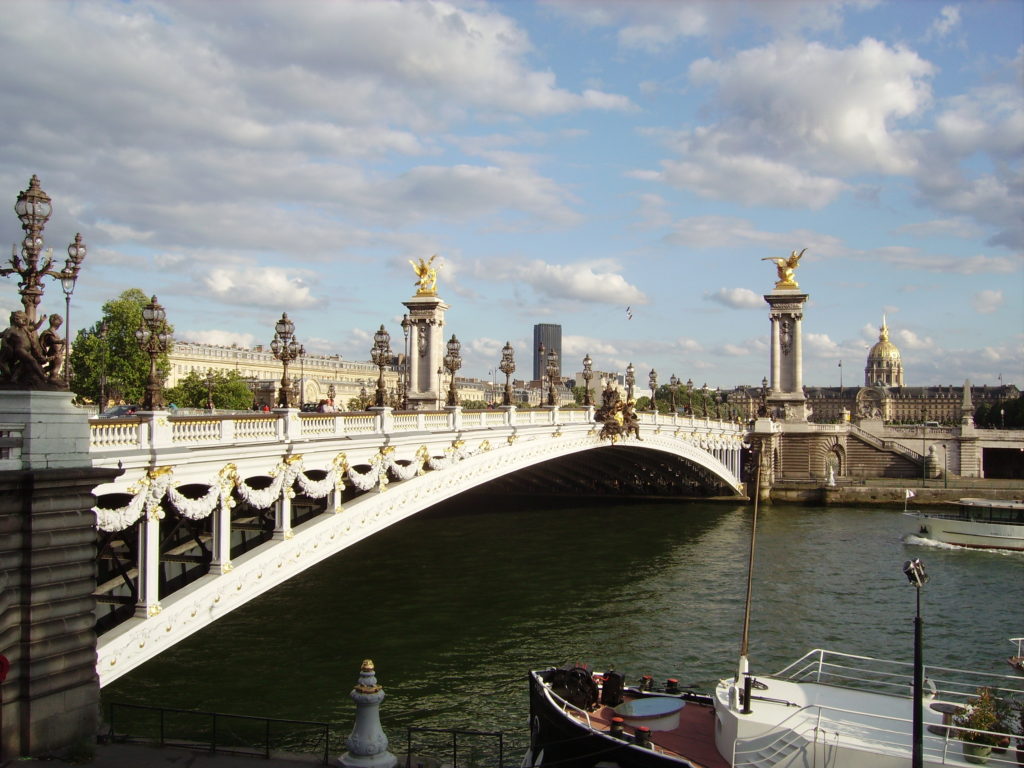 Suddenly, as we got up close to them, they began to look very familar. It became apparent that we were at exactly the same spot where the 90-minute boat trip dropped us off at a few days before. Aaargh. It became apparent just how much of a waste of time that particular boat trip was!
Anyway, with my photo bug satisfied for the night, we began to head off for something to eat. We were going to try another one of the cafés near the hotel, only to find that we should have checked the prices and the menu… this means we had a little bit of a walk to see if we could find anywhere to eat, before eventually settling for La Terrasse again. I had the chicken brochette again, as it was really nice, C+J had a burger each.
By the time we'd finished, it was getting late, and we left La Terrasse at 10:15PM. We gave up completely on trying to find somewhere reasonable to have a cheap beer, so therefore headed back to the hotel and had a relatively early night. With only one day to go, I didn't want to spend the whole day packing, so I forced everything in my suitcase apart from the bare essentials.
I then spent the next hour in the bath. It was glorious. But what was even better was the shower. I normally don't like showers. I prefer long hot soaks, but this particular one had some type of healing quality on a body which must have walked the length of a marathon in the previous six days.
With the majority of my stuff packed away, I was ready for my final full day in Paris, expecially looking forward to seeing the catacombs…