Wow. I'm officially two weeks behind when it comes to blogging.
From my previous posting, you'll notice that I have once again been out on one of my long walks last week, with the company of Gary and Jamie S. This time, the destination, instead of a forest, was the complete opposite… a cliff edge. For you see, we were going to walk from the cliffs at Saltburn, to the relative flatness of the little village of Skinningrove, some three miles away.
Of course, before we were going to attempt anything of this magnitude, it meant a stop-off in Moddlesbrough's Asda for some eateries. I don't think I've ever been such a depressingly dull supermarket in all of my life. It was awful. the smell outside of the place, however, had me reaching for the Kleenex. Apparently, there was a chinese food factory over the road from the Asda. It was so nice, I was almost tentpegging. I bought the "packed lunch" for everyone… water, crisps, Opal Fruits (I refuse to call them St*rburst), and of course, sausage rolls. They were red-hot, by the way, so I had one of them before anyone else got them.
We arrived in Saltburn. I donated £2 towards the £2.50 parking fee. However, getting up to the cliff edge wasn't going to be a walk in the park. Well, it was, just an uphill one…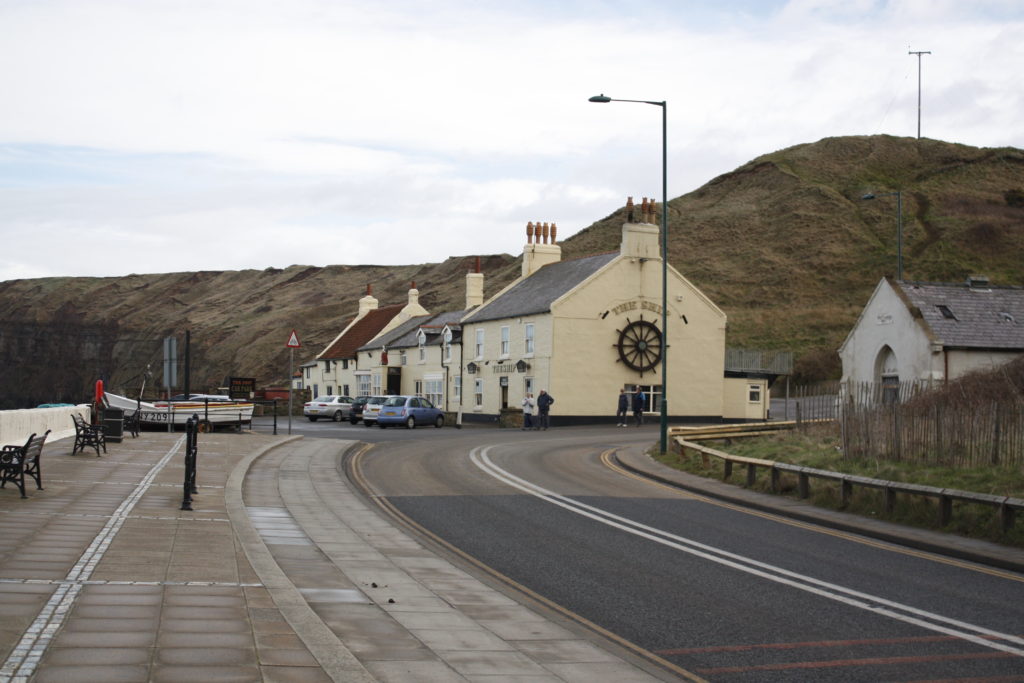 It's not easy to make out in that photo, but there's a wood 'n' mud staircase, leading up to the top of the hill behind the pub. All three of us were completely knackered by the time we got to the top of it. I think this added a mile to the journey. At least.
Within a few minutes, we began the journey along the cliffs. This was pointed out to us by a particularly interesting sign…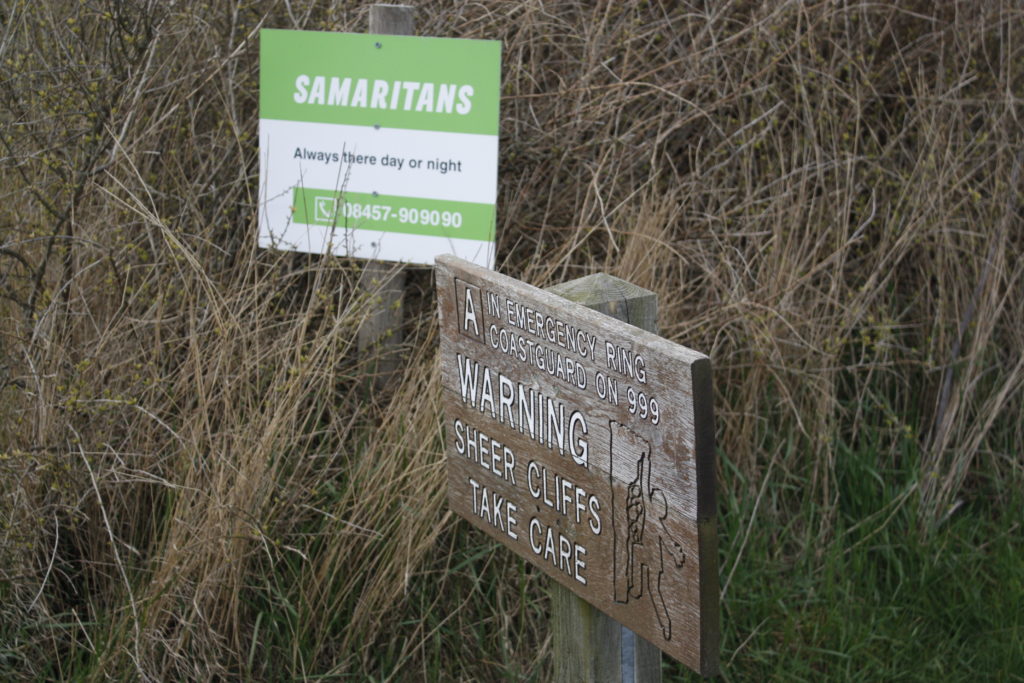 Now, some of you thought I photoshopped the image I uploaded to flickr of a Samaritans sign plastered on Tyne Bridge… nope, these things are genuinely located at suicide hotspots. Oddly, it's an 0845 number, which means it's going to cost you if you're calling from a mobile. Surely paying for the phone call isn't going to help if you're about to throw yourself into the murky abyss…
Nothing much happened on the way there. I think I farted a couple of times (wait, think? I know I did!), and Jamie S managed to twat his head off part of a "modern art" sculpture…
I don't understand what it was, or why it was there. The only animals we could work out included a starfish, a horse and a fox, though the fox could have been a cat. I don't know. Either way, I missed a "You've Been Framed" moment, as Jamie S nearly fell flat on his arse, whilst still clutching that can of Relentless. It appears to be a permanent fixture with him.
It seemed like an age until we arrived at Skinningrove. One thing became clear. The path, after this point was SHIT. It's hard to explain. Actually, it's not. It's another one of those wood 'n' mud stair paths, covered in remants from a slagheap, and if your footing left you, the only way was down…
Awmazingly, all three of us survived, and we made it to the bottom. Slight problem was, it suddenly became apparent how far we'd have to travel vertically on the way back…
We tried not to think of that, and instead, headed into Skinningrove with the hope of finding a pub and something to eat. Both were dashed, when we found the town completely deserted, and the only pub shut. Luckily, we managed to find a cafe located in the local community centre. I don't know what it is, but I just don't like these type of places. Fair enough, the cuppa I had was perfectly fine, but I felt a bit strange in there as an outsider. I did want food at this point, but it seemed that we were a bit late, so we just had our appropriate beverages and left with a smile.
I'm going to delete the previous posting, so this is the route we took there… Note, I forgot to start Endomondo until we were about 10 minutes into the walk.
So, off we went onto the journey back. None of us were looking forward to the journey back up that hill. It was dodgy enough going down. It would be even dodgier going back up with our weakened legs. The first step was to get off the beach. This was easier said than done, for unlike Gary, me and Jamie decided to walk along the beach. It was great until we tried to get up the sand dune.
I like the way I was more concerned about getting sand in my camera bag than actually getting up the sand dune. This was, quite literally, just the start. I soon realised I was in the same position I was an hour ago when I took that picture.
Words cannot explain how I felt when I got to the top of the hill. Well, they can, if I'm honest. those words are "out of breath, slightly light headed, and overall, amazed I did it without the use of a helicopter". I wasn't the only one, however… Gary appeared to be in a world of his own and/or partially unconscuious, while Jamie S spent the next half an hour sucking on his inhaler. Ok, slight exaggerations there, but that hill was something I don't wish to repeat for a long time.
The wind was to be in our faces on the way back, which means that after the uphill climb, we also had to put up with the wind in our faces. Like everything else, however, the walk back was much better than the way there. We passed landmarks, and we were able to track accurately how long it would be before we were back on the comfort of terra firma. Once again, Endomondo tracked the way back…
You'll notice the little section where I move closer to the cliff just after the two mile point. That's because Gary fell over, and I wanted a wee.
The rest of the journey was bathed in the evening sunshine which slowly set against the silhouette of Teesside.
The photos for this walk are here…
Yes, it's almost time that I shirk the responsibility of hosting a top class blog, and disappear to another part of the continent for a week. This means that I will be unable to keep you informed of such announcements as the server reboot / failure that took place on Tuesday Morning. Although I hate to keep you un-informed of realtime changes and problems to do with this site, it does mean that you will be with my irreplaceable wit and charm for a full week.
I'm sorry to break that news to you, and I'm sure you'll all be devastated at the news. Yeah, righto.
Let me start off by saying I still have one niggling doubt. A doubt that I can't explain in detail, though it is something that could easily mean that one of us does not fly. I have been assured that this "slight difference of opinion" has been corrected, but I will not know until we arrive at the check-in desk at Newcastle Airport on the appropriate day.
I shall, for once, pull myself away from looking forward to my holiday, and comment on what is happening right now. Looking out from the turrets of Merucuryvapour Towers, I can inform you that the sky is leaking. A lot.
It's been another three days off where I've done quite a bit, but it feel like I haven't. Let's start off with Wednesday. It was the only day of the week where I was able to do what I wanted – the only day where the rain wasn't constantly bouncing off the tarmac.
On Wednesday, I'd finished at 8AM. Normally, at this point I'd go straight to bed, in the vain hope of being able to get up at a reasonable time and make some use of the day. Thankfully, this didn't happen, and I was physically able to stay up. Chris had phoned me the previous night, and we'd made plans to meet at the flea market. This was always doomed to failure.
I rang Chris at 9AM, as we'd planned, and arranged to meet in the town centre. Unfortunately, for once, *I* didn't get the message, and totally misunderstood this simple instruction. Mohh. After a nice walk around the flea market (well, I say nice, I spent more money on CDs than I care to mention), I went for one last look through some records. Just as I was about to flick through them, I noticed the 242 approaching. My searching stopped, and I headed off to the bus stop, stuck my paw out, and alighted afore mentioned public transport.
Just as I'd got to Raby Road, my phone goes. It was Chris.
Him: "Where are you at?"
Me: "On the bus, going home"
Him: "Shit… I'm in the town centre"
Poo. I thought he was going to ring me when he was about to set off, and not when he was in the town. Oops.
All was not lost, however, as he had stuff to do in the town anyway, and he said he'd come straight up to Mercuryvapour Towers as soon as he'd finished.
I returned home, and while I was waiting for him, I did a bit of tidying, or rather, threw the hoover around the place for a bit. Hilarity ensued as I managed to get a bit of plastic stuck in the hoover brushes, meaning that every time it went over a bump or some sort, the thing screamed. Eventually, and with the help of one of those large forks you stab turkeys with, I freed it, and my hoovering continued unceremoniously.
Chris came over just as I was finishing. We sat around out in the back garden for a bit, deciding what we would do for the rest of the day. The weather was gradually improving, and it was eventually decided that we'd have a walk up to Hart. After all, the Sainsbury's is on the way there, and Chris had yet to see it.
Off we went, and of course, the stop off at Sainsbury's was included. Chris bought some pop, I bought a bottle of water, two Mars Delights (at the awesome price of 18p each) and, to top it all off, a Calippo. I haven't had one of those since I was a kid.
We got served by the loudest, most over-enthusiastic assistant I think I've ever heard in my life… "HELLO SIR! THAT WILL BE £1.86! THANK YOU SIR! HAVE A GOOD DAY NOW!"
I was trying to work out whether she was just being sarcastic, or whether she really was that loud.
We left, and the walk countinued westward. We walked along the old abandoned road which is becoming ever familiar to me. I was surprised by the fact that a field which had presumably been left fallow this year, had turned into a sea of poppy red…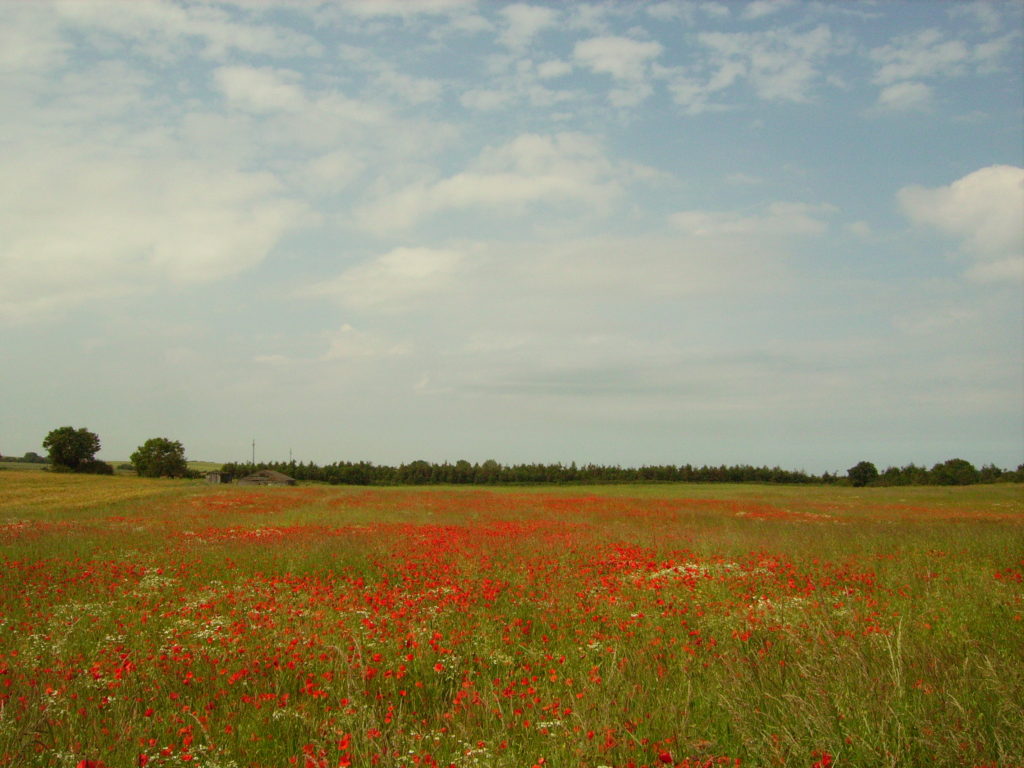 It wasn't the only one, there were two fields on the way there. Eventually, we reached Hart, and although we'd enjoyed the walk, it became clear that we'd reached the problem I'd faced each time I was there… there is ABSOLUTELY NOTHING in Hart. Well, OK, there were pubs, but considering I'd came out without my wallet, it wasn't something I'd be able to partake in. Not that I particularly wanted to, anyway.
Of course, I came up with the wonderful idea of taking more photos while we were there. None of them turned out particularly, awe-inspiring, especially when I asked Chris to take some of me. None of them turned out good at all. In fact, this is probably the only one that doesn't make me wretch…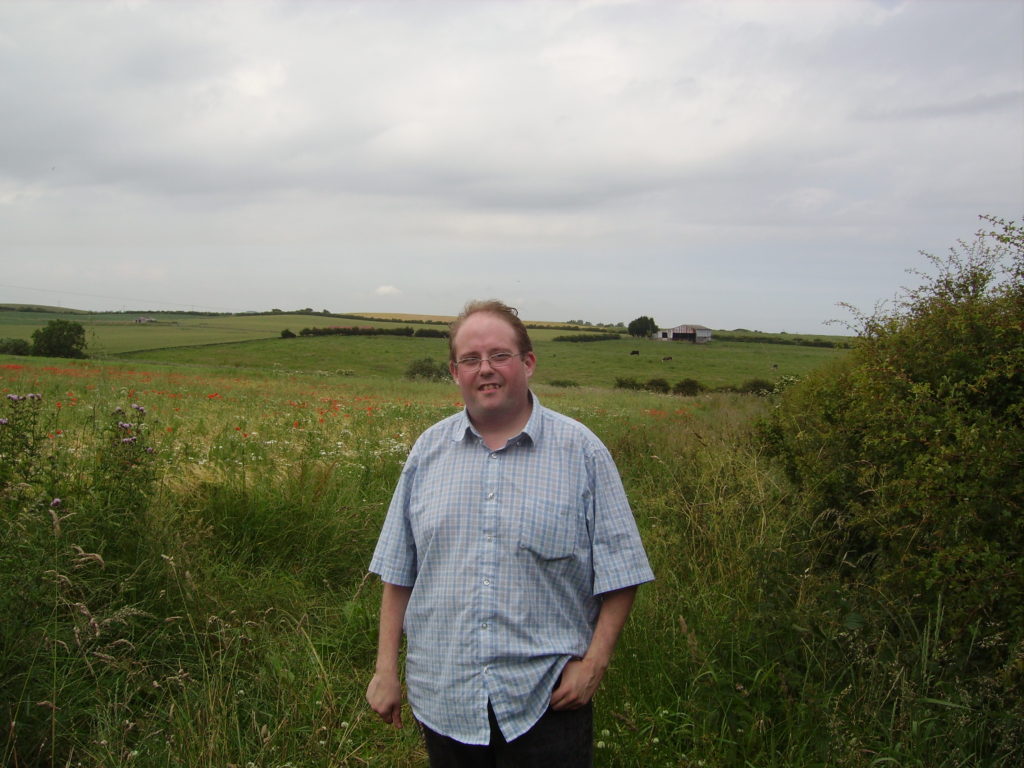 Oh, wait. It does. Hooooorp.
After a good walk, and about half an hour of trying to get a good photo of a bee on a flower (and failing miserably), we returned home. Chris stayed for a little while longer, before he headed home. It was about 4PM at that point, and I was starting to feel tired, so I had a lie down on the sofa for a couple of hours. At roughly 6PM, the doorbell rang, it was Andy The Iridium Fan (see gallery) with DVD in hand, of the maritime festival which he'd recorded over the weekend. I didn't attend this semi-annual event, which took place from 4th – 6th July, for you see, the weather was truly awful.
Chris came back over at about 8PM, and all three of us watched the DVD again, pointing out the goings-on in the background. and having a general good laugh at it.
Andy went, which left me and Chris to discuss the world, and marvel at the musical delight of the Sky News theme. It appears I've gotten Chris addicted to it too. Awesome.
Chris went, and I lapsed into a coma until the following morning.
Thursday was the day when I would start getting really prepared for this holiday. Money exchangement was about to take place, shoes would be bought, batteries would be charged, hair would be cut.
At approximately 14:28 and 32 seconds, we left the house, and went off down the town. Daddykins dropped me off at the town centre. Now, the plan was this. I'd be dropped off at the town centre, Daddykins would go somewhere, do what he had to do, then meet me a bit later on the Marina, outside of Brantano, the shoe shop. Fair enough. Seems straightforward.
So, off I toddle to the post office, debit card in hand, hoping to draw out some monopoly money Euros. I approach the lady behind desk 11. the Bureau De Change.
Me: "Can I have €300 please" (whilst holding up card)
Her: "Um… do you have a drivers license or passport?"
Me: [resigned to defeat at such an early stage] "Er, no… didn't think you'd need it?"
Her: "Pop your card in the slot, I'll see if I can withdraw cash for you"
[fx: computer bouncing across desk, smoke pouring out of the top of it, big flashing red lights, Family Fortunes 'Ick-urrrrr' sound effect repeating over and over]
Her: "Computer says no." (note, approximation)
Me: "Er, but if I go and draw out the cash from a cash machine and bring it here, it'll be OK, yes?"
Her: "Yes. Something to do with the Bank Of England"
Me: "I see… I'll be back in a minute, then".
I walk no less than 50 yards to the cash machine, withdraw the appropriate funds, and walk back to Desk 11…
Me: "€300 please…", I say with a little twinge of sarcasm in my voice, though I try not to overdo it, as I know it's not the cashiers fault.
Without hesitation, the funds are retrieved from the drawer, and I end up with a wad of notes.
I can't help but think, "LOL, WTF". Can someone explain to me why I can't exchange currency when paying from my own card, without having ID, yet exchange it from cash drawn out of a cash machine with exactly the same card? The only difference is that I'm entering my PIN number onto a different sodding keypad.
Off to get my shoes, then. Brantano is a good quarter of a mile away from the town centre, so a small walk was in order. It would also give Daddykins the time to get from where he was going, to the car park outside of said shop, where he arranged to meet me. I entered the shop, and after a good old browse, I elected for two pairs of size 10's that looked reasonably comfortable. I approached the check out to be greeted with… nothing. There was NOBODY THERE. What the hell? I was stood there for at least 10 minutes. Nobody came. I even resorted to tactics such as staring at the CCTV camera and shrugging my shoulders in the off-chance that someone was watching it, and would come out and serve me. I almost even resorted to setting off the store detector alarm in the hope of getting someone to come and serve me. Although I'm sure this idea would have worked, I decided against it, and thought I'd just stick it out and see what turned up
Eventually, an "assistant" made her way down the store, and I eventually got served. Awesome.
Now, by this time, I was positive that Daddykins would be in the car park waiting for me. I arrive out the store, and look about.
No car. You have GOT to be kidding me.
At this point, you'd be thinking that it'd be a good idea to ring him up and let him know I was waiting. this would indeed be a good idea, unfortunately, my phone was sat at home, on the landing, on charge. How handy.
At this point, I was wondering what had happened. Could it be that Daddykins didn't hear me correctly? I clearly said "Brantano", but was he thinking of somewhere like Staples? TK Maxx perhaps? They're all down there too, though the other side of the marina. I must have walked the entire car park twice. No sign of him.
Every car that entered the car park got my evil eye at some point, as I attempted to read the registration plates as they went past. None of these cars matched the description I was looking for.
After approximately 20 minutes of standing around twiddling my thumbs, hoping that messages had not been misunderstood, here comes Daddykins. He flashes his lights, and I once again sigh, shrugging my shoulders. This was surely a day of me getting pissed around. I enter the car and ask where he'd been.
"Oh, I gave you an hour, so I went to the marina and got some fish and chips. They were gorgeous". Eventually, I had to ask him to be quiet about how nice they were, as he failed to get me any chips, and I was not particuarly amused about being kept waiting for god knows how long while he stuffed his face.
After an amazing plate of curry, admittedly cooked by Daddykins, and using a jar of curry sauce that we paid 4p for. It's the cheapest price I'd paid since I was working at Sharwoods. And it was delicious.
Thursday night saw me at the club. I wore a pair of my new shoes in by having several games of snooker. It was one of those games where I didn't do well, I just got very lucky. Thirteen-cushions-and-in-off-the-light types of shots. I'd not played for a month, so it was surprising I'd potted anything at all.
I got a lift home from Chris's dad at the end of the night, and I retired to bed after a couple more cans. In fact, here I am arriving home…
Oh, OK yes, I only included that image because the streetlight at the bottom of the road is off again. Someone climbed up a few nights ago and stole the photocell from the top of it. Speaking of streetlights, I explained my undying "love" for streetlights. (for want of a better expression… after all, there are some people who just take their obsession too far). He found my interest a bit weird, butalso strangely fascinating. Apparently, he's going to take photos of streetlights outside of his house and allow me to identify them. I doubt he'll remember, but it would be an interesting experiment either way.
Ahem, moving on swiftly. Friday came like a bolt out of the blue, or rather grey, as all it has done all day is rain. Considering this is the summer, it's been shit so far. Today was the day I concluded my holiday purchases. Thanks to Thursday's prick-about, I never had chance to get my hair cut, so I went on Friday instead. I always go to the same barbers, Ian Taylors on Church Street. Unfortunately, Ian Taylor died a couple of years ago, so the shop front is currently being repainted, along with the sign sayign what it is. I almost walked right past it. Not a good advertisement.
After a haircut which technically I didn't really need, but considering I was going away on holiday, hasd anyway, I headed off to Asda, in order to stock up on some food. Now, what's odd is that I didn't buy any beer, or anything for the holiday, yet still managed to spend over £30 on grub for myself.
I returned home, laid on the sofa, watched Countdown, and promptly fell asleep on the sofa, eventually waking up to hear the theme from Channel 4 News as it was finishing.
That was then, this is now, It's now just after 1AM on Saturday morning. Considering I'm at work for the next few days, this may be the lat post I make before I go away…
At this point, I would like to introduce you to my twitter account. While I am away from my computer, I can keep you informed of shit from my mobile. I bet you can't fucking wait.
Seriously, I would like to use it to keep track of my "small" movements. It will also give me a chance to use some of the 200 mobile text messages I get allocated each month, yet never use. I will not use it while I'm out of the country, however. You'll just have to imagine I'm having a nice time. I'm sure you'll receive a desperately thorough write-up of what went on when I get back, however.
Paris beckons. Auf Weidersehen!