You know, it seems sometimes all I post about on here is Amiga stuff and charity shops. It's pretty much what my life has became recently. Sometimes I do leave the house, and this time it was for a mooch around York. Well, yes, there were charity shops involved, but there was other stuff too.
In early July, Martlepool hosted a leg of the Tall Ships race. It's something that has happened before, way back in 2010. Sadly, I wasn't able to attend much of those festivities thanks to work commitments. this time, 13 years later, I avoided it through coice. This time, it promised absolute carnage for the lovely little fishing village of Hartlepool. Chris, who you may remember from many blogs previously, lives in an area of the 'village' affected by the traffic measures, so he decided to get out of the way for a few days, and head to Leeds and York, instead of having to fight the council for a parking permit. Plans were made for me to join him half way through this trip. I said I'd get the train down on the Saturday, meet up with him and stay overnight, and come back with him on the Sunday. Of course, there was possible "industrial action" on the train to worry about. Would I actually make it down?
I booked the ticket the week previously. I was surprised just how easy it was. I've never actually ordered tickets on my phone before. Despite my technical knowledge, I can't help but think that paper tickets, or having some physical representation of a ticket is the best way to go. Anyway, no sooner had I paid, it got put into my "online wallet", and I was all set. I was genuinely amazed at how simple it went.
Anyway, as mentioned. There were train strikes, and that was my worry. This particular train company didn't have the greatest reputation when it comes to reliability. I'd have thought that any excuse to cancel a train, they'd be all over it. Anyway, I awoke early on the Saturday, still expecting to read my phone and find that the train had been cancelled. Amazingly, this never happened. I arrived at the station to find the board was still showing it was turning up. While in the waiting room, the guy next to me ran out without his phone charger. Amusingly, I've known the person who I spoke to for about 30 years, I'd totally forgotten he's worked there, and to complete the circle of life, he still has some Amiga disks with my handwriting on. If only Elton John and Tim Rice were in the vacinity. I do wonder if this guy ever collected his phone charger.
This particular train company was even a guy walking up and down the platform showing people where to stand to get onto the right carriage. Never had that service before, so this was my position while I waited…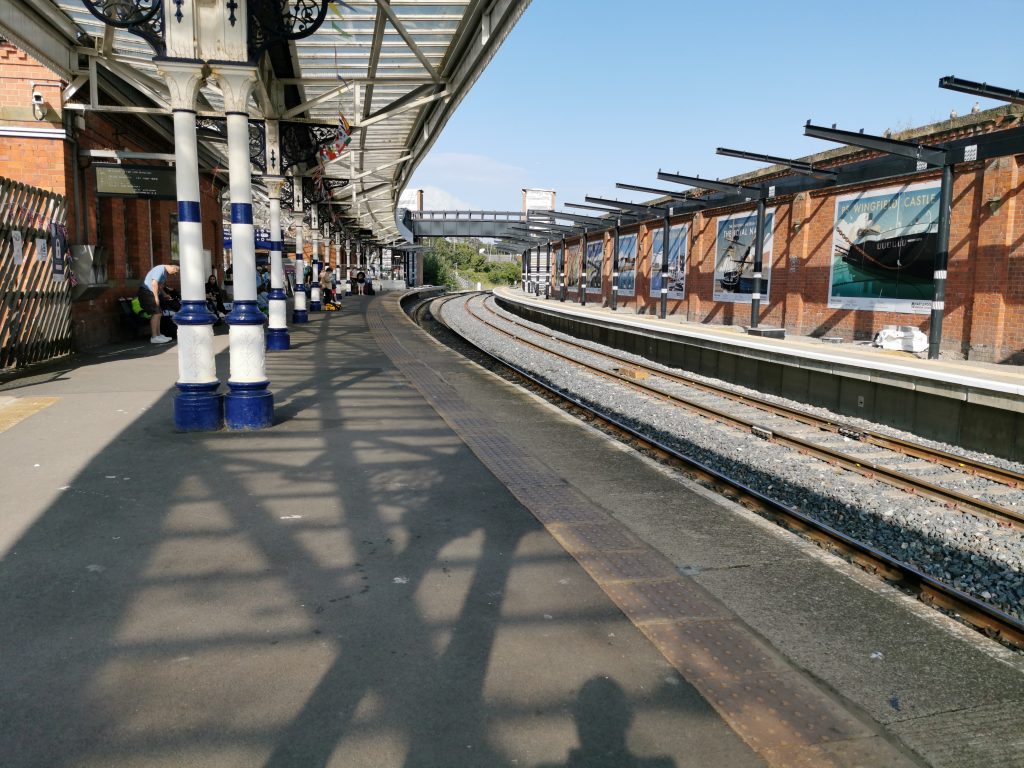 The eagle-eyed amongst you may have noticed that the other platorm (which was supposed to be ready in time for the Tall Ships) is still out of bounds. There's now a bridge connecting both platforms, but it's not ready yet, and there's no canopies or lighting installed on that side.
Anyway, I successfully boarded the train, and took in the sights of Teesside and Yorkshire, as the bone rattler wound its way through many little villages and towns.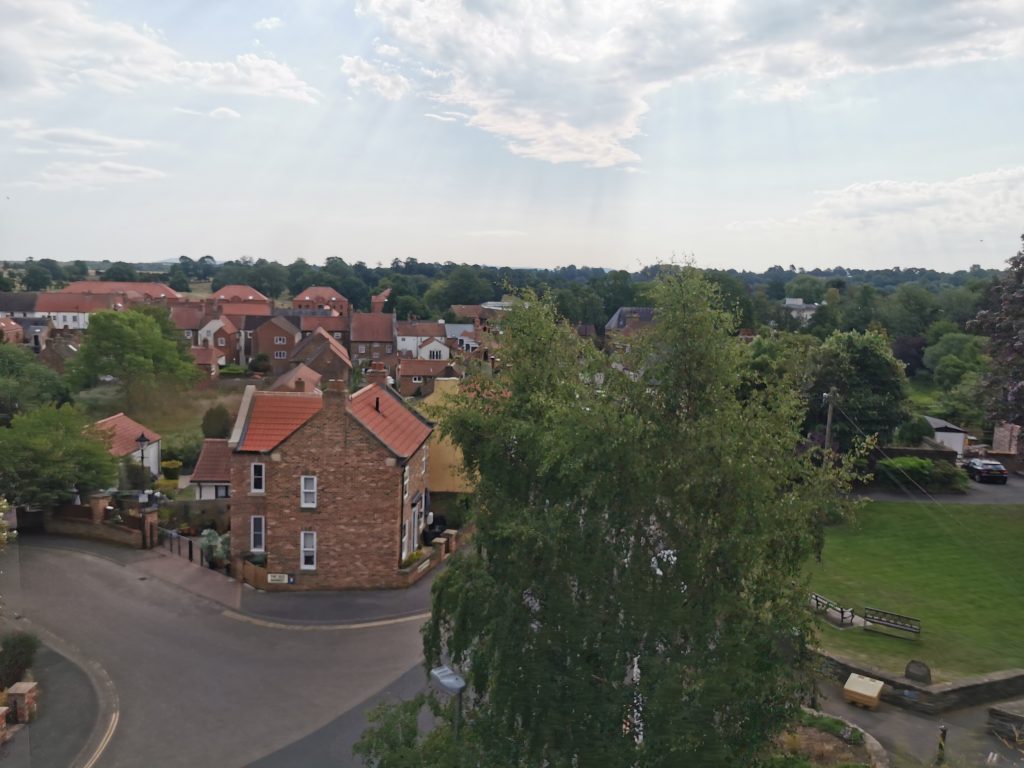 An hour or so later, I was in York., and I was taking in the sights and sounds… of a place I'd been to about 60 times before, but I still can't help busting the camera out.
That last one is of "Grape Lane". A street that has had a slightly different name in times of yore. I'll leave you, the viewer to find out what that is.
As menitoned previously, I hit the charity shops. And by golly, did I find some classic tat in there…
At some point during the "Wayne King" record, and the Metrocentre postcard, Chris met up with me. Of course, we had a mooch around a few more shops (many of them may, or may not have been of the charity variety), before the weather started to turn. It was raining. Not much, but enough to think "Oh, there's a microbrewery. Let's have a sneaky pint". And so, that's exactly what we did.
I love that little ornament of the eagle, and his little hat made out of beermats. Sadly, I doubt he was for sale, so that photo will have to do.
Sadly, the rain kept up, so I didn't get many more photos. Instead we headed off to Drake's for some chips. Seems everyone had that same idea, because it seemed like the world's longest wait for two portions of curry and chips. They weren't bad, I guess, but could have done without the wait!
With the charity shops plundered and time getting on, we headed off to the B+B. And what a nice little place it was, about half a mile away from the city centre.
Sadly, I didn't really get a decent photo of the size of the room, but Chris had that big bed, and I had my own bed, right next to the open window. This would become beneficial later on.
Shortly after, we went out to the first of the pubs we'd passed on the way.
A nice little place. I think I had a pint of something called "White Rat". It was nice whatever it was. We stopped at another place. The "Royal Oak". I think we had one or two in there, and then decided to go for the most predictable part of the night… an Indian! I'm guessing it must have only been about 6PM at that point. Turns out this was the best decision of the day. We entered, asked for a table, the guy shuffled his papers for what seemed like an age, and then ushered us to a table. It was right near the door. this meant that we could hear everyone that came in. "Sorry, we're fully booked until 9:30". Ha! We'd just got the last table, and it was lovely. Not quite as nice as the one in Macclesfield, but it was certainly enjoyable, and the fact we were the last ones to get an unbooked table just added that little extra spice to it all.
No trip to York is complete without a stop in the "Three Legged Mare". One of my favourite haunts in York Something interesting always happens.
We'd grabbed a seat right at the front. Little did we know that there was going to be a band/duo on, until they turned up with all of their equipment.
I must admit, I wish I could remember their names, because they were bloody good.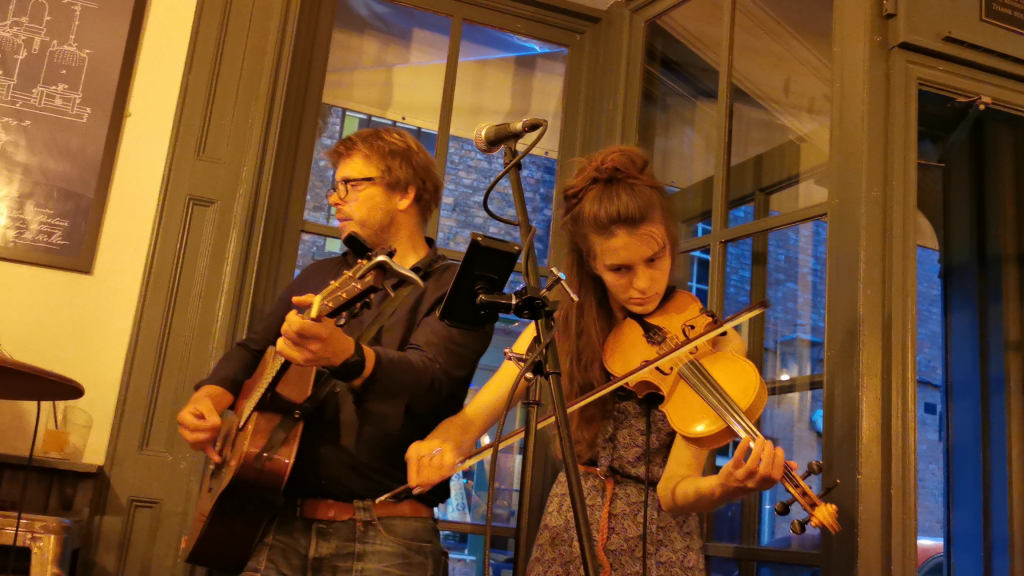 I'm bound to find out, and I'll update when I do.
We began to head back relatively early. Chris wasn't sure what time the B+B closed its doors, so we were back by 10.
About 10 minutes after getting back, we opened the window and found out that our timing was, once again, impeccable. We looked out, and there was a thunderstorm going on outside. I think we spent the next two hours or so discussing which presenter was at the centre of the latest BBC shenannegans. Turns out my guess was completely wrong.
Eventually, I drifted off to sleep, with the sound of the rain and thunder being a perfect white noise generator. Day 2, the journey home, should be fun.