For those of you familiar with the lovely seaside resort of Seaton Carew, you'll notice that one of its major "eyesores" went up in flames yesterday. And for those of you unfamiliar with it, it was a major eyesore that had blighted the main part of Seaton Carew since its closure in 2009.
You could almost hear the cheering from Clavering.
Unfortunately, I was unable to get to Seaton to take my own photos, but thankfully, Chris sent me these…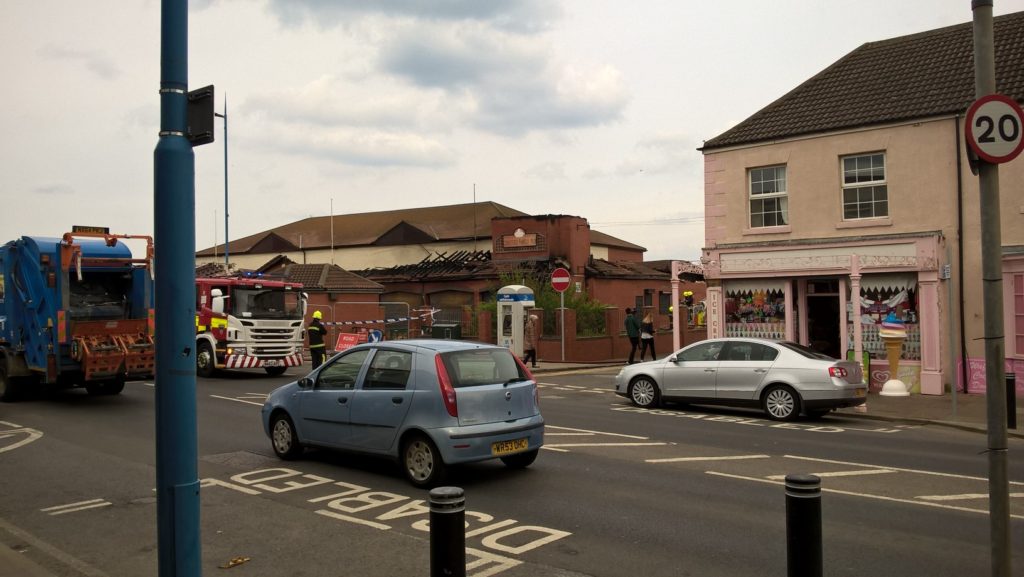 I won't speculate on what happened, why it happened, or any monetary exchange that may occur because of it – that's for someone else to decide (and, of course, social media), so instead I'd like to go through some of the memories I have of the place.
The news said it closed for good in 2009. That's probably right, as Coasters, the pub, remained open, but long before then were the arcades. I'd spend many a saved-up 2p and 10p in this place, and if pocket money could afford it, even an odd pound coin.
This place was one of the largest arcades in Seaton.
As you went through the door, past the rickety old racing machines (where the horses would judder along badly maintained rails, and you'd bet on which one made it to the end first – if you got it right, it would spit coins at you),
On the left, there was the "Prize Bingo". This was great for the mams and aunties. I don't think I ever went with my mam, but certainly went with my aunty when I was about 13, this would have been the first time I went there, it can't have been log after it opened.
On the right were the arcades, on the far, right were the miniature bowling alleys. More on them in a bit
So, as I mentioned, the first time I went there was with my aunty. Now, she used to read the blog, finding out what I get up to, but apparently they stopped reading many years ago because I swore too much. I think that was a polite way of saying I'm a disappointing nephew. Ahem, Anyway, I knew that we went there, because I can still remember seeing the mechanical 7-segment display on the wall, showing the jackpot. No LEDs for us, not in those days!
I remember one of the very first times I was let out on my own, to an event. I must have been about 14 or 15,, and a slightly younger lad called Ste was with me. PJ and Duncan (as they were known back then), were headlining a local radio roadshow.. Of course, I cared little for their music, and while hordes of screaming girls belted their lungs out at the sight of the wee Geordie Grinners, myself and Ste got up to other activities, such as playing Ridge Racer in there.
When the whole Ridge Racer craze died a few years later, games started evolving, and Ridge Racer disappeared. They invested in new, large generic arcade cabinets, what you could sit down on, the controls would be separated from the game by about 4 feet, but the monitor would be comfortably large enough to see. One all-time favourite on here was, of course, Track and Field, the 1983 Konami classic. The original game used buttons, these cabinets used joysticks and buttons, making the whole running bit a whole lot easier. Unfortunately, due to the physical nature of the game, the joystick would always be broken, and the buttons unresponsive. Of course, you can't find that out until you've deposited your 10p.
Other machines had more obvious faults. A "Punchout" had one of its monitors just showing a bright line (The flyback transformer was loose. Ironically, sometimes giving the machine a good thwack would bring it back to life.)
The years went on, and as I got older, I frequented it a lot more, usually with Chris. I went there on the day that I got my GCSE results. You know, to take the incredible feeling of disappointment away.
By this time, It was obvious to see that the arcade part of this place was beginning to go down the tubes. The mini-bowling had stopped working, part of the arcade got replaced with a tiny indoor go-karting track, and the few arcade machines that were there, fell more and more into disrepair. On my last ever visit, I noticed that even my beloved "Track + Field" had a board fault, as the colours were all wrong – the track showing as white background with black lines.
Shortly after, the arcade was gone. Rumour has it that the games were sold off really cheaply.
The only place that remained open was the pub "Coaster's". I don't recall ever going in it, but I do have memories of a manager (who shall remain nameless) at an old place I worked at, offering to buy us curry every Friday night. Naturally, it was free food, so we all agreed. He'd disappear for about two hours, get absolutely legless in Coaster's, drive back (hence the anonymity), and serve us all up with lukewarm curry! While I absolutely do not condone drink driving, it's safe today what these Friday nights were the catalyst for my love of the spicy stuff – from takeaways anyway.
The manager retired, and Coasters closed. I don't think there was any coincidence in this., but you never know.
And so, that concludes my brief history of The Longscar centre. Rather like The Wesley, I have a feeling it's going to be even more of an eyesore than what it was beforehand…