How do you get 100 Pikachus on a bus? Pokemon.
And, if you haven't heard that joke before, you've been under a rock for the past 15 years, or you've not sat next to me for any period of time recently, because every time someone comes out with a Pokemon Go comment, I come out with that belter of a joke. And by "Belter", I mean that I should be belted hard across the face. With a chair.
But it still gets a laugh from somebody. Sigh.
I know, I'm getting old, my knees are hurting from jumping on and off of these bandwagons, but this is one that I couldn't pass, even though it's possibly the "saddest" I've ever even got partially involved in.
Pokemon started off as a cash-in for Nintendo. A card game, highly successful console game, and of course, a long running cartoon. I personally paid absolutely no interest in any of these, so I had no idea what the hell Pokemon go was supposed to be.
So, what's the premise of the game? Well, if you don't know by now, you really should have stayed under that rock you've just crawled out from. You play the game on your phone. It starts off by having a street map of where you're currently stood, and you walk around the area. Literally, walk. With your own two feet. Every so often, your phone will vibrate, and in the local vacinity, is a "pokemon" (short for pocket monster in case anyone's still actually wondering), you click on the little monster, and it'll appear on your phone screen, with whatever your camera is pointing at, as the background, so it looks like the pokemon is there in front of you. Obviously, when you move your phone, the pokemon moves with it, and you have to flick pokeballs to catch it. Sometimes, some pokemon are very common, and you'll get sick of seeing them. They're very easy to catch. Others are larger, and will run around, causing you to turn your phone 360 degrees, chasing after it, and often meaning you'll miss with a pokeball and lose it, and some will break out, meaning you have to throw again to catch it
With me so far? No? That's OK, neither am I, but I shall persevere.
The crafty thing is….. you only have so many pokeballs! and you have to earn more (along with other collectables) by visiting Pokestops. These are actual real life locations, usually landmarks, meaning if you want to actually get anywhere in the game, you have to get off your fat arse and get them. You can add "lures" to these real life locations, which means more imaginary pokemon visit there… and therefore more actual real life people who also play the game. And it works.
Some of you may remember in the Youtube video I posted a couple of months ago, where me and Chris went past "Jimmy's Green". I laughed because I thought it couldn't possibly be a land mark. Well, here it is, swarming with Pokemon Go players…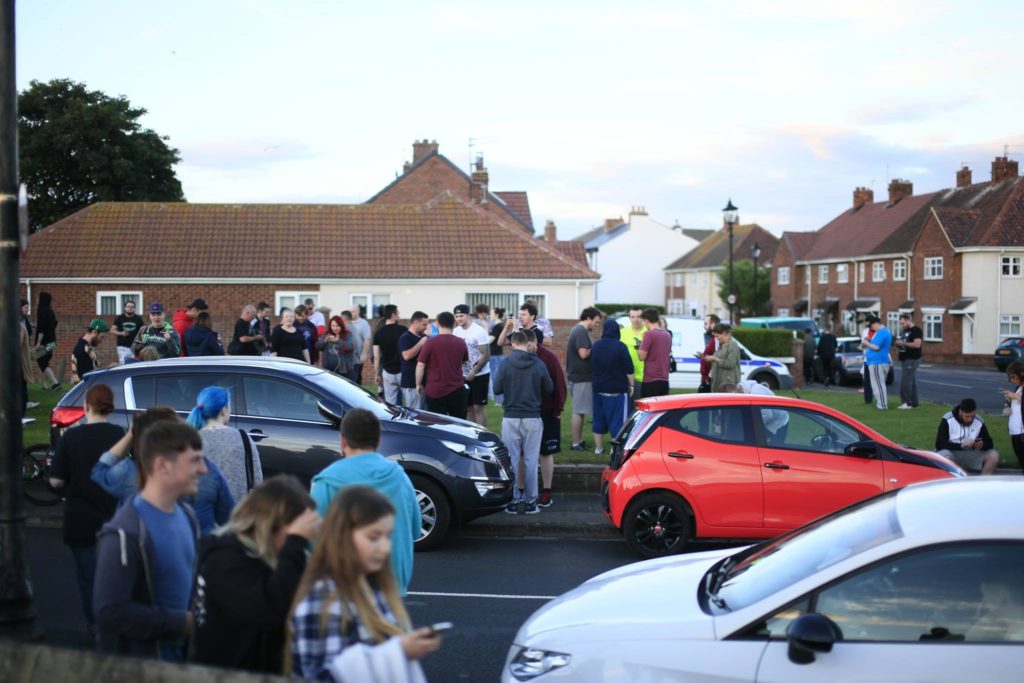 I have a feeling this will be the same for areas up and down the country.
Here's a couple of screenshots tro try and illustrate what it's all about… This is me, walking across the street, and this little thing pops up in front of me…..


… I have to flick the red ball towards it. If I hit it. I'll capture it, and get points towards levelling up. The more you level up, the more you can capture easily, I presume.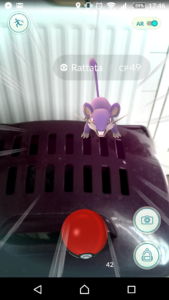 And here's a wild Rattata I caught whilst sitting on the toilet. I could get him arrested for watching me like that.
And where would I be without the obligatory "Playing the game whilst pissed" photo…
It's one in the morning, As you can see, the bloody thing was to the left of me, as I was too busy trying to take the screenshot whilst walking after several pints that it had bounced out of view. I wasted so many pokeballs trying to catch that fecker, but a Hartlepudlian never gives up…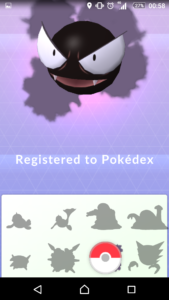 Questions? You'll have a few. But then again, too few to mention. So I'll mention them for you.
"So, is there any point to the game?" Yes. You have to catch all of them. I think there are something like 136, and some are much rarer than others. Expect to do a lot of travelling if you're going to attempt this.
"Aren't you too old to be playing this"? Yes, and no
Yes, as in, I sort-of secretly play it. Obviously, you sort of have to wave your phone around flicking the screen at certain intervals, so I sort of do it in secret. I'll load the app up when no-one's around. I certainly wouldn't go and hunt down a popular pokestop and join a group of people playing it. No, as in you're never too old to have a bit of a walk, and if it adds to the "point" of the walk, I can't see any harm in it. Remember, there's no upper age limit on games (only perceived upper limits), and if I want to play it, I will. Though now that I've written this blog, I'll probably never play it again.
"Where are the best pokestops in Hartlepool?" There's loads in the town centre, as you'd expect. There's quite a few on the Marina, especially around the lock gates (watch where you're walking!), apparently, there's 11 in Ward Jackson Park, and a load on the Headland.
Well, I think that covers most things. Comment if you have any other questions. I'm going for a Weedle in next door's hedge.