What a holiday. I've been back in the country 9 hours, and I'm currently sorting through the (literally) hundreds of photos I took while I was there. Words cannot describe just how awesome the entire trip was.
I wasn't going to start typing a full blown blog, but since I'm sat here I might as well give it a go. The trip started last Monday, at 10AM. I ordered the taxi for that time, despite the fact the plane wasn't until later that afternoon. I like to be careful.
The taxi drops us off, and I'm presented with a building, with "Newcastle International Airport" plastered all over the front of it. I guessed we were at our first destination of the day.
We arrived to find that we were too early to check in. So, we headed for the nearest Starbucks, and found a comfy seat. This is where the long photo journey started, as the shutter clicked on the first of many holiday photos…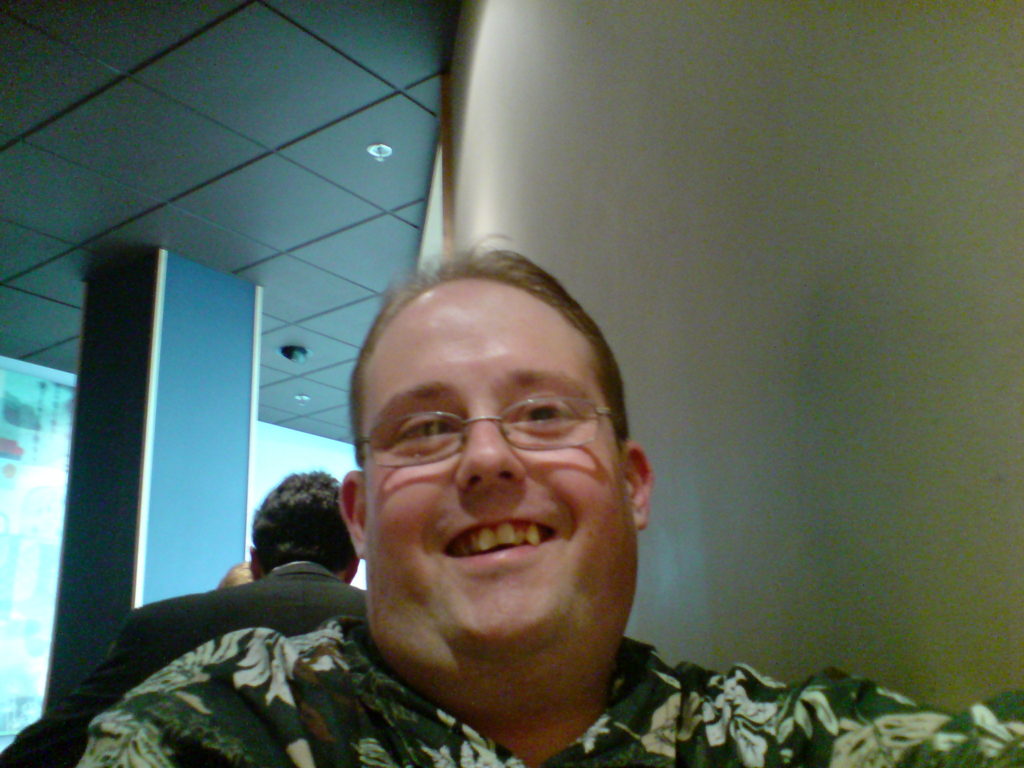 So, after wandering around for a bit, we head to the ticket desk. By the time I'd demolished my Greggs pasty bought moments before, the ticket printing was complete. I expected it to be a lot more complicated than it actually was…. We each gave the (pretty miserable, if I'm honest) girl behind the counter our itineraries and passports. Before we knew it, our luggage was whisked away to places unknown, and we had three shiny tickets in our hand. This was all feeling very surreal. I've never stepped foot in an airport before that day, so this was all new to me.
We waited outside for a bit, before we headed up to the check-in desk. Basically, you empty your pockets into a tray, then walk through a metal detector, and pray to god it doesn't beep. After that, you can browse the vast array of duty free goodies on offer… including televisions. I don't quite understand how that part of Duty Free works. Do you have to take the TV with you there and then, or do you pick it up later? I don't know, and I will never know, unless someone tells me.
Well, our duty free shopping trip consisted of…. nothing. There was a bar there, which charged £2.99 for a pint of Carling Ice. This was supposed to be Duty Free, the profiteering bastards.
Begrudgingly, three pints later, we moved on to the "gate" This is simply where you sit for a bit, until they clean up the airplane, and are ready for you to board. It seemed to take for ever.
Eventually, the "gate" opened, and we went through, but not without incident. Patience is a virtue, impatience is a fucking annoyance. In front of me are a group of tourists speaking a foreign language, looking confused. To the right, up the corridor is where tickets are being checked, and other people are waiting to get on the aircraft. I dart forward, thinking they're holding up the queue, and within milliseconds, a shrill voice screams "SIR!" at least twice… unfortunately I'd failed to notice the woman checking the passports to my left – the real reason the queue was being held up.
Apologetically, and with my tail between my legs, I show my passport, and get checked in.
My first view of the plane was the following:-
I was expecting something a little more substantial if I'm honest. It looked a lot smaller than what I was expecting. I climbed the stairs to the plane, and discovered my seat was a window seat. Brilliant! Viewing clouds from the top side is something that everyone must experience at least once in their lives. Truly marvellous.
We landed a short time later in Amsterdam's Schiphol airport… and something was instantly noticeable. The thick, black, menacing cloud heading towards the airport. For the next 60 minutes or so, the airport was completely drenched in one of the heaviest thunderstorms I've ever seen in my life. And, for that very reason, the flight was delayed…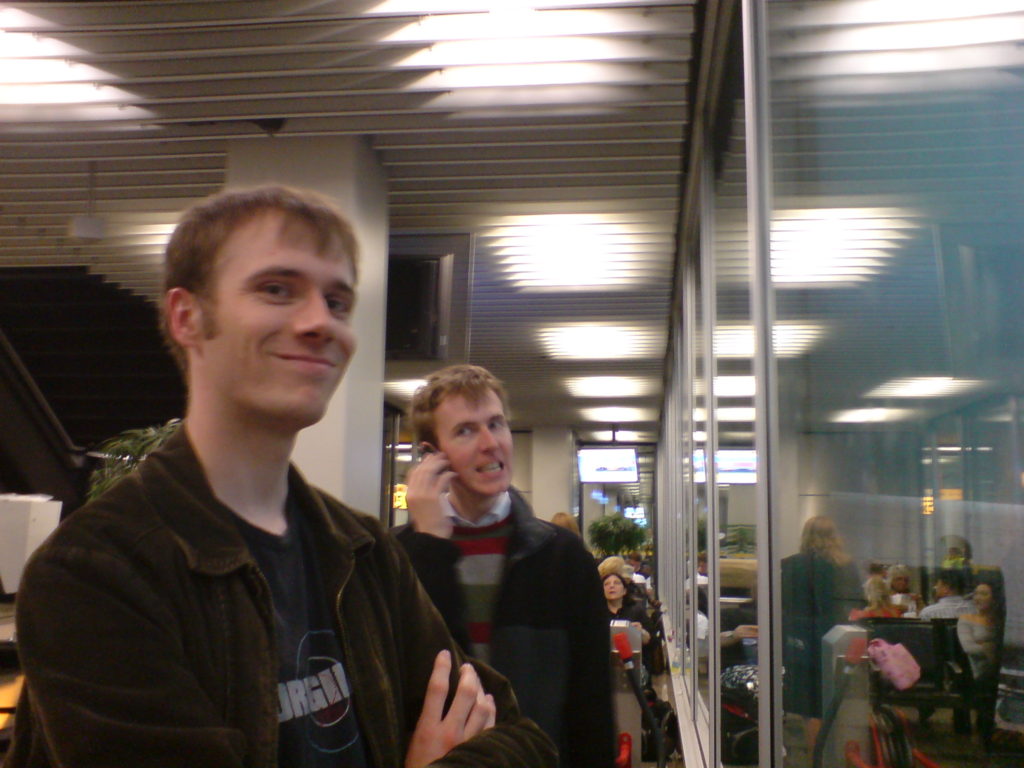 It was time to spend my very first Euros. I bought a bottle of coke, and a packet of spicy crisps. Interestingly, they're manufactured by Smiths Crisps over there… possibly the same ones who were taken over and crushed by Walkers.
Eventually, the rain stopped. and we were able to board. The other plane we got on was slightly bigger… a 737. We boarded, and this time, I remembered about the passport check, and didn't run off like an idiot. this time, I didn't get a window seat, so I helped Jonathan with the crossword he was doing, both of us miserably failing to get 9 across, 11 down and another one which I can't remember.
By the time we landed in Germany, it was getting dark. As soon as we left the aircraft, and went into the connecting corridor thing, a blast of heat hit us. Clearly they didn't have the air conditioning on in it, and it wasn't really that warm outside. We collected our bags, and left… it really WAS that warm outside. Considering this was after 10PM, the heat felt like something we'd get in England in the hottest days of summer. We jumped in a taxi (all of them are sort of a dirty white colour over there, and most of the ones we'd seen were Mercedes), and somehow, the driver understood where we wanted to go.
I was glad it was getting dark, as I would have a chance to see the types of streetlighting that Germany had to offer…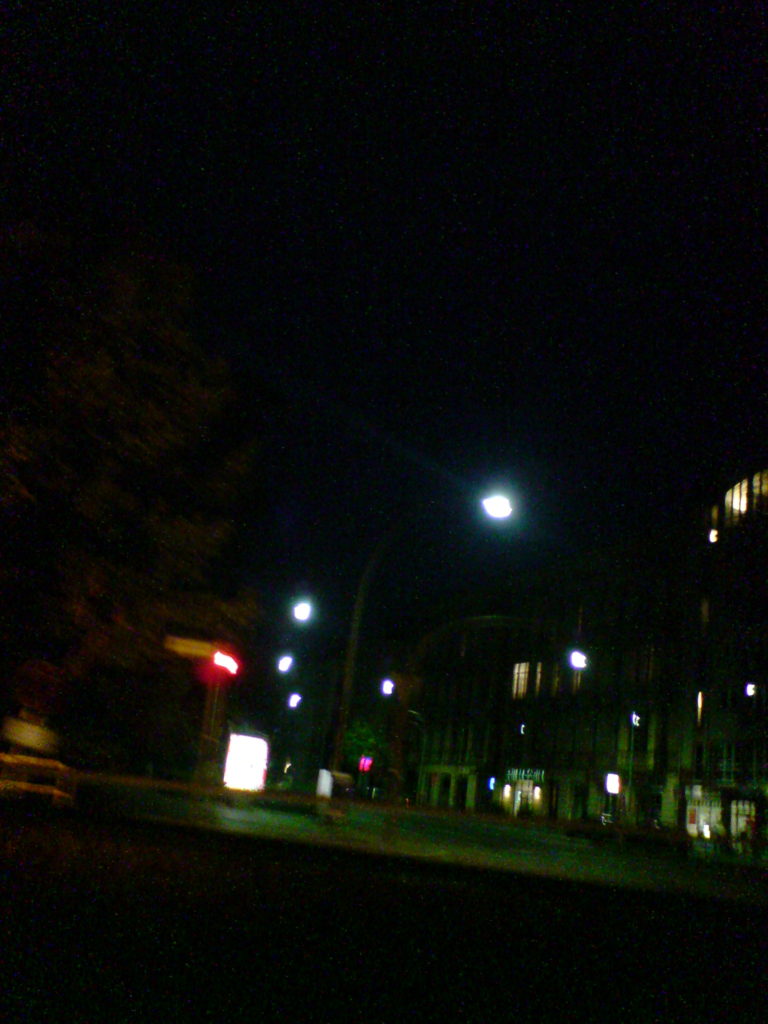 I'm happy to report that they're big on Mercury Vapour over there, most of the roads we travelled down were lit by it. The dual carriageways were lit by flourescent. Only the streets in the city centre were high pressure sodium.
Eventually, we arrived at the hotel, and our first impression was "OooooOOOooh!". It was definitely a four star hotel. I wasn't even sure if all of the paint had dried in it. Everything shone and sparkled. We checked in, and made our way to the rooms, on the fifth floor. Chris and Jonathan were in one room, I was in the other.
The room was as shiny as the front entrance. After initial confusion on how to switch on the lights, I began to unpack… oh, bollocks.
The bottle of shower gel I'd taken had completely emptied itself inside the case. Completely. Every item of clothing except for one t-shirt was covered in blue, translucent gloop. Look at the jeans in the top left… that's what everything was like. Somewhat amazingly, every electrical item I'd packed (camcorder, camera, chargers, batteries) escaped unharmed, despite the camcorder being packed in the same compartment as the clothes.
Chris came in and raided my minibar (he was paying for it all anyway) despite noticing that the drink he had just knocked back was priced at a ridiculous €12. I decided against using the minibar and we all headed down to the hotel bar, where the prices were equally as nasty. Two drinks came to €11. Shocking.
We didn't stay in the bar for long, and instead decided to go to bed. It had been a long day, and the heat was taking it out of us.
I'd managed to work the air conditioning out in my room, unfortunately, Chris and Jonathan didn't have the same luck. So, while my room was lovely and cold, theirs was apparently like the core of the sun.
However, before I went to bed, I took the first of many pictures outside the room window.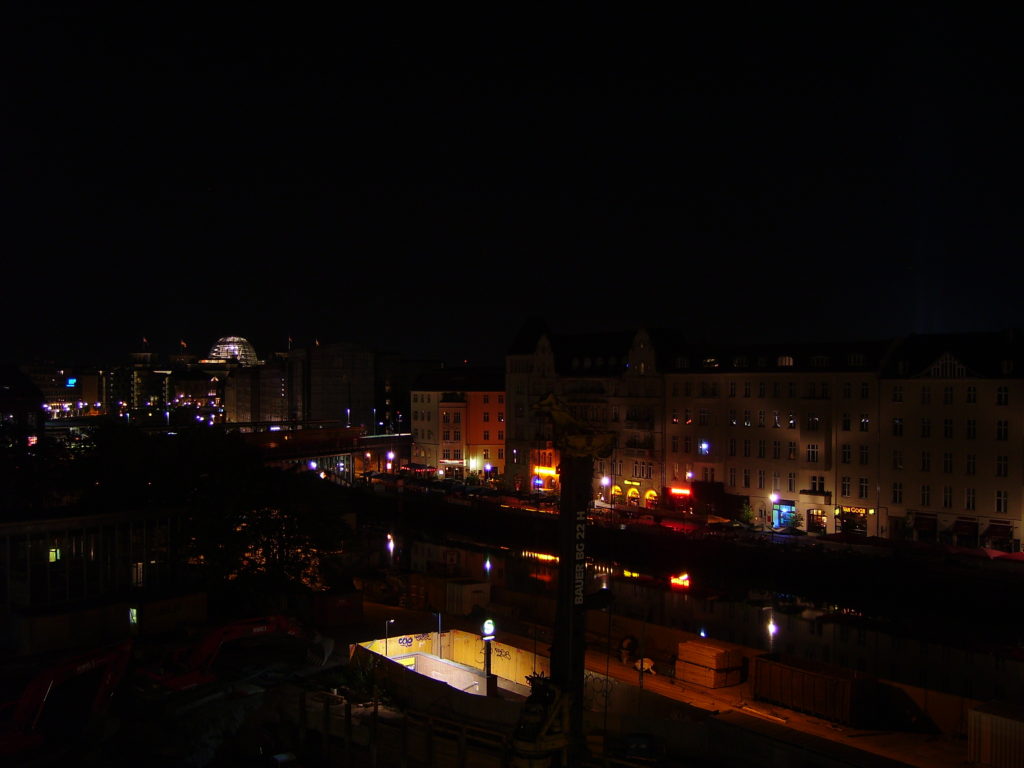 It wasn't until the next morning I'd see (and hear) the building site in all its glory.