Why, yes, it sounds like my masculinity draining away, as I admit that for the past two days, I've made an effort to walk several miles, just to take pictures of some flowers. No, really.
OK, I suppose there's a bit of a reason behind it. They're not just any old flowers. these are sunflowers, and for the second year in a row, a small portion of Hartlepool has been dedicated to growing these. Last year, I didn't know where they were located, so I never got a chance to photograph them. This year though, I recognised the location from other photos, and was able to photograph them.
Both days, I recorded the journey via tweet. N particular reason, other than it felt pretty lonely walking up there on my own, especially when it was still relatively dark.
It took almost an hour to reach the field. On my way, I found a golfball. I was so happy, I tweeted about it.
Just found a golfball. Dog could have weed on it but never mind 5:52 AM Sep 3rd via txt
It was found some considerable distance from the nearest golf course. In fact, according to Google Maps, it was roughly 433 yards away from the golf course. So, someone's either got a massively errant swing, or it was deposited there by some other means. Either way, it ended up in my back pocket. I pick pennies off the street too, scruff that I am.
Er, anyway. I made the twisty-turny journey up Worset Lane towards the field, only managing to twist my ankle once on the failing road surface. That's a bit of a record for me.
After walking past the pile of decaying shit, which I described back in June….
Super farmy     12 June 2010 04:01:01  via txt  
… it was still there, the smell less pungent, however. Maybe because it was still early.
I was happy to find that the field was "welcoming", as in, it wasn't gated off, or anything like that. In fact, they encouraged you to 'appreciate' them, complete with A4 laminated sheets, explaining what they were being grown for.

They were certainly appreciated. Not just by me, there was some red van driver who happened to be going along the road. I heard him suddenly stop, and put the van in reverse, just to take some photos on his mobile of the field, and the sun coming up over it. I'm a little bit annoyed with myself, as for this first journey, I didn't take my main camera thinking it wouldn't be necessary. This means that this shot really isn't as good as it could have been…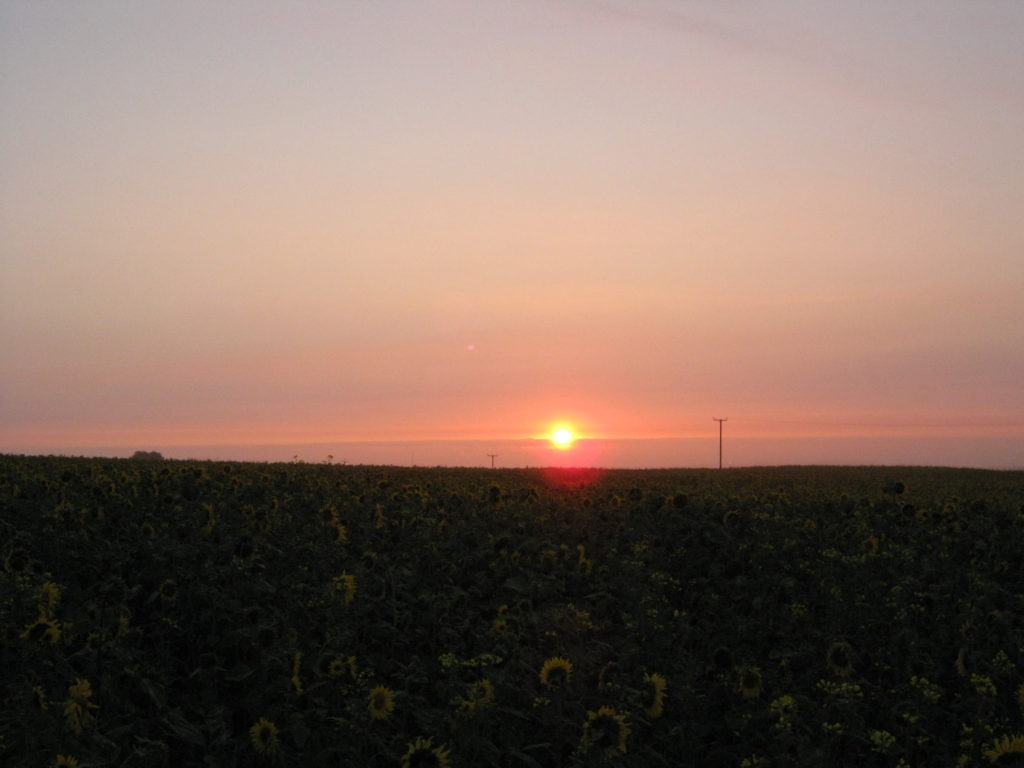 One thing that the little Canon is good at, however, is macro shots.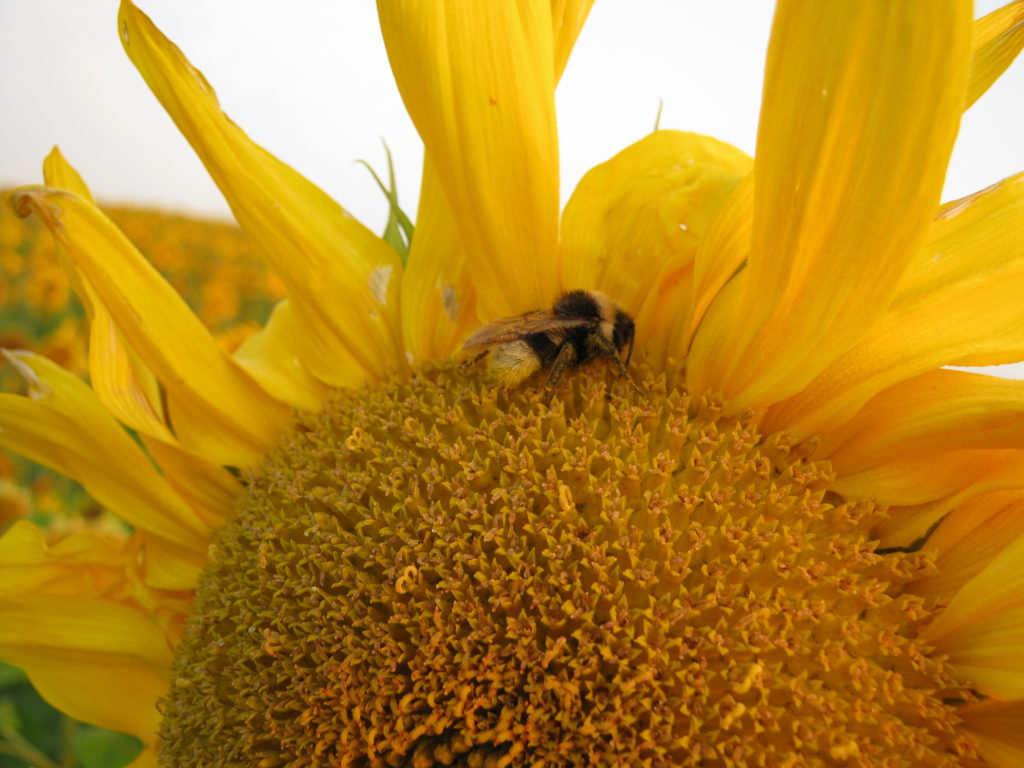 The walk back was all downhill, so thankfully, there were no almost-twisted ankles. On the way back, I found a football. "If found, please return to 7 sumthing". I did find it, but as there was plenty of streets nearby with a door number of 7, I didn't return it.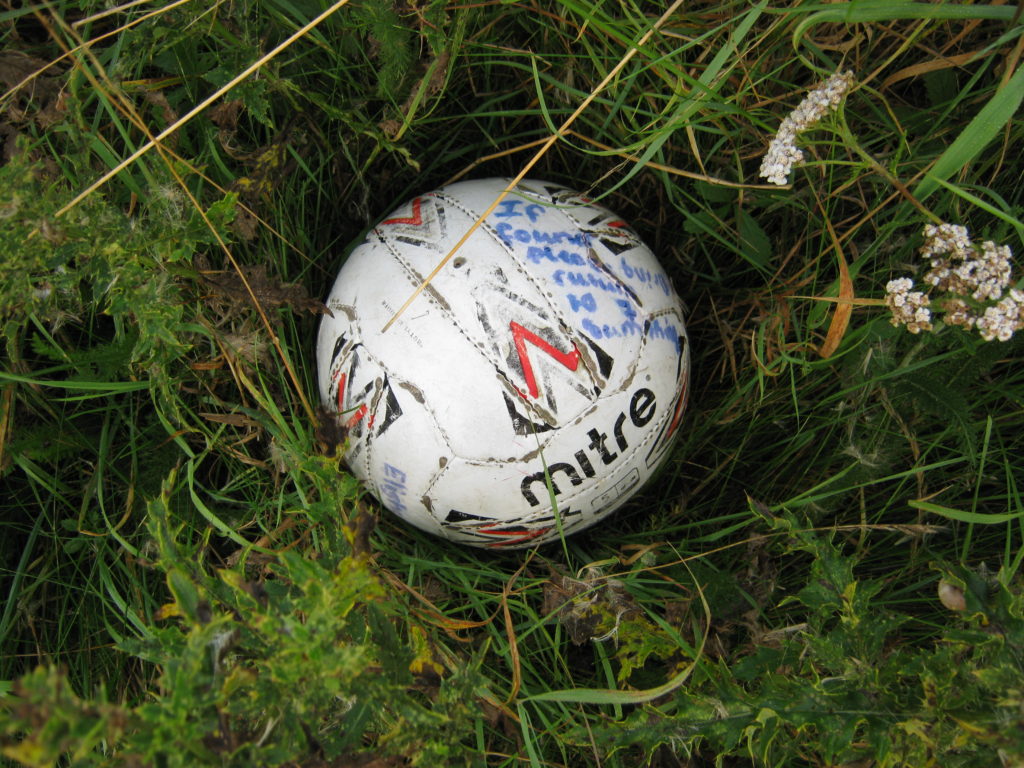 Although not really visible in the photograph, this ball also had other words scrawled on it, such as "Elish".
"Elish" was a word that appeared to me in the early 90s, and somehow still survives to this day, as a slang word for something good, and is presumably a mis-spelling of the word "hellish", as the nHartlepool accent is known for dropping its H's, therefore a localization of words such as "bad", "sick", "wicked" meaning something good.
For instance, if some kid came into school with a new item of clothing, the conversation would go…
"Like my new [garment]?"
"Yeah, it's elish."
I went earlier today, and the football had vanished, either returned to "7 Sumthing Close", or picked up by someone else that lives at a number 7. This time, the walk included my good camera. It was the same journey, though this time it seemed more uphill. Maybe because it was a little later in the day, therefore a little warmer. One thing I did notice is that when I walked past that decaying shit pile for the 2nd time, it was a little more fragrant…
Walking past the shit pile. Wretch. 2010-09-04 08:02:58
It took me exactly the length of "Tunnel of Love" by Dire Straits to walk from the edge of the golf course to the first opening of the sunflower field. I don't see any reason why that would be relevant to anything, ever, but I thought I'd mention it. The sunlight was much better and brighter than my initial walk the previous day, and in the 48 minutes I spent in that general area, I managed to grab 80-odd photos.
In a rare decision, I won't post the whole lot of photos on flickr, as not all of them were excellent.