I bet you thought this was never going to come. The final part of the London trip, or what I can remember of it, because after all, this was three months ago now…
The final day was upon us quicker than what you could say "Soft, supple, Hartlepudlian feet". Day 3 was to tie up the loose ends of the places we hadn't been to, and places we'd want to revisit. Of course, we had to vacate the room by a certain time (10AM), and the train back from King's Cross wasn't until 8PM. Thankfully, the hotel, again, let us leave our bags there until we were ready to pick them up.
We left the hotel behind, and headed to King's Cross tube station. A place we were now very familiar with. The first stop was Greenwich, most notably the O2. The plan was to go there and see if anything had changed since we last visited, and then head off to Greenwich town centre to see what was there. It was before 11 at this point, so there wasn't really anything open at the O2. One thing I did remember from our last visit several years ago were strange circular LED advertising hoardings. They were basically one row of LEDs spinning at such a speed that they'd give the effect of going all the way round. Slight problem was, they were getting old now, and the LEDs were certainly past their best.
the greatest thing for me, however, was an advertising display made entirely of old media, such as videotapes, records audio tapes and CDs. I spent most of the time looking at this, slightly gutted that a large amound of perfectly good records had been entombed in this display, and would never be played again. For your viewing pleasure are photos of this hoarding, and you too can see if you can see a classic in there. You can, of course, click the images to get a full-size verison. There's 9 of them, so you might have to scroll if you're not interested. Sorry, not sorry.
I've already spotted "Bridge of Spies" by T'Pau, which is possibly my favourite album of all time, also "Something Else" by Inspiral Carpets, which features the words "Binsy Smith Meets Monobrow" on the spine.. nope, me neither, but I do know is, apart from an obscure Google Books entry, that previous line the only mention of those words anywhere on the internet. Cor, eh?
So, the plan was to head to Greenwich Village to see what was there. Despite our complete failure with the DLR, were to try our luck again, as apparently there isn;t a tube stop there.
We headed to Canary Wharf. A place that had changed immensely since I'd first visited in 2003. It was no longer the dominant sight on the capital skyline, other buildings had taken that mantle many hears ago. Still, the DLR station was still there. Accomplice had reliably informed me of where we were going to depart, and the train went in completely the wrong direction. Whoops.
Still ,all was not lost, as no matter where you go in London, you're going to end up close to some attraction, and where we ended up was Cannon Street, just a short walk fromThe Great Fire of London monument.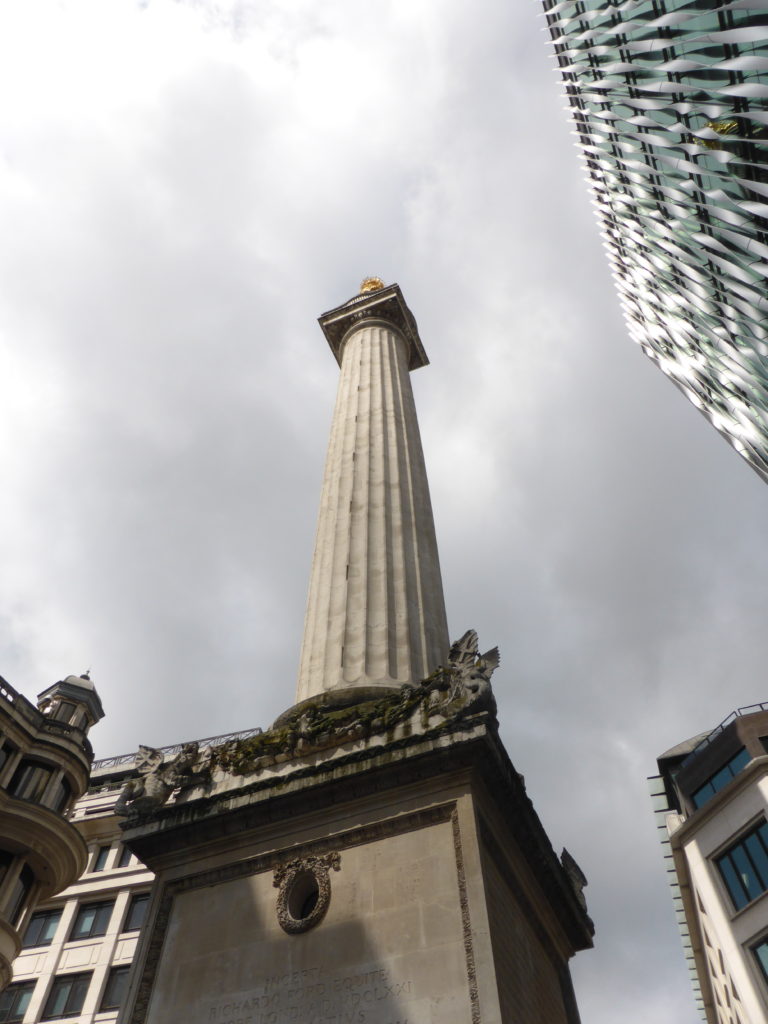 If my feet weren't on fire by this point, I still think it'd have been a bit pointless climbing it. The buildings nearby simply dWarfed it. Twenty years ago, it'll have been something worth climbing, like the Scott Monument in Edinburgh, but when they charge you to stare into someone's office window, I'll give that bit a miss.
It was coming up to lunchtime by this point. I needed to knock some Glucophage down my neck, and Accomplice was in full agreement that food needed to be taken on board. I don't think I mentioned how much the menu at the Brewdog in Camden appealed to both of us. I seem to remember it was on the same underground line we were currently near, so, despite the fact I've never seen a bee fly in a straight line, we made a beeline for Camden, and the Brewdog establishment. We arrived there at a little before 12PM, as we knew that was when Brewdog was going to open.
CEX, no matter where you are, are exactly the same. Sometimes you'll get different stock. Sometimes they'll sell CDs, sometimes they won't. Most of the time there'll be shelves marked with yellow headers full of DVD. This was the latter. All of them seem to have a simple price bracket, and that's "ridiculous". Everything I've bought from a CEX has been either ridiculously expensive, or ridiculously cheap. As this particular store didn't have a music section, it was of no interest to me, and I left empty handed.
So, with CEX taken care of, we went for some lunch. Accomplice had been drooling at the thought of a Brewdog burger, and I had my mind set on a nice, big plate of chips. Last of the exotic eaters, eh? I can safely say neither of us were disappointed (except for the price, obviously, as they were pretty extortionate). My chips were really nice, and there's no exaggeration in saying that Accomplice's burger was about half a foot tall. While we were in there, we paid close attention to a van that had been stopped by the police, and was being thoroughly looked at. A little part of me was expecting the side panel of a Mercedes Sprinter to be blasted through the window, but thankfully this didn't happen.
After about two hours, we finally left Brewdog. Unfortunately, sitting for that amount of time didn't do my feet or legs any good, this was the part of the day when I really started to suffer. While we were in Camden, we went our separate was for a small amount of time. Accomplice had a comic shop to attend, and I had a record shop. I ended up buying 6 singles. None of which were pretty exciting. I just felt like I had to buy something while I was there.
On the subject of comics and comic based goodness, Accomplice was aware of a large Forbidden Planet store, somewhere in Covent Garden, so this was to be our next stop, and really, the last planned stop of our adventures. After going through the back alleys of London, eventually, we ignored Google Maps, and just headed onto the street, and there it was, right in front of us. And there was a seat, thankfully, so I could rest my throbbing hooves.
Unfortunately, the GPS recording goes a little haywire for a time after this, but I distincly recall wanting to go to "The Elephant and Castle". I didn't really know what was there except for a shopping centre, and seeing how well our last visit to a shopping centre went on the previous day, I was hoping it was a bit more touristy. All aboard the underground, then, and onto what must have possibly been the oldest train still in service. The illusion that we were heading out of the touristy part of the city was heightened with every flash of the train's internal lights, leaving us in moments of complete darkness. I expected to hear a woman scram and then find a dead body on the floor, like some Agatha Christie novel.
We alighted the train, and walked up something like 100 steps (117 and 11 depending on which way you're going, thank you Wikipedia). There are lifts, but Accomplice has a fear of them, so we took the pedestrianised route. Yeah, I could have got the lift up, but I really didn't feel like getting separated, especially with zero mobile signal XXX metres underground.
We reached the surface, and it was quite clear we weren't in Kansas anymore. Maybe 3AM on a Thursday afternoon was not the best time to catch it, but it became clear this wasn't really any type of tourist attraction, and the view I had of it, in part thanks to Jim Davidson's unhilarious sit-com "Up The Elephant And Round The Castle", turned out to be completely incorrect. A quick hobble into a nearby Tesco to stock up on much needed sugar and liquid, and we were back down the hundred-and-odd steps faster than what you can say "Slow down, me feet are fucking killing me".
So, the three days away were coming to a close. We'd exhausted the entire tube map. There was time for one last look at Marble Arch…
… and then we were off back to the hotel. Unfortunately, this involved a walk from Marble Arch to Great Portland Street. On a normal day, this would have been a piece of piss, and I wouldn't have whinged once, but when I had two red hot balls of lava shoved into size-10 Karrimor boots, it wasn't a pleasant journey.
One last tube ride, and then the final excruciating walk from King's Cross to the hotel, and then from the hotel back to King's Cross. And, with a further train ride from King's Cross to Darlington, and then from there back to Partypool, the three days were over, but yes, my feet…
And, for those of you who haven't had enough of the photos, the full collection is here