So, by reading this, you'll all be glad to know that I made it home from my trip to Vienna safely, though my luggage didn't. that's a rant for later on in the week.
The day is 4th September. It is 9AM. I leave Mercuryvapour Towers, with Daddykins, in order to pick Chris and Jonathan up. Just as we're leaving the gravel driveway… "SHIT, forgot my coat…", which meant Daddykins had to reverse back up while I fumbled around looking for my keys, grab the afore-mentioned garment, and head back out.
Half way to their house it dawned on me, that the €300 I'd got for the trip was sitting on the table. Whoops. Daddykins was less than impressed, especially because the time it took for c+J to get ready seemed like an age. Really, it was probably only about 15 minutes.
The road to the airport was uninteresting. It's a journey I've made three times now, so I'm expectant at every little thing.
One thing I didn't expect is that, checking in at the desk next to mine was none other than the entire England cricket team. I'd have been awestruck if I actually knew any of them.
Something I realised while I was in the airport, is that I actually hate them. I seem to remember having this feeling on the way back from Paris. They're just vast, open spaces, selling you rubbish items. Some guy, who obviously didn't like his job, attempted to sell me a credit card, while C+J exchanged some money. I saw the Mastercard logo, and I pretty much said "Not interested, but isn't that the England Cricket team over there"? We both then had a good long chat about famous celebrities who had used the airport recently.
Later on, I passed the same guy, I asked "Have you sold any more yet?" He just shook his head and smiled.
Off we went to check-in, with the obligatory stop 'n' search. Waiting in the queue for this is the worst thing possible. Everything you own, including your belt, into a box. You then walk through a metal detector. If it doesn't beep, you're OK. If it does, you're frisked. None of us beeped. Phew. Jonathan had to pay £1 for a little plastic bag to put his toiletries into. Laugh? I almost bought one myself.
Thankfully, there wasn't much waiting around for the plane to Heathrow, I had enough time to dessimate the facilities (I seem to have a habit of doing this at airports), and then we boarded.
The window seat, as you can imagine was mine. No matter how often I fly on planes, I don't think I'll ever get bored of staring inanely out of the window. I'm just a bit gutted that you can't film the take-off and landing.
In just over an hour, I was in London, or to be more exact, Heathrow Airport. We arrived at the very posh and clean looking Terminal 5. I was hoping we'd fly from there, but no. It was Terminal 3 we were going from. I knew there would be some sitting around and wandering aimlessly at this point, but nothing quite as dull as I was expecting.
We found somewhere to get something to eat. One of those dodgy fake "pub" things. I had a chicken Tikka, Jonathan had the all-day breakfast. Chris sat there, slowly slipping on a pint of coke, staring inanely into the inky abyss. He really doesn't enjoy flying. I was able to get an internet signal on my phone for the whole time in the airport, so that killed some time. I checked into Foursquare a couple of times
By the time we left England, the sun was setting and the moon was rising, making for some pretty impressive views over the horizon. Unfortunately, the camera couldn't handle the reflection from the window.
Oh, one thing I must mention about airline travel, or at least BA travel is these:-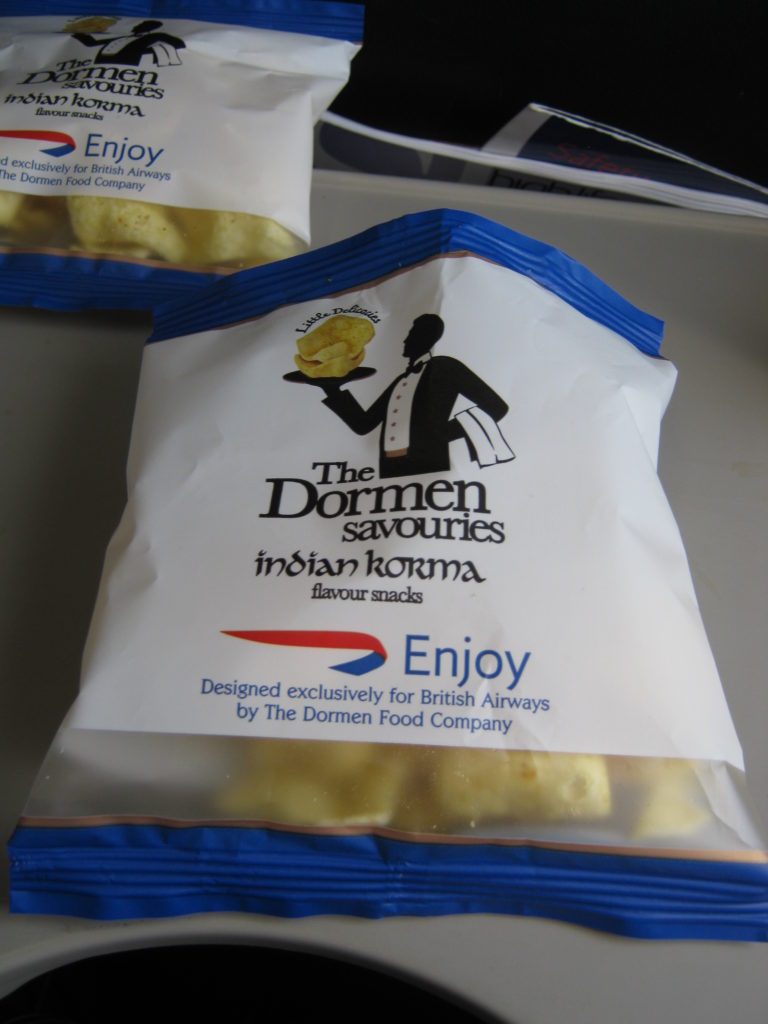 They're like korma flavoured mini poppadoms, and they were awesome. I have a feeling I'll never be able to buy them anywhere, as they're plastered all over the front with "Exclusively for British Airways", but I'm going to look for them. In fact the whole reason I took that photo is so I can spend the most of today looking on the internet to see if I can find them.
So, we arrive in Vienna. My first worry came when we arrived slightly late, the plane was due in at 22:00, but by the time we'd collected baggage, etc, it was 22:45. Chris had thought ahead when he was booking the trip, and arranged a car to collect us. Would the driver be there? Thankfully he was. He introduced himself, but unfortunately, I can't remember his name.
A drive through the night streets of Vienna told me a couple of things srreetlighting wise. They like the use of domestic fluorescent, metal halide and sodium light the main roads, and mercury is virtually non-existant.
We get to see some of the sights at night, and we drive up to the hotel. Now, I knew the location but everything I'd looked at online game a different name for it. The reason is, that it had just changed hands a couple of months ago. It showed that it was just a couple of months old, as the place was absolutely spotless. You walk through the front door, and you step into something that resembles a nightclub, as the reception desk also doubles up as the hotel's bar. LED lighting casts violet hues over everything. There is a dining area to the left, chairs and sofas to the right, and behind the reception desk is a pool table. A FREE pool table.
We check in, I was in 318, C+J were in 303. This was great, until we actually went to the rooms. Mine had two beds in it, and theirs only had one, so we simply just swapped, not realising this could cause problems when it came to stuff like room service, and if we got locked out of our rooms. Which it did, later in the week.
So, eventually we get our rooms sorted. I then noticed something amazing. Instead of minibars, six steps away from room was a vending machine. Not just any old vending machine, however, this one served beer…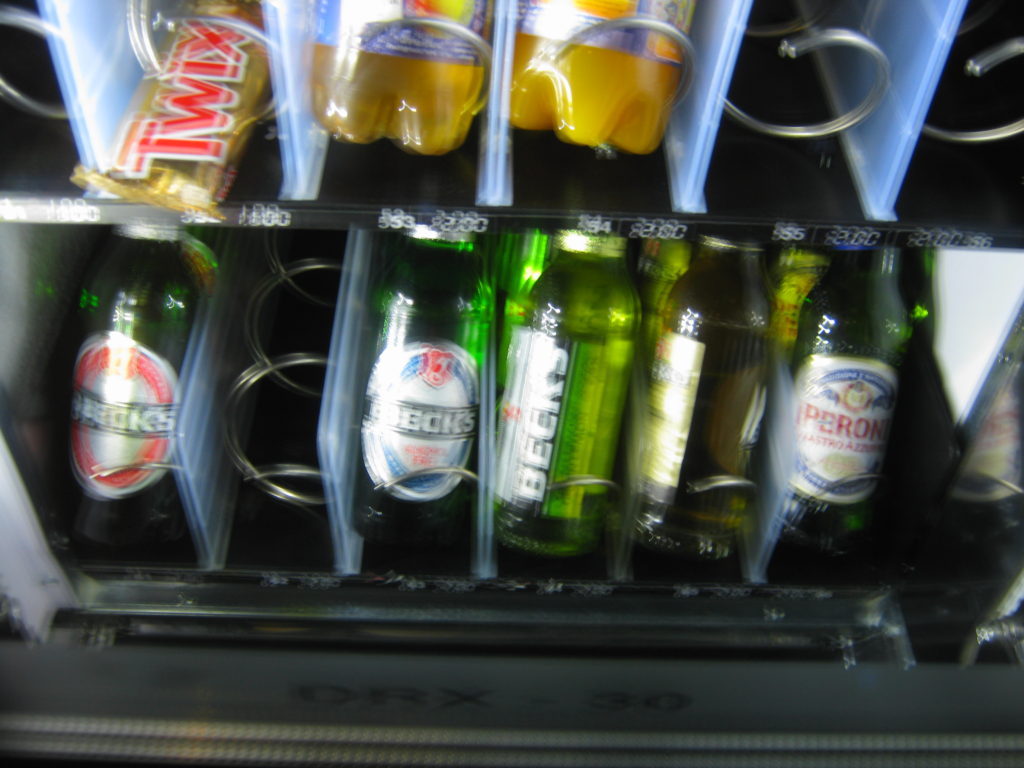 I'd saved a bag of coins from previous holidays, meaning I had €14 to throw inside of this thing. At €2 a bottle, it wasn't cheap, but this bag of coins was classed as "bonus money", therefore I'd thrown 6 bottles down my neck, a packet of crisps and a bag of Haribo teddies. I was simply amazed, and if we hadn't swapped rooms, I'd had never known it was there.