… and this, I promise, will be my last post on the matter. It's been several days since I brought home my latest toy, the afore-mentioned mechanical keyboard, and I have to say I'm really liking it. It's supposed to be a gaming keyboard, but that's not really the reason I bought it. I just wanted something that actually felt decent when I typed.
Admittedly, this isn't the first mechanical keyboard I've used or owned. Back in the late 90s, I was given an old PC that came with some bits and bobs, including possiblt the oldest keyboard known to man. I swear, I was expecting bits of typewriter to be stuck to it. It was so old, that the F keys were down the left hand side of the keyboard. It was so old that I can't find a picture of it. Photography probably wasn't invented back thenIt was also switch controlled, but unfortunately, some of the keys were knackered. It was OK to type on, but a few of the keys were unresponsive, and I eventually gave up on it. It kept me in supplies of small springs for ages. Years after, I was still standing on them with bare feet. Nasty.
Anyway, I digress, and I go back to my review. I've settled on typing with it really rather quickly. For those of you who couldn't be bothered or have "forgotten" to watch the video, it's got Cherry MX Blue switches. There are many different type of switches out there, but you'll need to find these out for yourself. I doubt I'll have the money to invest in other keyboards in the coming years, so unless some kind companies want to send me "samples" of their keyboards, then this'll be the only review you'll be getting!
So, functionality. Well, it's not exactly feature rich as far as some gaming keyboards go. Pass-through connectors for 2xUSB, audio and microphone jack. The USB ports are handy, I can never have enough of those near the front of my PC, so two more is an added bonus. The pass-through connectors… meh, I can live without those for now. My PC case has mic / headphone jacks on the front, so I don't really need those at the moment. I'll probably end up getting a new computer in a couple of months, so maybe there'll be a use for them then. Seeing as this is a gaming keyboard, however, there are absolutely no other gaming features. The blue LEDs, however, have four levels of brightness. When I first discovered the LEDs were blue, I was just that little tad disappointed. Some of you may remember that my streetlighting interest came about partly because I could see a blue halo around mercury streetlights. About 25 years later, I actually worked out that was because my eyes actually saw blue light as slightly out of focus. Thankfully, the light levels range from just comfortable, so it looks like the writing on the keycaps is blue, to an intense sheen of blueness, that wouldn't be out of place on a hospital toilet ceiling to stop the smack rats going in and shooting up.
The blue LEDs are also included in the design of the status lights. Ironically, this is a gaming keyboard, and if you switch them all on, they look like the highest score I've made, in pretty much every game I own…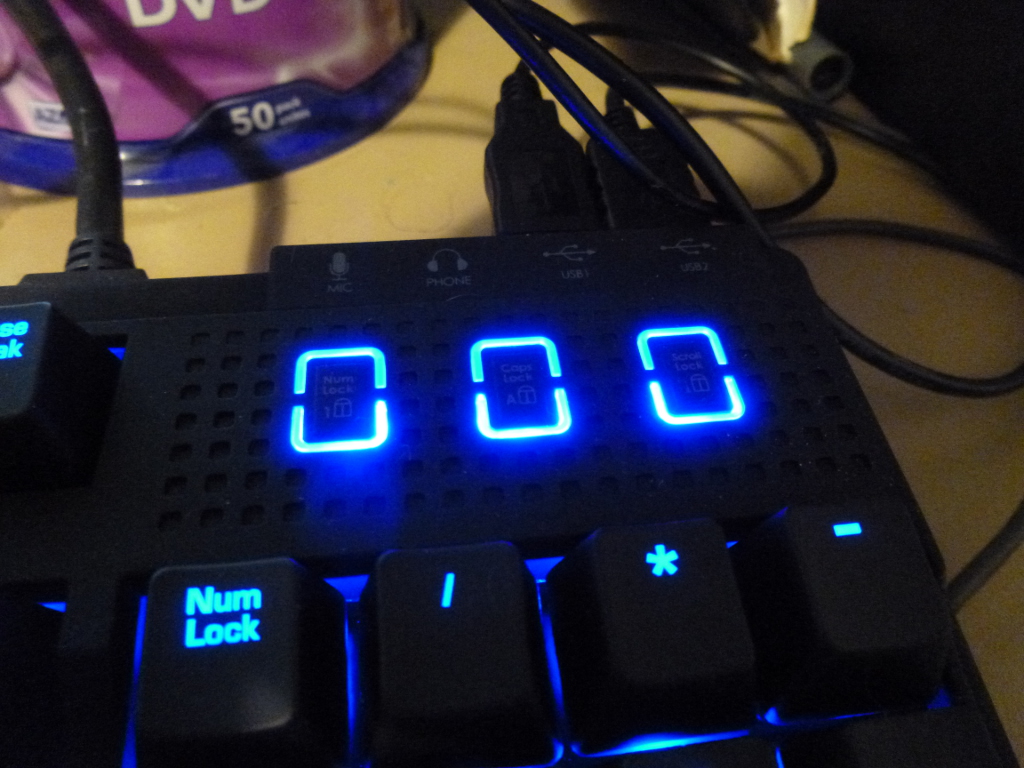 … and also the mount of actual readers who have managed to sift through this pile of absolute blithering crap. Ahem.
Actual feel of the keyboard is really nice. I've been asked if it's improved my typing. Probably, but then I'll get to the FAQs in a sec. The feel is that rubberised plastic, on the outer of the board, and on the wrist rest (which yes, I did manage to get fixed to the keyboard!) Best way to describe it is like those sightly up-market "Smooth grip" Bic biros. Although it doesn't feel too bad, there's a disadvantage, and that's every bit of grease on your fingers shows up like some kind of shiny skidmark, and every bit of dead skin that you shed goes into the grooves, meaning that's only been here for 3 days and it already looks rather unpleasant.
Of course, shedding skin is a human way of life, and I'd much prefer it if I'd shed moob fat, but due to the matt black nature of the keyboard, and the fact it has a little groove running around the edge of it, I wouldn't be too surprised if, in a couple of months time, that little groove will look like a re-enactment of the Battle of The Somme, but with extra blood, sweat, shit piss and Iron Brew… OK, I jest, but that brings me to another possible downside, there are no drain holes!. I've always got a glass of "water" next to me when I'm at my computer, and many times there's been a bit of a close shave, or there's been actual spillage. The last few cheap keyboard I've had, have had drain holes in the bottom, should the worst happen, but this doesn't appear to have theme. Maybe it's because of the hundred or so switches, LEDs and other tomfoolery crammed inside here, but I have a feeling it'll be only one small mistake with a beverage and Pratfall Percy sat here, and it'll all be over. Quite literally. Of course, now that I actually don't drink as much, there's much less chance of that happening.
Right, sod it, I'm nearly up to 1000 words. I've been asked two questions about the keyboard. It's nearly 1 in the morning, and I've got to be up for work. So, I promise, I'll break my promise and conclude tomorrow, or whenever I can be bothered. Bet you can't bloody wait.
EDIT 7TH aUGUST 2019: Today was the day that this trusty keyboard was finally put out of commission. There were certain thigs that were going wrong with it, such as the keys doubling up, so certain words ended up looking likke tthis. While I could have went withanother Cherry MX board, I decided to go with the Logitech… something or other. The box is downstairs so I can't see the model. The QPAD, was however, the nicest keyboard I've ever owned.