I wrote this post back on August 1st 2018. It was so bad, I never let it see the light of day. Fast forward a year later, it's still as terrible, but as I haven't written anything for two months, I thought you might as well see it.
"Uhhh, what?" I hear you ask. No, don't worry, it won't mean anything to anybody but me, and you'll have to forgive me for going into a long, drawn out ramble about something that'll mean nothing to anyone else, but then that describes the vast majority of posts in here.
"Equites" was an arcade game, pusblished by defunct software company Apha Denshi in the mid 80s. It was a relatively novel vertical shoot 'em up, where you controlled a ship that could either walk along the ground, or fly in the air, and you had to shoot things, though you probably worked that out by the name "shoot 'em up".
Now, to be honest, it was a rare game. I've only ever seen one copy in the wild.
Let's fly back to the very late 80s. Exactly this time of year, every year, we would go to Sandy Bay, a caravan site I've mentioned before, on the outskits of Ashington. Every night, there would be a supervised disco thing for the kids, called the Sandy Bay Smilers Club. You know the score. You'd get put in a room with loud music that served pop and crisps, and some adults would tell you to not play with the fire doors. In the corner of this room were (usually) four arcade cabinets. Lady Bug, Frogger, Mag Max, and a little dusty one in the corner that was never switched on, without a name.
None of these were maintained very well. Ladybug had a monitor fault, which meant it was too blurry to see for the first 10 minutes. You could kick Frogger, and get 99 credits. Mag Max refused to boot up most of the time with a "RAM TEST NG" error, and the little mystery one was Equites.
Now the reason why it was usually switched off is, of course, it didn't work properly. It had intermittent faults, all absolutely fascinating to me as a 9-year old, whose only experience in computers had been the ZX Spectrum, and it's limited pallette.
I'd switch it on, wait for the CRT to warm up. If I was lucky, I'd get to see the game's self test screen..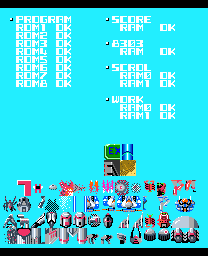 I'd get a good new minutes out of playing it, but then things would start to go wrong. Graphics would go wonky, things would stop working as they should, and eventually it would crash. It was the crash modes that held the most fascination for me. Sometimes the selftest would go red, and it wouldn't boot up any further.
Sometimes it would crash with a text error on the screen. Now, knowing computers like I did back then, if a program brought up an error message and stopped running, you could LIST the program and see how it worked.
When this particular game crashed, if you waggled the joystick enough, you could get letters to appear underneath the error.
Could I possibly work out a combination that would list the source code of the game? Well, here's a typical "crashed" error message…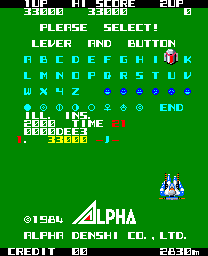 Now, playing around with MAME, I can't find any way to enter a character after these error messages appear. It's possible to get the error messages to appear by randomly corrupting a saved state file, the game crashes and the "CPU" hangs. Therefore, my conclusion is that the movement of the joystick/cabinet caused my a loose/faulty chip, would insert corrupted data into the RAM, eventually causing the game to crash with the error, and that my constant "waggling" would corrupt the next byte following the end of the error message, making it look like it was typing something, but was nothing more than the faulty chip corrupting the next byte of memory after the error.
OH MY! I really need to tetype that paragraph!
Anyway, as far as I know, things didn't end well for Equites. We stopped going to Sandy Bay, except for one fleeting visit in 1994/95ish. We were in the area visiting one of my dad's freinds, and decided to pop round and have a look. The Smiler's club had been demolished, along with the shed that was once the arcades. It's more likely that, due to the dwindling popularity of the older games, and the unlikeliness of them being repaired properly, that they just ended up getting carted off to landfill, or just left in there when the buildings got demolished. I like to think that somewhere, there's a shed, with all of the old games I used to play there, all fully restored and working, but I doubt that's the case
And, so, this is why August 1st, to me, is known as "Equites Day". In conclusion, a mildly entertaining arcade game, brightened up infititely by triggering things you were never meant to see anyway!
I also vote August 3rd as being "World's Worst Blog Post Day"
EDIT: Just to confirm ( I can't see why anyone would question this), but I have indeed kept up this tradition, playing this game last year on August 1st, and also this year…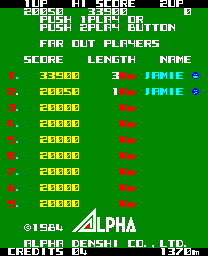 I do love my little stupid traditions.