Ahhh yes, the Greaseweazle is the gift that keeps on giving, and I'm happy to report that I'm not the only one enjoying its greasy goodness.
You may remember, waaay back in the early days of the blog (in a post that's probably hidden now) , that I talked about an Amiga game I used to play, called Plorrds. It came free on an Amiga Power coverdisk, and I loved it. Played it for hours. I even partially put it down to my crap GCSE results, as I spent so many hours staying up and playing it. Of course, the real reason might have been that I'm just a bit thick, therefore I like to blame the former.
Back in 2001, I started a job at a (now long defunct) company. The first person to introduce me to the company, was a bloke called Glen. At some point over the next few years, myself and Glen got talking about the Amiga.
At some point, the words "Plorrds" got dropped into the conversation. "Oh Yeah, I remember that!" I said, excitedly. Glen responded with "Well, I programmed it". If there was a sound of a jaw hitting a desk, it would be a sort of "fop" sound. I couldn't help but feel like I was in the midst of a celebrity.
Fast-forward a couple of months or so. The date is November 5th, 2001. I had just invested in a shiny new Amiga 600 (shiny and new aren't exactly words I'd use for it, but at least it worked), and was rooting through some of my old disks. Out popped Plorrds. "Huzzah!" I thought, as I plonked the disk in the drive, and waited patiently for the menu to come up…. aaaand "Disk read error". Oh. It turned out the disk was completely ruined. 
At some point during the intervening 21 years, Glen mentioned there was a "Super Plorrds", but it had never got released. After my (many) posts about the Greaseweazle, Glen contacted me and asked if they were worth getting, as he had a large amount of disks from back in the day that he wanted rescuing.
I advised that it was exactly what he was looking for, so he rushed out and bought one… Or rather, sent away for one.
A week or so later, he sent me a message confirming it was all working. Of course, my next question was if Plorrds still existed.
"Even better than that", he replied. "The unreleased Super Plorrds still exists", and I could have the exclusive first look!
As promised, an email plopped into my mailbox a short time later, with a disk image attached.
I fired it up, and I was transferred back to 1995, albeit with more music, different colour scheme, and even different gameplay.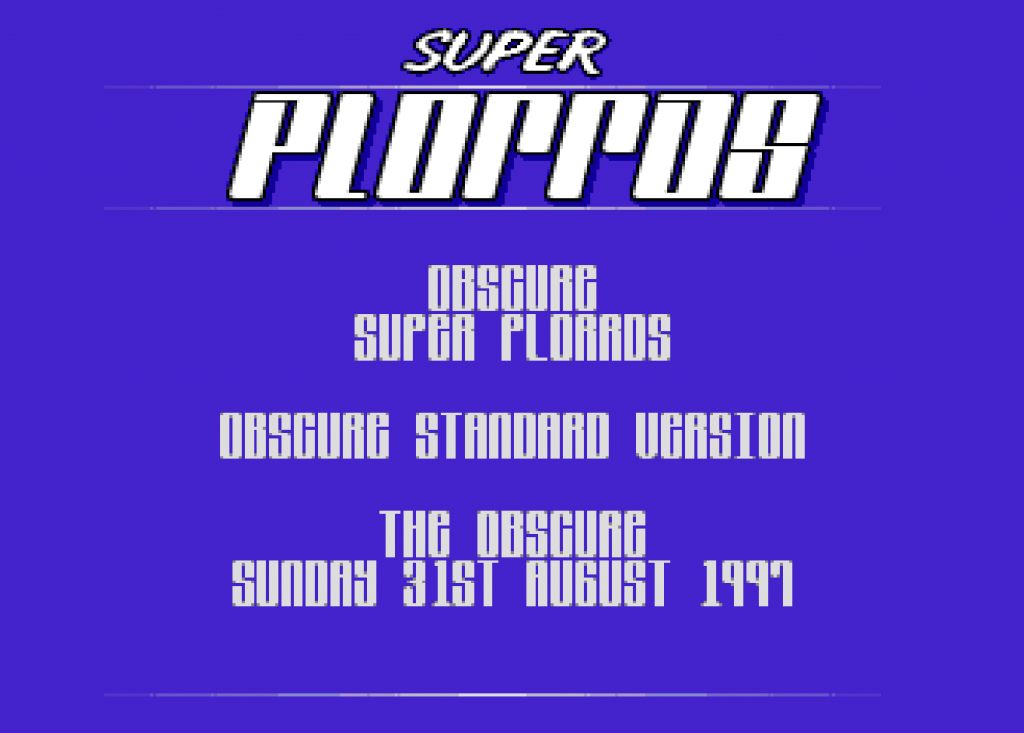 The premise is extremely simple. You start with a grid of numbers, half with plus figures up to 10, half with minus figures up to 10. The trick is, one player can only move horizontally, and the second player can only move vertically. The winner is the player with the highest score. Obviously. The game ends when all of the squares are gone, or a player can no longer move.
The trick is to plan ahead. You COULD go for just the highest value square, but before you know it, player two could lure you into a row of negative points. The real trick is to plan ahead, even sacrifice a few points, if it means your opponent can do nothing than lose more points than you. It gets trickier when you start running out of possible moves, and your massive lead could be wiped out within a matter of moves.
If you play the CPU, there are a number of difficulty levels. I've been playing the game for almost 30 years and I'll be lucky if I can get past level 4 or 5. I don't think I've ever played another human at it. It'd be great if that was a thing, as after almost 25 years, I still royally suck at it…