Like a phoenix rising from the flames of abject failure, I'm happy to report that my internet connection came up shortly after I'd posted the previous posting. Something that happened BEFORE the internet failure was a trip to Newcastle. I totally forgot it happened before the internet failure, meaning that all of the witty introductions for this post I'd thought of, are completely ruined. Fucksticks.
Last Monday, I'd offered to 'rip' some records Andy the Iridium fan, (who, I'll refer to as ATIF, as usual… it's easier to type), so on Monday evening, he came, clutching a bag of vinyl, all comprising of LP's from Knotty Ash's favourite funnyman, a certain Dr. Kenneth Arthur Dodd.
I was totally unaware that the comedian had released so many LPs, and only being familiar with his track "Happiness", I was even more surprised to find that most of his tracks appeared to be depressing ballads that would make Roadiohead sound like a Black Lace record played at twice the speed. ATIF even went through the records, and also couldn't come up with a happy track! It really did surprise me.
I was off work for the Tuesday, so plans were made to do something with the next day. Newcastle seemed like the perfect place. I've been to Newcastle quite a few times, but have never taken my Canon. I've also never been over the lower deck of the high Level Bridge, and I've never walked over the Tyne Bridge. 3 things had to be accomplished.
After converting some of the LPs to a digital format, ATIF left, and we planned to meet up at 9:30 at the station. Hartlepool's station has sort-of went through a bit of a rebirth over the last few years, mainly thanks to the tall ships, however, it's still a place I don't like spending too much time on my own in. I arrived a little early, at 9:22. At least half an hour later, I was still wating outside. Thankfully, he arrived in time for the 10:02 train!
On the way into Newcastle, I started 'Endomondo' – an app/website that records your GPS location, then publishes it to their website. Here's a view of what it recorded…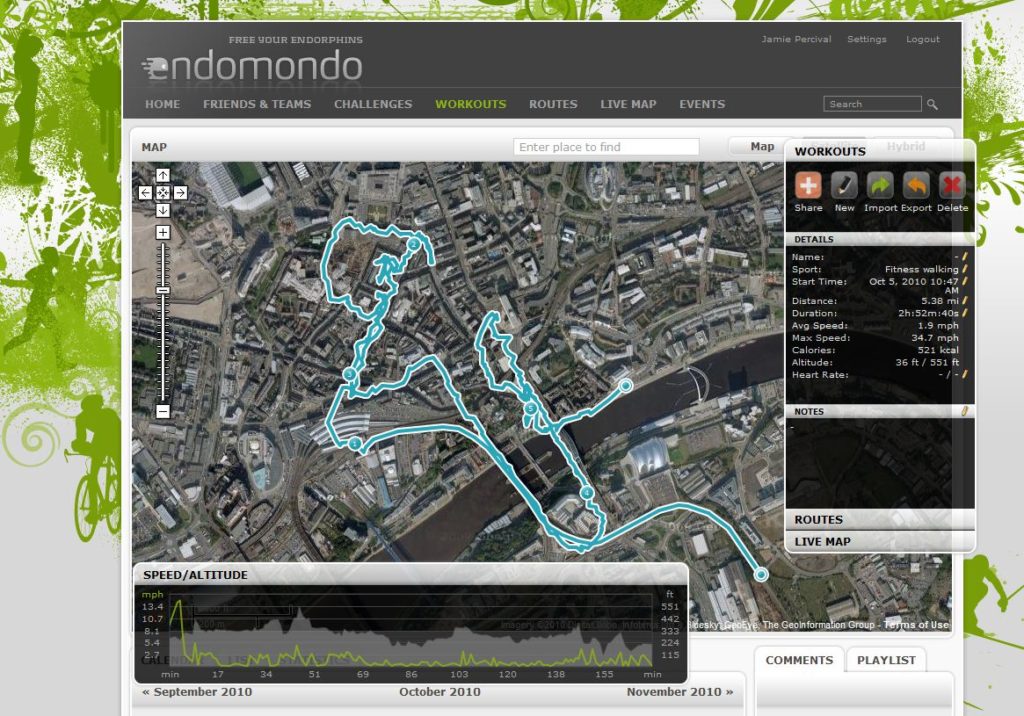 The starting point is in the very bottom left (I was in the train at this point, probably should have waited until I got off), and the ending point is "outside the law courts" in the middle-right of the photo. I had to stop it then, because it didn't occur to me just how much the afore-mentioned GPS app drained the battery.
However, it gave me enough information to track the journey. Unfortunately, the old record shop I'd visited a couple of years ago was no more. this was probably the most devastating part of the trip. Admittedly, I didn't expect it to be there, but I'd have loved to have spent an hour flicking through its stock. A sign of the times, I suppose. There is a large square at the "2" marker on the above map. This was when we began to look for the entrace to Eldon Square, as ATIF needed to drain the main vein. We didn't find one, as can be seen in the screenshot, we just sort of walked around it. Eventually, we gave up, and ended up in a branch of McDonalds pretty much where we started.
The next stop, and the first time for me to break out the camera happened by chance. I realised we were on the same road as the "High Level" Bridge. It's two bridges on top of one another, for those who don't know. Train tracks on top, road underneath. Also featured in "Get Carter". I always wondered how you got onto the lower road deck. Was there a tunnel taking you to it? Seriously, not even Google Streetview could answer this question. Thankfully, my own photography can, and even though I took this on my mobile, it answers the question comprehensively…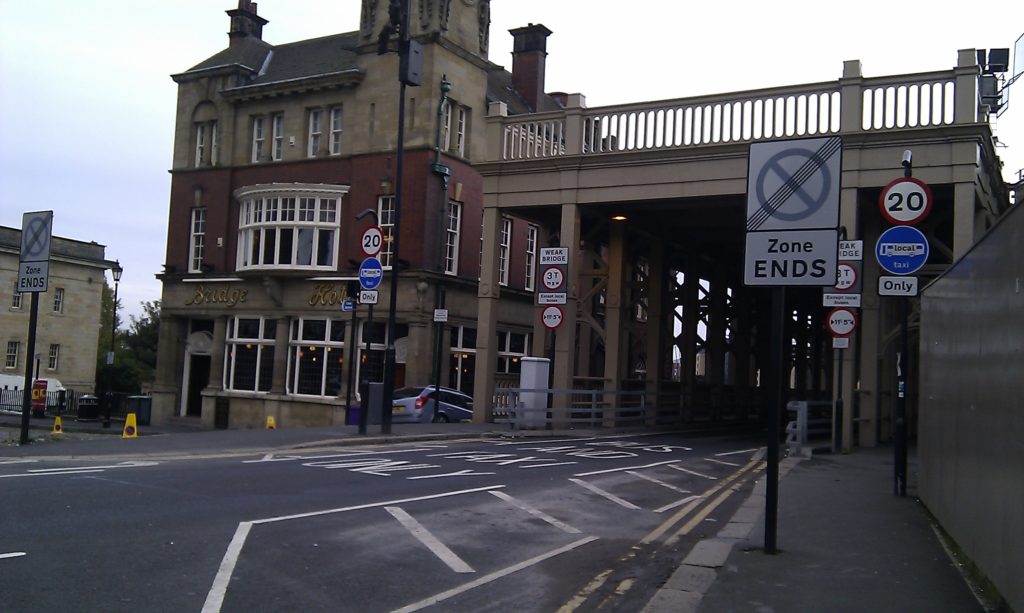 At the end of the bridge were three things. Someone had apparently finished off a bottle of cheap vodka and tabs. Could this be someone's last goodbye? Wait, it's Tesco vodka. Probably not.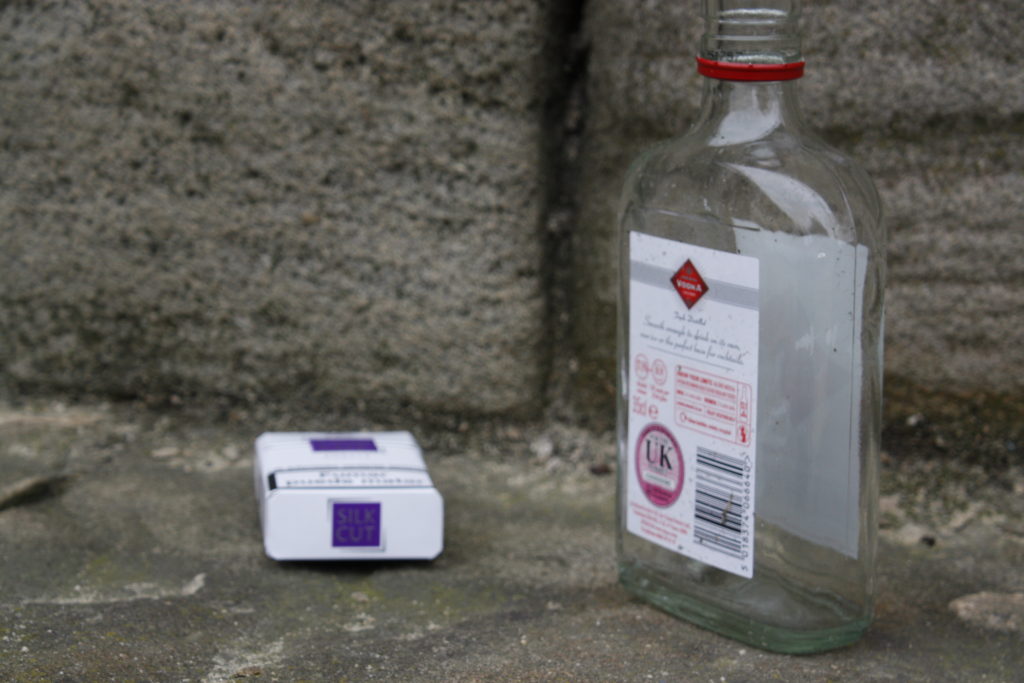 The second was the sad sight of an abandoned "Golden Tee 2005" arcade machine, in an old taxi office…
Admittedly, I've not actually played that particular game, but I've heard that the Golden Tee series is really popular.
Next stop was Tyne Bridge. Although I've been over it many times in a car, I'd never actually walked across it, something that only occured to me whilst actually walking over the structure itself. For those unlucky enough to check the flickr profile, you'll note I took loads of photos up here, but only a handful turned out to be any good. I showed Chris this one the other night, he ended up with vertigo from it.
Apparently, that must be one of the things I'm immune to!
We walked around for a bit – stopping off at a shop for some refreshments. I was delighted to find a paper shop within shadow of the Tyne Bridge that sold refreshments at a reasonable price. Bottles of cherry tango for a cut-down price, and Walkers "Max" for a reasonable price. YES.
Off to dinner we went, sat on a stone bench outside the law courts. ATIF single-handedly rose the share price of Greggs by 1.7%, and came out with a bag of food that would put me on a good day to shame (Admittedly, I stopped going to Greggs when their prices rose every time I went in there). while I munched my crisps, and Mr. Iridium Fan devoured half the stock of the afore-mentioned bakery. We were joined by a "special" guest… Limpy the Pigeon.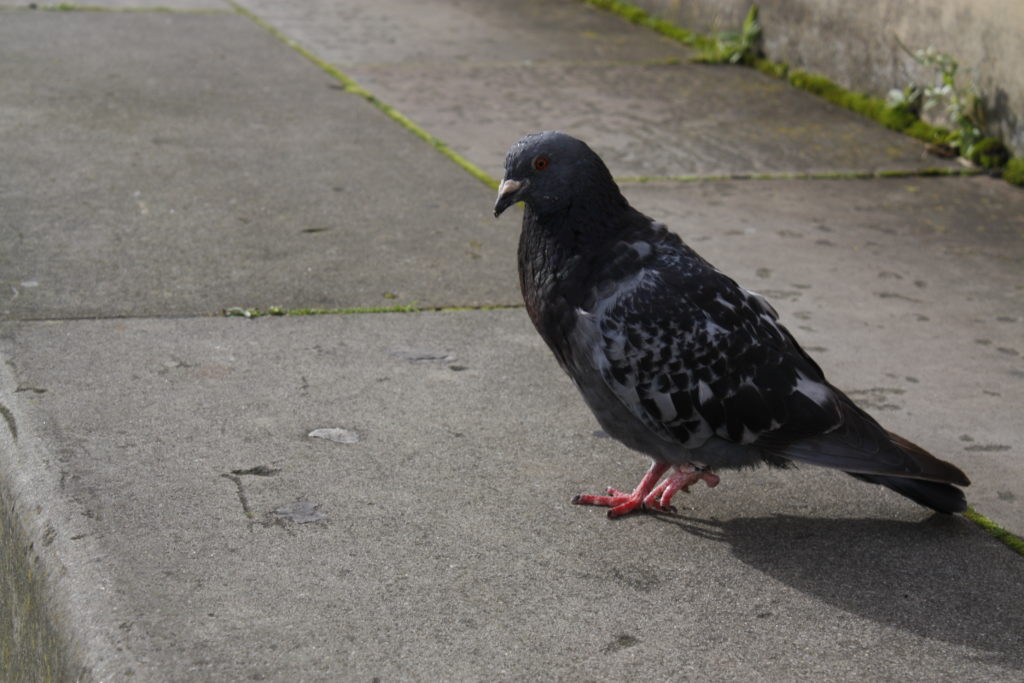 This was, as you guessed, a pigeon, whose left leg had became totally mangled in "something". It apparently had no movement in the limb, and would attempt to walk on it, with very little success. It's one of those "HAHAHAaaaaaawwwwww" moments. It's probably dead now.