Wow. I'm officially two weeks behind when it comes to blogging.
From my previous posting, you'll notice that I have once again been out on one of my long walks last week, with the company of Gary and Jamie S. This time, the destination, instead of a forest, was the complete opposite… a cliff edge. For you see, we were going to walk from the cliffs at Saltburn, to the relative flatness of the little village of Skinningrove, some three miles away.
Of course, before we were going to attempt anything of this magnitude, it meant a stop-off in Moddlesbrough's Asda for some eateries. I don't think I've ever been such a depressingly dull supermarket in all of my life. It was awful. the smell outside of the place, however, had me reaching for the Kleenex. Apparently, there was a chinese food factory over the road from the Asda. It was so nice, I was almost tentpegging. I bought the "packed lunch" for everyone… water, crisps, Opal Fruits (I refuse to call them St*rburst), and of course, sausage rolls. They were red-hot, by the way, so I had one of them before anyone else got them.
We arrived in Saltburn. I donated £2 towards the £2.50 parking fee. However, getting up to the cliff edge wasn't going to be a walk in the park. Well, it was, just an uphill one…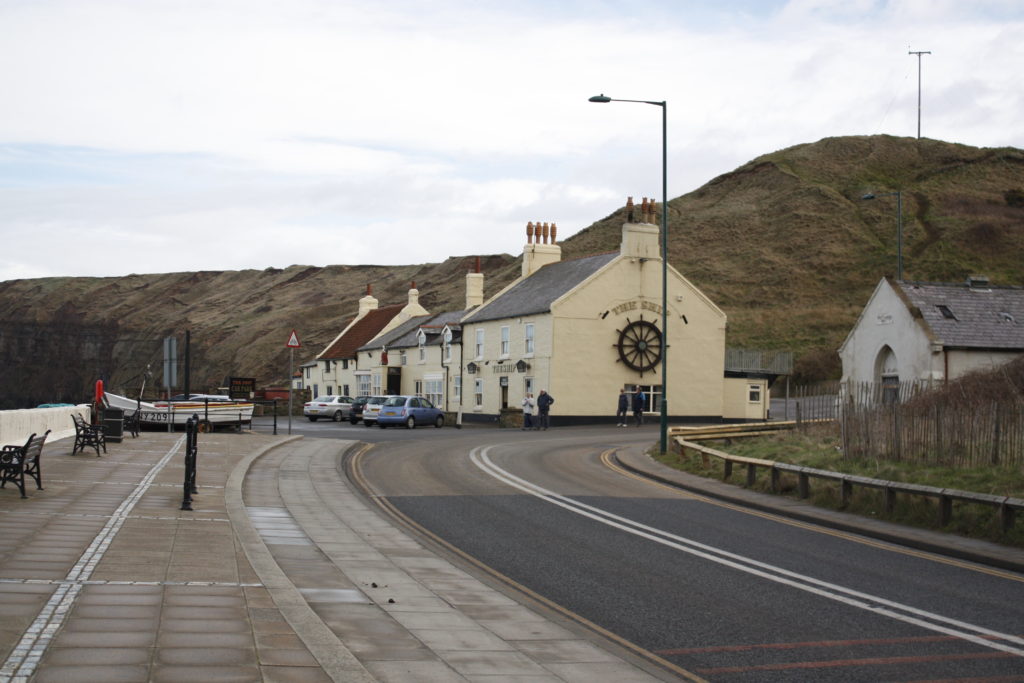 It's not easy to make out in that photo, but there's a wood 'n' mud staircase, leading up to the top of the hill behind the pub. All three of us were completely knackered by the time we got to the top of it. I think this added a mile to the journey. At least.
Within a few minutes, we began the journey along the cliffs. This was pointed out to us by a particularly interesting sign…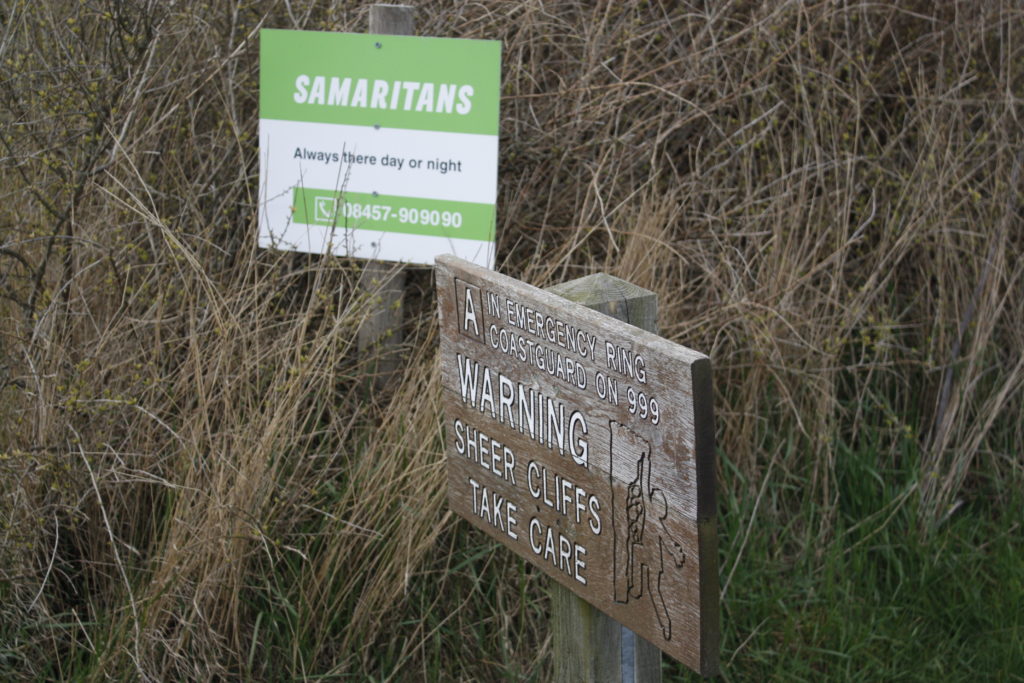 Now, some of you thought I photoshopped the image I uploaded to flickr of a Samaritans sign plastered on Tyne Bridge… nope, these things are genuinely located at suicide hotspots. Oddly, it's an 0845 number, which means it's going to cost you if you're calling from a mobile. Surely paying for the phone call isn't going to help if you're about to throw yourself into the murky abyss…
Nothing much happened on the way there. I think I farted a couple of times (wait, think? I know I did!), and Jamie S managed to twat his head off part of a "modern art" sculpture…
I don't understand what it was, or why it was there. The only animals we could work out included a starfish, a horse and a fox, though the fox could have been a cat. I don't know. Either way, I missed a "You've Been Framed" moment, as Jamie S nearly fell flat on his arse, whilst still clutching that can of Relentless. It appears to be a permanent fixture with him.
It seemed like an age until we arrived at Skinningrove. One thing became clear. The path, after this point was SHIT. It's hard to explain. Actually, it's not. It's another one of those wood 'n' mud stair paths, covered in remants from a slagheap, and if your footing left you, the only way was down…
Awmazingly, all three of us survived, and we made it to the bottom. Slight problem was, it suddenly became apparent how far we'd have to travel vertically on the way back…
We tried not to think of that, and instead, headed into Skinningrove with the hope of finding a pub and something to eat. Both were dashed, when we found the town completely deserted, and the only pub shut. Luckily, we managed to find a cafe located in the local community centre. I don't know what it is, but I just don't like these type of places. Fair enough, the cuppa I had was perfectly fine, but I felt a bit strange in there as an outsider. I did want food at this point, but it seemed that we were a bit late, so we just had our appropriate beverages and left with a smile.
I'm going to delete the previous posting, so this is the route we took there… Note, I forgot to start Endomondo until we were about 10 minutes into the walk.
So, off we went onto the journey back. None of us were looking forward to the journey back up that hill. It was dodgy enough going down. It would be even dodgier going back up with our weakened legs. The first step was to get off the beach. This was easier said than done, for unlike Gary, me and Jamie decided to walk along the beach. It was great until we tried to get up the sand dune.
I like the way I was more concerned about getting sand in my camera bag than actually getting up the sand dune. This was, quite literally, just the start. I soon realised I was in the same position I was an hour ago when I took that picture.
Words cannot explain how I felt when I got to the top of the hill. Well, they can, if I'm honest. those words are "out of breath, slightly light headed, and overall, amazed I did it without the use of a helicopter". I wasn't the only one, however… Gary appeared to be in a world of his own and/or partially unconscuious, while Jamie S spent the next half an hour sucking on his inhaler. Ok, slight exaggerations there, but that hill was something I don't wish to repeat for a long time.
The wind was to be in our faces on the way back, which means that after the uphill climb, we also had to put up with the wind in our faces. Like everything else, however, the walk back was much better than the way there. We passed landmarks, and we were able to track accurately how long it would be before we were back on the comfort of terra firma. Once again, Endomondo tracked the way back…
You'll notice the little section where I move closer to the cliff just after the two mile point. That's because Gary fell over, and I wanted a wee.
The rest of the journey was bathed in the evening sunshine which slowly set against the silhouette of Teesside.
The photos for this walk are here…