It's one of my favourite times of the year. A time when I sit down and spend an entire night listening to potentially terrible music
The normal rules apply… Refresh this page to hear my thoughts on a particular song…
I'm already looking forward to "Give That Wolf A Banana"… In a perfect world, the best song will win, but we all know that Ukraine are going to win…
Here we go! Well, if the intro songs are to go by, this isn't going to be too bad. No idea what they were (and I'm not referring to that "Give Peache a Chance" crap), but I quite liked them. Laura Bazini, or someone. I'll probably look her up later.
Oh good lord, there's a parade of the flags now. I think I've started this a bit early. Still enough time to nip for a piss before the real action starts
Oh no! Apparently, there's going to be a load of "emotional ballads" this year.
Czech Republic: We Are Domi – Lights Off
Here we go! Bit of an 80s vidbe to it, not much of a tune. The flashing effects aren't really doing much for the compression, considering I'm watching via iplayer. It's definitely been the best song of the contact so far, but I'm sure there'll be better.
Romania: WRS – Llámame
Well, the crowd are clapping. Nil points for whatever the bloke's wearing, however. the intrumental bit's pretty catchy, which isn't great, seeing as this is a song contest. I'd probably prefer this over the first one if I'm honest.
Portugal: MARO – Saudade, Saudade
"Harmonised introspective ballad". says Graham Norton. I don't know what to make of it. Oh wait, yes, I do. It's dreadful. I genuinely disliked everything about that. NEXT!
Finland: The Rasmus – Jezebel
Always amuses me when actual bands that I've heard of enter this competition. It's certainly more uptempo than the last one, and that's probably all I can say about it. Oh, wait, there was a nice little key change there. It's improved it somewhat.
Switzerland: Marius Bear – Boys Do Cry
The question that Mr. Norton asked was "Will it stay in the memory?" I can guarantee it will NOT. this is pretty much everything wrong with music these days. Has there been a shortage of drumkits? He's got a whiny voice like a mile Adele. Naaaaah.
"Boys do CRAAAAAAAGH".
France: Alvan & Ahez – Fulenn
Ooh, I like this one. Well, I did until they started singing. Don't know if it's me, but the verse bit sounded ever so slightly out of time? La la la le li lo, lu, lm, lx, etc. Saying that, it's one of the few that I'd listen to again so far.
There now follows a human sacrifice". Hahahah.
Norway: Subwoolfer – Give That Wolf A Banana
I do love a good novelty song. And this is probably my favourite so far. SOMEONE GIVE THAT WOLF A BANANA. And they repeated the word "Yum" 90 times.
Armenia: Rosa Linn – Snap
Oh, it's another ballad, but this one's not too bad. I'm thinking KT Tunstall? I do actually really like this one. I'd say this is my favourite so far. I'd definitely listen to this one again. Deux points.
Italy: Mahmood & Blanco – Brividi
TO TERRY! Up to 9 songs already. Is it a ballad in Italian? well, I don't understand, but the crowd appear to be loving it… I, however, do not. Now, where did I put that beer…
Spain: Chanel – SloMo
A song originally written for J-Lo, did he say? oooh, I'm sorry, I've totally zoned out of this song, she has a lovely bottom. I might have to watch this one back later. Good lord. That's one way to be memorable.
Netherlands: S10 – De Diepte
"Something completely different". Yeah, not amazing, but I've just noticed how much the backing scenery looks like the old "Taito" arcade games booting up…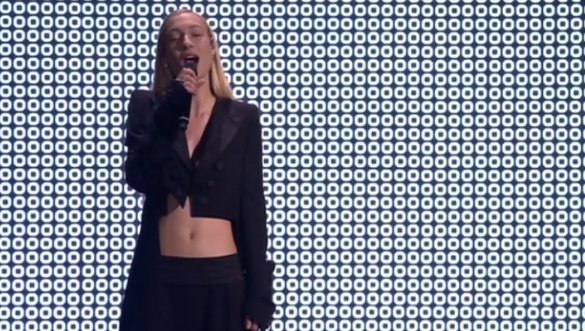 Ukraine: Kalush Orchestra – Stefania
Well, this wasn't what I was expecting. I have no idea what the guy's wearing (it's like when you put a lampshade on your head when you're a kid), and I have no idea what he's singing, but… it's actually OK. When I read "Orchestra", I was expecting another ballad, but this is a folky / rap crossover thing. With flutes. Not bad. Not bad at all.
It's probably going to win.
Germany: Malik Harris – Rockstars
Oh, god. It's that style of singing again. instead of "fast", it's pronounced fhaaaaaruuust". "Rhhhockstaaaaaus". I can't get past the awful vocals. there's a rap section that is a carbon copy of "Headlights" by Eminem and that guy off Fun. It's a shame, because the song has got better as it went on, but, that style of vocal is just…. no.
Lithuania: Monika Liu – Sentimentai
Oooh, old style Eurovision I have a feeling I like this…. Well, it's certainly got a disco vibe, but it just doesn't get going. It's like a slightly faulty kettle that never gets to boil, just sits there almost bubbling away. Still, it gave me a chance to go and fix some spelling errors.
Azerbaijan: Nadir Rustamli – Fade To Black
You think he'd have got dressed up. Shame that it's another ballad. Nope, it's a nil points for me. I take it there's not a break between the songs because I need a wee again now.
Belgium: Jérémie Makiese – Miss You
Well, Graham Norton was right when he said the show was "toploaded". Some of the best songs at the start, and the rest towards the end.
Greece: Amanda Georgiadi Tenfjord – Die Together
Hh no, "a batch of ballads". If this was on CD I'd have skipped it after the first few seconds. Eventually, it got going. hmmm, I thought she was going to have a Bjork moment there.
Iceland: Systur – Með Hækkandi Sól
It's a ballad, but I like it. It's as if the Corrs attempted country. Out of all the ballady ones, this has been my favourite so far.
Moldova: Zdob şi Zdub & Advahov Brothers – Trenulețul
The ballads are done. Hurrah! YES! this is brilliant! This is what Eurovision is all about. After sitting through all of those bloody ballads, this is exactly the antidote to them. I think whoever owns the rights Blitzkreig Bop could sue them for copyright though… I absolutely loved that.
Sweden: Cornelia Jakobs – Hold Me Closer
Swedent are often my favourite, with "Invincible / Evighet" by Carola, being one of my favourite songs of all time", and that Stormvind one from 1990, also by Carola. this one's got a good instrumental. Vocalist sounds a bit like a drunk nanna on a karaoke though
Australia: Sheldon Riley – Not The Same
His face looks like the front door of a butchers. Did not like that one bit.
United Kingdom: Sam Ryder – Space Man
Here we go. The first time I've heard this song, at least I think so anyway. Yep, I like that one. Bleepy backing music. Guitars, and that overproduced percussion that's been sadly lacking all night. That was great. Definitely not nil point this year.
Poland: Ochman – River
Three songs left. Mike made a balls-up and just caused Poland "holland". Oh. Now if we had a nanna doing a karaoke earlier, now we've got the over-confident bloke doing karaoke. that's a little unfair. I've heard worse tonight, but I'm certainly not going to rush out and add this to my CD collection any time soon.
Serbia: Konstrakta – In Corpore Sano
This will forever be known as the "Meghan Markle" song (or however it's spelt). I think this one is the worst one of the night.
Estonia: Stefan – Hope
Awww, I'm actually gutted that it's over for another year. 24 songs, 1 to go. Acoustic guitar, bit of whistling. Ennio Morricone would be turning in his grave, he's totally ripped off "The Good, The Bad and the Ugly"… and I really like it. A decent one to finish the night on…. It could have done with a key change, but that was great.