I'm, once again, going to dedicate this post to streetlighting and yet another musical purchase I've made, but hell, when I'm finished with that, and if I can be bothered, I'll extend it to include some normal life stuff.
So, yesterday (Saturday), I was in York. I was dismayed to find that this fine example of a GEC z5590 burning SON has been replaced…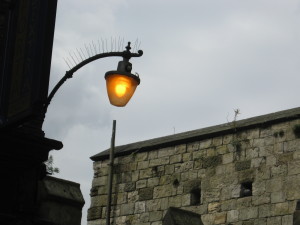 It was a fine example, drilled for a photocell, and everything. Ironically, it's been replaced with a dayburning heritage lantern, with LED arrays as its light output. Shame.
I'm actually posting that news as an experiment to see who actually reads this page. I wonder how many people from work actually know I have a streetlight interest? I'll hazard a guess at not many of them.
So, er, anyway. Onto the music. I've been a fan of Jan Hammer for many years, since I first heard "Crockett's Theme". I didn't know anything about it at the time, and certainly didn't know it was from Jan Hammer.Anyway, yesterday, I picked up one of his CDs. A CD I probably paid over the odds for, but I'd say it's worth it, seeing as I've been after one of the tracks since I was 11 years old, and that track is "Payback", the last track on the CD. I've never saw a copy of it on CD before, nor have I ever held one in my hand, and never actually owned it!
My love affair for that particular song started in 1991. I had, as I've done every year, recorded the grand national, but this year recorded some of the buildup too. The BBC used this particular track to show highlights of the previous two days racing. I'd recorded it, and instantly loved it. Obviously, back then, there was no way of being able to quickly identify a piece of music., and so it sat, rotting (literally) on the tape for years, eventually getting forgotten about.
One night, while flicking through the satellite channels, Miami Vice was starting, and would you believe it? The tune just happened to be featured in it. Naturally, armed with this information, I was able to narrow down my search somewhat, and eventually came across an MP3 of it.
Seems to be a regular story. I hear a song, ignore it for years, hear it in a place I wasn't expecting, eventually track down on MP3, followed by a CD copy the song.
That, I thought, was the end of it. I had some time to kill while some files copied. I thought I'd listen to the entire CD. that is genuinely a rare occurrence. I normally buy a CD, listen to one track and ignore the rest. This one was Jan Hammer, so I knew, somewhere, there'd be a hidden pot of gold. And I wasn't wrong.
I seem to have one of those things where my long-term memory is extremely strong. whether it's a gift, or a curse, I haven't decided, as it always seems I'm living in the past, but this CD played, and track 8 sparked my attention. It was a track called "The Runner". Braincells flew into rewind mode. I knew it from an advert, going back as far as the 80s. It instantly reminded me of warm summer evenings, but I had a feeling I'd be the only one who recalled said advert. Off I go to Youtube, and typed in its name.
First result, third comment down…
"Anyone remember this music used in an advert for milk in the 80's?"
The reply to that comment…
"Yes, they featured Bob Geldof in the late 1980s (about 1987/88). There are a couple of those adverts here on Youtube. Incidentally it was those adverts that brought me here. :-)"
Good lord. A buried memory from more than three quarters of my life ago, resolved in about two minutes. That was four pounds well spent. And now, a slew of youtube videos, that will undoubtedly die over time, and I won't be bothered to fix them, but hey, they work now at the time of typing!
Here's "Payback", the track I bought the CD for…

And here's "The Runner"….

And here's advert 1, featuring the music.

Advert 2, the more memorable of the adverts, but with less music…