Today is a joyous day. well, yes, technically, it was yesterday now, but quite unbelieveably, my Amiga drive survived, and I'm over the moon to confirm that it actually works.
I know, over the last few days, I've promised some type of fanfare, or some type of great reveal about it. I decided that it would just be the worst thing, that I spent the time setting up a live stream, getting all excited, and finding that the drive didn't work, or not spin up, or anything like that. Obviously, I'm typing this now, so I can confirm none of this actually happened. But still, I decided it wasn't worth the risk.
On the off-chance, anyone is here to find out how to convert an A1200 hard drive to a machine readable format, let me give you a quick run-down. Now, unfortunately, despite me slamming the "PrtScr" button for all its worth, I totally forgot that UAE and Dropbox don't play nicely when it comes to taking screenshots, so sadly, I didn't get any of the procedure, but it was unbelievably painless. The one thing to remember is that you *must* run WinUAE as administrator, otherwise the drive will appear with [ACCESS DENIED] next to it.
I initially had a panic about having to set the amount of heads and cylinders, but thankfully, this never materialised. Despite the drive's age, it still had an automatic config, and WinUAE picked it up correctly. It's then just a case of creating the image fine, and sitting back while it chugs though.
I was almost certain there was one bad sector on the drive, so I watched with baited breath, as the bar chugged its way across the disk, and eventually to the end. Nothing reported, we were all good to go. I hoped.
I mounted the image, held my breath, and pressed "Start"…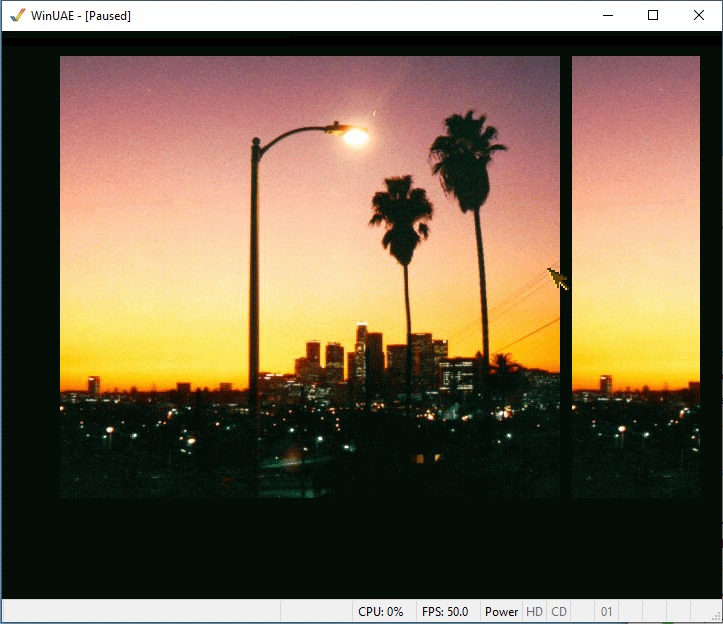 It's a picture of a street light. I have no idea where this streetlight was (EDIT: See the end of the post). It caused me mto let out the biggest yelp of excitement in a very, very long time. This was the image I chose to display, way back in 1996ish, while my amiga went through its "startup-sequence". It looks low-quality now, compared to the megapixels of 2021, but back in the day, to have a full colour image showing on your TV was quite a sight to behold. The image is slightly broken, as it turned out I was using the standard non-Commodore / Cloanto ROM that comes with WinUAE. It proved, at least, the drive image worked.
A quick switch over to a better ROM, and oh-my, away we went. This is where I would have left it so many years ago.
Turns out I was slightly wrong in my years, about the last time it booted up. Turns out the last time it was properly used was December 2000 – in one of the first posts I ever did on this site, I slapped this image up… (EDIT: Hopefully I'll remember to fix this at some point, oops)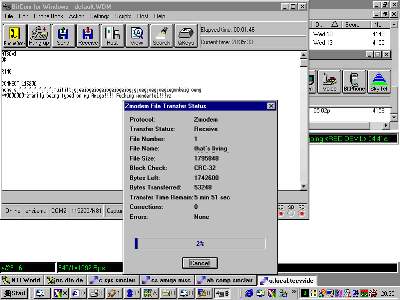 I'd forgotten about this, and was surprised to see a webcam image (oddly not mine, an image I saved of a mate and his ex from back in the day), with a timestamp of 2000, then yes, I had flashbacks of connecting a modem to my Amiga's serial port, then transferring data using the two landline numbers we had back in the day. While this allowed SOME data to come off, the speed, and technical issues meant that I was only able to pull off a few megs of info, nothing close to the funn contents of the drive.
There was also a brief connect of the computer back in the mid 2000s, but this was only for a few minutes, as I'd discovered the graphics failure my Amiga had suffered had got considerably worse. From what I've seen, this could be leaky capacitors, but to me, at least, at the time of typing, the value of keeping my Amiga, all lived in the data stored on this drive. My worry about never being able to power it on again, all came from the worry about not seeing what was on here.
Amiga emulaton has came on leaps and bounds since I first heard about UAE – back when its name stood for "Unusable Amiga Emulator" because all it would display is a black screen. It's 2021 and it'll play everything I've thrown at it, but most importantly, I've got my hard drive. I can access everything that was on it. I've already got several security copies of the image on servers all around the world (y'know, just in case I was to listen to some .mods during the apocalypse), and the whole thing just feels like the end of a 25-year chapter.
Saying that, it also opens a new one. Granted, now, 240Mb is barely any information at all, but it's not the size, it's what you do with it that counts. The next few days will be just exploring the drive, and seeing just exactly what has survived over the years
EDIT: Naaaah. You won't have believe that I've just found, because I can't believe it either. That image above…. STILL EXISTS on the internet. Now, all I have to go ff was the name, SUNSET.JPG. Not really very descriptive. Tonight, for some unknown reason that's not even coming to mind, I started doing a Google Maps wander around Los Angeles. I noticed, concidentally, that the lighting columns looked very similar to what was on my Amiga's startup screen. Just for giggles, I typed into Google Image search "Los Angeles Sunset 1996". I incremented down the years, and sure enough, when I reached 1992, up came the original image…
So, I feel I absolutely must give credit to the fine folks at the City of Los Angeles Public Works – Bereau of Street Lighting (Updated link March 2022 – you have to click the "General Interest" section now to see it) for this almost 30-year-old image, and I hope you don't mind me using this image for what is, essentially, one man's lonely deep-dive into his own braincells during a desperately lonely lockdown period. Thank you for keeping it alive.