And so, after the "excitement" of the previous day, day 4 turned out to be just a little bit irritating.
It was another day which also started late. It's also the day that the least amount of pictures got taken, in the entire history of these holidays, with the shutter firing a mere 23 times. This was mainly because part of the day was spent walking around a museum. We originally planned to go and see the museum of modern art (some of you remember my trip, in Paris to the Pompidou centre, and really liking it), but unfortunately, it was closed on Wednesdays. Or rather, it was closed this particular day. Buttocks.
We opted for the Leopold museum, and works of art which weren't exactly my cup of tea. Parts of it were good, such as the photography exhibition, the architecture section, and miscellaneous sculptures, but for the most part, it was oil paintings from people who I'd never heard of, featuring crude representations of naked women in oil.
Mmmm, naked women in oil…
Admittedly, this was the closest I came to pussy on the entire trip…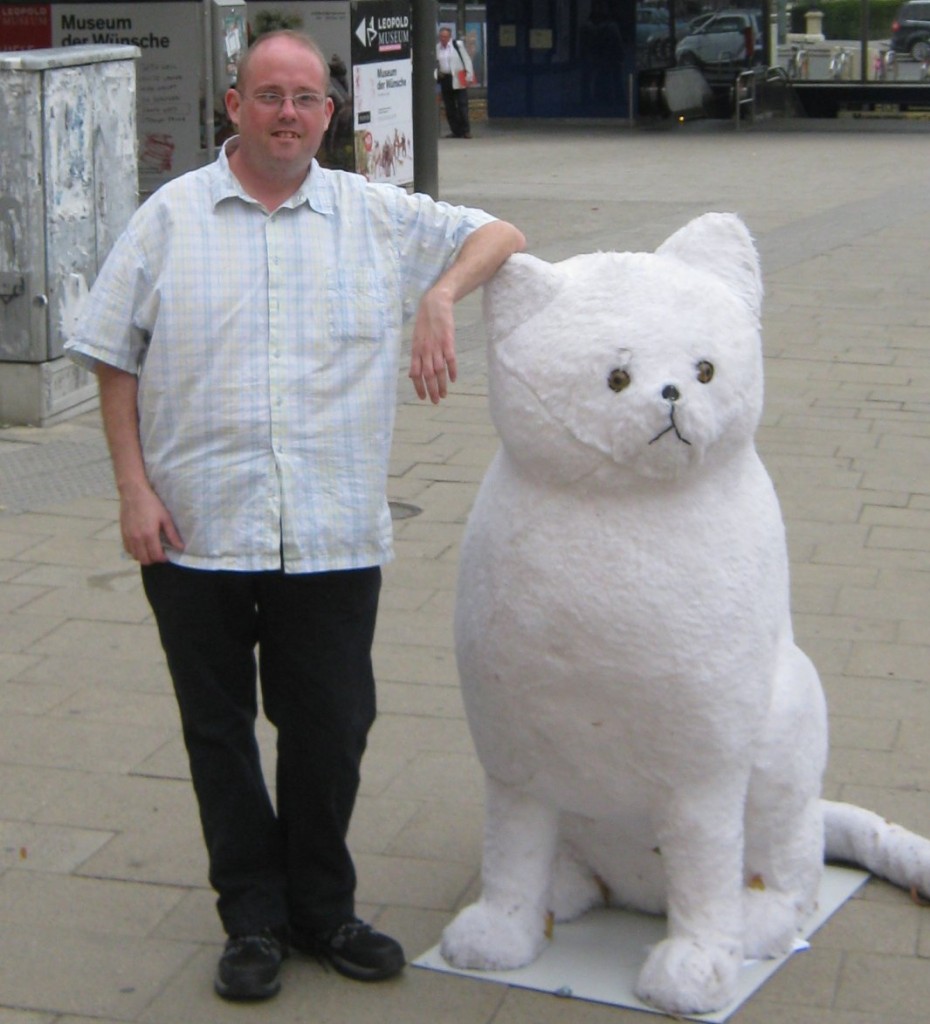 After a couple of hours walking around there, we headed off to find the big, old Ferris wheel featured in "The Living Daylights". Unfortunately, Jonathan's guidebook let us down terribly, to the point where I wanted to take it off him and throw it in the "Donau Canal". Basically, the underground map on the back of it was a complete crock of shit, meaning that after following it, we were nowhere near the Ferris wheel. Instead, we were about 100 yards away from the barge thing where I'd purchased the €4.75 bottle of water. The tourist board things that had been put up were even worse. I think we spent about half an hour attempting to figure out whether we needed to get a bus, get a tram, or just walk the bloody thing. What we did know is that we were 3 miles from where we wanted to be. There was then the argument on whether our weekly tickets would be valid on the tram / bus network.
My advice of "Look, if they're not, and we get pulled up about it, we're tourists, it's an honest mistake, I'm sure they won't fine us!" fell on deaf ears for about half an hour, until I convinced them to go onto the trams. I have never been on a tram before in my life. I thought it'd be brilliant. It was shit. It's a train that has to stop for pedestrians and other traffic, with wooden seats and the sound of numerous Austrians wittering on in their own language about the…. cost of… erm… sandals. And chalk. Possibly.
Eventually, we reached the end of the line, and disembarked into the middle of a park. Fair enough, there's a direction board over there. We toddle over, and stare at it in disbelief. There's no sign of a "You Are Here" symbol. Therefore, we could be anywhere in this huge park. By the power of deduction, sheer luck and the tiniest bit of judgement, we knew to head to the end of the road and turn left. There was an endless avenue of trees in front of us, along with sports grounds of every possible description. Yes, according to Google Maps, there's even a racecourse on there. With steeplechase fences.
We walked for what seemed like an age, before we began to see this wheel. Two things were big about it.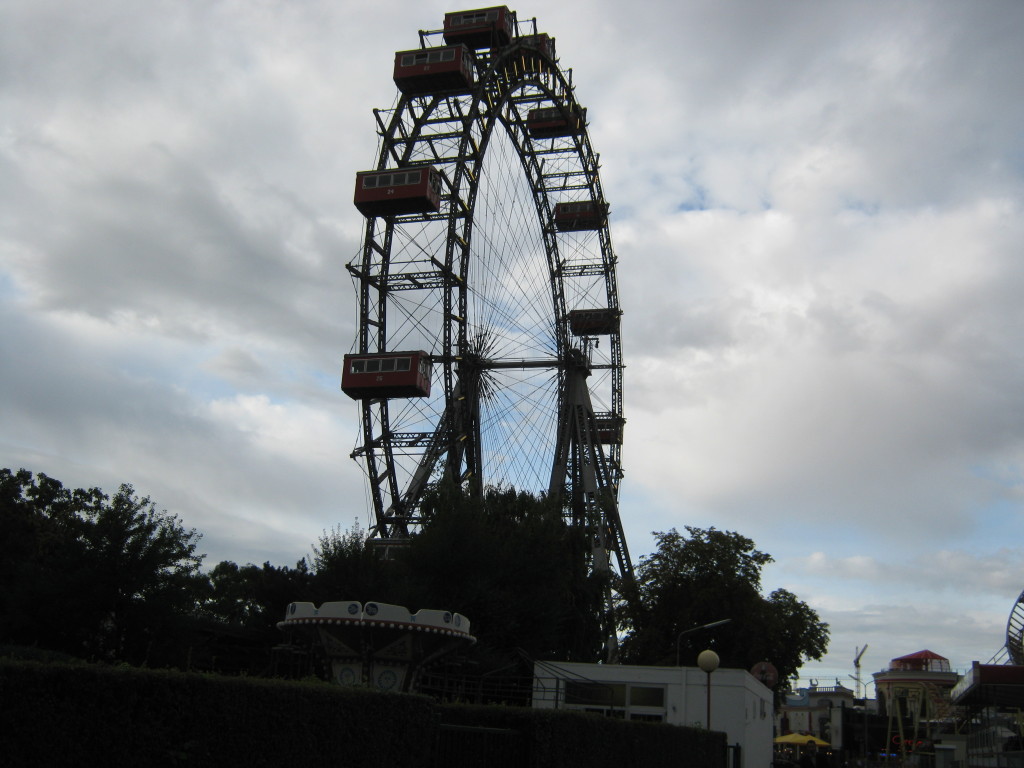 Obviously, its size, and the second one was the pricetag to get in (€8.50? What?)… In fact, it was so big that Chris decided he didn't want to go up. Some of you may remember the time I dragged him on the temporary wheel at Liverpool. He hated every second of that!
So, after spending 2 hours trying to find this wheel, we didn't actually go on it. I could have cried! Thankfully, Jonathan did want to go on it, but we'd leave it until the next day, at least then I could take my big camera, and Chris could get a lie in.
After all of the fannying around we'd done trying to find this place, I almost screamed when I found out it was less than half a mile from the nearest tube station… At least we knew how to get there.
We got back to the hotel, and headed straight for the pool table. Another good few hours on the pool table resulted in us emptying the hotel bar of Becks bottles, and another jolly jaunt down towards where we ate the night previously. It was rammed. Apparently, there was some book signing going on, or possibly something connected to the theatre (we were sat in the "theatercafe", after all)
I opted for the goulash again, because it was really nice, but this time I had the large one. Jonathan opted for the steak, though at €21, it was a little too expensive (and bloody) for my taste! The worst deal of the night came from Chris, who opted for a scotch. Now, this was a special scotch. I can't remember what they called it, but it stunk. Jonathan thought it smelt like elastic bands, I thought it smelt like slightly charred computer components, like when you force a stick of RAM into a slot it shouldn't fit in.
All three of us had sweepstakes on the price., and it hovered around the €8 mark. I almost fell off my chair laughing when we got the receipt. €14. I just had to take a photo of the receipt for posterity.
I waned to head off into the market which we'd got the noodles from earlier in the week. There were LOTS of bars here. All of them small, wooden and rammed with people. The midweeks seemed to bring everyone out on the street. We found one that was pretty quiet, and so, sat down and had a beer. I really enjoyed it, I think Jonathan did too. Chris didn't, and I'll probably never understand why. Maybe he was in shock at the price of the scotch? I'll never know.
So, we headed off back to "The Little Stage", the 'Irish' bar we'd found the other night. I actually really liked this place. Maybe it was the Windows 3.1 MP3 jukebox, with its CRT monitor crudely stuck in the wall, and track selection done via mouse. Maybe it was the fact the staff actually remembered us, and were friendly. Maybe it seemed that nobody seemed to care we reeked of tourist, and were happy to get on with their lives, while playing cards in the corner?
Maybe I just secretly want smoking in pubs reinstated. I know that sounds an odd statement from me, considering the only time I'll ever smoke is about 10 minutes after my trip behind the final red curtain, but it adds atmosphere. Fuck your gastropubs! Give me a bag of quavers and an overflowing ashtray any day! OK, maybe I'm taking that too far.
I'd like to say I got to bed early. Naaaaah.