Oh, the loveable Geordie duo. Seldom seen on our screens of more recent times, they're still apparently working on projects together, namely the announcements at the M+S tills.
Thursday was just like an ordinary day Went to work, played pool, checked Facebook on a regular basis. It was there, that something caught my eye. I had been tagged in a post. It seems that M+S have started doing chicken vindaloo sandwiches. this obviously perked my interest, and understandably, I spent most of Friday morning, at work, hoping thatmy local branch still had some in. It's about a 15 minute walk from where I work, to there. This was, as far as I can remember, the first time I've been in one of these stores on my own. Almost 40 years avoiding it, and it's a slippery slope to being in there every day, wearing their cardigans and loose fitting brown trousers…
Er, anyway, off I toddle to the sandwich section, and there they were. Chicken vindaloo! £3. Ergh. This was the most I'd ever paid for a sandwich, so it had better be special. I opted for using the self-service checkpoints. I scanned my first item, and there they were. "HI! I'M ANT, I'M DECLAN, A DUO, A TWOSOME, MANY PAYMENT OFTIONS, SO GO AHEAD AND CHOOSE 'EM". That's not what the checkout really said, but you get the picture. It was some tie-in with Britain's Got Talent, a programme which I assume they present, or something. They've recorded announcments for the tills, and this is why I blame them for breaking my phone. their kind, northern tones lulled my into a false sense of security.
I deposited my coins, and walked away. I bit into the sandwich, and oh yes, it was lovely. A nice taste, with a really spicy kick. I was impressed. I'm always wary when I eat new stuff, especially sandwiches and things. I hate pretty much everything that comprises most sandwiches, so I was surprised to find this one edible.
Anyway, Friday afternoon went without a hitch, and after I'd finished, Jamie S picked me up, and we headed off to Newcastle. It was at this point, something didn't feel right. A bit of a pain in the ol' belly area. It's a feeling that does occasionallly happen, mainly thanks to by diet, and I knew that it'd be mere minutes until I'd… erm. Yeah, you can work that out for yourself.
So, yeah, anyway, here we are, booling up the A19 towards the town, and things got rather pressing. To take a line from a Spandau Ballet song… "In these troubled times, desperation keeps us strong". Oh yes, something was certainly doing the conga down my colon. Somehow, we'd made it to the first place we knew that definitely had a toilet… KFC.
I jumped out of Jamie's car like I've never moved before, and that's when my phone went hurtling across the car park. It must have been resting on my lap, and obviously, due to other thing on my mind, I forgot about it, and it got launched. Slam. Crack. Goddammit. Thankfully, the phone still works, and for the first time, I've edited out what happened in the toilet, because it was even too gruesome for me to talk about.
So, there we have it. If I ever bump into the Geordie duo, I'm going to blame them for doing this to my phone…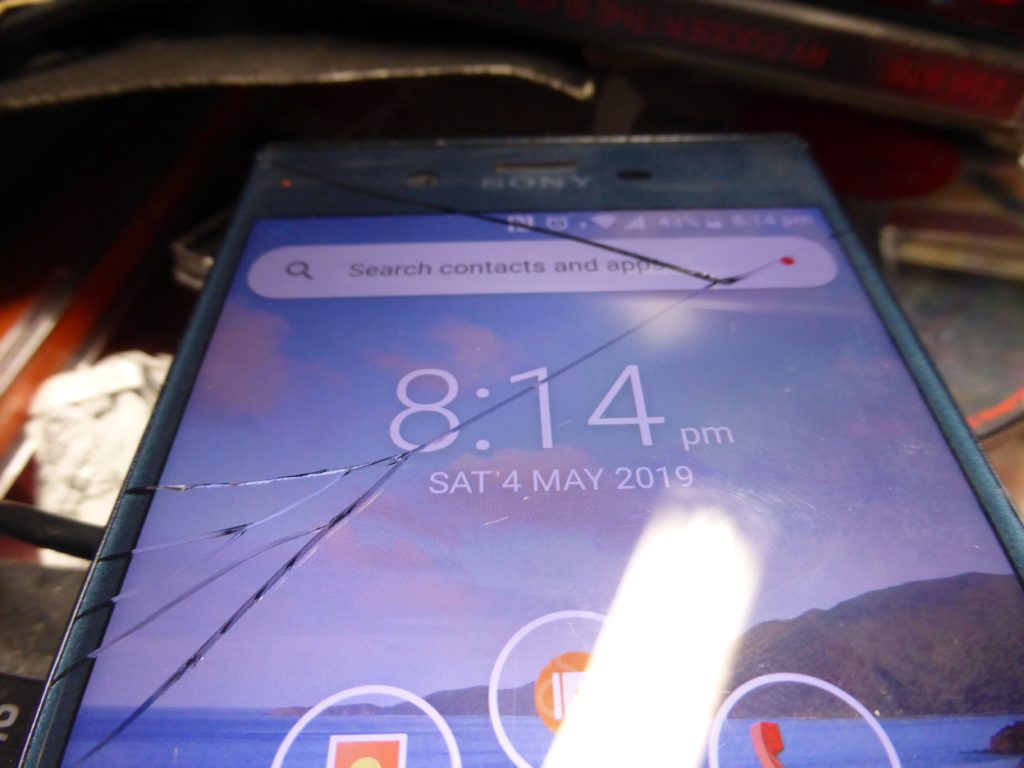 I'm sure theyll understand…