Judging from many of the posts on the site, you can't fail to notice that I'm a bit of a collector when it comes to music. I've mentioned how it all began quite a few times. I was 11 years old. Daddykins came into possession of an old record player, and gave me a few old record to play on it. Really old records.
I obviously wanted something more "my style". A fun day was held at the now-demolished Queens pub. One of the stalls was selling records. I bought one. It was "Secret Garden" by T'Pau. I also bought an album, but I won't tell you what it was.
No siree, I will not mention, at all, that the first album I ever purchased was "Ten Good Reasons", by Jason Donovan. No, I'll never do that.
Anyway, since those fateful purchases, I have allowed my music collection to grow massively, to the point where it can barely be contained in the walls of Mercuryvapour Towers. Something I have always struggled with, is the ability to actually *tell* what I have, never mind know which tracks are on which CDs / albums / records.
I've made attempts in the past. Firstly, these were on paper, and pretty pointless, as I only had about 20 records. I probably did one on my Amiga, definitely did one on my old green screen 8086 PC, using Dbase III. I promptly forgot the password for the database, however.
My record collecting started to grow during the 1990s. I began to earn my own money, and promptly discovered the flea market and car boot sales. I collected a lot.
The internet was the "next big thing" when it came to my record / CD collecting. Ebay opened up new opportunities of "collecting", and I'd often buy boxes of CDs / records, just to get a couple of songs I wanted. This may look like a false economy, but it really wasn't. Every single time I bought a "batch", there'd be CDs in there I didn't know I wanted (as in, tracks I didn't notice the name of), and ones I could resell to make the money back.
Someone in Italy paid £17.50 for a CD single I paid the equivalent of 20p for. Woooo, etc. I think I spent it on booze the very same night.
My collection grew, and it became clear I had no actual idea what I owned anymore. On 26th December 2005, I started the gallery. I took photos of every CD I could lay my hands on, uploaded them to the gallery, and added track listings. It was, however, just a gallery. It's not designed to be a music collecting tool. Although it was functional, it was messy. I still have it online here, but its days are numbered.
OK, so I at least had a temporary way of cataloguing CDs, but what about records? By this time, I was in a similar situation with the vinyl. It was unorganized, and all over the place.
Whilst on jury duty in 2008, I set up plans for a database. There really was nothing better to do. I tapped my ideas into my phone, and within a few hours, had a working template for it. It's still in use to this day, and looks a little something like this…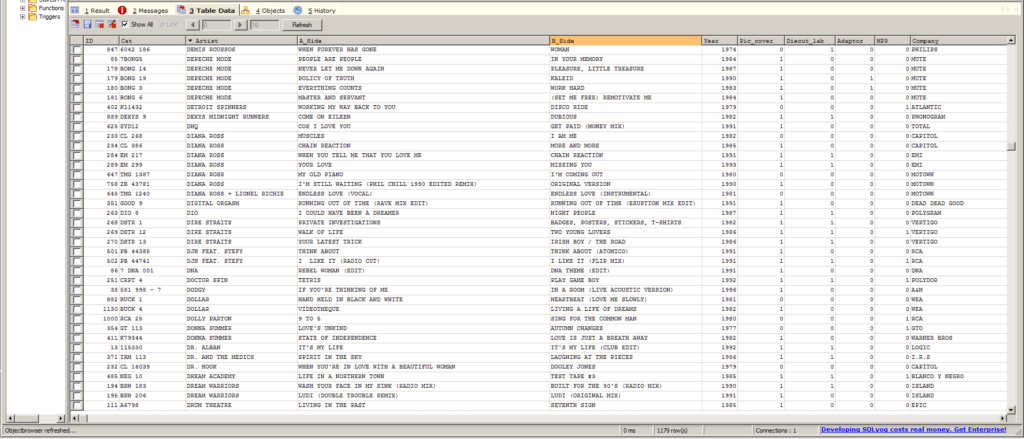 Bigger picture on clicky-to-flickr, naturally. I didn't realise I had that many Diana Ross singles either. Even I raised an eyebrow when I noticed that.
I'm 573 words into this, and I haven't even explained why I'm telling you all this… I've started cataloguing it all again. In what could only be described as a moment of fever-induced insanity, I bought the "Music Collector Pro" software from collectorz. It has some useful features such as the ability to look up bar codes, cover scans and generate listings of what CDs and records you have. You can even run graphs on them…
Of course, as you can see, this list is nowhere near complete. I have a stack of records to go through, as well as over 1000 7″ singles. I have no idea how it's going to cope with that.
I'm also sure you'll want to see the collection as it stands now. Here's a HTML view of the collection as it stands. There are a number of empty images. I'll correct these as time goes on.
I'm also sure that somewhere in Japan, Chad's just lost the contents of his testicles after reading this utterly fascinating post.