Top Gear live was bloody brilliant, as you would probably have guessed. That was two days ago…
(Quick edit… to the person who searched for "top gear live will it be recorded", and found this site… um… I think the clue is in the name, especially the word "live". I'm probably wrong. And to the persion who searched for "top gear live is shit"… well, I disagree, but you can't please everyone I suppose.
As mentioned previously, Chris's brother Jonathan had secured three tickets to go and see Top Gear Live. Now, some of you have thought I meant I was going to see the TV show being recorded. No, that's recorded in Dunsfold Park, Guildford. This particular one I went to see was in Earls Court.
The day, as you can imagine for this time of year started off cold and rainy. You may remember in the previous "long" post, that I mentioned I'd been at a halloween do the night before… needless to say I was still feeling the effects of this. Anyway, after typing up that particular blog, I went for a shit. This particular fact has no relevance to the story at all, but it seems like an age since I've mentioned a bowel movement in this blog, and we can't let a tradition die after 7 years and 365 days (leap year, anniversary tomorrow)…
Erm, moving swiftly on. We went down to Chris's house, to pick him up. Our original plan of getting the train directly from Hartlepool was scuppered by the fact it was at about 7AM, so we were getting the 11:27 from Darlington down to Kings Cross.
The journey down to the station was unentertaining. Daddykins was playing one of the CDs he'd picked up while on Holiday, from some guy who may, or may not have appeared on the X Factor. He can do Ronan Keating spot on, but his Neil Diamond sounded worse than me on karaoke
So, we arrived in good time to catch the train, and had about an hour to spare.
Darlington station is very, very boring. There are a few shops there, including an anti-Tardis WH Smith. And by that, I mean, fron the outside, it looks huge, but when you get in there, it's tiny.
Chris had booked the train tickets online, so all we had to do was visit a machine to collect them. Strange that these machines were called something like "Fast Track", yet there was still a queue.
After collecting our tickets, the walk to WH Smith was halted by frantic banging on the window, and a little kid running after us. Turns out Chris had left one of the seat confirmation things in the machine. Ooooooo. Lucky.
Off we went to browse both of the shops.In the end, I bought a bottle of water (to take my sodding tablets with later on), a packet of Quavers, and a copy of The Sun. Chris bought a coffee and a copy of Private Eye. It's the first time I'd ever seen one of those "in the flesh". A bit above my intelligence level, I'm afraid. Imagine that episode of Family Guy, where Peter's staring at a comic outside a newsagent for several days, before saying "Aaaaah, now I get it…. yeah, can I have a copy of Jugs?" Unsurprisingly, I can't find the clip of that on Youtube, so if you haven't seen it, that's tough.
On the subject of Jugs, after buying our merchandise, I noticed that someone had left a copy of the Saturday Sport in the waiting lounge. So, yes, I had a look through, but decided against keeping hold of it, for obvious reasons.
Eventually, after what seemed like an age, the train arrived. We located our seats, and found that we were, once again, facing somebody, just like that trip with Coatesy to York. These two people were clearly twins, which made it harder to even look in their general direction.
Shortly after the train set off, Chris went to the bog, and I didn't see him again until we arrived in York Station. Amusingly, he got stuck behind the food trolley.
The rest of the journey wasn't just mind numbing, it was arse numbing too. The only piece of excitement was the recogntionof somewhere I'd been before – Stevenage. On Boxing day last year, I went down to Stevenage with Daddykins and a few other people. I remember as we entered the estate one of the people lived on, we went under a narrow railway bridge, and the estate had particularly old, probably still mecury vapour, streetlighting. So, after a bit of a rummage through the archives, I've found the bridge, in Stevenage, where I have now been over, and under…
See, who said it's pointless taking a photo of absolutely everything?
We arrived in Kings Cross at approximately 13:57. Everything was how I remembered it. Busy, mainly. The old mechanical destination boards, however, had been replaced with the now standard orange LED display. The announcements are also done by the same guy who does the announcements on the Weakest Link.
We were going to meet Jonathan at Waterloo station, as he already lives down south and so got a separate train down.
Chris's pigeon-like sense of direction made sure that we didn't get lost. Now, remember the tapdancing busker that we saw in Paris? The one that was actually quite good? Well, on the tube down to Waterloo, there was one that was really, really bad. And still, some people gave him money.
That's it. I'm quitting my job and becoming a busker.
Eventually, we made it to Waterloo. It took longer than usual, as one of the lines (I forget which) was closed for maintenace, or as they like to call it, "service improvement. Most of the afore-mentioned orange LED signs were out of order, thanks to some type of software error. I'd have gotten a picture, but we were in a rush, and couldn't get the camera out in time. It was only a generic preset message anyway.
Off we go to Earls Court. It was a number of stops away, so we braved the underground again. I say braved, because I really, really dislike it.
After what seemed like an age, we ended up at the Earls Court tube station. In my previous two trips down to the big city, the weather was acceptable. Today, it wasn't. It was absolutely tipping it down. In the 100 yards from the tube station to Earls Court, all I could think of was "London Rain" by Heather Nova. I really like that song.
So, we entered through the huge doors and into the foyer. The tickets were scrutinised, and we entered into the huge display area. And I mean huge.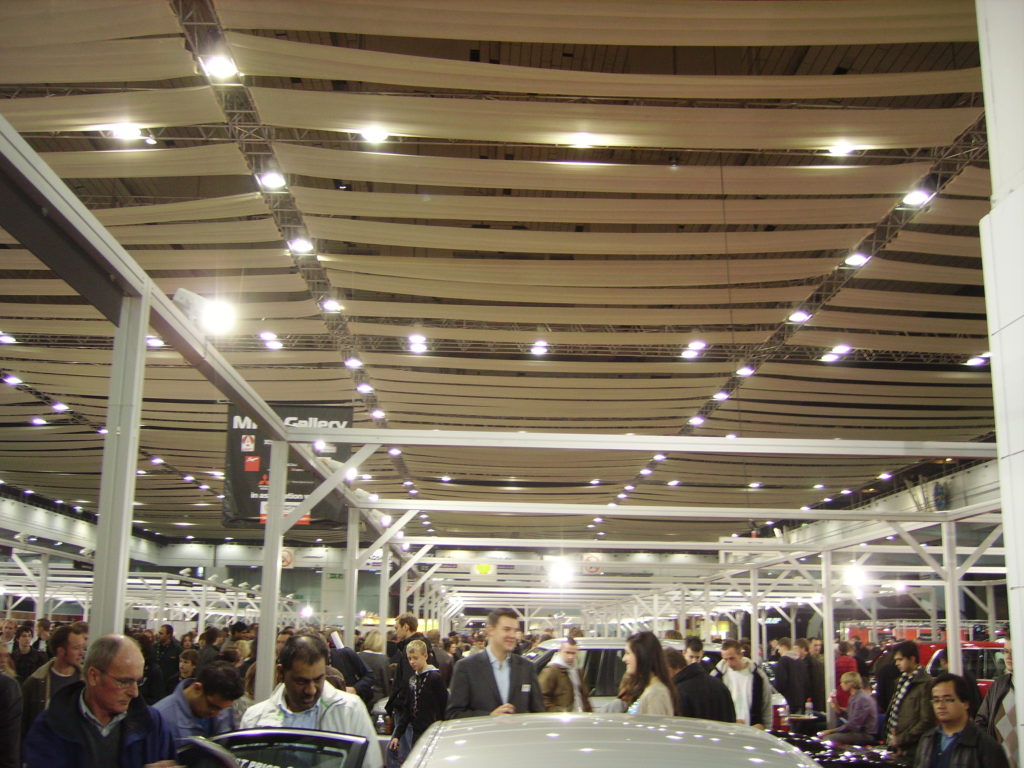 That photo doesn't really do it justice, but unfortunately, none of the photos do the place justice! I only took my little Acer, as I wasn't too sure whether cameras would even be allowed or not, It seems they were and I really wish I'd taken my Canon now, as I didn't take one good photo of the show itself. Bah!
After a very quick look around the display area, we made our way to the entrance to the main "theatre". I use quotes, as technically it isn't a theatre. It's a big building with temporary seating and a stage. We made our way through what was quite literally, the biggest queue I've ever been in. It was massive. Remember the one for the Eiffel Tower? Forget it. This one seemed to go on for ever.
Turns out we had really good seats. High up, and dead centre. Perfect.
A few pre-recorded car adverts looped through for about 20 minutes. One of them even broke down, turning the two huge LED displays random colours, and emitting ear piercing squeals. We thought that was part of the act, but no, it just appeared to be a technical glitch as the adverts looped through for another 10 minutes or so.
Then, the lights faded…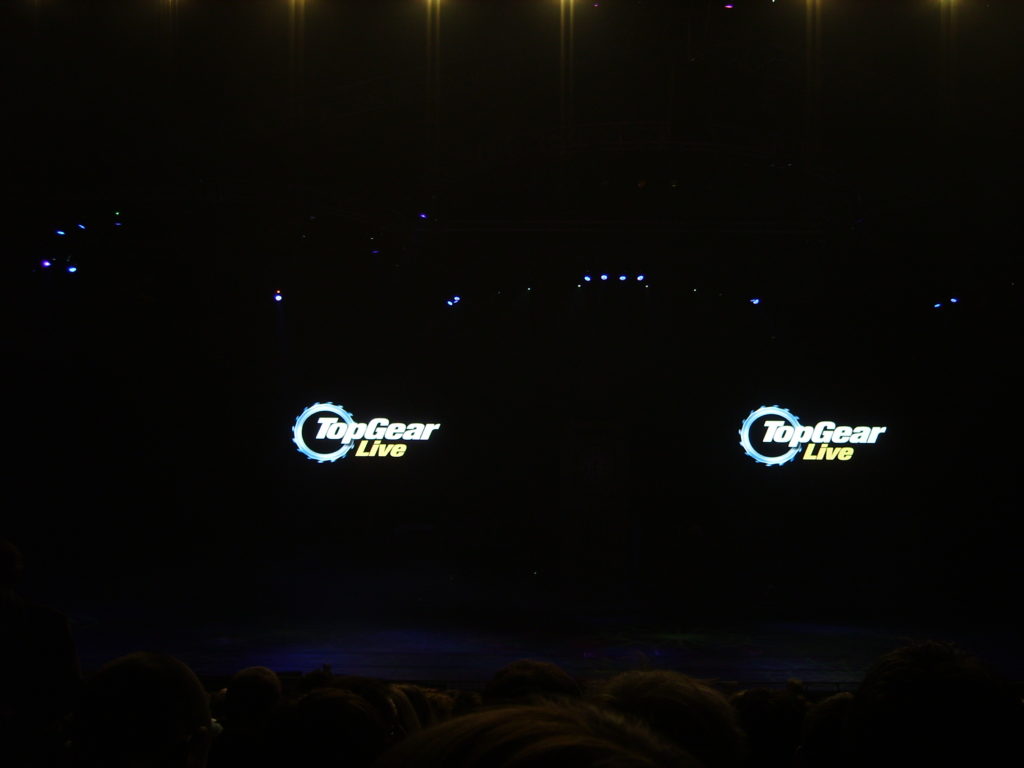 More adverts, but this time in the shape of live adverts on the stage.
Then, we got the introduction. On came Clarkson, May and Hammond. Now, I'm guessing that most of the shows are going to be very similar, so if you've found this via Google, and are planning to go and see it, then I suggest you click the back button, or something… In fact, I won't go into too much detail, just in case.
It contained all of the things that make Top Gear great…
First off there's the challenges…
Then there's the whole interaction with the audience…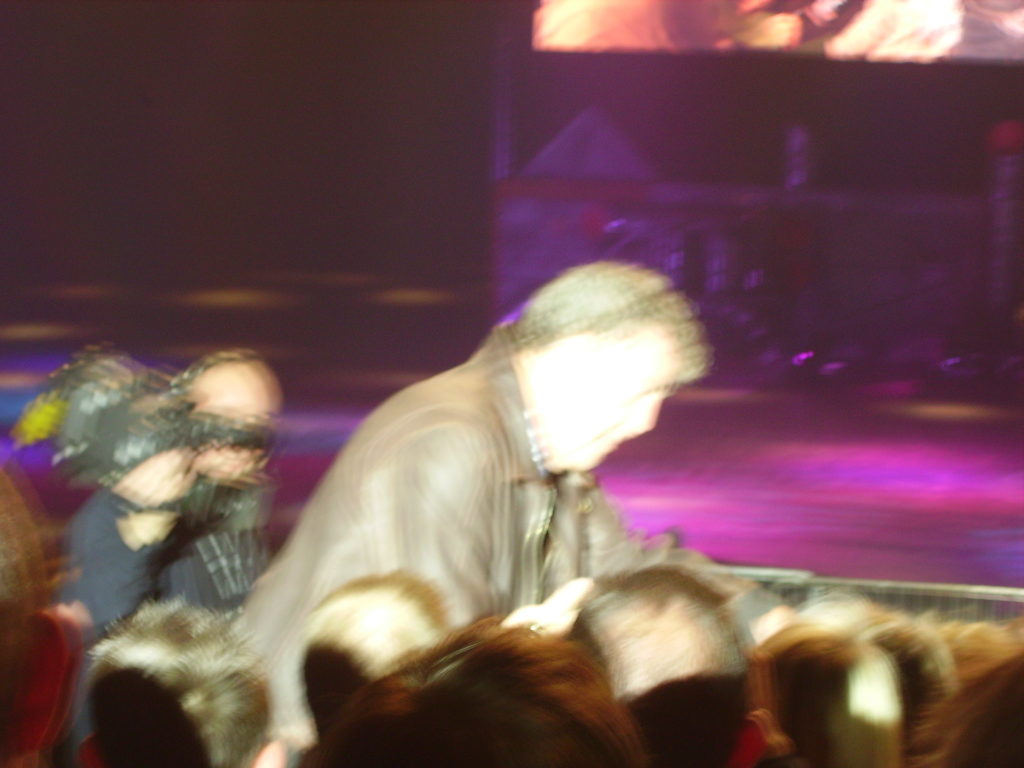 You know when I said the photos turned out really, really bad? I clearly wasn't lying.
Er, anyway. There was also the Cool Wall. An interactive version of it. You all get cards given when you enter. Red on one side, green on the other. A computer monitors the input from the camera, and can calculate the amount of red or green in the picture. Green = cool, red = not.
There's also stunts and stupidly impressive car displays, as you'd expect.
You'd thinka stage of that size would also not be able to handle a game of Smart Car Soccer. and you'd be wrong.
The Stig finishes the show in another impressive display.
That's all I'll say for now. I've still got a load of pictures which have yet to be uploaded, these will get done today. This particular one is also a highlight for me, personally.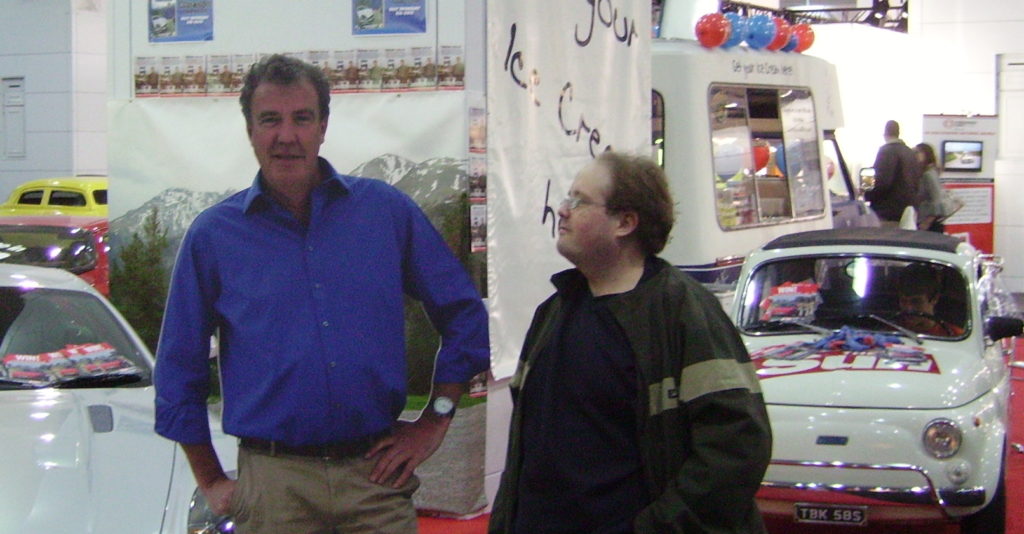 How cool is that? I managed to get my photo taken With Jeremy Clarkson's cardboard cutout! The rest of the photos need to be uploaded, so I shall do that and return with Part 2…